US Open 2009 Draw Released: Hotties of Men's Tennis
The U.S. Open 2009 draw is just released. The biggest news is that Roger Federer and Rafael Nadal are not on the same half of the draw, which means they will not meet before the final.
This year is special for a number of reasons:
1. Roger Federer, the No. 1 seed, will be bidding for the sixth consecutive title in Flushing Meadows.
2. A player other than Federer and Nadal is seeded as No. 2.
3. Last year's finalist Andy Murray will be looking for a break-through year, with his first major title.
4. Nadal will be making every effort to achieve a career Slam as well as reclaim his No. 2 and keep his hope alive for No. 1.
5. The 2007 finalist Novak Djokovic appears to have gained much-needed confidence by his last week's result at the Cincinnati Masters.
6. Andy Roddick has been playing, arguably, the best tennis of his career and has convinced most tennis fans since his spectacular performance at the Wimbledon final that he is one of the favorites to win this year's U.S. Open title.
As the US Open history suggests, most probably the title will go to one of these five players.
However, I have included a few more players who could cause upsets and go deep in the tournament.
Link for the draw: http://www.usopen.org/en_US/scores/draws/ms/msdraw.pdf

P.S. If you like this article, I'd appreciate if click the Like button, which is almost invisible and is located below "Begin Slideshow," on the left. Thanks.
Roger Federer: I'm Hot Because I Win Majors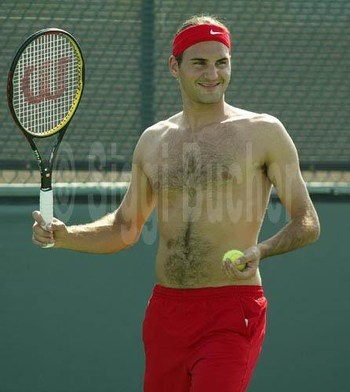 Roger is the sexiest man alive to bid for the sixth consecutive U.S. Open title this year.
His forehand has been restored to produce unimaginably quick, powerful, and precision shots that his opponents will have no clue when and where they are going to fall in the court.
His backhands do mostly defensive work, but they don't shy away from riding on offensive spasms as they are extremely swift and unpredictable.
His mild serves know all the tricks when they can do most damage. They are steady because they expend least energy. They vary speed, rotation, angle and placement, without protruding a slightest hint of anticipation.
Roger is healthy, happy, worry-free, and in form; combined together, he is the most confident and most terrifying player for this year's US Open.
He can lose if he chooses, or if he blinks for unknown reasons, but he looks to be unbeatable.
With his win over Andy Muray and Novak Djokovic, Federer sent an ominous message: "Bring it on."
Why he will be motivated to win:
(1) Win to record a consecutive Sixth time.
(2) Win to secure year-end No. 1.
(3) Win the first Slam for the daughters
(4) Win because he is happy, healthy, and at the top of his game, and others cannot win (more than a few top players like to chant the resigning excuse of "born in the wrong era").
Draw: Federer and Nadal are not on the same half of the draw. Federer has drawn Djokovic and Roddick on his half.
The Swiss faces a tricky first round opponent in Devin Britton, a hot young American. Then, Federer will encounter an easy opponent in the winner between a qualifier and Simon Greul. Llyton Hewitt could be his third round opponent.
In the R16, his possible opponents include James Blake and Tommy Robredo.
His likely quarter final opponents are Nikolay Davydenko and Robin Soderling.
Over all, Roger cannot ask for a more favorable draw, especially up to the quarter final.
Federer's semifinal opponent could the America's favorite son, Roddick, behind whom the crowd will be rallying a big time. So, Federer will be fighting two battles simultaneously in the semifinal, against Roddick and the crowd.
Andy Murray Remains the 2nd Sexiest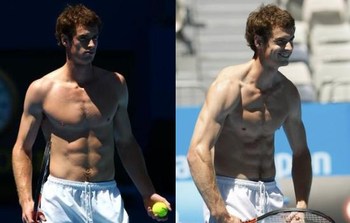 Not only because Murray has produced better results on hard court this year than last year, but also because he is the second seed for the first time in his career and has more experience.
He is second because he lost to papa Roger in the best-of-three match at Cincinnati.
He has won the most Masters on hard court this year (Miami, Montreal) and was runner-up at the other two (Indian Wells and Cincinnati). He has beaten all other top guys on hard court.
The Scot has reached quarter finals or better in all tournaments entered this year except two, the Australian Open and the Rome Masters. However, what must be considered is that he lost to Fernando Verdasco at the Australian Open, and to Rafael Nadal at Indian Wells.
Draw: Murray has the most difficult draw, right from the first round. He plays the exceptionally talented, albeit flamboyant, Ernests Gulbis in the first round. The Scot will have to be very careful with the Gulbis match. Murray has an easy second round but could face a dangerous opponent in big serving Ivo Karlovic in the next round.
Murray's possible R16 opponents, Marin Cilic and Stanislas Wawrinka, are equally threatening.
If he gets past all these landmines, Murray will face his ultimate nemesis in Juan Martin del Potro in the quarter final.
And, if the Scot survives, he will get a repeat of last year's semifinal with Nadal.
This is the most precarious draw he could imaginably find himself in, and if he makes it to the final, he will deserve to win the title.
Rafael Nadal: My Muscle Is Hot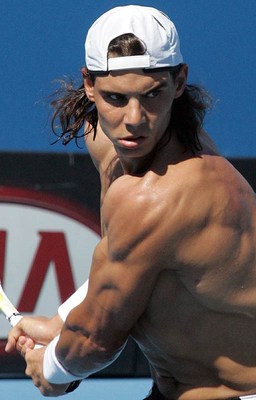 Some pundits may have written him off, but I trust Nadal's conviction and tenacity.
He is my second pick, though third in the official order, because the Spaniard is the only one who can take it to Federer at the Grand Slam level.
His range may not have found perfect precision yet, but he will be there right on time, after three or four rounds.
His matches against Paul-Henry Mathieu, Tomas Berdych, and Novak Djokovic at the Cincinnati Master have proven that he is close to finding his game at the highest level.
He has more reasons to be hungry, motivated, and determined than others. He has to take his ranking back and prove that he can win a Slam at a faster hard court than Australian Open.
He has to prove he is back.
Draw: Of all the Top Four players' first round matches, Nadal is the toughest one. He faces extremely talented and unpredictable Richard Gasquet in the first round. Gasquet will be more unpredictable because he has not played tournaments for a long time, and he must be equally hungry to prove in his comeback.
Nadal's second round match may not be difficult. He will play the winner of Michael Llodra and Nicolas Kiefer. His possible third round opponents are similarly light: Nicolas Almagro and Robby Ginepri.
The Spaniard's path starts becoming complicated from the fourth round, with his possible opponents in David Ferrer (who defeated Nadal in the US Open and Masters Cup in 2007), Gael Monfils and Jeremy Chardy.
Nadal's possible quarter final opponents are equally volcanic. Nadal will likely meet Jo-Wilfred Tsonga, Fernando Gonzalez, or Tomas Berdych.
Then, can he pass Murray in the semifinal? Will he go a step or two further this year? No matter what is thrown at the lion, Nadal cannot be ruled out from winning the title until the last point is played, so we will just have to wait and see what he does this time.
In conclusion, Nadal's is the second toughest draw, after Murray's.
With or without the draw easing, Rafa remains one of the title contenders.
Novak Djokovic Has Shown Some Signs of His Sexiness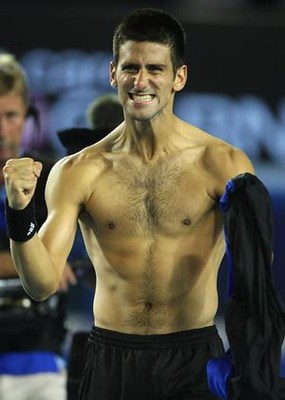 This sexy body had, we thought, more than just one Slam, when Djokovic confronted Federer on and off the court back in late 2007 and 2008.
Ten days ago, I would have ranked him behind Andy Roddick and Juan Martin del Potro.
His match against Nadal has proved he has resurrected from his slump and ready to roar at the US Open.

He was a finalist in 2007 and semi-finalist last year at the U.S. Open. Both times, he lost to the eventual champion, Federer.
What this means is he has not lost to any other player for the past two years at the US Open. He should make it to the semifinal once again, but his match against Roddick in the quarter final will be the decider.
Draw: The Serb draws hot A-Rod in the quarter final and, if he gets through, will play Federer in the semifinal.
Djokovic plays Ivan Ljubicic in the first round once again. He should get past the Croat, as he leads 3-1. Djokovic beat Ljubicic most recently at the Cincinnati Masters. His second round opponent will be a qualifier.
He leads his possible third round opponent Igor Andreev with 4-0, but let's not forget Andreev pushed Federer to five sets last year in the R16 at the US Open.
Djokovic's possible R16 opponents include Andreas Seppi, Philipp Kohlschreiber, and Radek Stepanek. All of them could prove to be dangerous on a given day.
In conclusion, the Serb's draw is medium kind, until he faces Roddick in the quarter. The American leads 5-4, defeating Djokovic in the lat three encounters since his loss to the Serb in the US Open last year.
This will be another most thrilling quarter final, together with Murray—del Potro match.

Juan Martin del Potro: Youth Is Sexy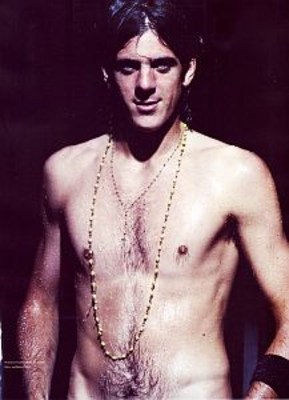 Del Potro is the youngest in the Top Ten players, and he is the most improved player since last summer. He is calm. He is one of the hardest hitting players out there, if not the hardest.
He is tall and has a very good serve; he covers the court extremely well, despite his height. He has beaten the likes of Roddick, Nadal and Murray this year, and has pushed Federer to five sets. Most of all, he wants to win on big stage. Nobody wants to face him in the quarter final.
That is good.
Del Potro is ahead of Roddick for two reasons: One, he had held the No. 5 position most of the time this year; two, he has beaten Roddick three times in a row on hard court, including twice recently.
Del Potro believes he plays as well as Murray and Djokovic, and he is motivated to prove that he rightfully belongs to the spot right after Roger and Rafa.
Can del Potro's physique endure in five setters? Will he get to semifinal or final? In my book, a semifinal spot for the Argentine will virtually ensure him among Top Four. If he makes the final, he is Top Three. We will find out how far he will make it.
Draw: After the release of the draw, del Potro slips back to No. 6 because I think Roddick will be better off with Djokovic than the Argentine will be with Murray, relatively speaking.
Del Potro will play his compatriot Juan Monaco in the first round, not an easy opponent. He will likely play Marat Safin in the next round. They have not played before. It could be a tricky match for the Argentine as the Russian would want to end the last Grand Slam of his career with a memorable note.
The Argentine's third round opponent could be Mardy Fish or Chris Guccione.
In the R16, del Potro could play Gilles Simon or Juan Carlos Ferrero.
Murray is likely to be the biggest challenge for del Potro in the quarter final.
This one match will decide who is hotter for the last Slam of the year.
Andy Roddick: I'm Sexy Because I'm Better Player Today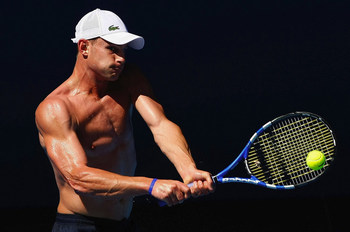 Last time Roddick reached US Open final was in 2006. I think the 2003 titlist is a better player today than he ever has been, if we consider his overall arsenal. I call him sweetly the Stefankized Roddick.
Roddick is less fidgety, more patient, and a more thoughtful ball striker today. He has more control on his forehand than a year ago, which means he can hit the ball anywhere he wants to hit, instead of the go-broke, one-shot forehand. The improved Roddick's backhand can defend and hit winners today. In the past, the same backhand was a liability and barely could withstand two shots in a row.
He would love to win in New York than anywhere else, and he believes this is his year. I believe he could take any of the top payers down except Federer.
A meeting with Federer in the final will provide Roddick a chance to avenge his painful Wimbledon loss a couple of months ago. He will have to work the crowd into an unseen frenzy to compensate whatever "lack" he has against Federer, and put American tennis back on the map.
With the early exit from Cincinnati last week, he could be the one to win this year and get the one-Slam-wonder monkey off his back.
Draw: Roddick has a medium level draw, similar to Djokovic's. One could say Roddick's is draw is more difficult because he could face Verdasco in the R16, but he has 9-2 lop-sided winning record against the Spaniard, including seven in a row since 2006.
Roddck faces easy opponent in Bjorn Phau in the first round. His potential second and third round opponents include Dmitry Tursunov and John Isner.
Roddick appears to be unlikely pushed to a 5-set matches and should be sailing to the quarter, where he will fight the battle for No. 4 spot against Djokovic. It is difficult to predict a winner for this one, much like the Murray-del Potro match.
Jo-Wilfried Tsonga: Muhammad Ali Is Sexy For Quickness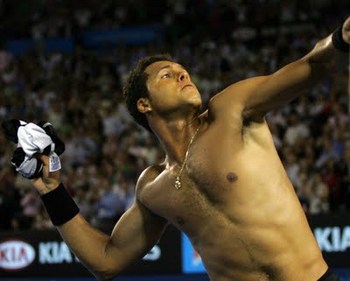 The number 7th-ranked Frenchman beat Federer at the Montreal Masters.
Tsonga beat Murray in the first round and Nadal in the semifinal at the Australian Open in 2008. He has beaten Djokovic and Roddick in the past. Despite his 3-0 record, del Potro finds him among the most dangerous players at the US Open to play against.
This will be Tsonga's third appearance in the US Open and looking to advance beyond Round of 32, his best result.
The 2008 Australian Open finalist has a game suited for the hard court and is fitter this year. He is among the few to play a game balanced between baseline and net. He has big serve and extremely quick, which can surprise even the world's best player. A quarter final spot will be deserving for the player of his calibre and, if he goes deep into the tournament, can take down one or two of the Top Six players if his game is on.
Equally worrisome is his inconsistency, though, which can send him packing early.
Draw: After looking at the draw, I would tentatively conclude that Tsonga will reach the R16.
His first round opponent is an unknown wild card, Americam Chase Buchanan. He will play the winner of Jarkko Nieminen and Fabio Fognini in the next round. Tsonga's likely third round opponents include Victor Trocki and Julien Benneteau.
And, in the R16, Ali could meet Fernando Gonzalez, providing one of the most entertaining R16 matches. They have never played before, which increases the suspense.
I am hoping one of them makes it to the quarter final to play against Nadal.

Fernando VerdascoI I Am Hot For My Forehand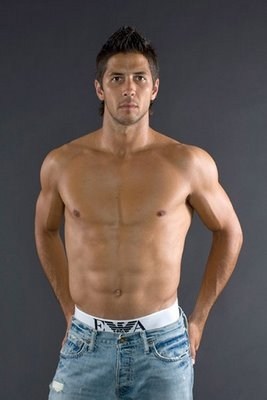 Ever since the Spaniard started working in Las Vegas with Andre Agassi and his team including Darren Cahill (Agassi's former coach) and Gil Reyes (Agassi's fitness coach), he has become a more consistent player, defeating the likes of Murray and Tsonga in a row and almost toppling Nadal in the five-set thrilling semifinal of the longest match ever played in the Australian Open this year.
Verdasco's best result at the US Open was 2005 when he made it to the R16 by defeating Djokovic. This year will be his seventh appearance at the US Open. The lefty has one of the most powerful and flat hitting forehand in the tour. He uses slice to create a lot of topspin, which almost rivals Nadal's. But his occasional loss of focus in critical moments have cost him matches that he was not supposed to lose.
The No. 10 Madrid native is definitely quarter final material and will add to the unpredictable drama and excitement in the second week, if he makes it.
Draw: In the first round, Verdasco faces Benjamin Becker, a talented young German. The winner between Janko Tipsarevic and Florent Serra cannot be called an easy opponent for the Spaniard in the second round, especially if it is the Serb.
Verdasco's likely third round opponent Tommy Haas has been playing high level tennis recently and leads 2-0, both times on hard court. If the Spaniard survives Haas, he will play Roddick in the R16, which could very be the end of his road.
Fernando Gonzalez: I Am Hot Because I Hit Hard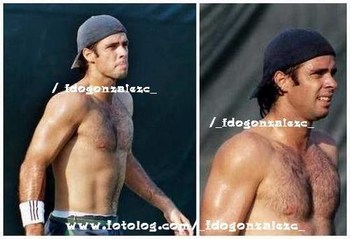 The Chilean is one of the best players that I'd like to see playing in the quarter finals, not only because he brings the element of burlesque into the so-called "gentleman's sports" but because he possesses one of hardest hitting forehands and single-handed backhands in the circuit.
Currently ranked No. 11, Gonzalez has not made it to the quarter since since 2002 but was in the R16 last year. This could be the aging Chilean's last year to produce his best ever result, or at least match the 2002. He has been playing good tennis this year again.
The 2007 Australian Open finalist is among the few active players who have reached the quarter-final round of all four Grand Slam tournaments. If not for any other reasons, for the sake of energy he brings to the court, I want to see him do it one last time before he calls it a day.
Draw: Gonzalez, one of my favorite players, plays his fellow countryman Nicolas Massu. He will face a qualifier or Rajeev Ram in the second round and will likely meet Tomas Berdych in the third round before facing Tsonga in the R16. Gonzalez and Tsonga have not played before. The survivor of the two will play Nadal in the quarter final.
Gael Monfls: I Have the Most Erotic Movement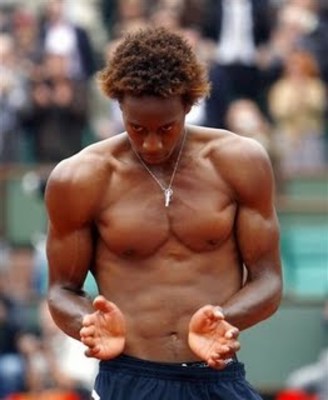 Monfils, currently ranked No. 13, may not be among the Top Ten players bidding for the US Open title, but the way he moves on the court, pumps up the crowd, and celebrates his every winner is just spectacular to watch.
Game-wise, I should have included Robin Soderling instead, or body-wise, Feliciano Lopez. I had to run my scissors somewhere, and Gael Monfils himself barely made it.
In his third attempt, Monfils made it to the R16 last year at the US Open and will be looking to maintain his ranking points.
The 2009 Roland Garros quarter finalist is a defensive counter-puncher, in the mould of David Ferrer but with more acrobatic movement and powerful serve, which mimics Roddick in style. The Frenchman can go from defense to offense, if given the opportunity, especially in his serve.
Monfils may not be an ideal hard court player, but he defeated Nadal (Doha) earlier this year and contested closely against Roddick at the Miami Masters in March.
If his wrist is fine, Monfils may once make it to the R16 this year.
Draw: Monfils faces up-and-coming star Jeremy Chardy in the first round. I am uncertain if he will survive Chardy; they have never played before. It will be be a defense-vs.-offense match.
The Frenchman's next round opponent will be the winner of the match between Evgeny Korolev and Andreas Beck.
In the third round, Monfils could play David Ferrer, against whom he leads 1-0. In the R16, if he makes this far, Monfils will play Nadal, and this is where the road may end.

Keep Reading