The Top Five Unsung Vikings Players Today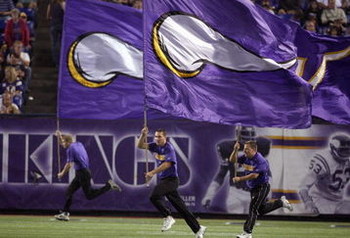 Every team has those players that just seem to be "there", you know?
There are players that start along side some pretty notable characters, but don't get the recognition they deserve. Some play every so often on third and short situations and some play every down and go unnoticed.
It doesn't matter what they do, they can't get their names out to the rest of the NFL. Many are considered role players and not fit for regular playing time.
Usually people like to use the term "underrated", but for this article, I like the term "under-appreciated" much better.
5) Cedric Griffin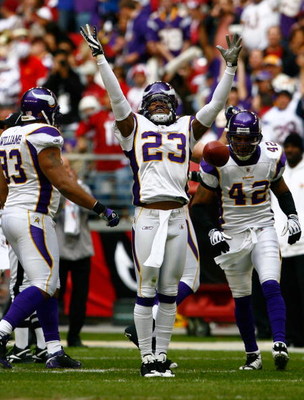 This time last season, fans across Minnesota were begging for the Vikings to pick up a starting cornerback to play opposite of Antoine Winfield. Cedric Griffin just wasn't cutting it.
He'd get burned for the big play too often and seemed to be outmatched on a regular basis.
A few games into the season and people seemed to have forgotten about Griffin.
There was no more lashing out on the Vikings to sign a new cornerback. Then again, no one was really talking about Griffin's play either.
The guy proved throughout the year that he is more than capable of handling an every day spot on the Vikings starting roster.
His explosive hits and physical style of play slowly turned the heads of Vikings fans everywhere.
His biggest match came against the Arizona Cardinals when he was forced to line up against one of the most physical receivers in the NFL today, Anquan Boldin.
Boldin ended up with six catches on the day. Now that may not sound great, but when you take into account that he only had 34 yards, that's fairly impressive.
What's even more impressive is that Boldin averaged eight catches for 94 yards per game with a touchdown.
For a guy that many fans wanted out of Minnesota, he's done very well. He ranked fourth in tackles for all cornerbacks last season with an impressive 91.
He's transforming into one of the best tackling cornerbacks in the NFL.
4) Bobby Wade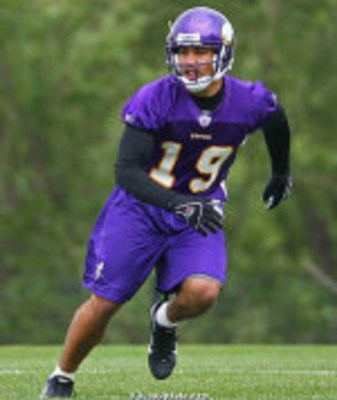 The leading receiver for the Vikings the past two seasons has accomplished the feat very quietly.
Wade isn't flashy, but he gets the job done.
In his two seasons with the Vikings, Wade has caught 107 balls for 1,292 yards and five touchdowns.
If the Vikings needed a reliable option to throw to, Wade always seemed to be around. He soft hands seem to catch everything thrown his way and he's never double-covered. When you least expect it, Wade comes through for the Vikings.
Had it not been for this guy, the Vikings passing attack would have been even more depressing than it actually was.
Wade is still only 28 years old, though it seems he's been around the league forever. Hopefully the Vikings will be able to keep him around, but with the young talent that is developing in Darius Reynaud and Jaymar Johnson, Wade may have a tough road finding playing time.
3) Anthony Herrera
The right guard for the Vikings gets a lot of negative hype, but for what reason?
The Vikings struggled to find a consistent player at right tackle. Cook was over-matched all season long and his temporary replacement, Artis Hicks, didn't fair much better.
The right tackle position slowly became part of Herrera's responsibility last season too.
Aside from driving opposing defensive tackles back, Herrera occasionally had to deal with a defensive end that cut inside the right tackle.
Herrera has developed into a great run-blocker and solid pass-blocker. If you watch the guy play, he does a tremendous job of removing the defensive tackles from the play.
The Vikings finally got a right tackle to aid Herrera, but will he have to put up with more responsibilities with two "rookies" on each side of him?
2) Ben Leber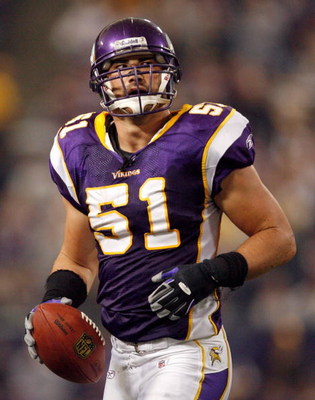 Is it the lower tackle numbers that drive fans away from Leber, or his lack of media attention?
In three seasons with the Vikings, Leber has compiled a solid line of 177 tackles, 9.5 sacks, and four interceptions.
He is a solid pass-coverage linebacker for the Vikings.
With Henderson staying close to the line of scrimmage to stop the run, it leaves the South Dakota boys Ben Leber and Chad Greenway to defend the pass.
Greenway stole some of the thunder last season with his amazing play that was more than Pro Bowl worthy.
What people forget is that Leber was a big part of a Vikings defense that jumped from 32nd in pass defense in 2007 to 18th in 2008.
Leber showed last season that he can cover the tight end as well as get into the backfield to stuff the run.
The Vikings didn't blitz with Leber nearly as much this past season, but his leadership is what held the Vikings defense together after the loss of E.J Henderson.
By season's end, he'll be 31. I only hope the Vikings can retain a little bit longer. That's not likely being his contract is up after 2010.
1) Jim Kleinsasser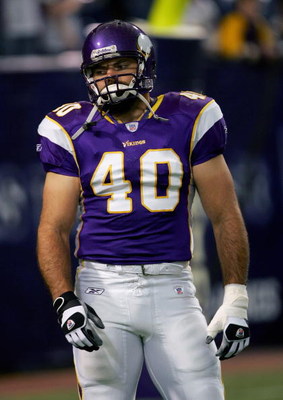 The guy was drafted by the Vikings to be a fullback, but his transition to tight end was more than worth it.
Just look at the guy. He looks like a Viking. He's huge and has a nice grizzly beard to match.
Jimmy has seen his receiving role diminish in the last three years, but his blocking skills are unmatched by any tight end in the NFL today.
He's a mini-offensive lineman at 6'3" and 275 pounds. The way he explodes into defenders is amazing to watch.
He never misses a block and once he's locked on, the defender is not going anywhere.
A free agent after the 2008 season, the Vikings managed to sign him back with a 3-year deal worth $9 million. He is currently the longest tenured Vikings player and for good reason, the guy is a beast.
He knows his role with the Vikings and never complains. He gives back to the community and is a great role-model for kids everywhere.
Keep Reading

Minnesota Vikings: Like this team?