The 10 Biggest Late-Round Steals in Fantasy Football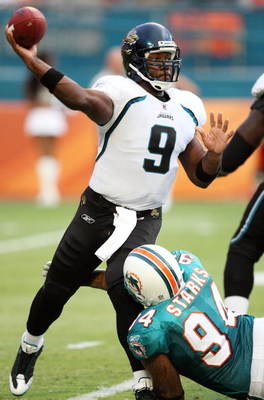 As much as I believe my TOP TEN FANTASY STEALS list is helpful in showing you what players are going later than they should be, I am aware of how that information might not seem as valuable as a list of guys that can be taken extremely late in fantasy drafts.
When it comes down to the first few rounds opinion matters more than anything and you don't need to read an article to let you know LT and DeAngelo Williams are going to be good this year.
Here are 10 guys who have the opportunity to be very valuable in fantasy this year and some of them aren't even getting drafted.
Being able to pick up players in the rounds after 12 and have them start for you in the season and make an impact is something that can make or break a fantasy team.
If you draft well late in the draft it means you can take bigger risks earlier on or stock up on high quality players at big positions like running back and wide receiver.
If you take a RB that slips to you in the second round you can make up for it by getting a quality No. 2 WR very late.
Some of the guys drafted in rounds 4-8 are going to have bad years and some of the guys drafted late in the draft are going to have breakout years.
Being able to predict who is going to breakout can turn your fantasy team into a well-oiled machine.
If you did research last year than it is possible you were able to steal fantasy studs Matt Forte, Steve Slaton and Chris Johnson all after the 10th round. If you had all three of those guys you won your league. Plain and simple.
If you got them extremely late and were able to predict that you could do so, thus spending your early round picks on monster wideouts and tight ends, then there is no chance you did not win your league. Not all of these guys are going to be top 20 fantasy players but some of them can and will breakout. Others will be good enough to win you some games and back up some better players who might end up as dissapointments.
Some of these players should be getting more credit than they have received up until this point. Because of this they are still fantasy STEALS! Make sure you pocket a couple of these guys to improve your teams this year...
10) Ahmad Bradshaw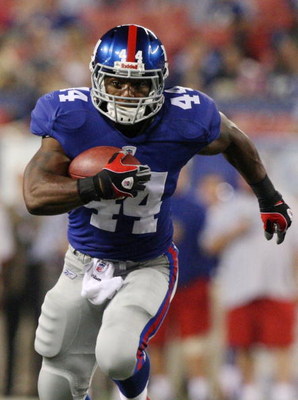 The math is simple. Remove a 1,000 yard guy from one of the top running attacks in the league and those yards are going to go to someone else.
As much as this ups the value of Brandon Jacobs it also makes Bradshaw a candidate to make a major jump in fantasy performance.
When he has gotten in the game over the past few years he has been very explosive, offering a change of style and pace that leads to a ton of touchdown opportunities.
Even though he is getting drafted like a low-end backup, it is very possible that Bradshaw finishes with as many points as Derrick Ward did last year and he ends up being a perfectly good No.3 fantasy starter.
9) Peyton Hillis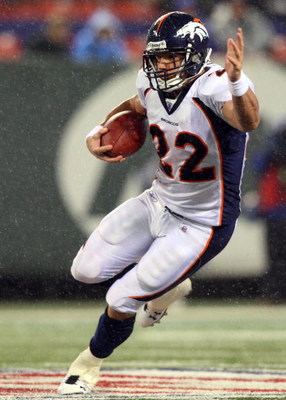 This guy was amazing when healthy and in the game last year, putting up No.2 running back numbers from a fantasy perspective.
The fact that he is barely getting drafted this year is a product of the running back abundance in Denver.
It will most likely be some sort of a committee system with whoever is the most effective getting their role upped as the year goes on.
Because Hillis has the ability to play fullback too as well as catch passes out of the backfield, he should get more than enough time on the field to prove himself to his new head coach.
If Moreno begins his career like Adrian Peterson did, then it is safe to say there won't be much room for the other Denver backs to make plays but assuming that doesn't happen, which is a pretty safe assumption, Peyton Hillis can be a very solid RB taken in one of the final draft rounds.
He has, however, gotten some love lately on TV as a sleeper so don't let him get stolen from you.
8) JEREMY MACLIN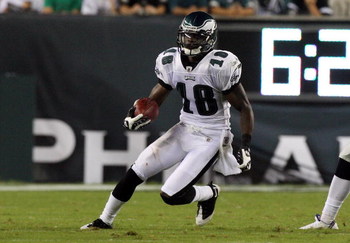 There is an unwritten rule of fantasy football that you never put any faith in rookie wide receivers. That is true most of the time but occasionally, as is true of another Philadelphia WR's performance last year,you can get great number three fantasy values out of a breakout rookie in the later rounds.
Deshaun Jackson put up great numbers last year for a rookie, and chances are you didn't have to waste higher than a twelth round pick on the guy. Donovan likes to spread the ball around and with his breakout speed, Maclin could get open quite a bit in Philly.
Don't think he will have over 1000 yards but around 800 with a few touchdowns is very possible. Try to snag him late and see what kind of start he gets off to. If Donovan isn't looking for him at all don't be scared to dump him for someone that takes off early. Rookies do tend to be cursed.
7) DOMENIK HIXON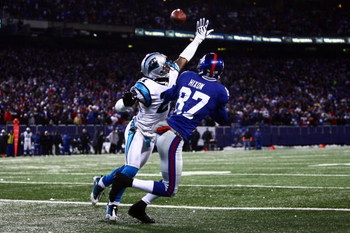 The Giants are poised to have a good offense this year and one that will likely depend on its running game. But that does not mean that Eli Manning has a chance to win that division without throwing some touchdowns this year.
As I mentioned in my TIGHT END ALL BE ALL column, Kevin Boss should be a favorite target of Manning this year, similar to last year
The wide receivers must perform better as well. Hixon has a half a year under his belt as the number one WR out there and hopefully some of the jitters have been lifted.
The G-Men need a big guy who can catch those fade routes in the end zone in a tight game. They need a guy who can make a big first down catch in the fourth quarter. If the Giants make the playoffs this year it will not be without a wide receiver who steps up.
Whether it is Steve Smith or Domenik Hixon (both nice sleepers for the very late fantasy rounds), Eli Manning will need one of them to be his go- to-guy in the red zone.
Look for Kevin Boss to benefit from the absense of Plaxico Burress and consider both Hixon and Smith potential breakout guys that could end up being worthy of a starting spot in fantasy. Not bad bench players at all.
6) LANCE MOORE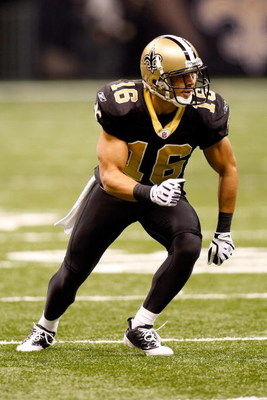 If you had Lance Moore last year it is because you scooped him up as a free agent. You then sat back and watched as he put up HIGH END number two fantasy WR numbers for the most part of the year, slowing down a bit at the end.
The only concern here is injury as he is a little bit banged up. If Moore is on the field this year look for him to have a similar impact to his last year's performance. He may not be wide open quite as much but he has the speed and the breakaway ability to make big plays for Drew Brees and that high power offense. The injury has caused him to slip in drafts making him an excellent value pick. However, do not forget that health is a factor and make sure you keep up to date with his pre season progress.
5) PATRICK CRAYTON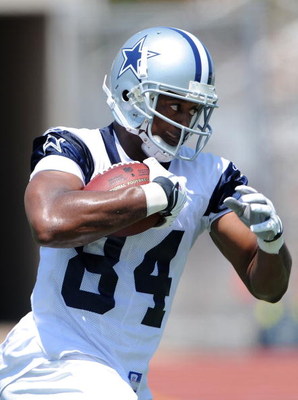 This isn't the first time Crayton would be a sleeper going into a fantasy season. Knowing that Romo likes to throw touchdowns and does so to a variety of wide outs has always made Cowboys Wideouts potential fantasy stars.
With TO gone it is clear there will be a lot more balls to go around. Roy Williams seems to be the guy they want to go with but we have yet to see him and Romo click yet. Don't be suprised if either Crayton or Miles Austin gets a couple more TDs than Williams this year just based on their history with Romo.
Crayton has disapointed before and it is possible that he does again. If you can grab him very late in a 12 team league there is some upside there but as with a lot of these picks, do not be scared to cut them if they start the year off poorly.
4) KEVIN WALTER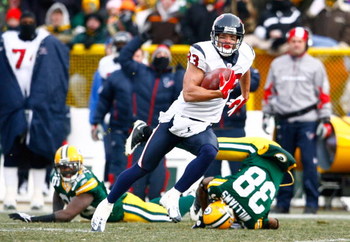 Like Lance Moore, Kevin Walter also had a terrific season last year. Both those guys started the year as free agents and ended the year as number two WRs in fantasy. Walter could be 100 percent again as Shaub will hopefully be healthy for the entire year and that dynamite offense has the potential to become what everyone hopes it can be.
Being the Isaac Bruce to Andre Johnson's Tory Holt should get him a lot of fantasy points in an offense that is slowly beginning to resemble the greatest show on turf. With Slaton and Owen Daniels there as well these guys are going to put up points. There are enough balls to go around in this throw first offense and Walter has the ability to get those balls in the end zone.
Walter is one of the few guys who has not moved up in the draft even though he had a breakout year last year, probably because he is not sexy enough. Big mistake, sexy is winning leagues and this guy can help you do it.
3) ZACH MILLER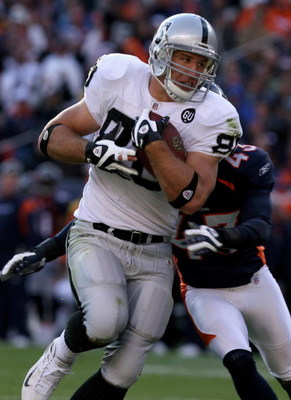 The only TE on this list, Zach Miller is going towards the end of drafts even though he could be a very serviceable fantasy tight end this year. As someone pointed out, he led the league in long grabs last year and with either Russell or Garcia running that team it seems like the TE position should be a big part of the passing attack either way.
Russell has the keys for now and if he wants to keep them he will probably trust his reliable man in the middle a lot more than his young fast wideouts that need to go deep down the field to get separation. Whether the Raiders are decent or not it doesn't really matter, Miller will have great fantasy value, especially where he is going.
A guy who could put up Cooley type numbers is going several rounds later. Wait on a TE and take Zach Miller because being able to use those early rounds on more important positions can go along way in creating the best possible team in fantasy football.
2) DAVID GARRARD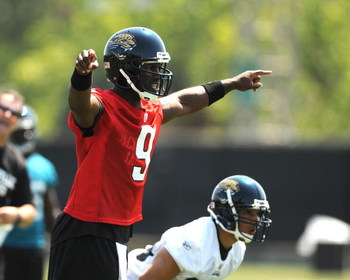 Even with a terrible offense last year Garrard still finished the year as a top 12 fantasy quarterback regardless of the scoring system. A lot of leagues didn't even have him on a team.
The Jaguars spent two high draft picks rebuilding the offensive line, signed Tory Holt and Maurice Jones-Drew (MJD) is a year better.
Garrard is a great sleeper QB that is going very very late in fantasy drafts. He is going after Favre, after Quinn and after Kyle Orton. Although some of those guys might have more upside than Garrard, you know what you are getting. To get consistent points from a guy who runs the ball, rushes for TDs, and doesn't throw picks is something that can make a fantasy team great if that guy was taken very late in a draft.
Being able to get stud RBs and WRs early on and using David Garrard as the icing on the cake is a winning formula. QB isn't that deep this year, but some guys at the bottem of the list are way more useful than people want you to think. Whereas a lot of the middle round QBs are high risk/high reward guys like Palmer or Favre, Garrard is money in the back for a very low price.
1) LEON WASHINGTON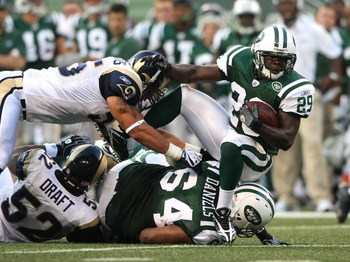 Washington will be used the same way as Bradshaw in a Giants uniform or Sproles in a Chargers uniform. If you get points for return TDs than he is even more valuable as he has been known to bring back a few of those in his day.
The speedster can score from anywhere on the field. He can break out a 60-yard run or score from the ten. Where he is being picked in fantasy drafts, it is as if he only gets on the field a few times a game. He gets over ten touches a game and most of the time he turns one of them into a four point fantasy play.
He will end the year as a very valuable third running back who could be better for your team than some low end WR. Draft Little Leon and see how he progresses. Not only will he be great when your RBs have byes but if you see your third RB/WR isn't putting up the numbers you hoped, than don't be afraid to toss Leon out there on a weekly basis. Sometimes a solid 10 points is good enough.
Icing on the cake is that he is a very fun player to watch and exciting highlights are even better when they affect your fantasy team. Although Thomas Jones is set up to have a good season as well, look for the Jets to get the most out of both their star backs, changing up their style of attack whenever the opportunity presents itself. Leon Washington is the type of player who can do a lot with a little, something that makes him a very valuable STEAL in this years fantasy drafts.
Good luck with upcoming drafts and feel free to comment with who YOU think is worth drafting late in your league!
Keep Reading