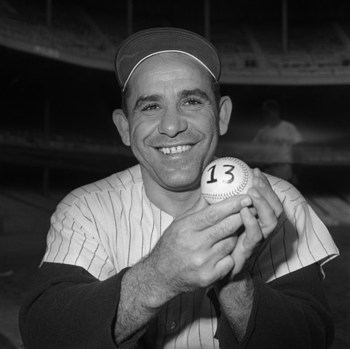 Over 107 baseball seasons (but who's counting?), it's obvious that the New York Yankees have enjoyed much success. But it also appears obvious that there have been numerous players that have been lucky enough to wear the pinstripes that define the Bronx. In this rather long slideshow I will make an attempt to break down every position and give you my opinion of who the greatest player at that position is. The usual protocol for my articles go. If you disagree, want to make your point heard, or just want to comment, please do comment, because your feedback is appreciated.
Now that that's out of the way, let's get to the fun stuff.
For the position players, I will give who I think is the best player at that position, and why. Then I will list honorable mentions.
The pitching section could get tricky, so here it is. There will be five slides for starting pitchers, and one slide for a reliever. The starting pitchers are in no particular order. That wasn't too tricky, but now you understand.
I also want to clarify that all of my decisions are based on how the player played when he was here. That means that I do not factor in if a player took steroids, because I feel that would take away from the list. Having a guy who wasn't really the best player be named the best player is something I don't want to do, because it wouldn't be an accurate list.
Even if you're not a Yankee fan, take a glance at the list, just to get a little education of the greatest players of Yankee history. If you're a Red Sox fan, you'll get a good education about who you've been hating for your whole life.
Now the fun stuff. Want to know what it is? You're gonna have to view the slideshow to find out (what a cliffhanger).
All-Time Yankee Catcher: Yogi Berra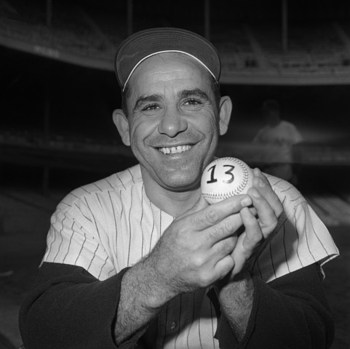 .285 358 HR 1430 RBI (1946-1963)
"If you have a fork in the road,take it." There is no fork in the road, as Yogi is my clear cut No. 1 pick, but I will take it.
Not only does he have the most home runs (358) and RBI (1430) for a Yankee catcher, but he has the most World Series champions for a player, with 10. Yogi caught the Casey Stengel managed teams that won five straight World Series from 1949-1953.
Now, Berra is not remembered as much for being a player as he is a personality, whether it be for making periodic appearances at Yankee games, or appearing on numerous YES network programs. Either way, Yogi is a fan favorite, a legend, and whether you remember him for being a player or not(I definitely don't), he was one of the best catchers of all time, and the best catcher in Yankees history.
Honorable Mentions:
Bill Dickey .313 202 HR 1209 RBI (1928-1943, 1946)
Thurman Munson .292 113 HR 701 RBI (1969-1979)
Elston Howard .279 161 HR 733 RBI (1955-1967)
Jorge Posada .277 236 HR 936 RBI (1995-2009)
All-Time Yankee First Baseman: Lou Gehrig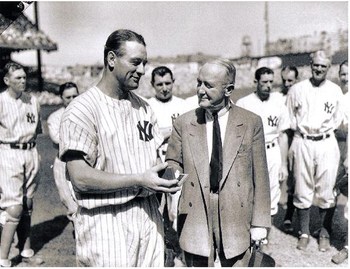 .340 493 home runs, 1995 RBI (1923-1939)
It's hard to believe, but the Yankees have not had that many memorable first basemen in their history. Even if Albert Pujols, Willie McCovey and Jimmie Foxx had all played first base for the Yankees, Gehrig would still be No. 1.
Gehrig, a Columbia University student, teamed up with Babe Ruth during the 1920s and the early 1930s to become what is known as the greatest offensive one-two punch in baseball history. "Murderers Row," often referred to as the lineup of the 1927 Yankees, is considered to be one of the greatest teams ever. All in all, he was one of the greatest to ever play the game, and is the greatest first baseman to ever play for the Bronx Bombers.
Honorable Mentions:
Don Mattingly .307 222 Home Runs 1099 RBI (1982-1995)
Tino Martinez .276 192 Home Runs 739 RBI (1996-2001, 2005)
Hal Chase .284 20 Home Runs 494 RBI 248 SB (1905-1913)
Wally Pipp .282 80 Home Runs 827 RBI (1915-1925)
Joe Pepitone .252 166 Home Runs 541 RBI (1962-1969)
All-Time Yankee Second Baseman: Tony Lazzeri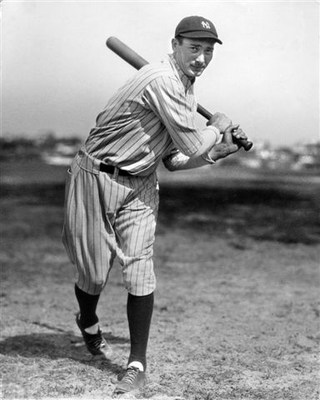 .293 169 Home Runs 1154 RBI (1926-1937)
Relatively underrated even among Yankee fans, "Poosh `Em Up" Tony is the number one Yankee second baseman. Lazzeri had five seasons in which he hit .300 or higher and seven seasons in which he totaled more than 100 RBI. He was a starter on the original 1933 All-Star team. Lazzeri is truly an underrated player. Elected into the Hall of Fame by the Veterans Committee in 1991, Lazzeri is the only Yankee second baseman to be elected into the hall. I think that it is a safe assumption to say that if the all-star game had started around the time Lazzeri came into the league, he would have been in at least four or five of them. Either way, he was a fantastic second baseman during one of the greatest eras of Yankee baseball.s twice, hit over .300 three times in eleven seasons with the Yankees (1915-1925). And as a tribute to his success, which in some cases is long forgotten, Lazzeri gets the number one spot on this list.
Honorable Mentions:
Willie Randolph .275 48 Home Runs 549 RBI 251 SB (1976-1988)
Bobby Richardson .266 34 Home Runs 390 RBI (1955-1966)
Joe Gordon .271 153 Home Runs 617 RBI (1938-1946)
Robinson Cano .305 80 Home Runs 369 RBI (2005-Current)
All-Time Yankee Third Baseman: Alex Rodriguez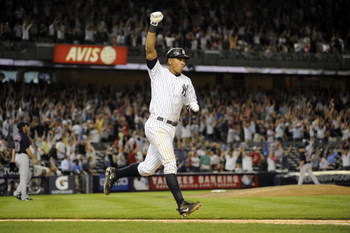 Alex Rodriguez .298 229 Home Runs 679 RBI (2004-Present)
Though many would assume A-Rod is the unanimous choice, this pick didn't go without much consideration for Graig Nettles, long time Yankee third baseman in the 1970s and 80s. In fact, I had Nettles as the number one guy on this list for a while, and then decided that A-Rod was the right guy.
In five and a half seasons, Rodriguez has eclipsed nearly all of Nettles' power records for a third baseman. Rodriguez, though a steroid user, is one of the greatest players of all time. Statistically, he is the greatest Yankee third baseman of all time, and though Graig Nettles name is still pounding in the back of my head, A-Rod gets the nod here.
Honorable Mentions:
Graig Nettles .253 250 Home Runs 834 RBI (1973-1983)
Red Rolfe .289 69 Home Runs 497 RBI (1931, 1934-1942)
Clete Boyer .241 95 Home Runs 393 RBI (1959-1966)
Billy Johnson .275 45 Home Runs 388 RBI (1943, 1946-1951)
Wade Boggs .313 24 Home Runs 246 RBI (1993-1997)
All-Time Yankee Shortstop: Derek Jeter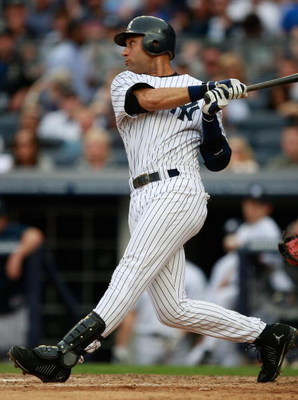 .316 221 Home Runs 1055 RBI (1995-2009)
Here is a man who truly needs no introduction. A 10 time All-Star, four time World Series champion, 1996 Rookie of the Year, three time Silver Slugger and three time Gold Glover, Jeter is truly one of the greatest.
He is not just a great player during the regular season, but is a .309 hitter in the postseason, with 17 home runs and 49 RBI's. Those 17 home runs put him just one behind Mickey Mantle's record 18 post season home runs.
Not only is he an offensive beast, but as a shortstop, he is one of the best. He is known for his "pirouette" move, in which he fields a ground ball on the run, spins around and throws the ball in the process. He has made many fielding gems, but the greatest one was when he dove into the stands against the Red Sox in 2004.
It is this kind of play that separates Jeter from the rest of the pack. He is a once in a generation player, so Yankee fans, savor every second of Derek Jeter baseball, because it won't be around forever.
Honorable Mentions:
Phil Rizzuto .273 38 Home Runs 563 RBI (1941-1942, 1946-1956)
Tony Kubek .266 57 Home Runs 373 RBI (1957-1965)
Bucky Dent .239 27 Home Runs 209 RBI (1977-1982)
Tom Tresh .247 140 Home Runs 493 RBI (1961-1969)
All-Time Yankee Right Fielder: Babe Ruth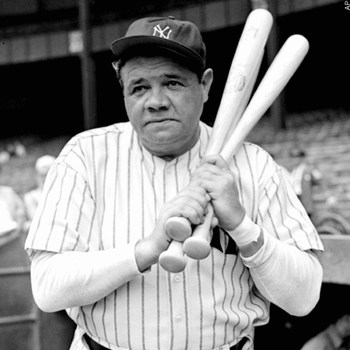 .349 659 Home Runs 1975 RBI (1920-1934)
You can bet your life savings that if you have the words All-Time and Yankees in the same sentence, Babe Ruth will be associated with it. Arguably the greatest player in baseball history, Ruth started his career off with the Boston Red Sox, where he was a highly successful pitcher for parts of six seasons. Rumor has it that the Red Sox sold Ruth in order for their owner to make a play (yes, the Broadway kind of play), and that was the beginning of the end.
Ruth had unmeasurable success with the Yankees. Four World Series, an MVP and 659 home runs later, Ruth is still a legend. He easily gets my vote as the greatest player to ever play right fielder for the Yankees.
And while my opinions of some of the other positions could easily change (Robinson Cano will most likely pass Lazzeri if he continues his current play for the next ten years), my opinion of Ruth will most likely never change.
Honorable Mentions:
Paul O'Neill .303 185 Home Runs 858 RBI (1993-2001)
Dave Winfield .290 205 Home Runs 818 RBI (1981-1988, 1990)
Roger Maris .265 203 Home Runs 548 RBI (1960-1966)
Hank Bauer .277 158 Home Runs 654 RBI (1948-1959)
Reggie Jackson .281 144 Home Runs 461 RBI (1977-1981)
Willie Keeler .294 10 Home Runs 206 RBI (1903-1909)
All-Time Yankee Centerfielder: Joe DiMaggio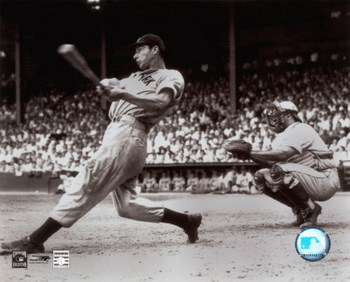 .325 361 Home Runs 1537 RBI (1936-1942, 1946-1951)
This was clearly the toughest choice I had to make. Between DiMaggio and Mickey Mantle, I was struck with one of the toughest decisions of my life. DiMaggio got the nod, but by next to nothing.
Mantle had over 150 home runs more than DiMaggio, so why is DiMaggio the guy?
It's the fact that DiMaggio's career strikeout total (369) is within eight of his career home run total (361). Also add on the fact that DiMaggio missed three years of his career, in the prime of his career, to serve in World War II.
In a season where Ted Williams hit .406, guess who won the MVP? It was DiMaggio, who in 541 at-bats, had 13 strikeouts. That's not a typo, that's correct, just 13 strikeouts.
And while Mantle had over 500 home runs, DiMaggio deserves to be on top of this list.
Honorable Mentions:
Earle Combs: .325 58 Home Runs 632 RBI (1924-1935)
Mickey Mantle: .298 536 Home Runs 1509 RBI (1951-1968)
Bernie Williams: .297 287 Home Runs 1257 RBI (1991-2006)
All-Time Yankee Left Fielder: Bob Meusel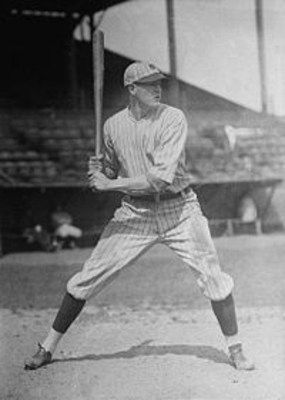 .311 146 Home Runs 1006 RBI (1920-1929)
When thinking of the top left fielder in Yankees history, Bob Meusel's name probably doesn't come to mind. I'm not saying he should be in the Hall of Fame, but a .311 average, five 100 RBI seasons and a league leading 33 home runs in 1925 (though Babe Ruth would have likely taken the home run crown if not for stomach problems that limited him to 98 games), Meusel was a fine player.
If you're thinking Roy White, his name went through my head also, but it just seems that based on his stats and on his three world series rings, Meusel is the right pick for the greatest Yankee left fielder.
Honorable Mentions:
Roy White .271 160 Home Runs 758 RBI (1965-1979)
Lou Piniella .295 57 Home Runs 417 RBI (1974-1984)
Rickey Henderson .288 78 Home Runs 255 RBI 326 SB (1985-1989)
Hideki Matsui .291 135 Home Runs 575 RBI (2003-Present)
All-Time Yankees Starting Pitcher: Whitey Ford
236-106 2.75 ERA 1956 K
This is the only picture of Whitey Ford I could find of him with white hair, so even though its 1982, its worth it.
Ford is widely considered the greatest Yankee starting pitcher of all time. He has the highest winning percentage of any Yankee starter (.690), and for that matter, a better winning percentage than any pitcher in baseball history.
If it wasn't for weird usage by Casey Stengel (he would use him against the other teams best pitcher rather than going on a four day or five day rotation, which meant he didn't pitch as much) and a few years in the army, Ford could have reached 300 wins.
Regardless, he is a legendary pitcher and should be honored.
All-Time Yankees Starting Pitcher: Ron Guidry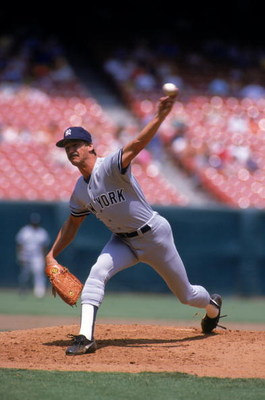 170-91 3.29 ERA 1778 K (1975-1988)
Louisiana Lightning was truly a man of his time. Guidry is fifth on the Yankees all-time wins list with 170, and second for all-time strikeouts with 1778.
In 1978, Gator had what some call the greatest season ever for a pitcher. In that magical season, Guidry went an incredible 25-3, with an ERA of just 1.74. He won the Cy Young that season, and finished second in the AL MVP vote to Jim Rice.
He won 20 games twice, and lost 10 or more just three times. A four time all star and five time gold glover, it's easy to see why Guidry is such a well respected Yankee.
All-Time Yankees Starting Pitcher: Red Ruffing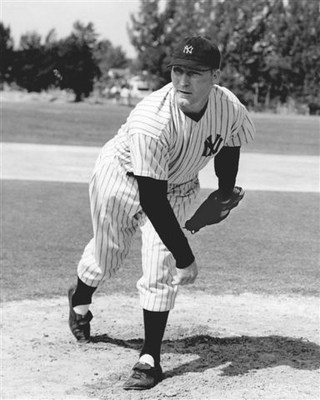 231-124 3.47 ERA 1526 K (1930-1942, 1945-1946)
If Babe Ruth cast a spell on the Boston Red Sox that made every player the Yankees got from the Red Sox a Hall of Famer, Red Ruffing is part two of that spell.
Combine being a mediocre pitcher with being on one of the worst teams of the era, Ruffing went for quite a ride in his Red Sox career. Over parts of seven seasons, Ruffing was 39-96 with an ERA of 4.61, including leading the league in losses in both 1928 (25) and 1929 (22).
Then something magical happened, which has something to do with Ruth's curse. On May 6th, 1930, Ruffing was traded to the New York Yankees in exchange for Cedric Durst and $50,000, which in today's money is about $640,000. Durst would go on to hit .245 in 102 games with the Sox in 1930, but he was done after that season.
Ruffing? He didn't do much, only posting a 231-124 record with a 3.47 ERA in 391 starts over parts of 15 seasons. By the way, those 231 wins are good for second all time for a Yankee, just five shy of Whitey Ford.
Ruffing is also one of the most underrated pitchers of all time. When thinking of the greatest pitchers of Yankee history, you think of Whitey Ford, not so much Red Ruffing. I would guarantee you that thousands of baseball fans would be shocked to hear that Ruffing is second on the Yankee wins list, over guys like Lefty Gomez, Ron Guidry and Waite Hoyt.
Regardless of his underratedness, if that is a word, Ruffing was an unbelievable pitcher for his time, and is still recognized as an amazing talent.
All-Time Yankees Starting Pitcher: Lefty Gomez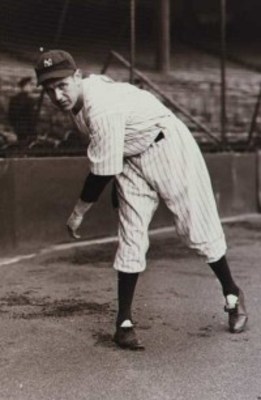 189-101 3.34 ERA 1468 K (1930-1942)
Like Ruffing, Gomez also doesn't get a whole lot of credit for what he did in pinstripes. Also like Ruffing, Gomez started out his baseball career the same year Ruffing started his Yankee career, 1930. I could try to argue who was the better pitcher, but that's not what this is about.
Gomez was an extremely valuable pitcher for the Yankees four straight World Series winning teams of 1936-1939. In addition to winning 20 games four times and leading the American League in wins and ERA twice, Gomez went an incredible 6-0 in seven world series starts, posting a 2.86 ERA in the process.
Ok, he didn't win 200 games and he never had 200 strikeouts in a season, but Gomez was consistently dangerous, in both the regular season and the world series, and his playoff clutch performances are what gets him on this slideshow.
All-Time Yankees Starting Pitcher: Mel Stottlemyre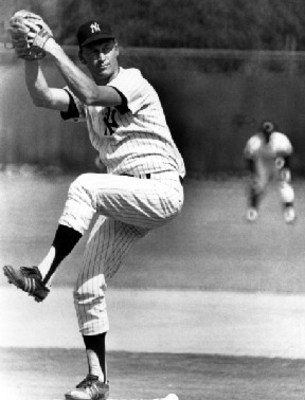 164-139 2.97 ERA 1257 K (1964-1974)
It might seem a bit surprising to see Stottlemyre above hall of famers Waite Hoyt, Herb Pennock and Jack Chesbro, but I feel that this is indeed the right decision.
First of all, Stottlemyre has more wins, strikeouts and a lower ERA as a Yankee than both Herb Pennock and Waite Hoyt, who are both Hall of Famers.
Then consider the fact that Stottlemyre played with a whole bunch of horrible Yankee teams, stretching from the mid 1960s to the mid 70s. He was, in a sense, the Don Mattingly of his time.
Yankee fans who grew up during that time realize how unbelievable a pitcher he was. Though he may not be a Hall of Famer, he gets the nod over a few for this list.
All-Time Yankee Starting Pitcher Honorable Mentions: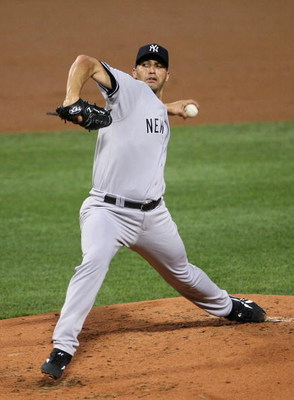 Waite Hoyt 157-98 3.48 ERA 713 K (1921-1930)
Herb Pennock 162-90 3.54 ERA 700 K (1923-1933)
Jack Chesbro 128-93 2.58 ERA 913 K (1903-1909)
Andy Pettitte 188-107 4.02 ERA 1691 K (1995-2003, 2007-Present)
Ed Lopat 113-59 3.19 ERA 502 K (1948-1955)
Mike Mussina 123-72 3.88 ERA 1278 K (2001-2008)
Vic Raschi 120-50 3.47 ERA 832 K (1946-1953)
Bob Shawkey 168-131 3.12 ERA 1163 K (1915-1927)
Allie Reynolds 131-60 3.30 ERA 967 K (1947-1954)
Spud Chandler 109-43 2.84 ERA 614 K (1937-1947)
All-Time Yankee Reliever: Mariano Rivera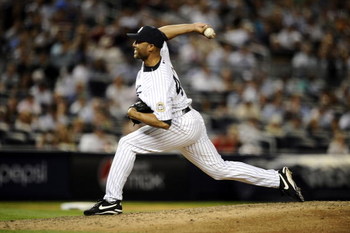 69-51 2.27 ERA 518 SV (1995-Present)
This pick is as predictable as Tim Wakefield's knuckle ball is unpredictable. While the Yankees have had many great reliever, Mo has simply taken the cake over the last 13 years as not just the most dominant reliever of his era, but the most dominant reliever in baseball history, which means he is number one on the Yankee list.
With a little help from his cutter, of course. Every batter who has played over the last 13 years knows about Mo's cutter, but still, they simply cannot hit it. It's something that has continued to amaze Yankee fans and baseball fans for the last two decades, and let's hope that he makes it three decades.
Honorable Mentions:
Sparky Lyle 57-40 2.41 ERA 141 SV (1972-1978)
Goose Gossage 42-28 2.14 ERA 151 SV (1978-1983, 1989)
Dave Righetti 41-38 2.96 ERA 223 SV (1984-1990) **as a reliever**
Mike Stanton 31-14 3.77 ERA 15 SV (1997-2002, 2005)
Steve Hamilton 34-20 2.78 ERA 36 SV (1963-1970)
Final Slide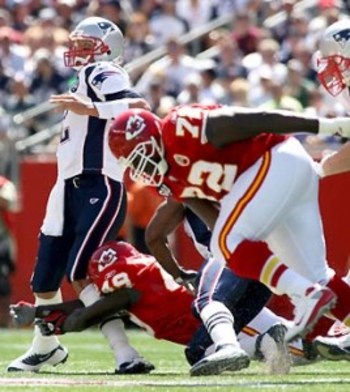 Thanks for taking the time to read this slideshow, and if there's any players you think belong that I missed, please tell me. And once again, if you feel like saying something, say it, comment and give me your objection, opinion or a compliment. Whatever your feedback is, I want to hear it.
If you were wondering what the final roster looked like, here it is:
All-Time Yankees Starting Lineup:
Catcher: Yogi Berra
First Base: Lou Gehrig
Second Base: Tony Lazzeri
Third Base: Alex Rodriguez
Shortstop: Derek Jeter
Right Field: Babe Ruth
Center field: Joe DiMaggio
Left Field: Bob Meusel
All-Time Yankees Pitching Staff:
Starters:
Whitey Ford
Ron Guidry
Red Ruffing
Lefty Gomez
Mel Stottlemyre
All-Time Reliever:
Mariano Rivera
If you're a Jet fan, you should like this slideshow just for the picture on this slide. If you're a Patriots fan, well, sorry.
Keep Reading

New York Yankees: Like this team?