As the World Yearns: A Passport to the 12 Sexiest Countries in Sports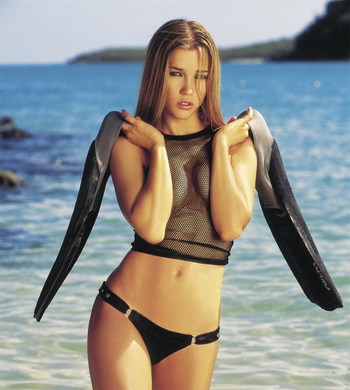 The best thing about sports is how it can bring different cultures together. A dunk is a dunk in whatever language you celebrate it in.
But the best thing about the worldwide quality of sports is the quality of sexy athletes that countries around the globe crank out.
This is a celebration of all the beautiful, athletic women out there—a time to look past America and see what else the world has to offer.
Here are the 12 Sexiest Countries in Sports.
No. 12: Canada—Tanith Belbin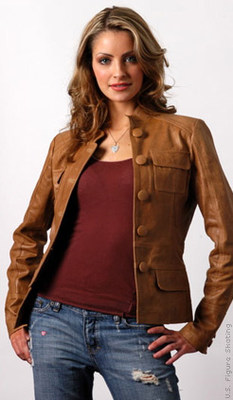 Our neighbors to the north may have given us Celine Dion and Bryan Adams, but they have also given us Tanith Belbin, so I guess I can forgive them.
This sexy ice dancer was born and raised in Canada, but she competes for the U.S., so we have embraced her as our own. Like Mike Myers before The Love Guru.
No. 11: Norway—Kari Traa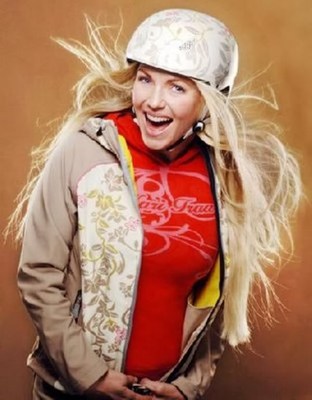 This Norwegian freestyle skier isn't just hot—she's good too. She is a four-time world champion and took gold in the moguls in the 2002 Olympics.
She's not too conservative about her looks either. Traa posed nude in the magazine Ultrasport back in 2001.
That's what I'm talking about. The Norway is the right way.
No. 10: Venezuela—Milka Duno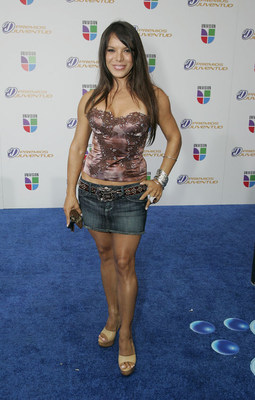 This F1 racer/model tears up the track and our heartstrings.
Although she has somewhat of a reputation for being a slow driver (insert joke here), she forever gets a free pass from me for bitching out annoying Danica Patrick and throwing a towel in her face.
No. 9: Italy—Francesca Piccinini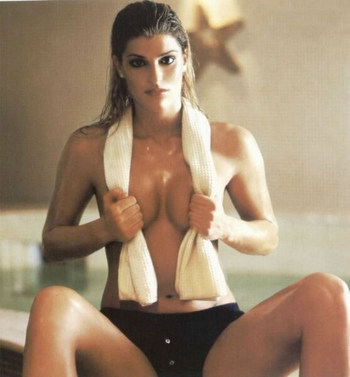 Francesca is an Italian volleyball player who played for Italy in the 2000 and 2004 Olympics.
I don't really know much else about her, but I'm not really sure I need to. Let's just say that she represents Italy well in more ways than one.
No. 8: Germany—Katarina Witt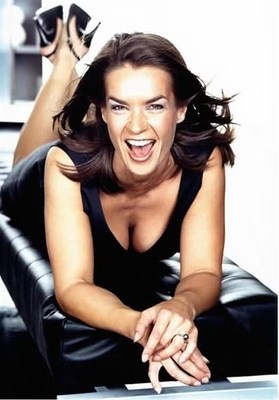 German figure skater Katarina Witt made history and took one giant leap for hot athletes everywhere when she became the first athlete to pose for Playboy. That issue became only the second ever to sell out.
I guess more guys watched figure skating than would have liked to admit.
No. 8: Germany—Anni Friesinger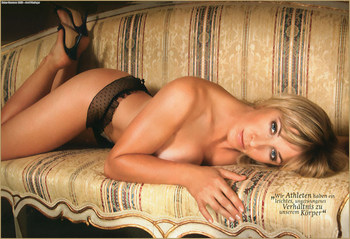 Anni Friesinger definitely adds a ton of hotness to Germany. This speed skater has won four Olympic medals as well.
It's too bad that she decided on speed skating. I would have preferred slow jogging as her sport of choice.
No. 7: France—Laure Manaudou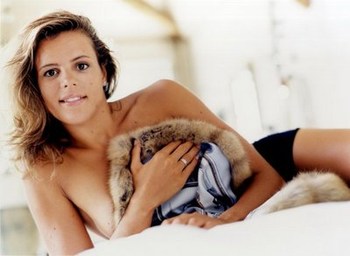 Laure is a champion French swimmer with three Olympic medals to her name.
She may be fast in the pool, but my favorite part of the race is when she gets out and flips her hair back, climbs out, and starts to unhook her biki...wait, actually that's Fast Times At Ridgemont High. My bad.
Still hot though.
No. 7: France—Christine Arron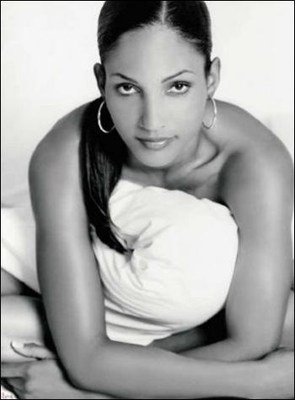 No, that's not J-Lo you're looking at. That's French track and field star Christine Arron.
She's the best thing to come out of France since fries and toast.
No. 6: Slovakia—Daniela Hantuchova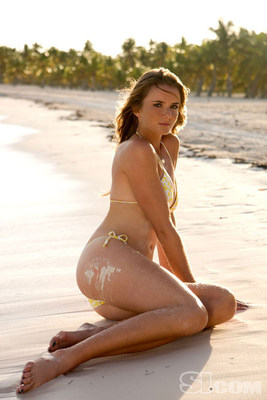 And here we begin our tennis portion of the list. Tennis players are routinely the hottest athletes in the world, and Daniella is no exception.
She is the lone participant from Slovakia, but she is hot enough to take her country all the way up to No. 6 in our countdown.
No. 5: Serbia—Biba Golic
Biba Golic is a Serbian table tennis player.
I know what you're thinking. Really? Table tennis? How did someone that hot end up playing table tennis?
Honestly, I don't know, but she is single-handedly the only reason I've ever said, "Hey, let's watch ping pong on TV for a while."
No. 5: Serbia—Ana Ivanovic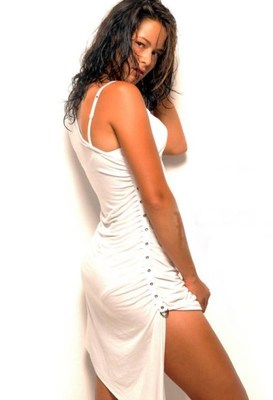 This tennis-playing hottie challenges Maria Sharapova for the highest combination of looks and talent. Ivanovic was the former No. 1 player in the world and won two different majors last year.
She also keeps her relationships in sports, as she is currently dating golfer Adam Scott. Gotta give her props for that.
No. 4: Brazil—Ana Paula Mancino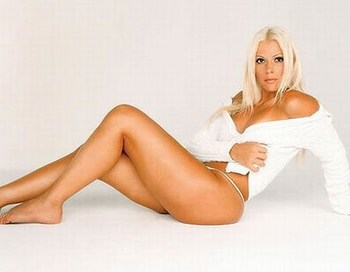 Ana is a former Brazilian handball player.
There's just too many jokes for that. I'm going to have to move on to the next slide.
No. 4: Brazil—Bia and Branca Feres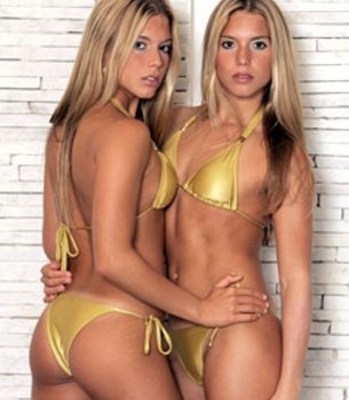 Bia and Branca are identical twins, synchronized swimmers, and the only reason I would ever, EVER watch synchronized swimming.
Once they make synchronized dancing a sport, I nominate these two to form the first Brazilian team.
No. 3: Australia—Anna Rawson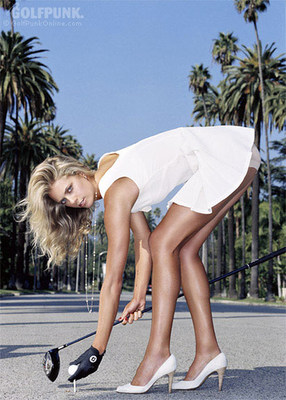 Rawson is a PGA golfer from Australia. Did you know that in Australia, when the ball circles the hole, it spins the opposite way than in America?
True story.
No. 3: Australia—Niki Gudex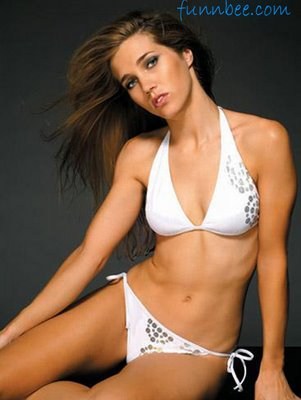 Niki Gudex is a mountain biker from Australia. Whenever I see her, it is definitely a g'day, mate!
No. 3: Australia—Tatiana Grigorieva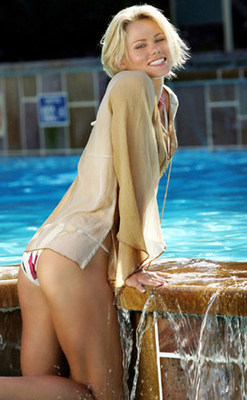 Tatiana is a retired pole vaulter. Although she was born in Germany, she spent most of her life down under, competing for Australia.
I wouldn't mind watching her put another shrimp on the barbie.
No. 2: America—Lokelani McMichael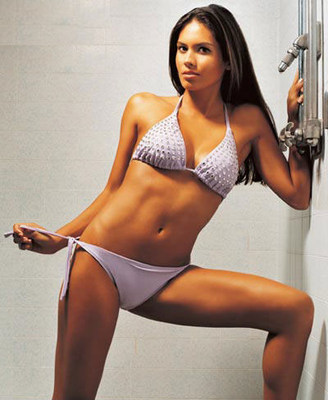 Lokelani is one of America's most multi-talented athletes. She participates in the triathlon, she surfs, and she models on the side.
I would have been happy with her just doing one of those. Anything to keep this Hawaiian beauty in my sports life.
No. 2: America—Ashley Force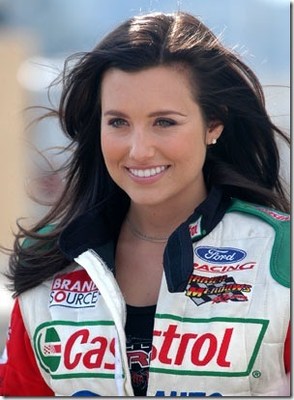 I don't know how Danica Patrick became the sex symbol for racing, but Ashley Force blows her out of the water. Force is a funny car drag racer, but there is nothing funny about how hot she is.
A girl like that who likes to go fast? Sign me up.
No. 2: America—Kristi Leskinen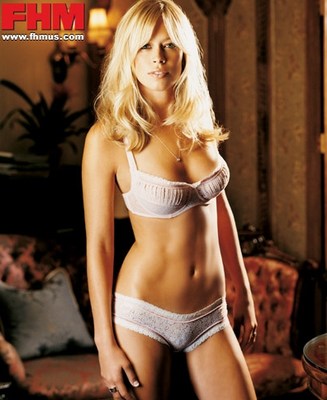 Her name may sound exotic, but Kristi Leskinen is very much American, and we are very glad to have her on our side.
Leskinen is a "freeskier," which I assume means freestyle skiing, but which I hope means skiing naked.
No. 1: Russia—Maria Sharapova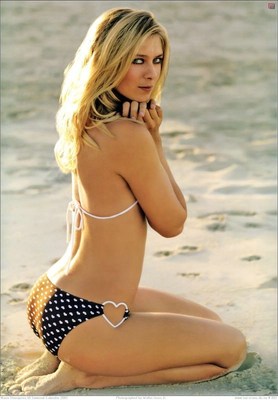 Could the No. 1 spot be anyplace else? Russia almost single-handedly introduced the hot athlete to us. Who cares if they are all tennis players? Are you complaining that you get to see them all running around the court in those sundresses?
Sharapova is an obvious choice to kick off this team. She may have followed in Anna Kournikova's modeling footsteps, but as far as talent went, she was in a league of her own.
The former No. 1 player in the world is still plugging away, striving to be a great player, and I salute that.
No. 1: Russia—Maria Kirilenko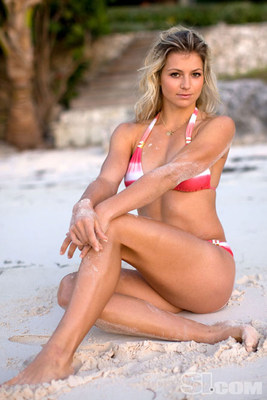 Maria Kirilenko is another Russian hottie tennis player. Russia must just have a factory that cranks out these girls on a yearly basis. Like they did with Ivan Drago.
Kirilenko can break me anytime, though.
No. 1: Russia—Anna Kournikova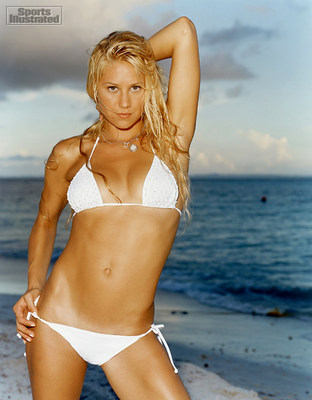 Anna Kournikova. She wasn't much of a tennis player, but she sure was something to look at.
She put Russia on the map as a hottie tennis player paradise and made it okay for pre-pubescent boys everywhere to watch women's tennis.
There was life before Anna Kournikova and after Anna Kournikova.
Keep Reading