The Many Faces of Zenit's Szabolcs Huszti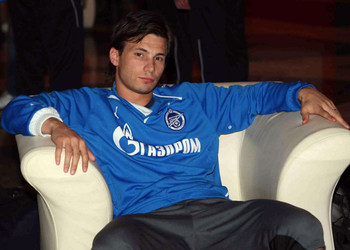 When Zenit St. Petersburg signed Hungarian winger Szabolcs Huszti from Hannover before the 2009 Russian Premier League season, they expected to get a playmaker who could possibly replace Andrei Arshavin.
In that sense, he has not lived up to his expectations. But how many players could adequately replace a player like Arshavin?
Instead, Huszti has brought a new dimension to the team. Although he shares a similar pace as Arshavin, his free kicks and corners have proven to be exceptionally dangerous. His work ethic is second-to-none on the team and can never be faulted for not giving 100 percent effort.
As he has received more playing time as the summer progresses, he is just another jewel in Zenit's already spectacular midfield. The group already consisted of three Russian internationals and a Portuguese star when he arrived and he has just made them even better.
One of the most animated players on the field, he brings genuine emotion to the pitch.
Welcome to St. Petersburg, Szabolcs!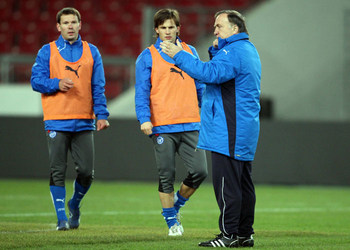 There's nothing like football practice in the Russian winter.
Huszti and Konstantin Zyryanov receive instruction from former manager Dick Advocaat. Szabolcs is mesmerized by the General's remarkably small hands at the same time.
After turning down moves to Everton and Celtic, the Hungarian settled with the UEFA Cup Champions and was down to business immediately after arriving from Germany.
You Say Goodbye, and I Say Hello
Huszti beats out Igor Semshov and Andrei Arshavin in a foot race. But the memories would be short lived. Only a few days later, Arshavin would depart for England.
Notice the difference in dress between the incoming Hungarian and the native St. Petersburger on the right.
The Debut
When Huszti came on in the 76th minute, the time marked his first appearance for Zenit St. Petersburg in the Russian Premier League.
And it didn't take long to make his presence felt.
Visiting Lokomotiv Stadium, he relieves Diniyar Bilyaletdinov of the ball as Zenit push for a winning goal. The teams would draw at one.
How Do You like Your Hungarian Sandwich?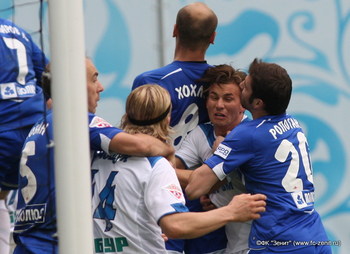 When Huszti came on in the 71st minute against Dinamo Moscow, he received a very warm welcome from midfielder Adrian Ropotan.
A bit too warm for his liking.
Zenit fell to the hosts, 1-0, for their second straight defeat on May 24.
Who Says You Can't Use Hands in Football?
During a team practice, Huszti was having a bad day and simply could not put the ball past Vyacheslav Malafeev. So he literally decided to take matters into his own hands.
He picks up the ball, sprints towards the net and throws it into the net.
GOOOOOOOOOAAAAALL!
Run!!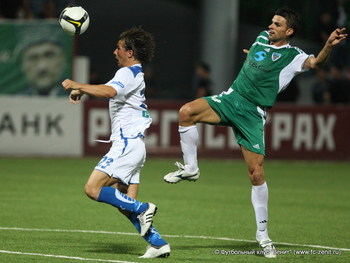 Working against Terek Grozny, Huszti runs for his life from an impending kick to the buttocks from Valentin Iliev.
Although the team would fall in the 89th minute by a final score of 3-2, Huszti scored his first goal in a Zenit uniform.
Try and catch him now!
I Hope He Had His Brakes Inspected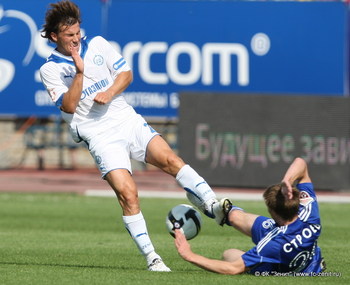 Huszti does his best to avoid running into Tom Tomsk defender Victor Stroev.
That didn't work out so well.
GOOOOOOAAAAAL!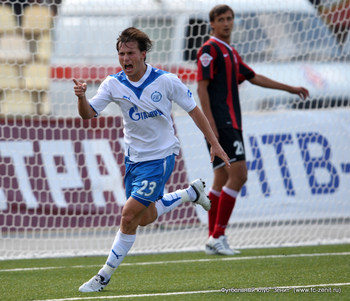 That's one happy, happy Hungarian.
Visiting Amkar Perm, Huszti scores to give Zenit a 3-2 lead after being behind 2-0 early on.
The goal has undoubtedly been the largest he has scored for Zenit.
His Hair is Magic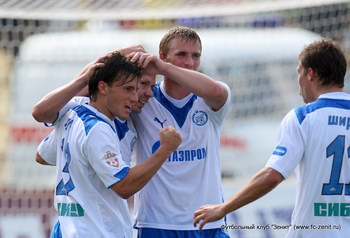 Or apparently Konstantin Zyryanov and Sergei Kornilenko believe so. Radek Sirl also looks to get involved in the head-rubbing.
Damned Turf Fields
Huszti takes some much-needed refreshment after hitting the deck at Amkar Perm.
Instead of grass stains, he now has some new souvenirs. Those darn little black things.
Hey! Where Did You Come From?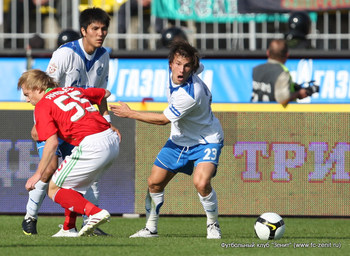 He is in absolute shock that Renat Yanbayev just forgot the football. In a crucial match with Lokomotiv Moscow, Huszti played his finest 90 minutes of football since joining Zenit.
He would capitalize on Yanbayev's error and put it to good use, delivering a perfect ball into the box, where it was deposited by Fatih Tekke for the equalizer.
Any Questions?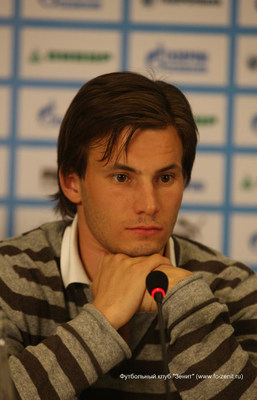 Ask him a question. He is never afraid to speak his mind. Just don't ask in Russian just yet, he is still learning.
With an average match rating of 7.62 since the "second season" began in early July, Huszti has truly become a force in the Zenit midfield. He has two goals and five assists in the past seven outings, all but one were starts.
Thank you Szabi for the corner kicks and many successes in the future!
Keep Reading