The 10 Most Annoying Stadium Quirks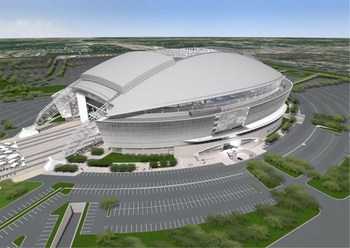 I thought my car got towed this morning, and I was extremely upset at myself for making a $200 mistake.
Then I heard about the new Cowboys Stadium and how the video screen hangs so low that it can be hit by punts and that it will cost $2 million to fix. That made my supposed mistake seem pretty tame by comparison.
Of course, Jerry Jones shouldn't feel so bad. His stadium isn't the only one with a flaw. There have been and still are plenty of stadiums with stupid problems.
Here are the 10 Most Annoying Stadium Quirks.
New Cowboys Stadium Video Screen
The new Dallas Cowboys Stadium was supposed to be the eighth wonder of the world. It was supposed to be the stadium to end all stadiums.
Don't get me wrong, it's still spectacular, but when the thing that people can't stop talking about is how a video screen gets in the way of punts...you've done something wrong.
Now Jerry Jones does not want to drop an extra $2 million to fix the problem, so we might be in for a season of do-overs.
Metrodome's White Ceiling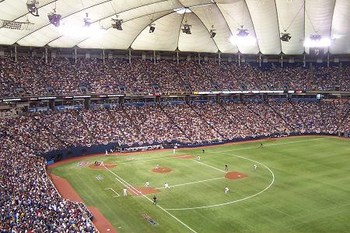 The Metrodome is a fine football stadium. Minnesota can get pretty cold from what I hear, and Brett Favre is probably happy to be playing indoors in that sort of weather.
But for a baseball stadium, the Metrodome sucks. Just look at that white ceiling. Can you imagine trying to track fly balls in that thing? No wonder the Twins can never lure any good free agents.
Veterans' Turf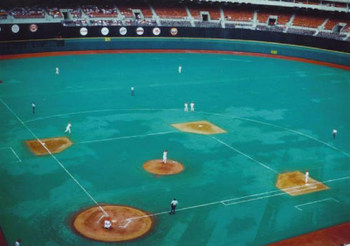 Eventually, Philly did replace the turf in the Vet, but not before their floor went down in crappy stadium history.
Veterans Stadium's field was stitched together, slanted in places, and basically a nightmare for anybody trying to run on it or field a ground ball.
Think Philly fans are bad? Try dealing with them and a field that jutted out trying to take you down as you ran.
New Yankee Stadium's Wind Tunnel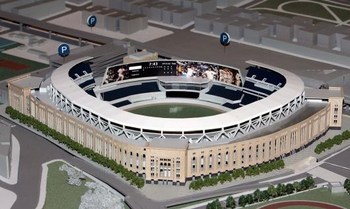 The new Yankee Stadium was supposed to be the most luxurious stadium out there, and the prices showed it. The seats behind home plate sold out for opening day, but then the price had to be dropped because nobody was willing to pay that much for them. They had basically priced out poorer fans.
But the worst part about the new stadium is the supposed wind tunnel that is allowing balls to fly out of the park at a Coors Field kind of rate. It basically destroyed whatever chance of a career that Chien-Ming Wang had left.
At least it will give A-Rod a great chance to hit a bunch of home runs when the game is no longer in question.
Land Shark Stadium's Empty Seats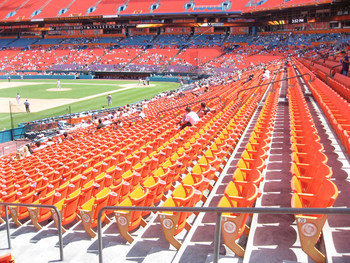 Land Shark Stadium isn't so bad when the Dolphins are playing, but when the Marlins take over the field, that's when it gets bad.
Do you see this picture? Nobody comes to these games, and the result is a ton of empty, ugly, orange seats all over the place.
Come on people, you live in Florida. Get out and enjoy a game!
Tropicana Field's Dome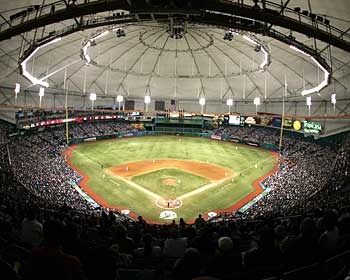 Speaking of Florida...
Tropicana Field, home of the Tampa Bay Rays, is played in a dome. For goodness sake, you play in Florida, and your reaction is to build a stadium that keeps out the weather?
Whose bright idea was that? Domes should be for teams that play in areas that have a lot of snow. That's it.
Minute Maid Park's Center Field Slope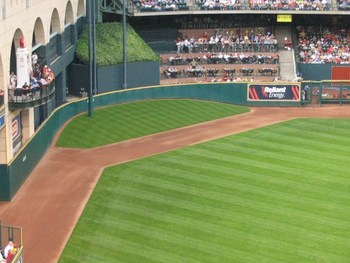 This is just the stupidest addition to a baseball field I think I've ever seen.
Why is this slope necessary? Was baseball getting so easy that we needed to add a level of difficulty? Did you not want to spend an extra day digging out the dirt to make it level?
And there's a pole in the middle of it? A pole...in the field. Brilliant.
Estadio Azteca's Smog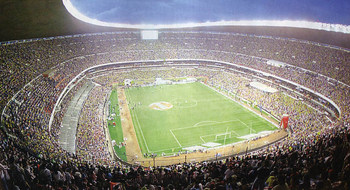 You know how it's harder to exercise when you're at a higher altitude? Well, imagine playing in Colorado...while smoking a couple packs of cigarettes. That's what it's like to play in Estadio Azteca.
The smog is so bad there that players can't run the length of the field without their lungs burning. That's even without the bags of urine being tossed in their direction.
Heinz Field's Sogginess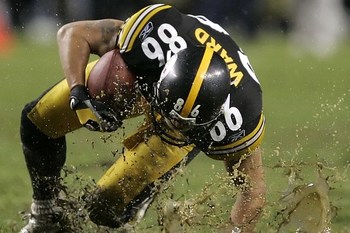 Like clockwork, it seems like every time the Steelers have home field advantage in the playoffs, there is some sort of controversy about their field.
Just look at that picture. That's what happens any time that it rains anywhere close to game day. It's a nightmare to play on.
In a recent survey, 28 percent of players said that it was their least favorite place to play. I bet some of those were even Steelers.
The Capital Centre's Location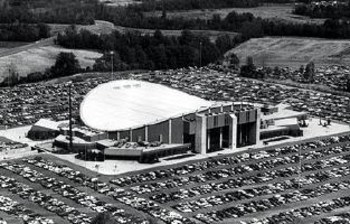 Although this place closed down in 1997, it still stands in our minds for its annoying trait: the location.
See, the place where the Washington Capitals and Washington Bullets played was actually about an hour drive from Washington, D.C.
I can't think of any better way to annoy your biggest fanbase than to make them drive an hour to see their team play. Thank goodness that thing got torn down.
Keep Reading