The Top 15 Defensemen in the National Hockey League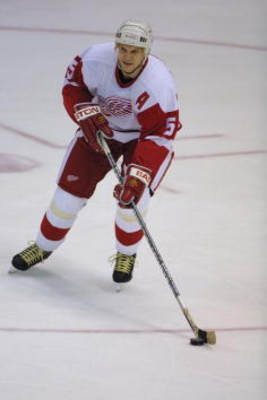 I have decided to do a top 15 players list for each position. The entire player's career will be looked at, with more emphasis put on how they have played in the last two or three years.
Now that the NHL Entry Draft and Free Agent frenzy are behind us, the next three months are the most painful time of year for hockey fans around the world. I mean, what better time to do this than now, right?
1. Nicklas Lidstrom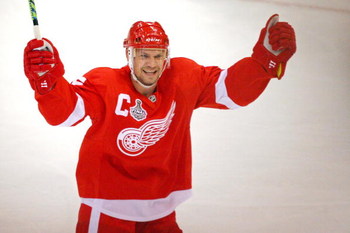 2008-09 Stats: 78 GP, 16 G, 43 A, 59 P
Career Stats: 1,330 GP, 228 G, 769 A, 997 P
Winner of six of the last eight Norris Trophies, Lidstrom is everything you could want in a defenseman. He is never out of position, shuts down the top line players, quarterbacks the No. 1 power play and he is the captain on the best team in the league.
Despite what many people have said, Lidstrom hardly slowed down at all this season, and was still his amazing self for most of the year. He will hit 1,000 career points early on next year as well.
2. Zdeno Chara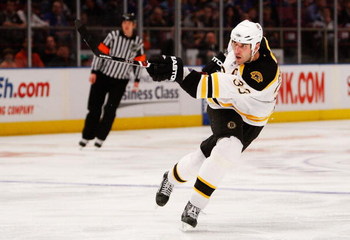 2008-09 Stats: 80 GP, 19 G, 31 A, 50 P
Career Stats: 767 GP, 104 G, 215 A, 319 P
The tallest player in the NHL, Chara has been a good defenseman for a while now, but he finally broke through as an elite player this year, leading the Boston Bruins to a first-place finish in the Eastern Conference.
Chara anchored the Bruins' defense this year and combined his size, strength, defensive awareness, slapshot, and offensive awareness to become the most feared opposition player and win the Norris Trophy this season.
3. Scott Niedermayer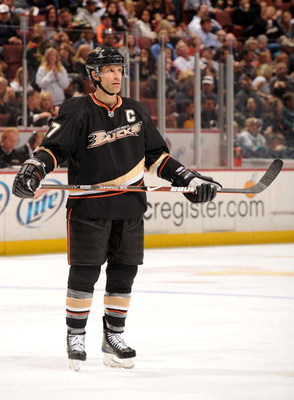 2008-09 Stats: 82 GP, 14 G, 45 A, 59 P
Career Stats: 1,183 GP, 162 G, 530 A, 692 P
This season is likely going to be Niedermayers last, but there is no doubting that he is still an elite NHL defenseman.
Niedermayer finished tied for third in scoring by defenseman with two other graybearded defensemen, Nicklas Lidstrom and Brian Rafalski.
Scott possesses a terrific combination of vision and skating ability, and is one of the best skating defensemen in NHL history. He also has awesome recuperative ability.
4. Mike Green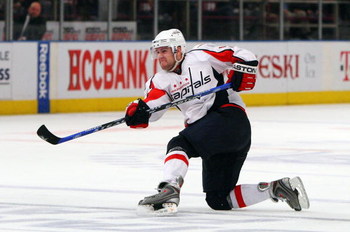 2008-09 Stats: 68 GP, 31 G, 42 A, 73 P
Career Stats: 242 GP, 52 G, 92 A, 144 P
Did anyone expect Mike Green to put up the kind of numbers he did this season? I doubt it. In fact, Green likely would have finished with 36 or 37 goals if he had been healthy the entire season, an amazing total for a defenseman.
Green is a tremendous skater and a natural point producer from the back end. He likes to initiate contact, and is cool under heavy fire. He will be the best defenseman in the NHL some day if he improves his defensive play.
5. Chris Pronger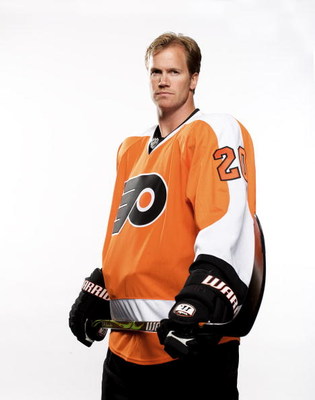 2008-09 Stats: 82 GP, 11 G, 37 A, 49 P
Career Stats: 1,022 GP, 142 G, 464 A, 606 P
After three great seasons in Anaheim, Pronger was traded to Philadelphia, a place that many people see as being a very good fit for him. Pronger could be the guy to put the Flyers over the top.
Pronger is a very big presence on the back end and uses his size to intimidate and rock the opposing players. He can shut down top-line guys and possesses a powerful shot that helps him rack up the points.
6. Dan Boyle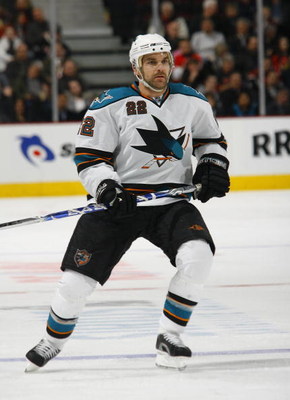 2008-09 Stats: 77 GP, 16 G, 41 A, 57 P
Career Stats: 600 GP, 92 G, 257 A, 349 P
After an injury-plagued 2007-08 season, Boyle proved he could still play with an excellent first season with the Sharks, leading them to a first-place finish in the Western Conference.
Unfortunately for Boyle, the Sharks season was ended when the key players failed to show up once again.
Boyle runs a power play very smoothly and with creativity. He also puts up impressive point totals and has improved his overall play in the defensive zone a lot in recent years.
7. Shea Weber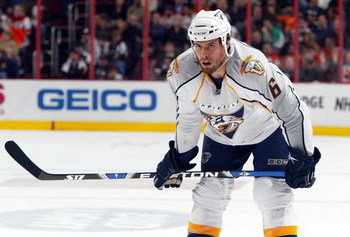 2008-09 Stats: 81 GP, 23 G, 30 A, 53 P
Career Stats: 242 GP, 48 G, 75 A, 123 P
Weber broke out this year as the elite defenseman many have expected him to become. He got off to a fast start and finished the season with 23 goals, a great total for a defenseman. Weber will continue to improve, as he is just 23 years of age.
Weber has both the size and mean streak to keep skill players honest. He can also unleash a big-time point shot and log a lot of ice time. He will be a great power-play quarterback for years to come.
8. Mark Streit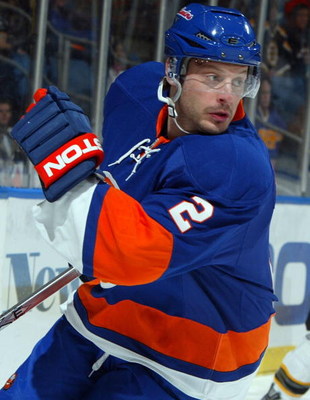 2008-09 Stats: 74 GP, 16 G, 40 A, 56 P
Career Stats: 279 GP, 41 G, 124 A, 165 P
Probably the only bright spot on a consistently terrible New York Islanders team, Streit was one of the top signings of the 2008 offseason.
Streit was a leader on the Islanders, and was the only defenseman to lead his team in scoring.
Streit moves the puck swiftly up the ice, and he's capable of playing the point on the power play. Streit also owns plenty of international experience and was discovered by former Montreal Canadien Oleg Petrov.
9. Dennis Wideman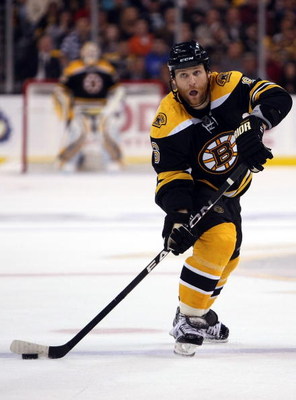 2008-09 Stats: 79 GP, 13 G, 37 A, 50 P
Career Stats: 302 GP, 40 G, 95 A, 135 P
Many people see the St. Louis Blues as the victor in the trade that sent Dennis Wideman to the Boston Bruins for sniper Brad Boyes. They could not be more wrong.
Wideman broke out this year as a top line defenseman, leading the Bruins to an Eastern Conference semi-final. Wideman possesses great offensive instincts, and is a good power play quarterback.
10. Duncan Keith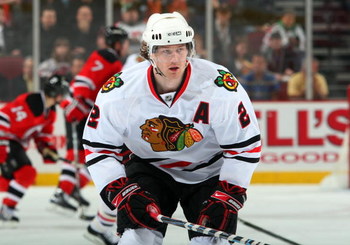 2008-09 Stats: 77 GP, 8 G, 36 A, 44 P
Career Stats: 322 GP, 31 G, 97 A, 128 P
Just 25 years old, Keith is another defenseman who contributes at both ends of the ice. Along with Brent Seabrook, he shut down the opposition's top forwards and still managed to put up 44 points.
Keith is as good a skater as you can find from the back end. He also has great instincts from the blueline and plays with a very basic approach to the game.
11. Kimmo Timonen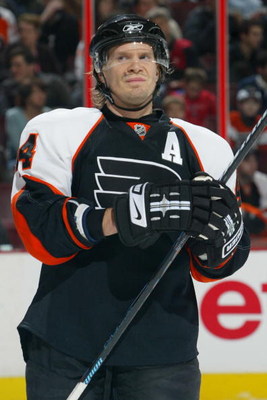 2008-09 Stats: 77 GP, 3 G, 40 A, 43 P
Career Stats: 730 GP, 90 G, 298 A, 388 P
Timonen has been an underrated defenseman for many years now, as proven by the fact that he has put up 40 points or more in seven straight seasons, very good numbers for a defenseman.
Timonen has the ability to quarterback the power play and is extremely quick and loves to rush with the puck. He also shoots the puck with accuracy, holds his own in the defensive zone, and is very durable for his limited size.
12. Rob Blake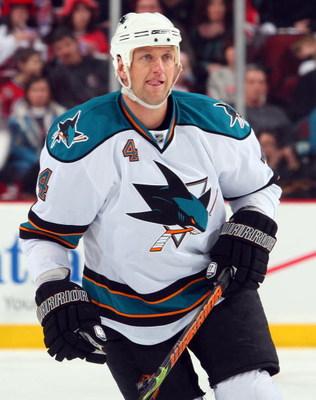 2008-09 Stats: 73 GP, 10 G, 35 A, 45 P
Career Stats: 1,200 GP, 233 G, 514 A, 747 P
After two disappointing seasons in Los Angeles, Rob Blake rejuvenated his career this season after signing with the San Jose Sharks and contending for the Stanley Cup championship.
Blake is physically imposing and uses his size to rock opponents. He also owns a rocket of a shot, which is a lethal scoring weapon for him. Blake can log boundless minutes despite his age.
13. Paul Martin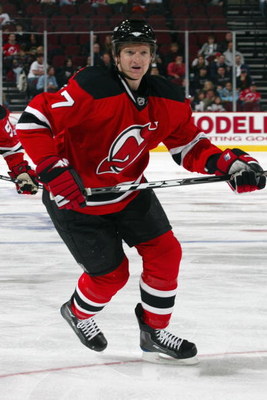 2008-09 Stats: 73 GP, 5 G, 28 A, 33 P
Career Stats: 378 GP, 24 G, 128 A, 152 P
A defenseman not known by the casual fans of the NHL, Martin has been consistently good in all five years of his NHL career. He is the anchor on the defense for the New Jersey Devils, and is another young guy at the age of 27.
Paul Martin possesses sound offensive instincts and a project able frame. He also owns good habits and a winning attitude, which adds to his value.
14. Sheldon Souray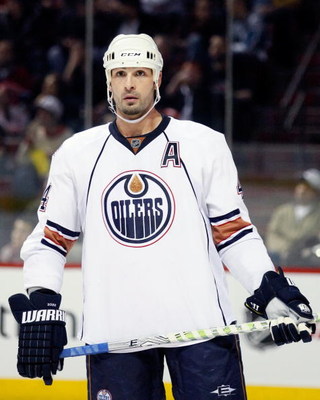 2008-09 Stats: 81 GP, 23 G, 30 A, 53 P
Career Stats: 613 GP, 92 G, 157 A, 249 P
A huge presence on the blue line, Souray rebounded from a poor first season with the Oilers by putting up 23 goals from the back end this year, and by being more defensively responsible then usual.
Souray uses his size effectively and takes on all comers. He is also good at clearing the front of the net and packs a big shot from the point. He has natural leadership qualities.
15. Brian Rafalski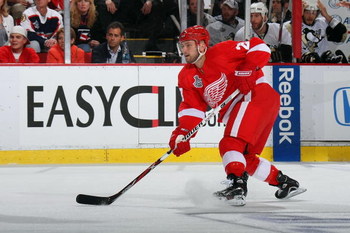 2008-09 Stats: 78 GP, 10 G, 49 A, 59 P
Career Stats: 692 GP, 67 G, 358 A, 425 P
Detroit has found the perfect partner for Nicklas Lidstrom in Brian Rafalski. Rafalski is a good right-handed shooter from the point and has a good style to complement Lidstrom's game.
Rafalski is an extremely intelligent player and skates very well along the blueline. He is a terrific power play quarterback and steadying influence from the back end.
Keep Reading

Detroit Red Wings: Like this team?