North Carolina State Football 2009 Season Outlook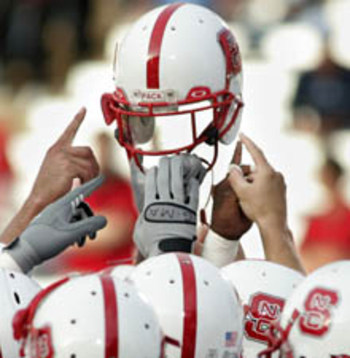 The NC State Wolfpack are entering the 2009 college football season looking to become serious contenders in the Atlantic Division of the ACC.
They are coming off of a 6-7 season, in which they started slow winning only two of their first eight games but then they got healthy and went on four game winning streak.
They made it to the PapaJohns.com Bowl, their first bowl game since 2005. They would lose the bowl game to Rutgers after quarterback Russell Wilson went down with leg injury.
In the upcoming season the Pack are looking to go to a bowl game in consecutive seasons for the first time since the 2002 and 2003 seasons.
In order to do that they need to start the season off better then they did last year, starting with a win over the South Carolina Gamecocks.
South Carolina at NCSU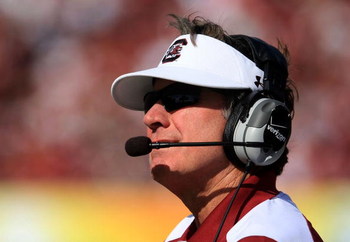 The Gamecocks are led by legendary head coach Steve Spurrier, QB Stephen Garcia on offense, and Emanuel Cook on defense.
Stephen Garica was a freshman last year and was impressive at times and terrible at others. He ended the season with a 31-10 loss against Iowa in which he threw three picks.
He finished the season with six touchdowns and eight interceptions. I think this guy can improve with experience and can be a quality quarterback.
Emanuel Cook is a junior and starts at strong safety for the Gamecocks. He was the leader of the defense and leader in overall tackles on the season with 87.
This team will always put up a fight but I see this game being a close one—NC State wins 21-14.
Murray State at NCSU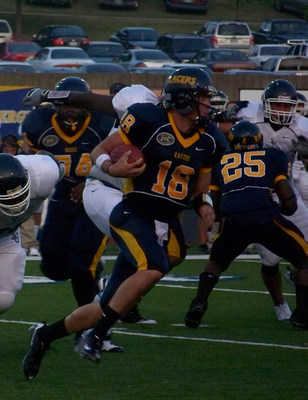 The Murray State Racers are an FCS football program that compete in the OVC (Ohio Valley Conference). They finished fifth in the OVC with a record of 4-4 in conference and 5-7 overall.
The Racers played one FBS school last year. The Indian Hoosiers (the Big Ten's last place team) dominated them, 45-3.
The Racers have a very promising player at quarterback in junior Jeff Ehrhardt. He had a very promising freshman year in 2007, throwing 21 touchdowns and 12 interceptions.
He completed 60 percent of his passes and posted a QB rating of 126.45 during his freshman year.
His sophomore season was less of a success but he still looks to have a promising future at Murrary State.
This game will be a blowout—41-10 NC State
Gardner Webb at NCSU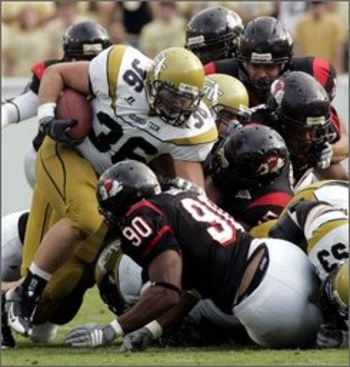 Gardner-Webb Runnin' Bulldogs are another FCS football team, but they play in the Big South where they finished fourth with an overall record of 5-6, 2-3 in conference.
The Bulldogs, like the Racers, only faced one BCS team last year. They lost to Georgia Tech, 10-7 at GT.
The leading rusher for the Bulldogs was Phillip Peoples. He is a 6'0", 215 pound junior from Atlanta. He rushed for 602 yards on only 120 attempts for an amazing average of five yards per carry.
He scored six touchdowns last season after not seeing much playing time in the past seasons. He rushed for a season high 176 in a win against Presbyterian.
I see this game being like the last—a massive blowout—49-7 NC State.
Pittsburgh at NCSU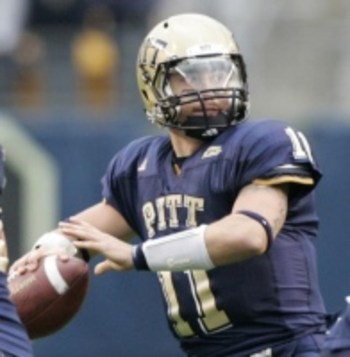 Saturday September 26 The Pitt Panthers travel to Raleigh, NC, to take on the NC State Wolfpack
Last year the Panthers finished second in the Big East with a record of 9-4 overall and 5-2 in the Big East.
They are picked by many to win the Big East, but in order to do that they need to address two major offensive issues—replacing LeSean McCoy and the play of Bill Stull.
This team last year was very dependent on McCoy as he rushed for 1,488 yards and 21 touchdowns.
LeSean decided to enter the NFL Draft, so now the running attack will be lead by Dion Lewis.
Lewis is a 5'7", 180 pound true freshman from Blairstown, NJ.
His size is bit of an issue but his 40 yard dash time is 4.44. He has incredible foot quickness, cutback ability, and field vision.
If he can successfully replace McCoy this could be a very dangerous team.
Stull was recently named the Panthers' starting quarterback by coach Dave Wannstedt. Stull threw for 2,356 yards, 10 touchdowns, and nine interceptions last season.
He needs to improve if the team is going to win the Big East.
I think this game can go either way, but I think the Pitt Panthers come out just ahead—28-27 Pitt Panthers.
NCSU at Wake Forest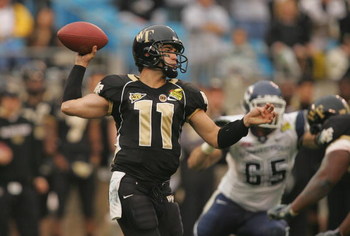 Saturday October 3, the NC State Wolfpack travel to Winston-Salem to take on Wake Forest Demon Deacons.
Wake Forest finished 8-5 overall and 4-4 in conference and received a bid to replay Navy in a bowl game.
Last year the game was played in Raleigh and was a very close game between these two evenly matched team. The game was won by the Wolfpack 21-17.
Russell Wilson outplayed Wake QB Riley Skinner by throwing two touchdowns and rushing for one while Skinner threw a touchdown and one interception.
Wilson was also the leading rusher for the Wolfpack, gaining 69 yards.
Wake has several questions on defense and offense.
They have to replace linebacker Aaron Curry and cornerback Alphonso Smith on defense. And they have to find a number one receiver for Skinner to throw to after losing All-ACC wide-out D.J. Boldin.
They also had one of the ACC's worst offensive lines, which attributed to them being 10th in the ACC in scoring and allowing 30 sacks and a miserable 3.4 yards per carry.
I believe this will be a close game because Wake is still a tough opponent in Winston-Salem , but the Wolfpack pull it out 35-14.
Duke at NCSU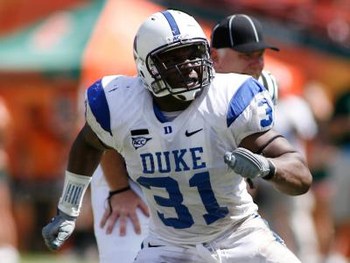 Saturday Oct. 10, the Duke Blue Devils travel to Raleigh to take on North Carolina State.
The Blue Devils were 4-8 overall (1-7 in conference) last year with wins over James Madison, Virgina, Vandy, and Navy.
Duke fired their coach at the end of an unsuccessful 2007 season and hired a new coach—David Cutcliffe.
Cutcliffe previously coached at Ole Miss. He had coached them to four bowl games in six years.
He owns a 4-1 record as a head coach in bowl games with victories over Oklahoma, Nebraska, Oklahoma State, and Texas Tech.
The Blue Devils have a shortage of quarterbacks this year with only two on the roster—Thaddeus Lewis and redshirt freshman Sean Renfree. Cutcliffe has decided to only carry two quarterbacks—like a pro team.
Cutcliffe has been quoted as saying: "In pro football, two guys get all the work. And we have eight or nine receivers getting all the work, same thing (the pros) do, and it raises the level of execution, which is one of the reasons I decided to go to it."
Lewis was second team All-ACC last year completing 224 out 361 of his passes for 2,171 yards with 15 touchdowns and six interceptions.
He played behind a much improved offensive line and was only sacked 16 times.
They also are returning one of the leaders in tackles in the ACC in Vincent Ray. He is short for a linebacker but he has a long set of arms for his frame and consistently is able to trip up ball carriers and wrap them up on contact.
I see this game being an offensive showdown, much like it was last year, but NC State winning 35-21.
NCSU at Boston College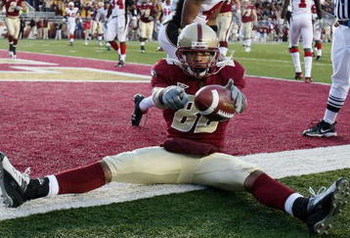 Saturday Oct. 17, the NC State Wolfpack travel to Chestnut Hill to take on the Boston College Eagles.
Boston College was 9-5 (5-3) and was rewarded with a trip to the ACC Championship game where they lost to the Virginia Tech Hokies 30-12 for the second year in a row.
Last year, Boston College beat NC State 38-31. This game was an offensive showdown between the two teams, with Chris Cane throwing for 428 yards and two touchdowns.
This team needs to rely more on the running game, with no clear cut starter at quarterback.
Montel Harris was one of the most underrated running backs in the ACC last year. He rushed for 900 yards and five touchdowns on 179 attempts (5.0 yards per carry)
He deserves more carries, particularly when the team is in the red zone. This guy has a very bright career ahead of him at Boston college.
I think that David Shinskie will become the starting quarterback after taking most of the snaps in the scrimmages and going 12-for-24 for 149 yards and two interceptions in those games.
I say NC State gets another win over the Boston College Eagles 21-10
NCSU at FSU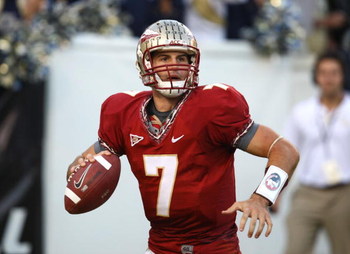 Florida State has a very talented team this year that could very well win the Atlantic Division.
Led by one of the greatest coaches off all time in Bobby Bowden, they finished 8-4 last year and look to improve upon that.
On the field they are lead by quarterback Christian Ponder, who threw for 2,000 yards and 14 TD but also 13 interceptions.
They also have a dangerous weapon at running back in Antone Smith, who rushed for almost 800 yards and 15 touchdowns.
Florida State beat the Wolfpack in Raleigh last year, 26-17 with Smith rushing for over 100 yards and one touchdown along with Ponder throwing for 254 yards and one touchdown.
Once again FSU looks to be another formidable opponent on the road, handing the Wolfpack their first loss of the year in a close game—FSU 28-24
Maryland at NCSU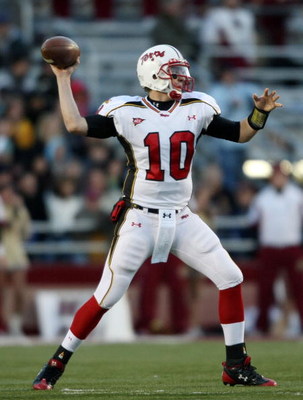 The Maryland Terrapins are coming off a very inconsistent season, in which they finished 7-5 with wins against Cal, UNC, Clemson, and Wake. They also lost some bad ones against Middle Tennessee State and Virginia.
Last season the wolfpack went into CCB Field to face off against Maryland, and they lost on a field goal with six seconds left in the fourth quarter.
Maryland has one of the best running backs in the ACC returning in Da'Rel Scott. In the game mentioned above Scott rushed for 163 yards and one touchdown. For the season Scott rushed for 1,133 yards and eight touchdowns.
On defense they have one of the ACC's best linebackers in Alex Wujciak. Wujciak had a total of 133 tackles and one-and-a-half sacks. He was an absolute monster for the Maryland defense.
If NC State can shut down Scott and force Turner to throw the ball, the Wolfpack can easily win this game. If not it may be a long night for the Wolfpack defense.
I think that Maryland overcomes the Wolfpack in a close game, Maryland wins 35-28.
Clemson at NCSU
The Clemson Tigers were expected to compete for an ACC title last season but they failed to do so.
And there were some repercussions.
Clemson for years now has dominated this series, and last year was no exception with state only scoring three points.
The quarterback situation is shaky with Willy Korn and Kyle Parker fighting it out to be the starter.
They have a very talented defensive end in Da'Quan Bowers, who could very well become the next great defensive lineman.
C.J. Spiller is returning for his senior season to help the Clemson offensive attack and to break the ACC's record in career all-purpose yards.
This game is played in Raleigh so I have to give the edge to Russell Wilson and the Wolfpack—a 24-14 victory for the NC State.
NCSU at Virginia Tech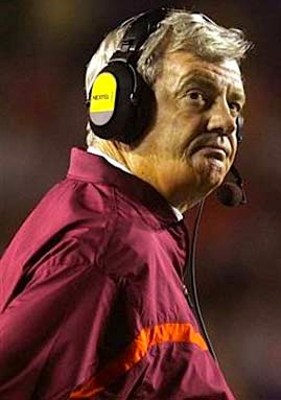 Virginia Tech won the ACC championship last season, and they went on to beat the Cincinnati Bearcats 20-7 in the Orange Bowl.
Entering the 2009 season there are high exceptions in Blacksburg. The Hokies are ranked seventh in the polls nationally.
They are returning several starters on both sides of the ball—Tyrod Taylor, Greg Boone, Cody Grimm, and Jason Worilds to name a few.
This is Tyrod Taylor's third year under Frank Beamer and with the graduation of Sean Glennon, it is Tyrod Taylor's time to shine.
Taylor is an explosive dual-threat quarterback.
Last season he rushed for over 700 yards and threw for over 1,000 yards.
His touchdown to interception ratio was not impressive, as he threw for two touchdowns and seven interceptions. That is going to have to improve with the recent loss of a phenomenal running back in Darren Evans.
The leader of that experienced defensive line is defensive end Jason Worilds. He had 62 tackles, 18-and-a-half tackles for a loss, and eight sacks last season.
He is one of the more disruptive defensive ends in the ACC.
The last time these two teams met was back in 2005, with Virginia Tech emerging victorious over the Wolfpack, 20-16
Virginia Tech has one of the best defenses in the ACC. They were first in scoring defense last year and second in overall defense.
I think this game will go to Virginia Tech 35-14.
UNC at NCSU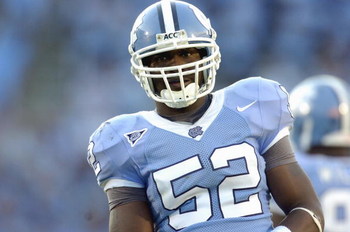 Butch Davis brings his Tarheels into Raleigh on the last game of the regular season for both teams.
Davis has good talent on his football team, with one of the best linebackers in the nation in Quan Sturdivant
Quan led the nation with 87 unassisted tackles last year and was second team All-ACC linebacker.
They are lead on offense by T.J Yates at the quarterback position, and second year back Shaun Draughn.
Yates really showed major improvement last season until going down with a injury. When he went down so did their season.
He threw for over 1,000 yards, 11 touchdowns, and only four interceptions. Compare that to the season before last when he threw for over 2,000 yards, 14 touchdowns, and 18 interceptions.
If Yates can stay healthy this can be a very dangerous team.
Last year this game was played in Chapel Hill and was a massive blow out 41-10.
Russell Wilson threw for 279 yards and two touchdowns, while Andre Brown ran for 81 yards and a touchdown and Jamelle Eugene ran for 56 yards and two touchdowns.
T.J. Yates threw for 116 yards and one interception and his counterpart Richie Sexton threw for 31 yards and two interceptions.
I don't think this will be quite the game it was last year, but I do see NC State winning 35-21.
Accolades and Bowl Game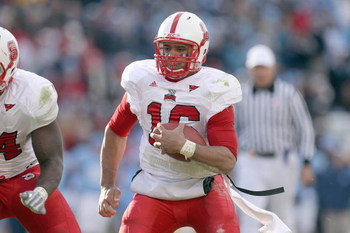 For those at home counting that makes the Wolfpack 8-4. They rightly are invited to the Meineke Car Care Bowl to face off against a team from the Big East, maybe West Virginia.
Russell Wilson is award the First Team All-ACC QB, along with finishing second in the ACC Offensive Player of the Year award.
Owen Spencer is awarded First Team All-ACC Wide Receiver, and his counter part Jarvis Williams is Second Team All-ACC.
Willie Young has a tremendous season earning his way onto the the First Team All-ACC defense.
Linebacker Ray Michel steps up to be the leader on the Wolfpack defense and is awarded Second Team All-ACC.
On Special Teams T.J. Graham has a good year but there are so many good ACC return men that he is just awarded an Honorable Mention.
Keep Reading