10 sure fire predictions for the 2009 NFL season.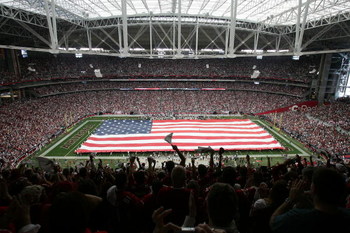 The NFL season is only a few weeks away. Every season has many surprises but I'm here to brace you for the unpredictability's that is the NFL.
Last season it was the Dolphins, Falcons and Cardinals making the playoffs and Larry Fitzgerald cementing himself as an elite receiver.
My ten Fearless (and by fearless I mean totally guessing) predictions for the 09 season:
1) The Vikings, Falcons, Dolphins and Cardinals don't make the playoffs.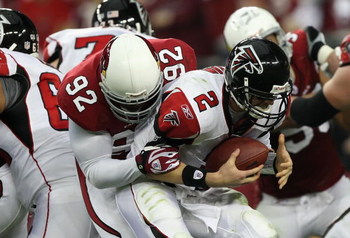 All four of these teams made the postseason last year and none of them will this year. The Cardinals still don't have a defense, the Dolphins and Falcons won't surprise anyone this year and the Vikings will have a problem because:
2) Adrian Peterson won't rush for over 1,000 yards.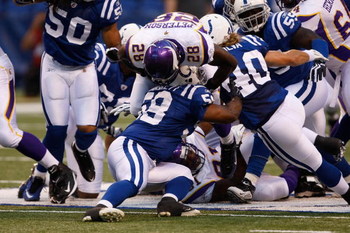 Whether teams finally wise up this year and realize they don't have to guard against the pass (that means you Brett) or AP gets hurt, which has happened before and his running style (trucking linebackers) will wear down his body. Also loosing Matt Birk is gonna hurt the O-line a ton.
3) The Seahawks, Texans and 49ers make the playoffs.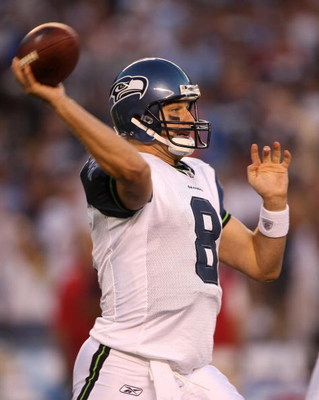 The Seahawks had pretty much everyone on their roster hurt last year, but lets not forget they went to the Super Bowl a few years ago with this roster. The Texans and 49ers both finished strong last season and will benefit from retaining most of their players and coaches.
4) Jets coach Rex Ryan will win coach of the year.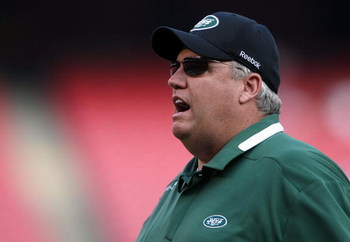 The Jets are stacked, barring a monumental collapse last year they had a legitimate chance at winning the division. Now that Favre has moved on (notice they didn't try at all to resign him) the Jets are ready to make the playoff push. The media already loves Ryan and he is in high profile New York all he will have to do is take a Super Bowl talented team to the playoffs.
5) LaDainian Tomlinson comes back.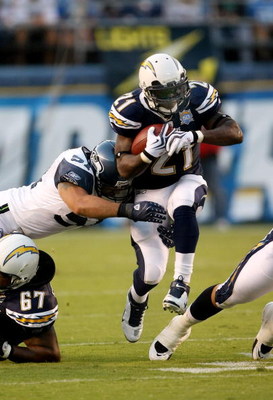 Tomlinson had a off year last season battling injuries. Still he managed to rush for 1110 yards and score 12 touchdowns. He's healthy this year and has a chip on his shoulder. Also the Chargers have a QB who lead the league in passer rating last season, no longer can teams stack the box and wait for LT.
6) Michael Vick will start at quarterback for the Eagles.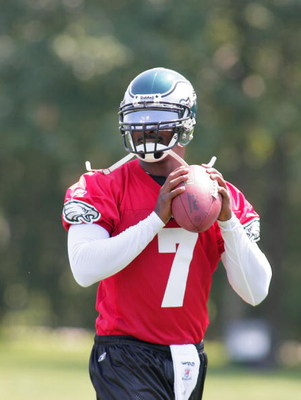 Donovan McNabb has been on thin ice with Eagles fans since the day he was booed when they drafted him. Last season he was benched and they had no backup quarterback. He is also very injury prone. Michael Vick is a very appealing choice at Quarterback for the Eagles and they will be looking for any excuse to put him in.
7) Terrell Owens blows up.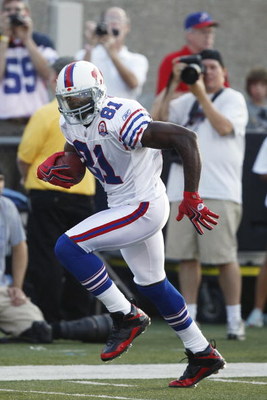 TO will explode on and off the field. He signed a one year contract with the Bills so he will rededicate himself to being the best he can so he can get paid this off season. He also has a good quarterback with good receivers and a strong running game so teams won't be able to key in on him. He will also torpedo the team by running his mouth sometime in November.
8) Eli Manning earns his paycheck.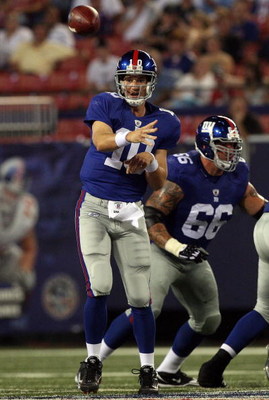 Eli just signed a contract making him the highest paid player in the NFL. While Eli hasn't put up Tom Brady, Peyton Manning numbers he has won a Super Bowl. He also has the ear of his team. The Giants don't have any big name receivers but they do have a few solid ones that Eli will make into Pro Bowlers.
9) Brett Favre loses to the Packers, twice.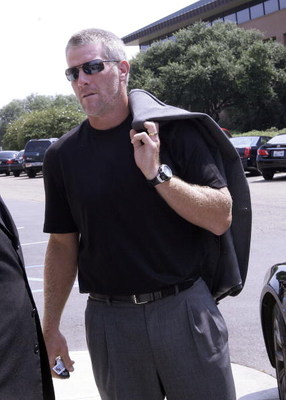 Green Bay is gonna be fired up for this one. Last season the Packers were a disappointment, but the truth is their defense is loaded and the offense can put points up on the board. Expect the Packers to force Favre to beat them with his arm by taking Adrian Peterson out of the game. Favre will answer by throwing 3 interceptions in both games.
10) Cowboys vs the Chargers in the Super Bowl.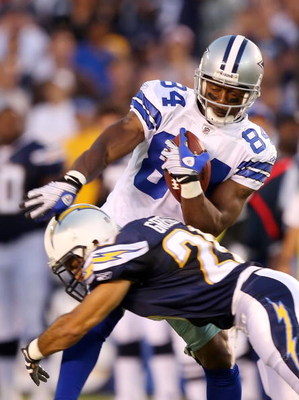 The Cowboys finally got rid of TO but still have a ton of talent and what looks like a pretty good team chemistry. Romo has a chip on his shoulder and the weight of Texas on his back. The Chargers are loaded with a leader at Quarterback and now that LT and Shawn Merriman are healthy its go time!
Keep Reading