2008 Draft Class; A Bunch of Busts or Late Bloomers?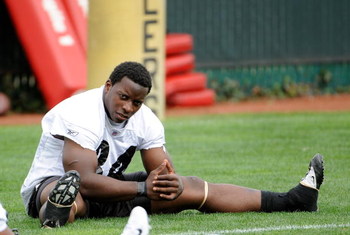 Coming out of Mike Tomlin's first draft as the Head Coach of the Pittsburgh Steelers in 2008 everyone including the "experts" were raving about the Steelers draft class.
Within one season of that very draft chat rooms, blogs and even the so-called "experts" were anointing the 2008 class the worst in recent memory.
1st Round-Rashard Mendenhall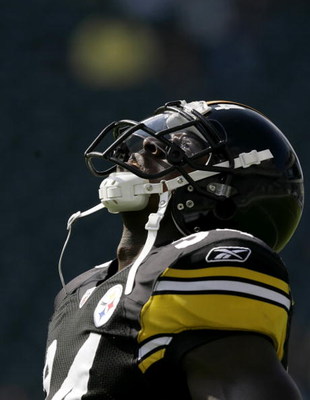 First Round Draft Choice Rashard Mendenhall missed most of the season with a shoulder injury, courtesy of one Ray Lewis. Before the injury Mendenhall was less than impressive rushing for only 58 yards on 19 carries.
Averaging a meager 3.1 yards per carry, Mendenhall was never able to show the Steelers or their fans even a glimpse of the explosiveness he was famous for coming out of Illinois.
2nd Round-Limas Sweed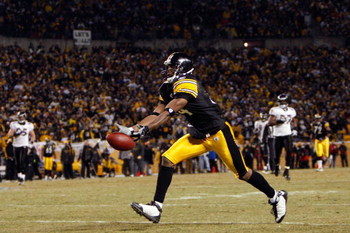 Second round draft choice Limas Sweed might have been the biggest disappointment of the lot. Sweed was one of the most prolific Wide Receivers in college football coming out of Texas.
Standing at 6'5" 220lbs, Sweed was an athletic juggernaut that defenses had to game plan for when facing Texas. If he couldn't run past a defender his length and size made it nearly impossible to defend him in the wide-open Texas passing game.
His 20 touchdown receptions are second all-time to only Roy Williams at the University of Texas. A low number when you consider the fact that he missed most of his senior season after a nagging wrist injury forced him to opt for surgery ending his season after the 6th game of the year.
Sweed was considered by many to be the top Receiver in his class and would have been a first round pick had his wrist injury not prevented him from playing out his senior season.
So when the Steelers were able to get him in the second round there were great expectations for him to be the big receiver the Steelers had been lacking since the departure of Plaxico Burress.
Sweed went on to drop more passes than he caught last season. Finishing the season with six receptions for 64 yards and no touchdowns.
3rd Round-Bruce Davis
The Steelers taking a Rush End in the second or third round and turning him into a Linebacker in their 3-4 scheme is about as common as the fans waving a terrible towels during games in Heinz Field.
So when the Steelers took Bruce Davis out of UCLA in the third round, it only seemed natural that he would step up to be the Steelers next rookie Linebacker to find early success within the Steelers Defense.
What the 6'3" 252lb. Linebacker did was fail to record a single tackle on defense or special teams while playing in just five games last season.
Everything took a negative turn for Davis right out of the gate. Because of UCLA's academic calendar Davis was not eligible to practice with the Steelers during any of the teams rookie minicamps or OTA's.
By the time training camp came around Davis was at a severe disadvantage from a knowledge standpoint.
The camp that was to follow left little doubt that Davis would be a special teams player at best his rookie season.
4th Round-Tony Hills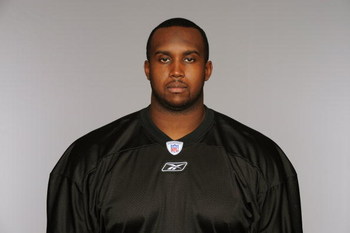 Tony Hills was a similar story to that of Limas Sweed in a number of ways. The big Offensive Tackle was drafted out of the University of Texas in the fourth round of the 2008 draft. Several rounds later than many would have projected had he not broken his leg the season before.
His size (6'5"/304) and his impressive resume as a Left Tackle for Texas made for some excitement for a guy like this to have fallen to the 4th round.
Hills went on to become nothing more than an equivalent to a college redshirt last season. Being inactive for all 16 regular season games and all three postseason games.
With the problems the Steelers have had and are having with injuries along the O-Line, Hills was expected to have stepped up to the challenge by this point.
5th Round-Dennis Dixon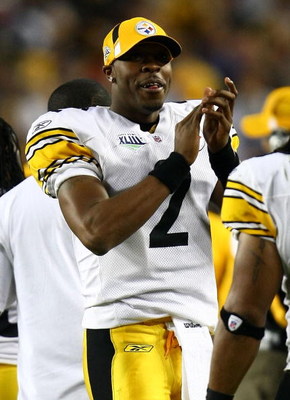 Fifth round pick Dennis Dixon was a definite flash in the pan for the Steelers. The former Heisman front-runner presented a number of interesting options with his athletic ability.
Despite the notion that Dixon was drafted to become the newest version of Antwaan Randel El in Pittsburgh, Dixon threw one pass for three yards in his rookie season.
That pass just so happened to be a record catch for Hines Ward.
6th Round-Ryan Mundy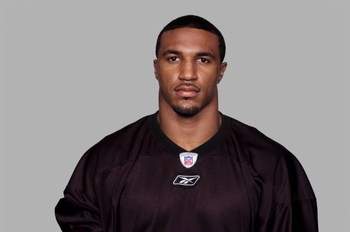 Ryan Mundy was selected with the teams second sixth round pick. If you watched the Fiesta Bowl against Oklahoma in 2007 you probably saw what the Steelers did, ball-hawk with great open field tackling ability.
Unfortunately for both parties Mundy, who grew up in Pittsburgh, fell victim to a high ankle sprain that caused him to miss the rest of the preseason and eventually relegated him to the practice squad.
Not So Fast My Friends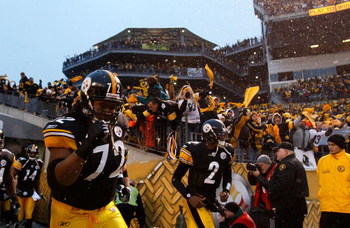 All of these players have been less than stellar in their rookie campaigns. In fact some have been nonexistent. Yet I wouldn't have the onions to call this draft class a bunch of busts just yet.
Let's start with the obvious...
Dixon Is a Real Quarterback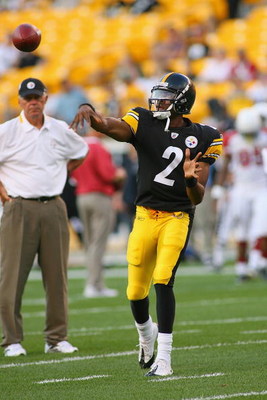 Dennis Dixon has the potential to be a great football player at the NFL level. The Steelers are intent on making him a legitimate Quarterback, rather than running him all over the field as a receiver and trick artist.
He led the Steelers to all of their points in the first preseason game and it appears that the coaching staff is doing more than taking a look at him to become the number two Quarterback on the roster behind Ben Roethlisberger.
Quarterbacks typically take a bit longer to develop, and with Roethlisberger under center for the foreseeable future there is no rush to put him on the field in any type of situation before he is ready.
Getting over the Dropsees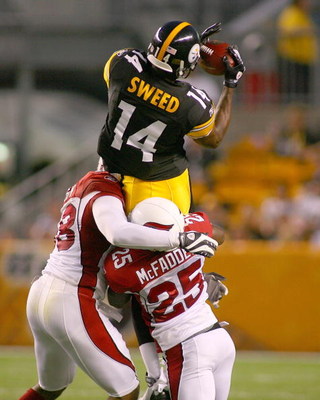 Limas Sweed may have had a case of the dropsees last season and looked pretty frail in the process, but he has bulked up and is beginning to show the body control and concentration that made him so feared in the NCAA ranks.
If his first preseason performance is any sign of things to come Sweed still has the potential to become the next Plax in Pittsburgh. Just like Plaxico had to do in his first two seasons, Sweed is going to have to become more dependable catching the ball before he becomes a real threat in the offense.
If he is able to conquer these inconsistencies, Sweed has the potential to be a 1,000-yard receiver.
Mundy is Going to Play On Sunday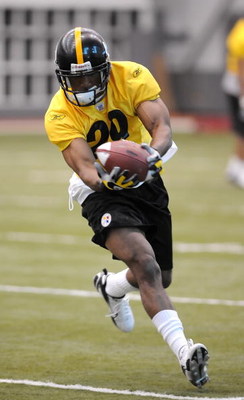 Ryan Mundy may have missed last season, but there is no way he is going to the practice squad this season.
He has had a great camp thus far, and he looks healthier than ever.
With the often injured Ryan Clark throwing himself around like a heat seeking missile, it is not far fetched to think Mundy will see significant playing time this season.
Davis is Learning to be Disruptive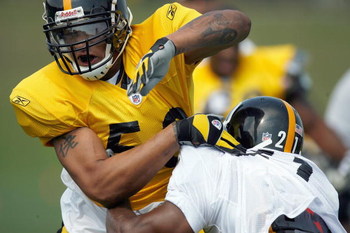 Bruce Davis has had a full year to get bigger, stronger and to learn those dag-on defensive plays that kept him sidelined last season.
His preseason debut was a positive step towards becoming a productive member of the defense. He finished the game with one tackle and a sack, but he played in the disruptive style that Dick LeBeau likes to see from his Linebackers. Affecting the game in a positive way on each play with hard, aggressive play.
A Missing Puzzle Piece
Tony Hills remains to be a lost puzzle piece. From all accounts he has had a positive camp, but he has not done anything to set himself apart.
It is too early to tell what the season holds for Tony, but there is not a lot to go bye in terms of where he fits on the team. He might be the first bust of the 2008 draft for the Steelers.
The Biggest Question Mark of Them All???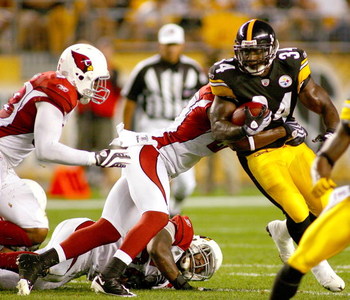 Rashard Mendenhall is without a doubt the biggest question mark from this draft class. Mendenhall remains a work in progress as he has yet to establish himself as a legitimate Back on the NFL level.
Understanding that he spent the majority of his rookie season on the rack, Mendenhall seems to lack the burst to beat defenders to the edge or to fight through contact when running the ball up the middle.
Leaving fans wondering where the explosiveness he was advertized to posses is?
At this point I am not willing to call Mendenhall a bust. He deserves another full season under his belt before anyone should feel comfortable making that call.
However, I have serious concerns about his ability to become the elite back that a first round selection demands.
Mendenhall may very well be the biggest bust of the 2008 draft class, but at this point the jury is still out until further review.
What About The Critics?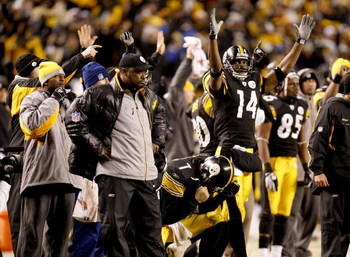 So...
Are the critics right? Is the 2008 draft class the worst in recent memory?
Not by a long shot.
Judging by what has come out of Latrobe and the first preseason game, it seems what the Steelers have found is a group of late bloomers that are ready to blossom at any moment.
Keep Reading

Pittsburgh Steelers: Like this team?