I Want to Be at (Enter Noisy Location) on Saturday! College Football's Best Stadium Experiences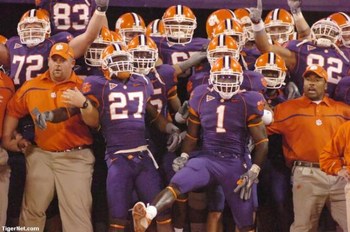 I've only been to two college football venues in my lifetime—Sanford Stadium in Athens, Georgia and Jordan Hare Stadium in Auburn, Alabama.
Now, you may think I'm not qualified to write this article, but here is my reasoning and inspiration.
I love traveling, and as a college sports fanatic, would love nothing more than to experience college football in places outside the 150-mile radius around my hometown.
So, with this article, I have used my knowledge and research abilities to narrow down the top ten potential destinations for me, as well as the everyday college football fan.
There's no better way to get ready for the year! Enjoy!
No. 10 - Wisconsin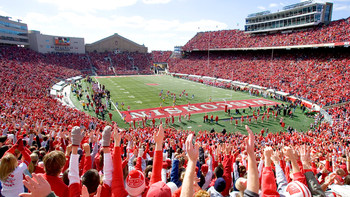 "Jump around"
Not a lot of northern teams came to my mind initially, but I knew right off the bat Wisconsin is a sure top-10 pick. It kind of reminds you of Nebraska with the sea of red and stadium structure.
One thing that drew my attention is the infamous tailgate and party culture. I mean, this is the same state that hosts the Green Bay Packers, so tailgating must be at a superior level.
Also, stadiums with fans that know what they are doing and do it well are the ones that grab my attention.
I love seeing videos of the fans doing "jump around." Below are a couple to give you an idea. They do it between the third and fourth quarter. Looks like fun to me!
No. 9 - LSU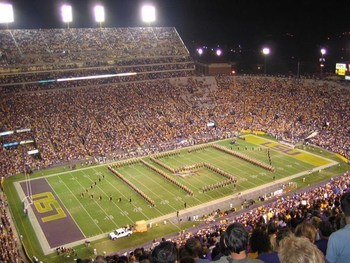 "The Earthquake Stadium"
That's right, LSU's was the first (and I believe only) stadium to shake so much it registered as an earthquake!
It's also one of the largest and loudest venues in America. Its deep and dense arrangement gives it its nickname, "Death Valley."
Finally, the stands are pretty close to the field and make it a miserable place for opponents.
No. 8 - Florida State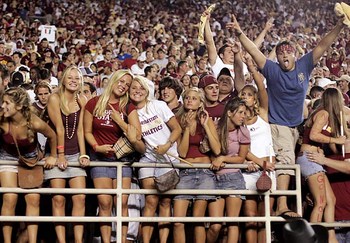 "Cowgirl up!"
What appeals to me about FSU is the tradition.
I love how the fans all do the chop (which would be an easy transition for me, considering I'm a Braves fan) and the stadium intro with Chief Osceola.
Oh, and the cow girls seems to be a nice touch, too.
No. 7 - Nebraska
"Sea of Red"
Nebraska is a lot like Wisconsin. There is something about that sea of red that is so incredible. A lot of stadiums with red teams have fans who want to wear white because of heat, but not Nebraska.
The Huskers' stadium fills with red and the seats get very close to the field, creating a daunting atmosphere.
No. 6 - Georgia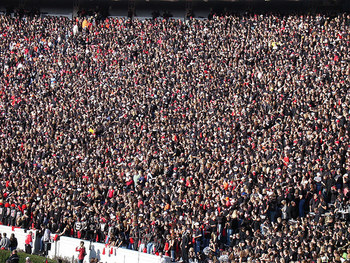 "It's Time to Tee It up between the Hedges"
Georgia has always had its traditional assets that draw attention on Saturdays: the hedges, Uga, the parties, etc.
However, the Dawgs have climbed the list in the past decade or so with some pretty exciting traditions and events that have made a football experience in Sanford Stadium one of a kind (not to mention it is the largest on-campus stadium in the country).
The pregame, which features the battle hymn, the narration of Georgia football by Larry Munson (which will be played over and over on the jumbotron every year as long as football exists), the Pirates of the Caribbean music, and of course the "it's Saturday in Athens" video, really is an exciting epic of an event.
And, of course, in 2007, Georgia coach Mark Richt somehow convinced 92,000 people to wear black. For such a far-fetched idea down here in Georgia, the fact that every single fan showed up with a black shirt that day was astounding.
Perhaps no other moment in UGA history has shown more commitment to the program.
Below are a few videos that express the excitement of being in Sanford Stadium. Just check out the stadium at the one minute mark of the first clip—incredible.
No. 5 - Oregon
"The Zoo"
Autzen Stadium, better known as the Autzen Zoo, seems to be a premier place to see a football game.
The stadium itself is a sight to see, thanks to its incredible architecture, and the colors of the field, fans, and uniforms are enough entertainment for the day.
Add that to one of the loudest, if not the loudest, stadium experiences in the country and you've got a winner.
I love the horn they blow after touchdowns.
No. 4 - Clemson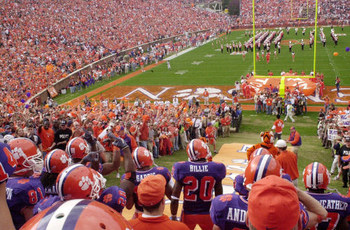 "Most Exciting 25 Seconds in Football"
Clemson, ironically nicknamed the "Tigers" and home to "Death Valley" (sound familiar?), is infamous for its players' entrance.
The players board buses in full uniform, something no one else does, and ride around to the back end of the stadium just before kickoff time.
With the stadium completely full, the Tigers get off the bus, run up to "Howard's Rock", and all jam in before storming down the grass hill.
Death Valley is also one of the largest and loudest stadiums in the country, and this one is arguably NO. 1 ...but I can't rank them all that high.
No. 3 - Penn State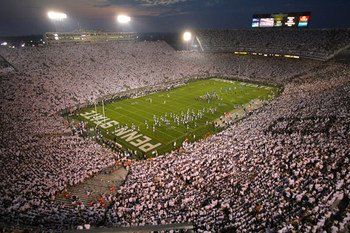 "Zombie Nation"
Before Georgia did the "blackout," Penn State had already mastered the "white out."
Beaver Stadium holds over 100,000 spectators, and they all wear white.
Okay, just let the video speak for itself. I get goosebumps. Plus, we all love Zombie Nation!
No. 2 - Virginia Tech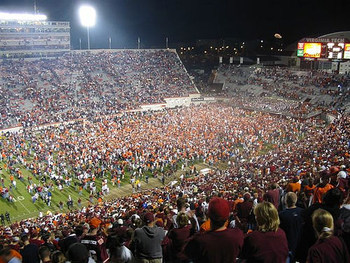 "Enter Sandman"
VT has made it a tradition to blast "Enter Sandman" during the team entrance, and the entire band and student section goes nuts.
I remember ESPN thought it was so incredible that the broadcasters shut off their mics for the entire intro so the viewers at home could really get the feel. Absolutely incredible!
No. 1 - South Carolina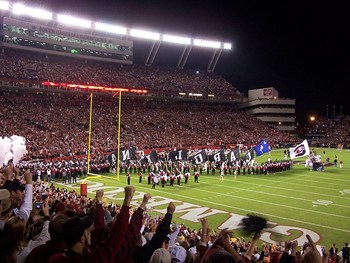 "2001 Space Odyssey"
You are probably thinking, "South Carolina?"
Honestly, South Carolina likely gets overlooked on this list because it's are not a top-tier team, but its stadium intro is breathtakingly spectacular.
The stadium is just as big as anybody's (it even has hedges), is just as loud, and the fans are just as awesome.
The pregame intro is, again, breathtaking. Take a look.
You have to wait a minute in this video, but it is definitely worth it.
Keep Reading