The Running Backs To Look Out for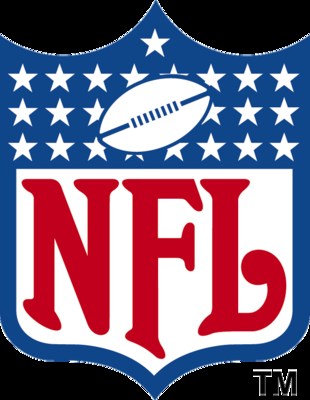 The NFL season is less than four weeks away. With the season rapidly approaching, that can only mean one thing: FANTASY FOOTBALL!
A lot of people are unable to get the stars of the draft like Adrian Peterson or Michael Turner. But here are 10 running backs you should definitely look at later in the draft.
No. 10 Cedric Benson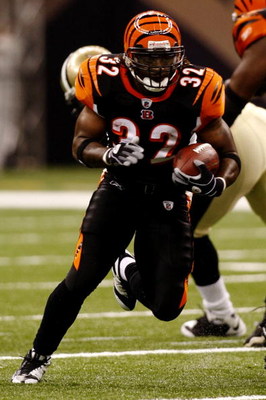 Cedric Benson will start off our countdown of sleeper running backs in your fantasy draft.
Cedric Benson is currently the starting running back on the Cincinnati Bengals. Cedric was the fourth overall pick in the 2005 NFL draft out of Texas.
Cedric isn't one of the biggest running backs, weighing 225 pounds and being 5'11". However, he does have some great explosive speed from the line of scrimmage. Cedric only started 10 games last year, and still was able to rush for a career high 747 yards and lead his team in yards from scrimmage with 932.
Entering his first full season with the Bengals and as a starter, he is ranked 33rd out of the other running backs on ESPN.com/fantasy. However, don't be surprised if this quick longhorn is able to muster up some big numbers
No. 9 Chris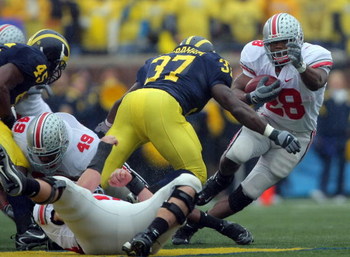 Now, at No. 9 is a guy who has amazing talent, and he is a guy I cannot stand, being a Michigan fan.
This man is Chris Beanie Wells. Now, I am not going to lie, entering the preseason he is listed as the No. 2 player behind Tim Hightower. But it surely won't be long before that changes.
A rookie out of Ohio State, Chris rushed for 3,382 yards, ranking fourth in Buckeye history behind names like Eddie George and Archie Griffin. His 93.9 yards per game ranked third in school history, and he is tied for third in school history with 17 100-yard games in his career.
Chris Wells is ranked 36 on ESPN.com. It appears that Arizona is more of a pass rather than run team. But with Kurt Warner getting older and Anquan Boldin trying to get out, I believe that Chris Wells will have a rookie season much like Darren McFadden and Reggie Bush.
No. 8 Jamal Lewis
No. 8 on our countdown is the Cleveland native Jamal Lewis. Ranked 32 on ESPN.com, he is under looked by many people.
Entering his 10th season in the NFL, Jamal is a big guy weighing in at 245-pounds. Jamal was the fifth overall pick in the 2000 draft by the Baltimore Ravens, coming out of Tennessee.
In his career, Jamal has rushed for 7,801 yards and he scored 45 touchdowns. Last season, Jamal rushed for 1,002 yards. His seventh 1000-yard season in nine seasons. However, he only ran the ball 279 times, his second lowest total in his career—not counting his injured season in 2001.
With the lack of talent for the Cleveland Quarterbacks, look for 300 touches and another 1,000-yard season from this former pro bowler.
No. 7 Pierre Thomas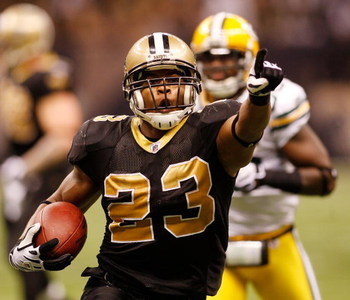 Coming in at No. 7 on our countdown is the New Orleans Saints' halfback Pierre Thomas. Pierre is ranked as the 20th running back by ESPN.com and is listed as the No. 2 running back behind Reggie Bush.
But Pierre will carry at least 50 percent of the touches. Plus, no one better forget about how Reggie Bush missed the last four games in 2007 and the last six games in 2008. Pierre played in 15 games last season, starting five.
He ran for 625 yards on 129 attempts and he scored nine touchdowns, while catching for another three touchdowns.
You can ask any expert you have heard of and they will all say that Pierre Thomas will have a breakout year.
No. 6 Derrick Ward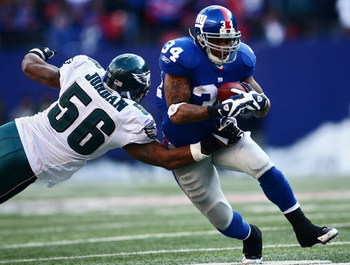 At No. 6 on our countdown is the Buccaneers' running back Derrick Ward, who is ranked 23rd by ESPN.com.
He is entering his first season in Tampa Bay, after being a part of the best one-two-three running back punch with the New York Giants. Last year, Derrick Ward showed the Giants that he couldn't stay without starting by posting stats better than some starters.
Derrick rushed the ball 182 times for 1025 yards and 5.6 yards per carry average, along with three scores.
Even though there is competition with Earnest Graham, I don't think Earnest will be able to capture the starting job with a game-changer like Derrick Ward on the field.
No. 5 Knowshon Moreno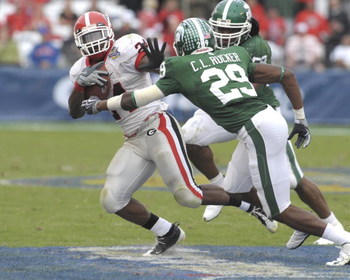 Coming in at No. 5 is the powerhouse rookie from Denver. Knowshon was one of the top running backs in college within his career and he only played two years.
He finished his college career with 2,736 yards on 498 attempts with 30 touchdowns and a 5.5 average yards per carry. This rookie out of Georgia is rated the No. 29 running back on ESPN.com.
He is listed to split carries with Correll Buckhalter. However, with no starting experience, I don't know how long Correll will last.
And there is LaMont Jordan, who has many injury problems. Don't expect an Adrian Peterson rookie season, but expect something better than a Reggie Bush rookie season.
No. 4 Larry Johnson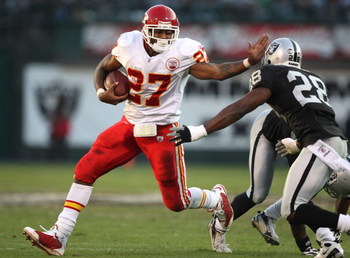 Jumping in to the No. 4 spot on our countdown is the Chiefs' veteran Larry Johnson.
Larry's career really broke out in 2005 making the pro bowl because of a sidelining and soon to be career-ending injury for Priest Holmes.
The last couple of years have been tough for Larry being injured for 12 games in the last two years. But in 2005 and 2006, Larry showed what he could really do if he plays a full season.
In those two years he ran for 3,539 yards on 752 carries with 37 touchdowns and a 4.75 yards per carry average. He is ranked No. 26 on ESPN.com and expect a 1,300-yard season and at least 10 touchdowns.
No. 3 Kevin Smith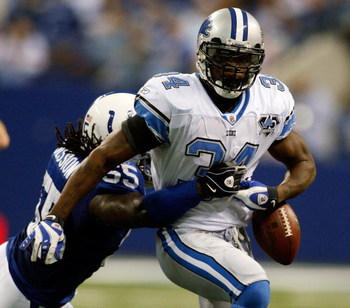 At No. 3 is the young kid from the city, Kevin Smith.
Entering his second season as a Lion, Kevin Smith posted great numbers as a rookie gaining 976 yards, 238 carries, with 8 touchdowns and a 4.1 yards per carry average.
Kevin Smith is rated No. 15 ESPN.com, and he will be the full time starter this season after working behind former Bengal Rudi Johnson for the first four games of the season.
Expect a breakout season from the player and draft him with high value.
No. 2 LaDainian Tomlinson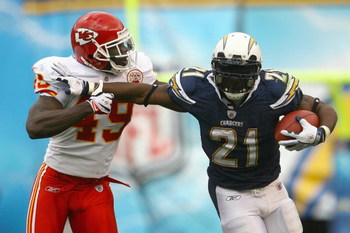 Coming in at No. 2 on our countdown is none other than the former No. 1 fantasy player, LaDainian Tomlinson. Last year, LaDainian ran for 1,100 yards on 292 carries with 11 touchdowns and a 3.8 yards per carry average.
Most running backs would call this their best season. Surprisingly, this was his WORST season, believe it or not.
On ESPN.com, LaDainian went from No. 1 last season to No.7 this season. Please, if you do not have a top three pick, don't waste your pick on Steven Jackson or Maurice Jones-Drew. Pick LaDainian with your first-rounder.
No. 1 Fred Taylor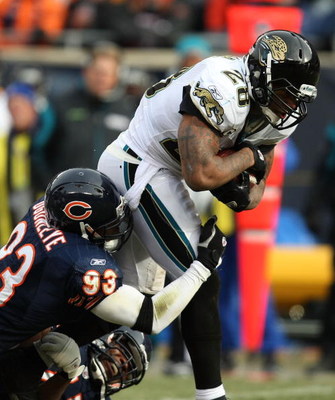 Coming in at the top spot on our countdown is the Patriot Fred Taylor.
Now, a lot of people are steering away from Fred because of the dangerous passing game of Tom Brady and Randy Moss, but that is the perfect reason to draft him.
Defenses will be so focused on the pass that Fred will easily find holes in the defense.
In 2007, Fred ran for 1,202 yards on 223 carries with five touchdowns and a 5.4 yards per carry average. With a new start and no Maurice Jones-Drew to take away carries, expect a big year for the former Jaguars star. And don't worry, Sammy Morris and Laurence Maroney won't take away much.
Keep Reading