Analyzing Brandon Marshall Trade Rumors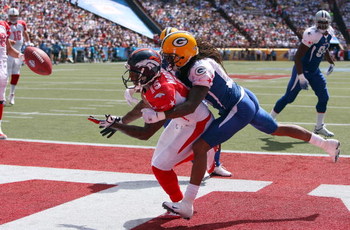 Could the Denver Broncos be trading Brandon Marshall?
Recently, the talented, yet boisterous Wide Receiver reiterated the fact that he wished to be traded, likely after seeing the performance of Kyle Orton in the Broncos preseason loss.
In response, the Broncos have stated they will not trade him and will not re-work his contract this year. Marshall is set to recieve 2.2 million from the Broncos.
Do you really believe that Marshall won't be traded just because he is expected to start practicing with the team? Well, if so, you probably believed that Cutler wouldn't; and you probably believed Brett Favre the last three times he told us he was retiring.
For those of us who believe Marshall will be gone, here's a look at some trade rumors and why they are or aren't likely. I listed them from "least likely to most likely."
Marshall to SF 49ers for the right to sign Crabtree.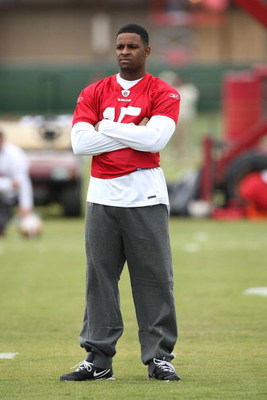 Yea right! 49er fans wish they could dump him on another team for a Pro Bowl reciever.
I'm willing to bet money McDaniels is smart enough not to even consider this. Why get rid of your proven problem causing receiver just to pick up an unproven problem causing one?
Well Bronco fans should hope McDaniels wouldn't consider this. Because I see no way of this happening.
Marshall to Cleveland for CB/PR Josh Cribbs and a draft pick.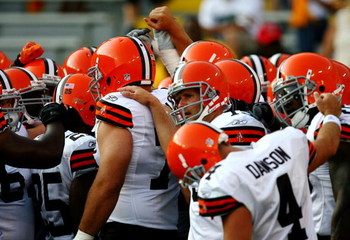 This is actually an old trade rumor that arose before we knew the fate of Donte Stallworth.
Marshall would more than fill the void left by Stallworth and keep their offense respectable. Problem is, the Broncos are in no need of a return man or a CB after acquiring Alfonso Smith.
This trade may have once been considered, but now its quite apparent it won't happen. If anything, the Browns would have to offer up something else; maybe something including Braylon Edwards or Shaun Rogers?
Brandon Marshll to da bears.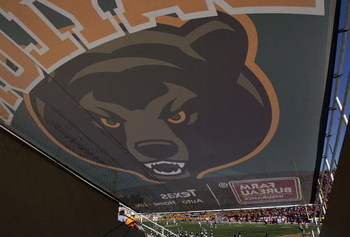 Well whether there fans will admit it or not, there receivers are bad.
Marshall would make the Chicago air game legit for once, and maybe even catapult them into Super Bowl discussion
A few problems in this trade though.
First, the Bears gave up an arm and a leg for Cutler, and don't have much more to give. Unless they offer up a defender who can contribute as a Bronco starter.
Second, why reunite Cutler with his favorite receiver? The Broncos are likely holding a grudge due to the way Cutler held himself leaving the organization. Plus, I believe the success of Cutler directly affects when the Broncos pick in the first round next year.
Marshall to the Baltimore Ravens for Troy Smith and/or a draft pick.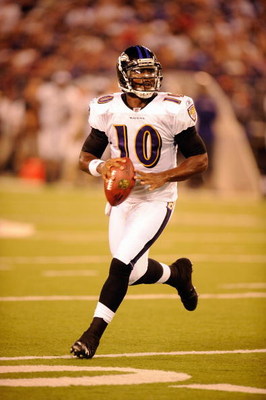 There are two rumors on this one.
The first one involves Marshall for a 1st round draft pick; the second involves Troy Smith and a later pick in the draft.
Marshall for a first round maybe is definitely possible.
As for Troy Smith, I say unlikely, though with Kyle Orton's recent performance who knows.
The Ravens coaching staff was in love with Smith, but the recent emergence of Joe Flacco may change that. Also the Ravens brought in two more QB's to compete for the backup position.
As for Marshall, Ravens coach Jim Harbaugh has stated he will not bring in players with off-field issues.
"Any player we bring in is going to be a man of integrity and will be someone who is going to be respected in the locker room. We're never going to compromise on that."
But who knows, maybe they can make an exception for Marshall.
Marshall to the Giants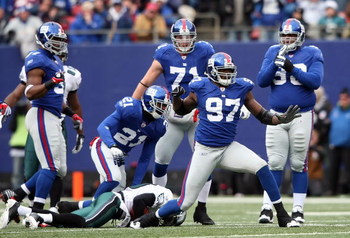 The Giants just lost Plaxico Burress and Amani Toomer. They just drafted Hakeem Nicks and Ramses Barden. Nicks is slow catching on at the NFL level and it is very questionable whether Eli is happy with his receivers.
Actually, based on recent interviews, I would say it is doubtful Eli is happy with them.
And good news for the Broncos in a potential trade, is that the Giants D-line is loaded with talent: Kiwanuka, Tuck, Umenyiora. Those are just the D-ends. The D-line also happens to be the place the Broncos are lacking.
I would say a lineman and a mid to late round draft pick are pretty likely. At least, a lot more likely than the other "rumors".
Keep Reading

Denver Broncos: Like this team?