NFL Week 3 Runaround: Donovan McNabb Flies Like an Eagle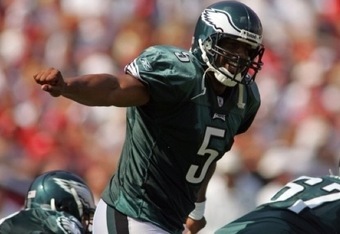 Criticize that, black-quarterback naysayers!

Donovan McNabb's performance on the heels of his comments about the pressure faced by black QBs could not have come at a more opportune time.
McNabb's disapproval rating was running high in Philadelphia, even just two games into the season. Granted, those two games were stinkers against the Packers and Redskins—in which McNabb looked clunky and inaccurate and destined for the bench.

Thankfully, the Detroit Lions' secondary provided a much-needed reprieve for the entire Eagles team.

McNabb was at the center of the offensive revolution Sunday, throwing for 381 yards, four touchdowns, and a perfect passer rating. He found Kevin Curtis open all over the field in the first half, and his touchdown throws—combined with the running of Brian Westbrook—provided the Eagles with 42 first-half points en route to their first win of the season.

Ironically enough, backup Kevin Kolb saw his first NFL action in the second half—relieving a successful McNabb, not an ineffective one.
If McNabb keeps up the good play, it could be the last time Kolb sees the field for awhile.

The pressure McNabb must have felt on Sunday didn't affect his performance. The win might go down as one of the most important in the quarterback's career, as it secures his starting job for the foreseeable future.
Of course, McNabb is never truly out of the woods in Philadelphia—not with the cutthroat media and hard-to-please fans.

Undoubtedly, McNabb's controversial comments were a product of his environment. The QB has known nothing but trouble in the City of Brotherly Love, despite his obvious success with the Eagles.
McNabb faces greater scrutiny than nearly every other quarterback in the league—and there's no doubt his observations about black QBs were based on his own experience. As usual, his words were blown out of proportion, and people took them to mean far more than McNabb wanted them to mean.
What's new?

That said, criticism of McNabb's on-field play was warranted. He missed a lot of throws in the Monday night loss, and he was unable to make plays against Green Bay.
His receivers weren't exactly helping him, but he wasn't making life easy for them, either.

On Sunday, though, everything was easy for Philadelphia, and the game should turn the Eagles' season around. The team has a winnable game against the New York Giants next week, then a bye followed by three more winnable games in October against the Jets, Bears, and Vikings.

In the meantime, McNabb and the Eagles should enjoy some positive feedback for a change.


Team of the week: Green Bay Packers
Many expected the San Diego Chargers to get healthy against Green Bay, but these obviously aren't the Packers of recent years.
LaDainian Tomlinson looked like he was running against the tough defense of the Patriots or the Bears. Philip Rivers found his share of of throwing lanes, but they closed up when it mattered most. And Brett Favre played like he used to in Green Bay's glory years.

The young roster that the Packers' front office has put together is better than everyone expected. The scary thing is that they'll only get better. Favre is providing veteran leadership on offense, and Nick Barnett is leading the stellar defense.
In the weak NFC, the Packers are poised to surprise a lot of teams. With the Vikings on the schedule next week, Green Bay could go into a date with the Bears at 4-0—and with NFC North supremacy on the line.
Then again, given the way Chicago has stumbled and the Packers have impressed, the North might already be won.


Bad team of the week: St. Louis Rams
An offense with Marc Bulger, Steven Jackson, and Torry Holt managing only three points is just wrong.
Are we sure Tim Donaghy had no hand in this game?


Kevan Lee's beverage of the week: Orange soda
Why drink orange juice when you can get all the nutrients you need from orange soda? What? Soda doesn't have nutrients? I don't believe you.


Nap of the week: The entire first quarter of Giants-Redskins
NFC East games always seem to knock me out. Perhaps it's Joe Buck's voice. Perhaps it's the interminable commercial breaks and replay challenges. But most likely it's the coaching matchup between Tom Coughlin and Joe Gibbs.


Most misleading stat: Kevin Curtis' 221 receiving yards and three touchdowns
Considering Curtis was wide open on a few catches and defended by Lions on the others, his coronation as an elite NFL wide receiver should wait at least another week.


Painfully true stat: Carson Palmer's 742 yards in two losses
Every time Palmer puts up big yardage, his team loses. This trend will continue as long as the Bengals remain error-prone and undisciplined.


Suicide pick of the week that I DID blow: Redskins
At the start of the week, I decided to take the Carolina Panthers as my suicide pool pick.
My strategy thus far has been to pick borderline teams facing weak opponents, planning on saving the big guns (Colts, Patriots) for when I really need them. The Panthers seemed like a good choice, if only because they were playing the Falcons...but the decision started to nag at me through the week as I slowly began to lose faith.

Then, with one day to spare, I dumped Carolina and went with the Redskins. The 'Skins were 2-0 and playing the pitiful Giants at home. For some reason, I thought an unproven NFC East team was a safer bet than anyone playing against Joey Harrington.
How horribly wrong I was. I may never trust Jason Campbell again.

Farewell, weekly suicide pick. I hardly knew ye.


Weekly Super Bowl prediction: Packers vs. Steelers
Why not jump to conclusions when it's so easy to?


For Monday's pick and more, visit www.kevanlee.com.
This article is
What is the duplicate article?
Why is this article offensive?
Where is this article plagiarized from?
Why is this article poorly edited?

Philadelphia Eagles: Like this team?