The Top Duos in NBA History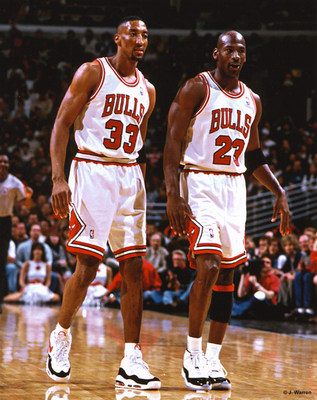 Here, I count down the 10 most effective, successful, and downright unstoppable twosomes in the history of the NBA.
Most of you may already be able to recite your own (or even this) top 10. However, the reason why people make lists like this is to spark debate and conversation.
So without further ado, here they are...
10. Kevin Garnett/Ray Allen and Paul Pierce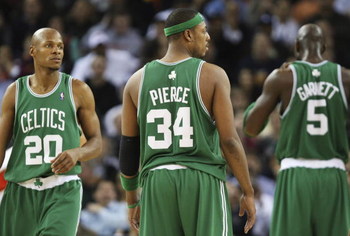 Rarely has a busy offseason worked this well. After a dismal 24-win season, the C's produced the most dramatic regular season turnaround in NBA history with a massive 42-game improvement.
This fairytale season would eventually bear a championship for the big three, and each one of them was more deserving than many players in the league.
9. John Stockton and Karl Malone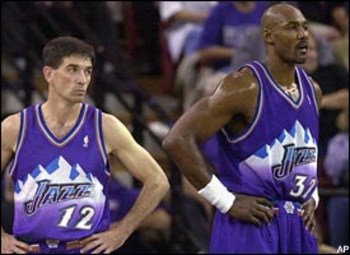 Strangely, you would think the NBA's all-time assist leader and the No. 2 all-time scorer would have garnered at least one championship, but that's not the case.
Stockton and Malone were a hugely effective duo that secured a playoff birth every year they were paired together, but they never won a championship.
And because of this, they must settle for a respectable ninth place.
8. Hakeem Olajuwon and Clyde Drexler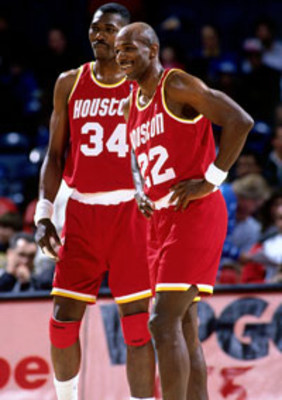 What happens when you reunite two Phi Slamma Jamma teammates on one NBA roster?
A second consecutive championship for the Houston Rockets and two perennial All-Stars.
With the Dream fresh off an MVP, Finals MVP and Defensive Player of the Year campaign in '94, he was teamed up with former teammate Clyde Drexler.
They brought Houston its second title in a row.
Both averaged over 20 points per game. Combine that with Olajuwon's unrivaled defensive abilities and Drexler's playmaking prowess and you get one of the most devastating duos in the league's history.
7. Tony Parker and Tim Duncan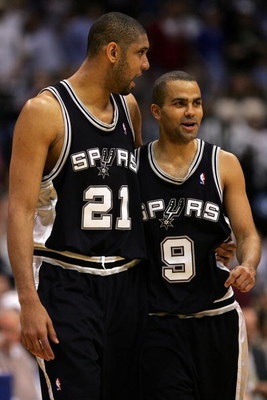 A future Hall of Famer and a French trickster are not exactly the standard for a duo that records three championships and claims a dynasty from 2003 to 2007.
But hey, they work.
The David Robinson/Duncan duo essentially created this team, but Parker and Duncan are more successful on paper and that's why they earn the No. 7 spot.
6. Kobe Bryant and Shaquille O'Neal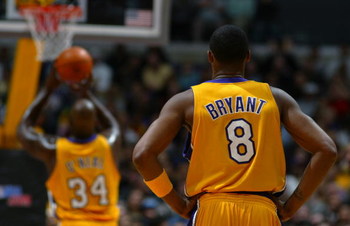 There is no doubt that the Lakers' dynasty of the early '00s would not have existed were it not for both of these guys.
Yes, it turned sour eventually, and yes, we all knew it would never last. But they each received three consecutive rings and a place in NBA history.
Kobe would flourish when the big jabbawakie left for Miami, but he would have preferred another championship or two rather than 30 points per game.
5. Larry Bird and Kevin McHale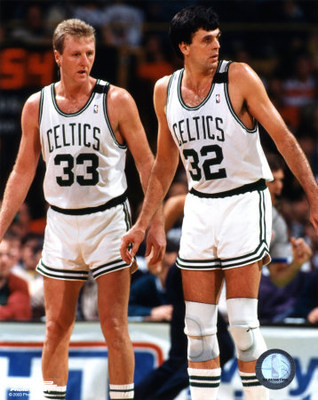 Two hall of famers on one team is always a recipe for success, but has rarely produced the chemistry that sparked when these two guys hit the hardwood together.
And what do they have to show for it?
Between them, 19 all star selections, 10 All NBA First Team selections (9 belong to Larry) and most importantly 3 NBA Titles.
4. Julius Erving and Moses Malone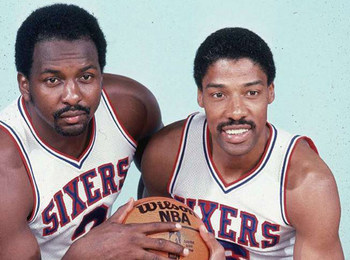 One of the most potent forward/center combos in league history also produced the most unstoppable playoff run, going 12-1 on their way to an NBA title fresh off a 65-win season.
Malone combined his no nonsense physical inside presence with Erving's above the rim style of play that revolutionized the game of basketball.
Together they brought unrivaled entertainment and success.
3. Bill Russell and Bob Cousy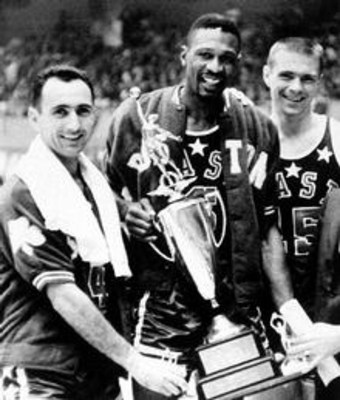 Bill Russell and Bob Cousy won six titles together, putting Russell well on his way to winning his record 11 championships.
2. Magic Johnson and Kareem Abdul-Jabbar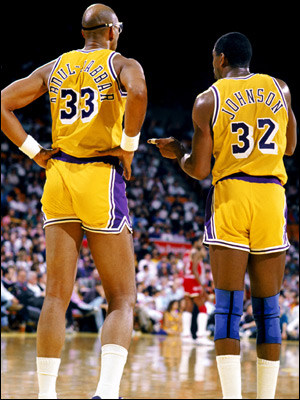 A combination of the greatest point guard and greatest center to ever play the game will always produce results.
Five titles (1980, 1982, 1985, 1987, 1988) and eight finals appearances in 10 seasons in the '80s are definitely results—enough to earn second place.
1. Michael Jordan and Scottie Pippen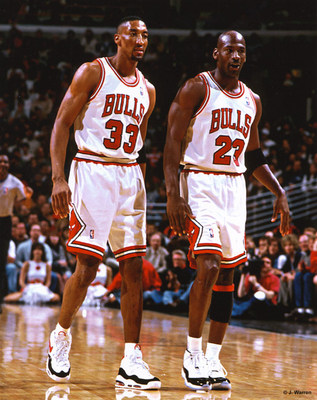 You all knew it was coming.
The greatest player to ever grace the game and a bona fide all-star—who on any other team is a go-to guy—brought six titles and immortality to the Windy City.
Throw the ever-elusive Dennis Rodman into the mix, and two three-peats are a standard.
Jordan was graced with fantastic teammates and a legendary coach, but none more powerful than Pippen.
That's why these guys are the greatest duo in NBA history.
Keep Reading

Houston Rockets: Like this team?