TNA vs. WWE: The Dream Matches I Would Love to See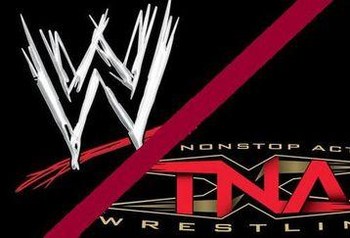 WWE is the most successful professional wrestling promotion in history, and most of the wrestlers' dream is to make it to the top of the WWE, and it currently has a lot of talent who can shine in any match.
TNA is an up and coming promotion, which has a lot of talented superstars but the promotion fails to utilize them correctly and did not get the attention it desires.
However, ratings are increasing on a weekly basis, and you never know, it might become an actual challenge to the WWE some day.
Here is a list of cross-promotional matches that I would love to see between WWE superstars and TNA superstars.
Rey Mysterio vs. AJ Styles
A battle of the high-fliers.
AJ Styles is a three-time NWA World champion, and is a very successful high-flier. One of TNA's best talents, he has been with TNA from the start.
Rey Mysterio is known for competing in all three famous promotions of the 90's: WWE, WCW and ECW. He is a one-time World Champion and is one of the fan favourites.
His high flying maneuvers like the 619 prove to be one of the most astonishing finishers in the WWE today.
How I would book the ending: Rey Mysterio hits the 619, and as he goes for the spring board Hurricanrana, Styles holds him and turns it into a Syles Clash for the win.
LAX vs Cryme Tyme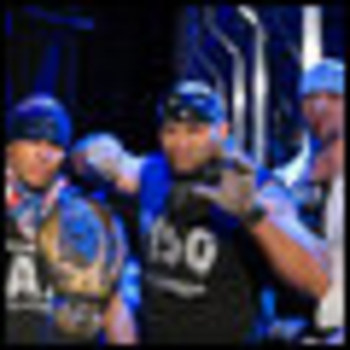 Two stereo-typical, racial tag teams go head to head!
Cryme Tyme has been in the WWE for quite a while now yet have never held tag team gold, but still seem impressive in the ring.
Stupid promos aside, Cryme Tyme could be a serious tag team but their racist gimmick is holding them back.
The Heroes of the Latino nation, LAX is one the best tag teams in TNA, although each member is in a separate storyline at the moment, they have still held three tag team titles.
How I would book the ending: Shad carries Homicide in a Samoan Drop-like position when Hernandez kicks him (which leads to Shad dropping Homicide), then JTG runs to attack Hernandez but gets tossed to the outside.
Hernandez hits the Border Toss on Shad then Homicide hits the Frog Splash for the win.
The Motor City Machine Guns vs The Hart Dynasty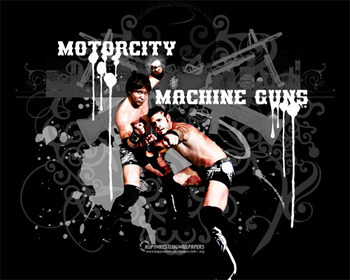 The two naturals from Detroit, Michigan; The Motor City Machine Guns are the best tag team performance-wise. The alliance of Alex Shelley and Chris Sabin. These two are almost perfect together in TNA, Japan, Indy's and everywhere else.
The Hart Dynasty is a very good stable, consisting of DH Smith (son of legendaty "The British Bulldog"), Tyson Kidd (who was trained by Stu Hart at the Dungeon), and Natalya Neidhart (daughter of Jim Neidhart). And I see a lot of potential in these three youngsters.
And although neither has won Tag-Team Gold in their respective companies, I still see them both as the best performers in each company.
How I would book the ending: After a series of hot tags and near falls, MCMG start hitting some amazing combinations on Tyson Kidd, Chris Sabin goes for the cover only for Natalya to distract the referee.
So the MCMG also get distracted by Natalya and she is sent backstage by the referee. That gives enough time for DH Smith to "recover" and throw Shelley out, while Smith and Kidd perform the Hart Attack for the three count.
The Legacy vs Beer Money Inc.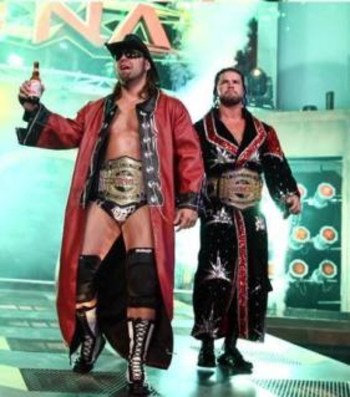 The two most dominant tag teams from each company.
The Legacy are known for being natural born wrestlers, with Ted being son of "The Million Dollar Man" Ted Dibiase Sr., and Cody Rhodes being the son of "The American Dream" Dusty Rhodes. They are a two time Tag Team Champions.
Beer Money Inc are my personal favourite current tag team. The combination of Robert Roode and James Storm are a force to be reckoned with, as three -time Tag Team Champions, they prove to be one of the best tag teams of TNA.
How I would book the ending: Cody Rhodes hits the DDT on Robert Roode, but Storm rushes in and breaks the count, Ted and Cody beat on Storm, but Roode helps Storm by tossing Ted out the ring.
Cody goes to hit a DDT on Storm as well, but Roode attacks him and they hit the DWI for the win.
Hardy Boys vs Team 3D/Dudley Boyz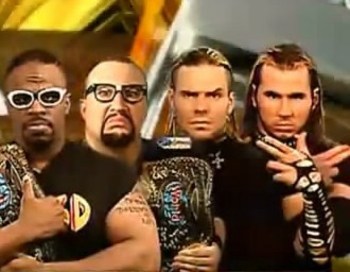 An Attitude Era rematch!
The Hardy Boyz are one of the most decorated tag teams of our times, and since Matt and Jeff currently "patched things up," their alliance would make sense.
Team 3D/The Dudley Boyz have been a tag team in ECW, WWE and TNA... Known for their antics of breaking tables, they are one of the most recognizably hardcore tag teams.
How I would book the ending: Matt Hardy hits the Twist of Fate on Brother Ray and Jeff goes to the top to hit the Swanton, but Devon would push Matt Hardy over the ropes to the outside (making Jeff land on his crotch in the process), and carries Jeff (for a 3D) while Brother Ray would hit the cutter on Jeff while Devon was carrying him for the 3-count.
Kane vs Abyss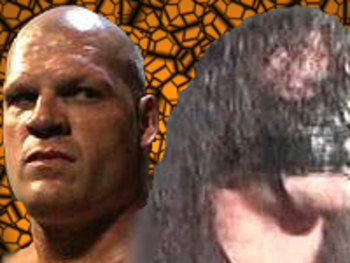 The two monsters collide!
"The Monster" Abyss is a hardcore maniac and is very good on the mic. He is a former NWA World Champion and NWA Tag Team champion in TNA.
Kane, The Big Red Machine, is also a former World Champion, a 10-time tag team champion, and a two time Intercontinental champion. He has been with the WWE for over a decade.
How I would book the ending: Abyss goes for the "Shock Treatment" only for Kane to reverse it and hold Abyss's throat for the chokeslam, but Abyss would elbow Kane's head several times and carries him for the Black Hole Slam for the win.
Kofi Kingston vs Booker T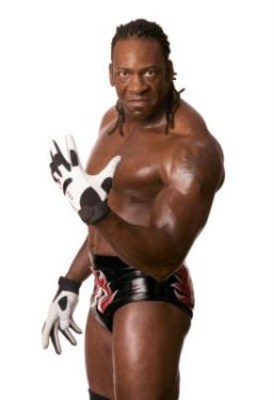 I got bored of writing, so I'm just going to name the winners of each match (sorry)..
Winner: Booker T.
Christopher Daniels vs Chris Jericho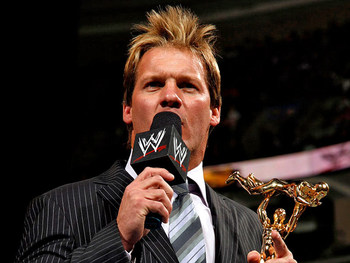 This would be a great match of two great performers...
Winner: Chris Jericho
Edge vs Christian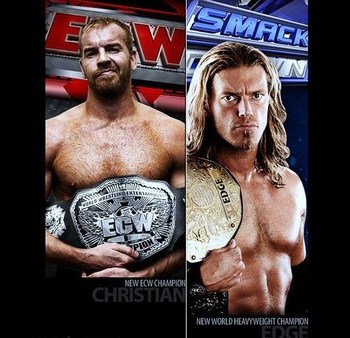 I know Christian is back to WWE, but I don't care... This match would be awesome.
Winner: Edge
Batista vs Scott Steiner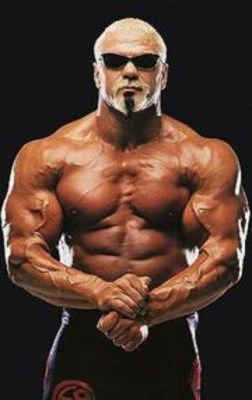 The two most muscular, overrated superstars.
Winner: Scott Steiner
Kurt Angle vs. John Cena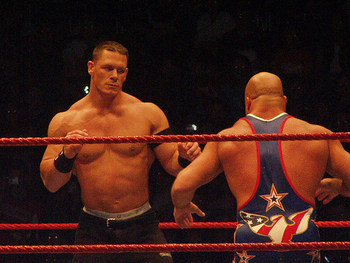 They had a feud before, and none had any other "dream match" so they might as well go at it..
Winner: Kurt Angle
Randy Orton vs, Jeff Jarrett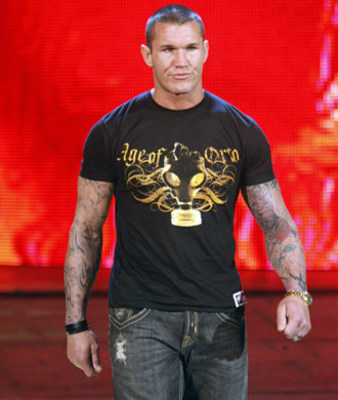 Legend vs Legend Killer match.
Winner: Randy Orton.
DX vs Kevin Nash & ???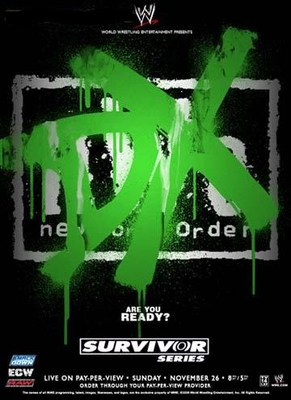 DX feud with Kevin Nash, Nash says he'll have someone on his side. Surprisingly, it's Scott Hall, so it's DX vs. nWo!
Winners: nWo (I like them more) =p
CM Punk vs Samoa Joe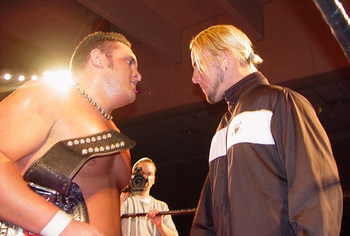 ROH rematch! My favourite match of all time..
To add irony, they battle for an hour, and both get counted out (both were lying on the floor 'till the 10 count).
Winner: Draw - No Contest.
Main Event: The Undertaker vs Sting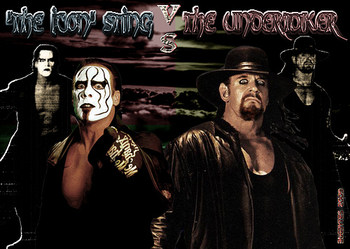 "The Icon" Sting goes head to head against "The Phenom" The Undertaker. The two lords of darkness, but who will win?
Winner: Sting
Conclusion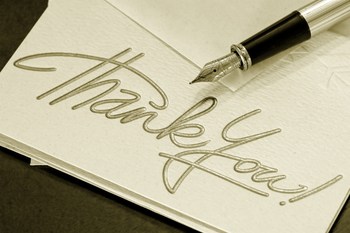 Thanks for reading my slideshow.
I'm sorry I stopped writing at the end but I really got bored. But I still hope you guys enjoyed it =D.
Keep Reading