NHL Heavyweights: Tale of the Tape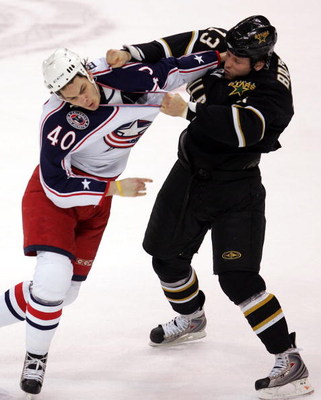 The dynamics of what makes a winning team has changed since I've been a hockey fan. From slapshot, "put on the foil" 70's of bench clearing brawls, to the explosive Oilers dynasties, to the "clutch and grab" trap defense of the New Jersey Devil Cup wins.
After the lockout, the NHL introduced several key rule changes that have changed the face of hockey. The league removed the "offside pass" or "two-line pass" rule, and implemented the instigator rule as well as creating the salary cap.
Average fights per game was up last year at 0.6 fights per game on average. The Anaheim Ducks led the league in the fighting major penalties last year at 82, with the Philadelphia Flyers at a distant second with 74.
Went to a fight and a hockey game broke out, we've all heard that one before. Each team in the NHL employs heavyweights "enforcers" to protect and give space to the stars on their team, as well as to add a dimension of entertainment to the evening's festivities .
Who is the 2010 heavyweight champion in the NHL?
Honorable Mention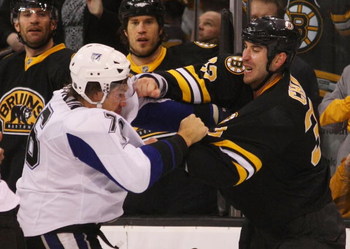 11. Zdeno "the wrestler" Chara 6'9" 255 captain of the Bruins.Most valuable player of Boston. Makes most top 10 lists, but even if I've never seen him lose, Ive never seen him go toe to toe with any other true heavyweight either. His fights quickly are over after one hay maker and a quick pin by Chara.
12. Chris Neil 6'1" 212, Ottawa Senators—It's the fight in the dog not the dog in the fight that's important. Not truly in the heavyweight class, but tough as they come. Lost a classic battle by decision to Shawn Thornton Jan 08, 2009
13. Zack Stortini, 6'4" 220 Edmonton—25 fighting majors, definitely must have good medical insurance coverage! Lost by decision to Colton Orr Nov 10, 2008 and pummeled by Wade Belak on Dec 28, 2009.
14. Brian McGrattan,6'4" 220. Calgary Flames—During the American Hockey League's 2004–05 season, he established an all-time league record for penalty minutes in a single season with 551. Man handled by George Parros Mar 19 2009.
15. Darcy Hordichuk, 6'1" Vancouver Canucks—Hordichuk spent the summer of 2008 training with Chuck Liddell, a mixed martial artist and former Ultimate Fighting Championship light heavyweight champion. Lost by descision to Wade Belak jan 1, 09 and to Chris Neil Dec28, 08. Beat Jared Boll jan 18, 09.
16. Jared "punching bag" Boll,6'3" 195. Columbus Blue Jackets—second in total FM at 24. Lost to George Parros Dec 7, 2008.
10. David Clarkson, New Jersey Devils
David Clarkson 6'1" 206. 82 gp 17 g 32 pts 164 PIM.
A very popular player in NJ, 3rd year with the Devils. When he was young, he attended Brendan Shanahan's hockey camp. In Shanahan's first game back with the Devils, the two played on the checking line together.
20 fights 13 W 4L 3D.
9. Shawn Thornton, Boston Bruins
Shawn Thornton 6'1" 202. 79 GP, 6G, 11pts, -2, 123 PIM.
Follow Shawn's Chat at http://bruins.nhl.com/club/news.htm?id=463674
17 Fights 6W 5L 6D.
8. George Parros, Anaheim Ducks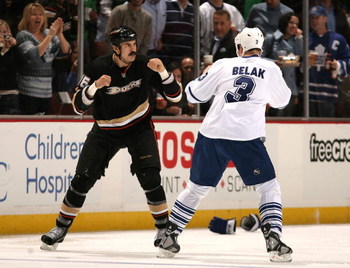 George Parros 6'5" 215 of the Anahiem Ducks won the Stanley cup in 2007.
He cuts his hair every Christmas and donates it to Locks of Love, a charity organization that makes wigs for children that have lost their hair due to medical conditions. Has a distinctive moustache and is a true heavyweight.
23 Fights 8 W 7L 8 D
Loss to Darcy Hordichuk Apr 2 09. Beat Shawn Thorton Feb 26 09. Destroyed Jared Boll Dec 7 08.
7. Eric Godard, Pittsburgh Penguins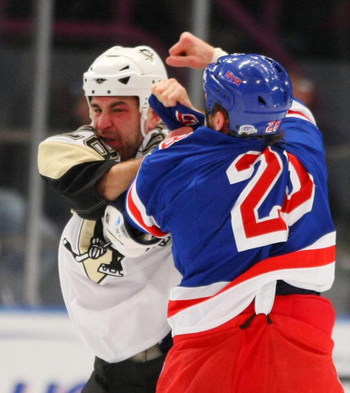 Eric Godard 6'4" 225 of Pittsburgh Penguins
71 gp 2g 4pts 171 PIM.
21 fights 11W 5L 5D.
Decision over Colton Orr Mar 28, 2009. Lost to Orr Jan 5 2009 and Dec 3 2008.
6. Colton Orr, Toronto Maple Leafs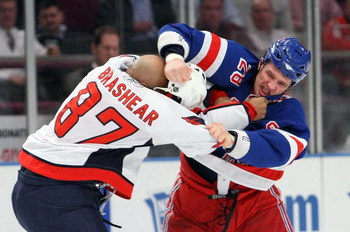 Colton Orr 6'3" 222.
$4 million for 4 years with the Leafs. He will become a superhero now that he is in Toronto, as he fights all the heavy weights.
18 fights 11 W 5L
Two wins against Eric Godard.
5. Donald "Suckerpunch" Brashear, New York Rangers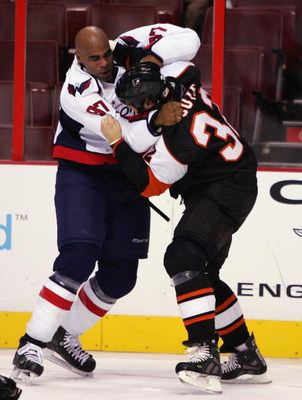 Donald Brashear 6'2" 225.
Over 200 career fights. As of last year, he is starting to show his age. Still a tough customer, though he lost a few last year, which is very unusual throughout his long career.
11 Fights 7W 2L 2D
beat Colton Orr by split decision Feb 11 09.
4. Milan "the Serb" Lucic, Boston Bruins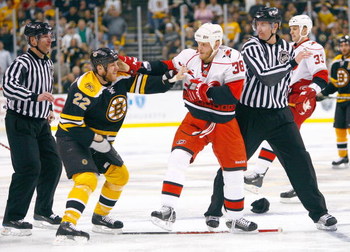 Milan Lucic 6'3" 205 17 goals and 42 points last season.
The most valuable player on this list except for Chara.
10 Fights 9W.
3. Derek Boogaard, Minnesota Wild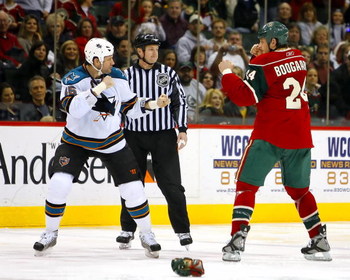 Derek Boogaard 6'7" 270.
A 2007 survey of NHL players showed that Boogaard was the second most intimidating player in the NHL. He makes No. 3 on my list this year.
9F 6W 2L 1D.
Split two fights to Wade Belak Oct 16 08 and Dec 6 08.
2. Wade Belak, Nashville Predators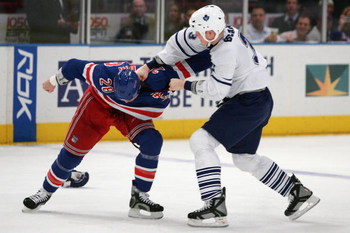 Wade Belak 6'4" 213.
KO'ed Brashear last year to slip into No. 2 slot. Truly a one-dimensional player.
11 fights 8W 2L 1D.
Fought Derek Boogaard Oct 16 08 and Nov 29 08. 1W 1L.. This year we look forward to the rematch.
1. Undisputed Champion- Georges "BGL" Laraque, Montreal Canadiens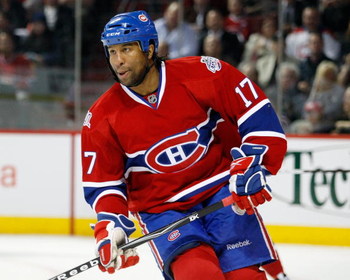 Georges Laraque 6'3" 240
of Haitian descent, Big George is a Vegan. He could have played for the CFL Eskimos but choose hockey instead.
9F 7W 1L 1D.
Only one decisive loss last year to Mitch Fritz on Nov 1 08. Beat Shawn Thornton on points Oct 15 08.
Doesn't fight as much as he used to, but he doesn't need to. I've seen him dominate opponents like none other. He personally has rearranged many faces in hockey, and that's the Tale of the Tape
Keep Reading

Montreal Canadiens: Like this team?