The Player Match-ups That Could Make or Break the Tennessee Titans' '09 Season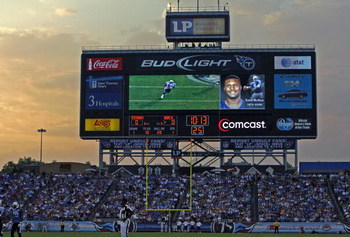 With the pre-season now properly underway, fans everywhere are wondering what the regular season schedule holds for their franchise.
Every season sees certain games circled on the calendar, and these games are often decided by specific positional match-ups.
So here we'll delve into the Titans' 2009 schedule and see which five player match-ups could define a season which has high expectations already.
Week One: Titans' Offensive Line vs. Steelers' Defensive Line
Talk about a statement game. Week One, the Titans travel to the Steel City to play the reigning Super Bowl champs after having made many enemies with the terrible towel-stomping incident after Tennessee's win last year.
The Steelers boast the league's most punishing defense, and Tennesee's offense is not exactly a points-scoring juggernaut, so the key will be up front. The Titans will want to run on Pittsburgh, not an easy task even with the talented backfield Tennessee has.
Thus it will be up to Michael Roos (pictured) and the rest of the O-line to open up the holes for Chris Johnson and LenDale White.
In addition, the Steelers have a fierce pass rush, so that offensive line must keep Kerry Collins upright on passing downs.
A win in Pittsburgh in the first week of the year would be huge for the Flaming Thumbtacks' season, and if the O-line can dominate up front, this is a game Tennessee should win.
Weeks Two & Eleven: Titans CB Courtland Finnegan vs. Texans WR Andre Johnson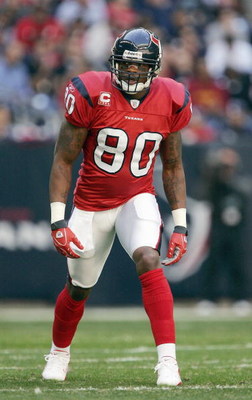 The AFC South is fast becoming football's toughest division, and the Texans, on the rise the past few years, are now a chic playoff pick for many a critic.
As usual, the focal point of Houston's offense will be superstar wideout Andre Johnson. The Titans went 1-1 against the Texans last season, and in Houston's 13-12 win over Tennessee in Week 15, Johnson was unstoppable.
He racked up over 200 receiving yards and the Titans couldn't do anything to curb his production.
The bulk of coverage duties will be given to star cornerback Courtland Finnegan, who emerged last season. Keeping Johnson under control will be the key to beating this divisional opponent.
Unfortunately for Tennessee, Johnson is practically uncoverable, so Finnegan will need to get some help from safeties Michael Griffin and Chris Hope.
But if Finnegan can keep Johnson under 100 yards in both games, chances are the Titans can rack up two wins against their bitter rivals.
Weeks Five & Thirteen: Titans' Pass Rush vs. Colts QB Peyton Manning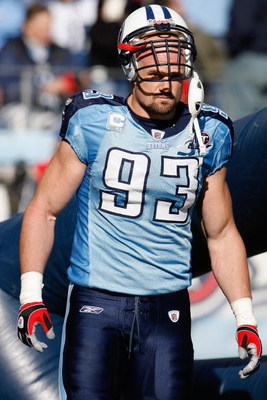 Another season, another two games against Peyton Manning. The Titans are more than familiar with the future Hall of Fame QB, but he's not an easy man to stop.
The key to beating the Colts, as it is every year, is to pressure Manning into making mistakes.
After the much-publicized departure of Albert Haynesworth, the T's pass-rush has obviously taken a step back.
But hopefully with a healthy Kyle Van Den Bosch (pictured) and a quality rotation, Tennessee can try and replace the mammoth tackle's production.
The Colts have recorded 12 wins or more every year since 2003, so beating them will be the key to winning the division.
If the Titans' pass rush can force the usually unflappable Manning into some errors, they'll give themselves the best possible chance of beating Indianapolis.
Week Six: Titans RBs Chris Johnson & Lendale White vs. Patriots Defense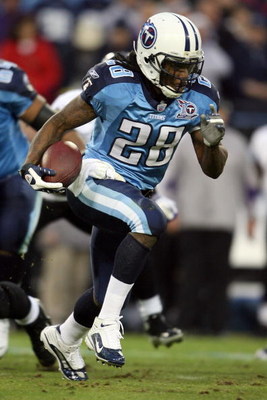 In Week Six, Tennessee will face perhaps their toughest early-season challenge as they face Tom Brady's New England Patriots.
Everybody knows the damage that Brady can do if given time, so the onus will be on Tennessee's punishing Smash and Dash combination to control the clock and keep the Pats' offense off the field.
Johnson and White proved a year ago how effective they can be as a duo, so they will have to turn in a strong performance against New England's stout and complex defense.
The less time Brady is on the field, the better as far as Tennessee is concerned, so if they can control the clock on the ground they should be able to curb the Patriots' offensive juggernaut.
If the Titans can go into their Week Seven bye coming off a win against New England, it would send a powerful message to the rest of the league that the T's are not a team to be taken lightly.
Beating many people's pre-season AFC favorite would go a long way towards proving that.
Week Fifteen: Titans' Linebackers vs. Dolphins' Wildcat
Tennessee hosts Miami in Week 15, at a time where many expect both teams to be pushing for the playoffs.
Last year, Miami's Wildcat offense, led by running back Ronnie Brown, tore apart many defenses, and Titans 'backers Keith Bulluck, Stephen Tulloch and David Thornton will have to read this unique offense and react against it.
The Wildcat is all about surprise and misdirection, so it will be up to the trio of linebackers to call the plays quickly and correctly so that the DBs can come up to stop a run or drop off to cover a pass.
This may well be a win-and-in situation for both teams so the implications of stopping the Wildcat could be massive.
If Bulluck, Tulloch, and Thornton can shut down this unorthodox offense, they could beat the Dolphins and seal a playoff place.
Keep Reading

Tennessee Titans: Like this team?