The Battle for the ACC: A Preview of the 2009 Season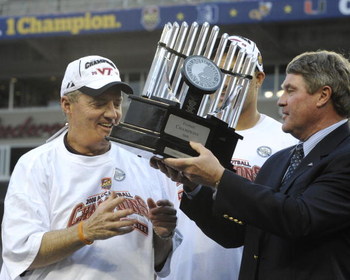 We're less than a month away from the start of the college football season. This also means that we're less than a month away from the ACC schedule beginning with a bang.
While a lot of top programs begin the season with a cupcake or two, Miami and Florida State get conference play started the first week of the season with a primetime Labor Day matchup.
We will take a look at all of the teams in the ACC and see what their future holds this upcoming season
Boston College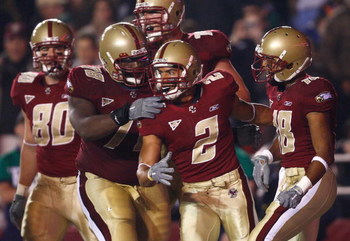 The Eagles of Boston College have had a good amount success since joining the ACC back in 2005. They've made two straight appearances in the ACC title game (both losses to Virginia Tech) and have accumulated at least nine wins in each of the last 5 seasons.
Coming into this season, the biggest issue facing them will be the play of their quarterback. Dominique Davis, who took over late in the season following the injury to starter Chris Crane, has decided to transfer.
That leaves junior Codi Boek and red shirt freshman Justin Tuggle to battle for the starting job at QB. Neither of them have any experience in conference play.
If Boston College is to win the Atlantic Division of the ACC again, they will need steady play from whomever wins the job. The first two games of the Eagles schedule against Northeastern and Kent State should allow the winner of the qb battle to ease into things.
There's another road block for BC. They may have lost reigning ACC defensive player of the year Mark Herzlich for the season due to a discovery of a rare form of cancer (Ewing's sarcoma). At this time, no one is sure when or if Herzlich will make it back.
The Eagles do return four starters on the offensive line which is huge considering the question mark at QB. RBs Josh Haden and Montel Harris will be counted on to shoulder the offensive load.
Sophmore CB Donnie Fletcher leads a young secondary. Fletcher started in nine games last season and if spring practice is any indication, he's ready to pick up where he left off.
BC on paper does not appear to be as strong as they have been the last couple of seasons. The loss of NFL first round pick DT B.J. Raji will be a huge spot to fill in more ways than one. Don't look for a third straight appearance in the ACC title game from these guys.
The Atlantic division is not stacked by any means, but the Eagles are in rebuilding mode so their streak of five consecutive seasons with nine wins will come to an end.
Prediction: 7-5 (3-5 in ACC)
Clemson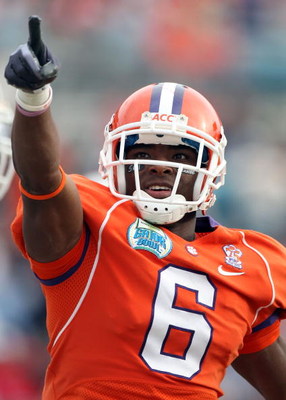 At the beginning of last season, there was plenty of hype surrounding the Clemson program. They were ranked 9th in the country and had a nationally televised game against Alabama to kick off their season. There was even talk that the Tigers could possibly contend for the National title.
Those lofty expectations came crashing down after the Crimson Tide destroyed the Tigers 34-10 in Atlanta. Following two straight conference losses to Maryland and Georgia Tech, the ten year run of Tommy Bowden came to an end. Bowden stepped down mid-season, Dabo Swinney was named the interim coach.
After dropping the first game of the Swinney regime, Clemson finished the season strong by winning four of their last five games. This put them in a New Year's Day bowl game and removed the interim label from Swinney's title.
Coming into 2009, the Tigers will have to settle on a signal caller. Kyle Parker and Willy Korn are both inexperienced. The competition is wide open, but whomever wins will need a healthy running game to take some of the pressure off.
Enter C.J. Spiller. Spiller wrestled with the decision to enter the draft for a good part of the offseason. Luckily for the Tigers he chose to come back. C.J. will be the focal point of the offense with his versatility and all world speed.
This will be the first season that he's the focal point of the running game. His first three years on campus have been spent splitting time at RB as well as returning kicks. He led the ACC in all purpose yardage last season.
Defensively, the Tigers have to generate more pressure on the QB. They ranked last in the ACC in total number of sacks last season only averaging a sack a game. It's time for Ricky Sapp to become the dominant end that he was projected to be when he arrived in Death Valley. Da'Quan Bowers and Kevin Alexander also need to raise their level of play.
Even with the lack of a pass rush, the defense still managed to finish the season ranked in the top 20 in the country in total defense and 12th against the pass. The pressure on the defense will be greater this year with question marks on the offensive side of the ball (QB and offensive line).
Trying to predict what the Tigers will do is a crap shoot as we've found out over the last few years. Maybe they'll be good now that no one is talking about ACC and National titles. Clemson will have to get off to a good start, especially in conference play. They'll have that chance after a cupcake week one opener, then its two straight against conference foes Georgia Tech and Boston College.
Prediction: 6-6 (4-4 in ACC)
Duke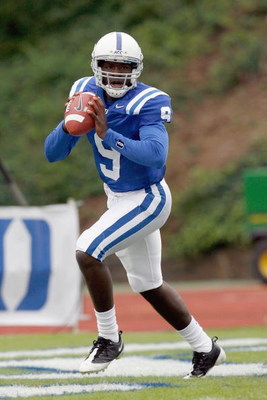 For a school that is most well known for academics and basketball, it seems a little odd to say that things are beginning to look up for the Blue Devils' football program.
Duke has long been the doormat of the ACC. They haven't done anything worth mentioning since the days of Steve Spurrier! Although only winning four games last season, it was the cumulative total number of wins from the four seasons preceeding the arrival of David Cutcliffe.
The Dukies have some talent on the roster. Starting with quarterback Thaddeus Lewis. With an average of 197.4 passing yards per game last season, he's the leading returning passer in the ACC. Lewis has also improved his completion percentage and trimmed his interception totals every year.
He'll lead an offense that features well... him. His top receiver from last season (Eron Riley) is gone leaving him with a young group of wideouts that will have to prove themselves.
The offensive line lost its two best blockers fom last season so, they'll be looking to replace them and build continuity along the line. Kyle Hill is considered the best lineman on the team and will be changing positions from left guard to left tackle.
The defensive side of the ball is just like offensive side. You have one star player in Vince Oghobaase and then you're left looking around to see who else is there. Oghobaase is a 6'6 300 pound space eater at defensive tackle. Since it takes atleast two people to block him, Duke is hoping Wesley Oglesby, Ayanga Okpokowuruk and Patrick Egboh can assist Vince in providing pressure on the QB.
No pressure from the front line means Duke's secondary will be in for a long season. The DBs gave up plenty of big plays last season especially in the red zone.
For the Blue Devils to build upon the momentum gained from last season, they're going to have to do the little things that takes them from being in close games to winning some of those close games.
They'll have the opportunity to get out of the gate early with three of their first four games against teams (Richmond, Army and NC Central) that are not worldbeaters by any stretch of the imagination. Once Duke enters conference play, any win they get will be an upset.
Prediction: 4-8 (1-7 in ACC)
Florida State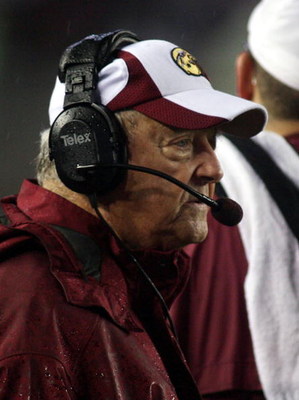 It has been quite an eventful offseason for the Florida State Seminoles. Players getting suspended and/or being dismissed from the program as well as cheating scandals that may force Bobby Bowden to vacate up to 14 victories (which would be a significant setback in his race with JoePa to have the most wins in Division I history) have had the Noles in the news for all the wrong reasons.
On the field, FSU will have to replace a lot of talent from last year's team that finished 9-4 (5-3 in the ACC). Offensively they've lost starters RB Antone Smith, WR Greg Carr and WR Preston Parker. All of those players were significant contributors last year to an offense that averaged over 33 points per game.
Quarterback Christian Ponder showed some signs that he can bring some stability to a position that has been more of a game of musical chairs in the past few years. He will have to improve his decision making after throwing 14 interceptions and only 13 touchdowns last season. With a young offensive line, there are concerns as to whether he will have the time to go through his progressions.
During Mickey Andrews career as the defensive coordinator for Florida State, its been a sure bet that he will field a pretty good defense. Last year's unit was 15th in the nation in total defense including sixth aginst the pass and fourth in average sacks per game with three.
Those stats were accumulated with the help of players like DE Everette Brown, CB Tony Carter, DE Neefy Moffett, LB Derek Nicholson and S Myron Rolle. All of them are gone and that means a lot of young players will be counted on to make big contributions. Senior linebacker Dekoda Watson will lead an inexperienced defense.
Looking at the schedule, FSU won't have any time to waste as they renew acquaintences with the Hurricanes in the first game of the season. In fact, three of the Noles' first four games are against teams that will test their young defense early and often. In addition to playing Miami, they travel to Provo, Utah to play BYU and host the Bulls from the University of South Florida.
The Seminoles are the favorites to win a weak Atlantic division of the ACC. However, games against UNC and UF are two games that stick out as huge games that FSU will have their work cut out for them.
Prediction: 8-4 (5-3 in ACC)
Georgia Tech
The Yellow Jackets caught the ACC completely off guard with their new triple option offense installed by first year head coach Paul Johnson. Georgia Tech ended last season ranked fourth in the nation in rushing. Jonathan Dwyer led the rushing attack with 1,395 yards and 13 touchdowns on the season. That was good enough to be named ACC player of the year.
Running backs Roddy Jones and Anthony Allen chipped in on the running game too. Quarterback Josh Nesbitt was another threat to run out of the triple option formation. The Yellow Jackets will need for him to improve his decision making in the passing game to keep opposing defenses honest.
Defensively, the Yellow Jackets will field an inexperienced front seven. They lost their best defensive player (Michael Johnson) and their top two defensive tackles (Darryl Richard and Vance Walker ) to the NFL. DE Derrick Morgan will be counted on to lead the front seven as they try to generate pressure on the QB.
The secondary is the rock of Georgia Tech's defense. Starting FS Morgan Bennett is considered one of the best safeties in the ACC. His seven interceptions last season backed up that claim. His partner in crime Dominique Reese, gives the Yellow Jackets experience and playmakers at the safety positions.
Corners Mario Butler and Rashaad Reid are not highly touted, but are solid players. The secondary will be getting a lot of work this season since it doesn't appear that the front seven will be able to generate a consistent pass rush.
Georgia Tech will go as far as their triple option offense can take them. With an entire offseason to prepare for that offense, defenses around the ACC will not be caught off guard like they were this past season. We'll find out pretty early in the season with a matchup against Clemson as to whether the Yellow Jackets were a flash in the pan last year.
Prediction: 8-4 (4-4 in ACC)
Maryland Terrapins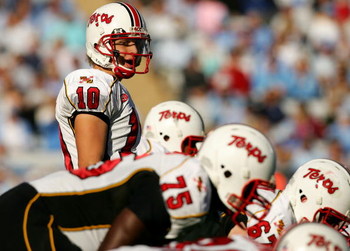 For the last few seasons, the Maryland Terrapins have been teetering on the edge of becoming one of the elite programs in the ACC. They just can't seem to string together consistent performances in any one season. They'll beat a top 25 team one week and then lose to someone from the bowl sub-sub-division the next week!
In addition to trying to take his team to the next level, head coach Ralph Friedgen will have to replace 30 departed seniors. The biggest whole left to fill is the one left by junior Darrius Heyward-Bey. His production and game breaking ability are big shoes to fill. Torrey Smith returns as the only receiver with significant exeprience on the roster. He along with Ronnie Tyler will be counted on to lead the receiving corp.
QB Chris Turner is looking to reward the coaches for sticking with him the previous two seasons. There were questions about his desire and dedication in practice before. Now as a senior, Turner should be poised to take his place among the best QBs to ever put on a Terps uniform. If Turner can improve his touchdown to interception ratio then the passing attack will be fine.
A large part of Maryland's offense will revolve around RB Da'Rel Scott. Scott earned first team All-ACC honors after totaling 1,133 yards and eight touchdowns on the ground.
The Terps will need solid and consistent play from the offensive line if they want the offense to move at all. Three starters are gone from an o-line unit that was expected to be one of the strengths of the team last season. Senior Phil Costa will be counted on to anchor a young and inexperienced unit this season.
On the defensive side of the ball, new defensive coordinator Don Brown will be implenting a new system with not much experience in his front seven. DT Travis Ivey and LB Alex Wujciak are two players that will be looked to for leadership and production.
The defensive backfield is an area of strength for the Terps. Terrell Skinner , Jamari McCollough, Kenny Tate and Anthony Wiseman are starters in a secondary that can be described as ball hawks. Antwine Perez and Nolan Carroll add depth to an aggressive and talented unit.
The Terps success this season will hinge on the play of the offense. Specifically, the offensive line. The production of QB Chris Turner and RB Da'Rel Scott are directly tied to how well the line provides protection and paves holes.
Prediction: 6-6 (3-5 in ACC)
Miami Hurricanes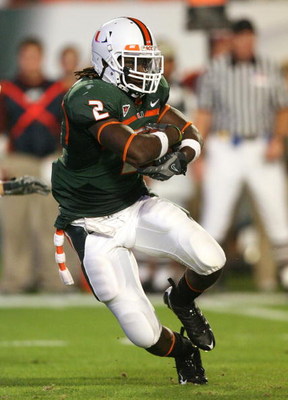 The Miami Hurricanes... Is this the year that the "U" returns to the national spotlight as one of the more feared teams in the country? Much of that will depend upon head coach Randy Shannon's ability to mesh with his two new coordinatrors in Mark Whipple (offense) and John Lovett (defense).
The Canes are never short on talent and speed. After a few down years, it appears that the cupboard is once again stacked with both of those ingredients.
Jacory Harris is now the unquestioned signal caller. He spent last season shuttling in and out with Robert Marve, but now Marve has transferred to Purdue. Harris did well for himself last season when he was running the offense. He completed over 60% of his passes and threw 12 touchdowns against only seven interceptions.
He's had an entire offseason to develop a chemistry with his receivers Travis Benjamin and Aldarius Johnson among others. Both are coming into their sophmore seasons and are expected to have big impacts on the offense.
Graig Cooper leads the ground attack. He's has game breaking speed , but can also run in between the tackles. He will benefit greatly if the Hurricanes can develop a consistent passing game. Last season, teams were able to pack the box against him since there was no fear of the pass.
On the defensive side of ball, the Hurricanes will have to improve upon the four interceptions they accumulated as a team last year. With that said, the passing defense still finished the season ranked 7th in the country. Chavez Grant, Brandon Harris, Vaughn Telemaque and Randy Phillips will be counted on to make more plays on the ball.
The rushing defense must improve from the 152 yards per game they gave up last season. That included a 310 yard performance by Florida State and a 472 yard performance by Georgia Tech! Sean Spence, who led the Canes in tackles last season, will play a major role in improving the run defense. DTs Allen Bailey and Marcus Forston will also have to raise their level of play.
Miami will not have any time to waste once the season gets started. Their first four games are against some stiff competition (Florida State, Georgia Tech, Virginia Tech and Oklahoma). Depending on how they fare during that beginning stretch will determine how successful their season will be.
Prediction: 8-4 (5-3 in ACC)
North Carolina Tar Heels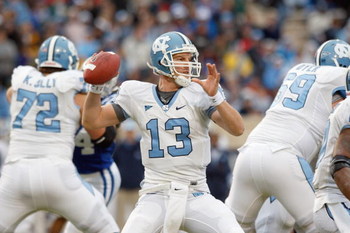 Boy does Butch Davis have the Tar Heel faithful buzzing. I don't think they've been this excited about UNC football since the days of LT! (and I mean the original LT... the one and only Lawrence Taylor). Coming off the school's first bowl appearance in four years (where they lost a nail biter to West Virginia), there are high expectations coming into this season.
The Tar Heels will have to replace two leaders on their team. Hakeem Nicks on offense and Tremaine Goddard on defense.
Nicks was UNC's big play threat last season. We all remember the catch he made in the bowl game against the Mountaineers. The Tar Heels have no real experience to replace him. Greg Little who was the team's starting running back at the beginning of last season has moved to wide out.
The Tar Heels do have a lot of height at the wide receiver position. The average height of their receivers are 6'3! 6'4 sophmore Dwight Jones and 6'4 freshman Joshua Adams are among the young WRs expected to blossom into big play threats as the season progresses.
Defensively UNC will be expecting their line to apply more pressure to the QB. The d-line combined for a measley 11 sacks on the season last year. Senior E.J. Wilson and sophmore Robert Quinn are expected to lead an improved an agressive pass rush,
Butch Davis' coaching pedigree is well documented especially on the college level. He's turning the Tar Heels into a legit contender in the ACC. In order for his team to build upon the success of last season, the offense has to produce points.
A lot will be riding on the arm of QB T.J. Yates. With some help from junior RB Shaun Draughn, the offense (and the team for that matter) will go as far as Yates can carry them.
Prediction: 8-4 (4-4 in ACC)
North Carolina State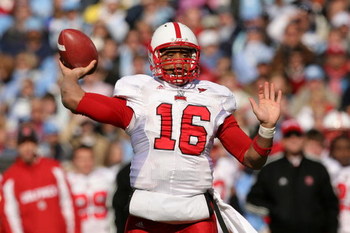 The Wolfpack got off to a slow start last season but rebounded to finish with four straight wins to become bowl eligible. Coach Tom O'Brien is three games under .500 during his tenure in Raleigh, but with Russell Wilson at the helm things are looking up.
Wilson had a sensational freshman season. He threw for 17 touchdowns and ONLY one interception. Those stats along with his ability to make plays with his feet garnered him ACC Rookie of the Year honors. Coming into his sophmore season, he will be expected to improve his decision making (although he only threw one interception, his completion percentage was a mere 55%).
Providing help at the skill positions will be a pair of senior tailbacks, Jamelle Eugene and Toney Baker. Both players are experienced and complement each other well. Baker is looking to show that he has bounced all the way back from a knee injury that has cost him the better part of two seasons.
Junior receivers Jarvis Williams and Owen Spencer have the height (6'4 and 6'3 respectively) and athletic ability to give them a solid advantage in most matchups with defensive backs.
Under O'Brien, NC State has had trouble developing continuity up front. They've had a few players change positions from the defensive line to the offensive line. The o-line will need to replace starting guards Meares Green and John Bedics. Although Wilson is a great scrambler, he can become a much better QB if he has some protection.
The defense was dealt a major blow with the loss of starting outside linebacker Nate Irving. He suffered a broken leg in a car accident. The Wolfpack will miss his leadership and production on the field. Ray Michael will be counted on to pick up the slack and lead a group of linebackers that are inexperienced without Irving.
Solid play from a senior laden starting front four could help mask some of the shortcomings of the linebackers. Shea McKeen, Leroy Burgess, Alan-Michael Cash and Willie Young all have plenty of games under their belt and will be a source of strength for the team. They will have to play well for long stretches since there is not a ton of depth behind them.
In the secondary, senior strong safety Clem Johnson will lead a unit that will have to replace last year's starters Jeremy Gray and J.C. Neal. Junior DeAndre Morgan will be expected to step up and make plays from his cornerback position.
NC State's season rest on the right arm and legs of sophmore QB Russell Wilson. With the loss of Irving and not a lot of experience in the secondary, the offense will have to carry the load in order for them to win. Wilson has the playmaking ability and some weapons on the perimeter at his disposal.
Prediction: 6-6 (3-5 in ACC)

Virginia Cavaliers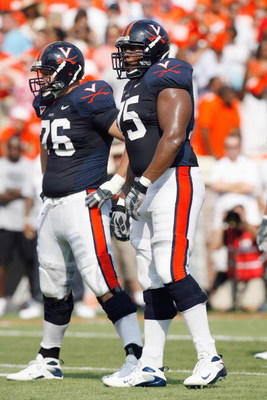 Although head coach Al Groh has a winning record at UVA, he just hasn't been able to field consistent teams year in and year out during his eight years in Charlottesville. Coming off of an 5-7 season, changes were needed and changes were made. There's a new offensive coordinator in Gregg Brandon and he will be expected to improve an offense that was among the worse in the country.
To start off, the Cavs are not sure who their signal caller will be when they kickoff against William & Mary on the fifth of September. Senior QB Jameel Sewell has returned after sitting out last season due to some academic issues. He will be competing against Virginia's Mr. Everything Vic Hall.
Hall played cornerback for his first three seasons on campus and was the teams leading tackler last season. Vic Hall has played some QB before. In fact, against Virginia Tech last year he rushed for 109 yards and two touchdowns. Whomever wins the starting nod between Hall and Sewell, expect the loser to still get playing time at QB.
In the running game, UVA will have to replace the departed Cedric Pearman who was the heart soul of the team during his career. Look for senior Mikell Simpson to shoulder the load.
The receiving corps doesn't appear to be an area of great strength for the Cavs. Sophmore Jared Green and redshirt freshman Javaris Brown are penciled in as the starters, but no one knows what to expect from them.
On the offensive line, four starters return. Sophmore LT Landon Bradley has a chance to become the next great tackle in the mold of D'Brickashaw Ferguson and recently drafted Eugene Monroe. Cohessiveness on the o-line is essential to any teams success, especially to a team that has question marks at quarterback.
When Al Groh arrived back in 2001, he brought the 3-4 scheme with him. A defense that emphasizes athletic linebackers. The Cavaliers lost three out of their four starting linebackers from last year's team and will be looking to see who will fill their shoes. Steve Greer, Darren Childs and Aaron Clark are slated to be the new starters alongside returning starter OLB Denzell Burrell.
UVA has uncommon size at the cornerback position. Both of their starting DBs are 6'2 and over 200 lbs. Junior Ras-I Dowling is on the verge of superstardom. An All-ACC Second team selection last year, Dowling is considered a ball hawk and could be in the running for the Thorpe Award this year. Senior Chris Cook is solid at the other corner as well.
This season could be a long one for the Cavs. Plenty of question marks on both sides of the ball could spell doom for Al Groh after this season. Not to mention that his team in the midst of losing nine out of ten to in-state and conference rival Virginia Tech.
Prediction: 4-8 (2-6 in ACC)
Virginia Tech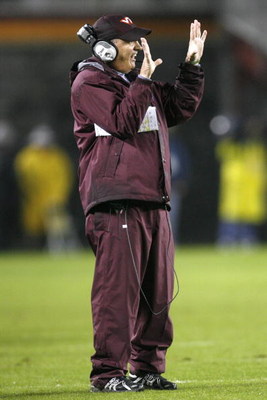 "Beamer Ball" has lead the Hokies to two straight ACC crowns. A lot of "experts" felt that the Hokies would be in rebuilding mode. Following a season opening loss to the East Carolina Pirates, that prognosis appeared to be confirmed.
Virginia Tech promptly ran off five wins in a row that got their season back on track. The Hokies would beat Boston College in the ACC title game for the second straight year and earn a berth in the Orange Bowl where they defeated Cinncinati 20-6.
Frank Beamer and his boys have National title hopes this year. The only way that they can realize those dreams is if Tyrod Taylor can become as good a passer as he is a runner. Taylor only threw two TDs last season and seven INTs. For his career as a QB at VT, he has a total of seven touchdown passes and ten interceptions. He has more rushing touchdowns (13) than passing. That must change for the team to contend nationally.
At this point, its not a sure thing that the passing game will be reliable. Adding to the problem will be the loss of sophmore running back Darren Evans who is done for the year with a torn ACL. Redshirt freshmanRyan Williams and sophmore Josh Oglesby will have to pick up the slack since the running game is the bread and butter of the offense.
If Tyrod Taylor is able to improve his accuracy and decision making, he'll have sophmores Danny Coale and Jarrett Boykin to throw to. These two young receivers are only going to get better with every opportunity that they get.
Every year the Hokies have one of the best defenses in the nation. Last year. the defense finished in the top ten in the nation in scoring defense, total defense and turnover margin. They were also top 20 in passing and rushing defense. Although they lost one of their best defensive players to the NFL in Victor Harris, expect junior DB Rashad Carmichael to step right in fill that spot.
Cordarrow Thompson and John Graves anchor the front seven from the defensive tackle position. They look to build on the experience and success from last season. Junior DE Jason Worilds is expected to pick up where he left off last season. Worilds stat line from last season: 62 tackles (with 18.5 tackles for loss), eight sacks, and 21 quarterback pressures.
An arguement can be made that this year's team is better than the team that won the ACC crown last year. If so, that's bad news from the rest of an ACC that doesn't appear to have a clear cut challenger to the Hokies.
Virginia Tech will be tested right out of the gate with a matchup against the Crimson Tide. Two out of their first three home games are against teams (Nebraska and Miami) that are expected to be much better this year. The Hokies record after the first month of the season will determine if they're still in the Nationaltitle hunt.
Prediction: 9-3 (6-2 in ACC)
Wake Forest Demon Deacons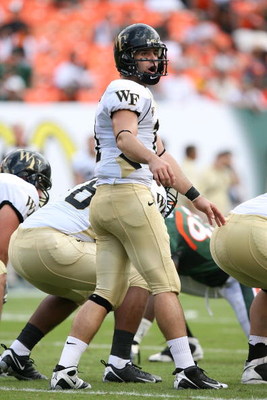 Wake Forest Demon Deacons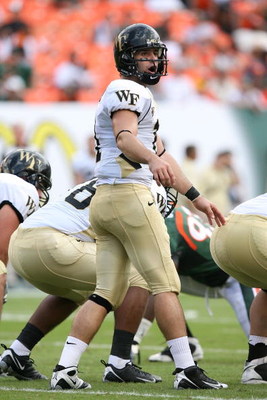 Under the guidance of head coach Jim Grobe, the Demon Deacons have evolved from the little engine that could to the big train that does. Specifically, he has built a stout defense over the years that has been the backbone of the team.
Coming into this season, the offense will have to step and shoulder more of the load as the defense will be trying to replace Aaron Curry and Alphanso Smith. Those two players were the heart and soul of the defense and big time players evidenced by their first and second round selections in the draft.
Curry and Smith are two of the seven starters that the defense will have to replace. The front four will have to provide more pressure than they did last season in order to compensate for the young players in the secondary. Sophmore defensive ends Tristan Dorty and Kyle Wilber as well as senior defensive tackles Boo Robinson and John Russell will have a lot of pressure on their shoulders this season.
Offensively, Wake Forest is lead by senior QB Riley Skinner. Skinner owns a 26-11 record as a starter and is very efficient. He completed 64% of his passes last season, but never really seemed a threat to challenge a defense down field. Although Riley has a young receiving corps (the projected starters are sophmores Marshall Williams and Devon Brown), he has to generate more big plays in the passing game.
There's no real running game to speak of for the Demon Deacons. Senior Kevin Harris is the starting running back in title, but in reality he's another receiver.
The offensive line has to improve. The return of senior LT Chris DeGeare should help that. DeGeare missed last season for academic reasons. His absence caused some of his fellow lineman to have to play out of position. With him back in the picture, the offensive line should stabilize and allow Riley Skinner more time to look down the field.
Wake Forest's success this season depends the ability of the offense to carry the team. The defense is in rebuilding mode, so there will be mistakes and big plays given up. Skinner and his young receivers must develop soid chemistry fast and the o-line will have block better and longer since most teams they play will not be concerned with the run.
Prediction: 6-6 (3-5 in ACC)
How The ACC Will Play Out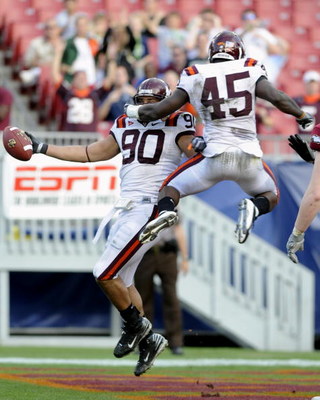 Virginia Tech's road to a third straight ACC title will be tougher this year. Although they exceeded expectations last season by winning the conference, expect teams like North Carolina, Miami and Georgia Tech to be better this year and give them a run for their money in the Coastal division.
In the Atlantic division, look for Florida State to win. Not because the Seminoles are that great, but there's no team in that division that seems poised to put up any resistance. NC State has an outside chance to give FSU some trouble for two reasons. One, they always play FSU tough. Secondly, Russell Wilson. He has the ability to give defensive coordinators nightmares. We'll find out if the Noles have found a replacement for Everette Brown.
In the ACC title game, the Hokies will have found their way through a tough Coastal division to face the Seminoles. Virgina Tech's defense will prove to be too much for Christian Ponder and FSU's offense. Virginia Tech will win a third straight ACC crown and earn a BCS berth
Keep Reading