The Real Top Ten Clutch Players in the NBA Right Now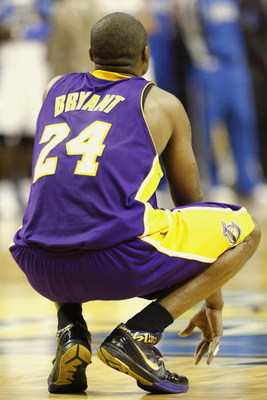 I've been reading and listing to peoples list of the best clutch players in the NBA today. To be honest I don't think there will ever be a list that satisfies all viewer. Clutchness is one of the most controversial issues to talk about in the NBA. So I'll give you may list of players I think are the real clutch players in the NBA as of now. My list is based off of mostly last years season and overall skill shown in their careers. Please read and enjoy.
Rashard Lewis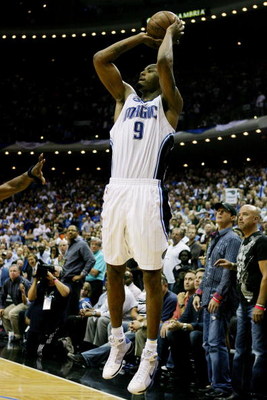 Rashard came alive more then ever on the Magic's playoff run. Every time he need to take a shot in the 4th quarter he made it. He's the one who sealed up game 1 in the eastern conference finals with a late three with only seconds left in the game. He was amazingly clutch in the playoffs and regular season games so he starts off with the number 10 slot of my list of clutch players.
LeBron James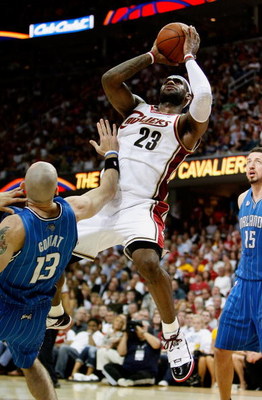 Many of you must be asking why King James isn't higher on this list?
Well LeBron isn't that clutch. Other then the buzzer beaters he produced against the Golden State Warriors and "the Shot" against the Orlando Magic in the playoffs he hasn't done much else. His shooting percentage goes down usually in the 4th quarter along with his free throw makes come crunch time. What LeBron does do is lay ups, dunks, and draws alot of fouls. You can't really count that as clutch. If driving to the hoop and getting fouled is clutch then alot of player should be added to this list. But LeBron also carries his to get there so here he sits at number 9. I full expect him to be more clutch this coming year though.
.
Derek Fisher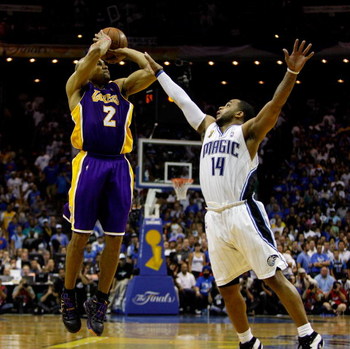 He isn't as good as he used to be, hitting the wall of old age. But when needed, Derek Fisher can win you a game. Fisher put on a show in game 4 hitting two clutch threes. One was to get to overtime, the other for the lead in the game. He's hit those kind of shots for pretty much his whole NBA career making him dangerous. If he's open late in the game you better pray he misses.
Hedo Turkoglu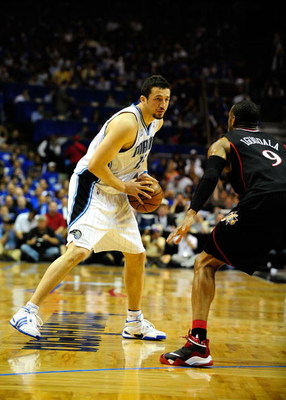 Many seem to forget what really carried the magic to the Finals. If Dwight Howard was the face of this franchise Hedo was the general. In the playoffs last year he opened my eyes and many others. Hedo hit the game winner in game four against the 76er's. Late in games he will find a way to either give his team the lead with a shot or produce enough to get them in striking range. Hedo was hitting shots needed for his team to win. I think the magic will soon be missing him even with the addition of Vince Carter.
Ben Gorden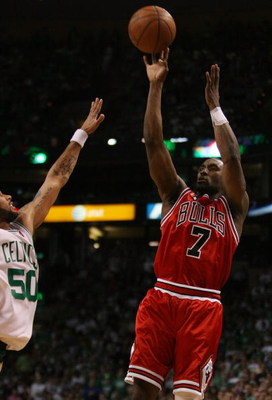 Ben stands about 6'0, maybe smaller and plays the shooting guard position on the Chicago Bulls. He is very undersized but very effective. This past year he and a team full of youngsters walked into the playoffs as the number 7 seed. They were pitted against the number 2 seeded Celtics who were suppose to blow them away.
Ben wasn't having that.
Most of the key moments this playoff series were provide to the Bulls by Ben Gordon's amazing offensive shows. Ben Godden was hitting every impossible shot come 4th quarter. As long as he was on the court the game was never over...except for game 3....Other then that Ben's shots force lead changes and overtimes late in the games. If you ask me, that is very clutch.
Paul Pierce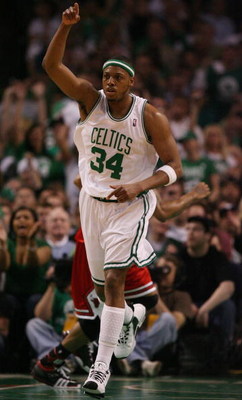 If you're an NBA fan you should have known "the Truth" would wind up somewhere on this list.
When the game is on the line the ball seems to always end up in his hand. It's a shot he has been accustomed to taking and making throughout his long NBA career. In the playoffs last year with Ray Allen and KG on the bench Paul took the over game 5 in OT making 3 shots in a row to seal the victory. The Celtics have "the Big Three" but Paul can still take over the game in the 4th quarter. He showed this against Orland always keeping them in the game. The man is a huge threat come 4th quarter.
Bu why wouldn't he be? I mean he is "the Truth" after all.
Carmelo Anthony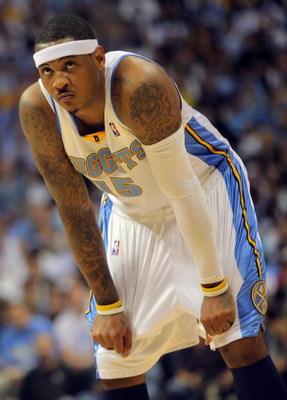 Melo must have a seat on this list of clutch players. Many don't really mention Carmelo when they talk about clutch players in the NBA. This is mostly because up until last year he hasn't gone deep into the playoffs. But that doesn't mean he can't make that shot for the game. When in striking distance Melo can be one of the deadliest players on the floor. He could hit the shoot with a hand in his face or being double teamed. He already has more then 9 game winners in his still blossoming career.
This last year he hit the game winner versus the Dallas Mavericks with only seconds left on the clock. He has also caused lead changes in late in the game for his team. He could take the shot off the dribble or on the catch, it doesn't matter once he makes up his mind.
Beware of Melo.
Dwayne Wade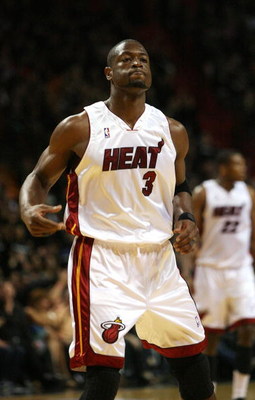 The young "Flash" is destined to be on this list. When you need a basket for the lead or the win, this guy is your man. I'm pretty sure everyone remembers his steal/half court buzzer beater this last year against the Chicago Bulls. Dwayne Wade was doing this kind of stuff when he entered the NBA and donned a Heat jersey. He's a prolific scorer, and a clutch shooter. He also showed off his skills in China with the Olympic team. He was coming off the bench scoring great numbers and providing the one thing everyone wants.
W's, wins.
Who wouldn't want this guy on their team? D-Wade is one of the best shooting guards to grace the game and has delivered everything his team needs including a championship. Miami needs to lock him up now because Wade is their franchise.
Ray Allen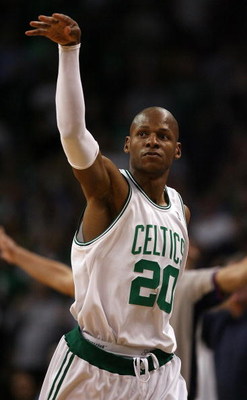 You can not bring up the word clutch without mentioning his name in the conversations. When the Celtics are down by 3 or 1 Ray Allen is who you want to take the shot. We've all seen him run around the arc, catch the ball, fade away to the side somewhat unbalanced with a hand in his face and hit the game winning three like it was nothing. He only needs 2-3 seconds to release the dagger.
In the playoffs against the Chicago Bull he made many clutch shoots. One of them was a three pointer that won them the game. The other ones forced OT or brought the C's with in striking range. He is the most dangerous player behind the arc at the ending of the 4th quarter. When you need a three point shot to save your season he's your man.
Go ahead, let him get the ball. You'll be very sorry if he does.
Kobe Bryant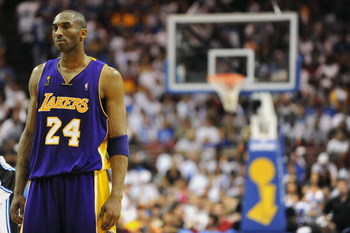 Kobe Bryant beat out Ray Allen on this list by a hair. The thing that makes him more valuable is that Kobe can be clutch off of the dribble. He has a potent offence with an array of moves to get the ball in hoop. He could shoot from behind the arc or inside it. He could drive past you and take it to the hoop, or he could just fade away. Its nearly imposable to stop him once the ball is in his hand. His drive for winning and clutch shots could carry the weakest team into the postseason.
Kobe is clutch.
Other Honorable Mentions....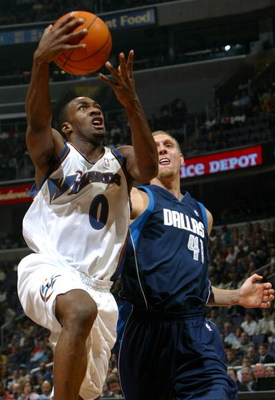 Many will probably grill me for not including a couple of player. I expect that but in my defense let me explain why.
Dirk Nowitzki, Vince Carter, and Gilbert Arenas are all players that could have made this list but didn't for some reasons.
Dirk has been very clutch in the past but is guarded better now making it harder for him to make those needed shots. His team also gives up series leads in the playoffs, may I remind everyone of the Golden State Warriors and Miami Heat series?
Now Gilbert is only off this list for one reason and that is injuries. He can't seem to play a full season anymore. All teams need their clutch players to play almost every game for a chance to win. The wizards have proved this over the last few years with the absence of Arenas for long periods of their seasons.
Last but not least Vince Carter. Well as far as I've seen, Carter forces up a lot of shots that aren't smartest to take. This is the reason he is not on my list. If you chuck up the ball from three point range every time you touch it you will make a lot of clutch shots, but you'll miss even more and cost you team victories.
So this is my final list.
1. Kobe Bryant
2. Ray Allen
3. Dwayne Wade
4. Carmelo Anthony
5. Paul Pierce
6. Ben Gordon
7. Hedo Turkoglu
8. Derek Fisher
9. LeBron James
10. Rashard Lewis
These are the player that will be making all the big shots last year and may continue to do the same this season. Please comment and debate. I hope you enjoyed my list.
Keep Reading