The Worst Seasons in Detroit Tigers History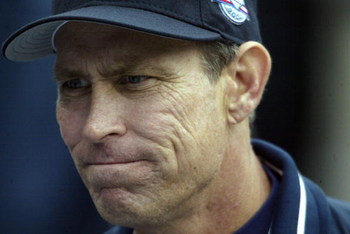 The Tigers currently sit at 60-54, good enough for first in the weak Central Division.
If the Tigers lose the rest of their games this season, they'll still finish with 17 more wins than their 2003 counterparts. Ranked by wins, it would be the 98th best (or 10th worst) season in team history.
Looking back at some of the most hapless Tiger teams of all time, that 60-win total on Aug. 13 doesn't seem as depressing.
1902 Detroit Tigers (52-83)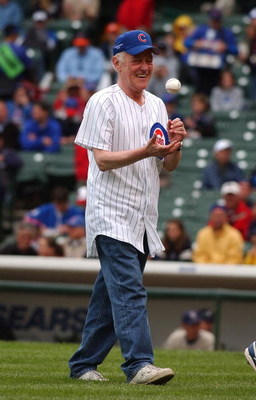 Manager Frank Dwyer (52-83); his only season as a MLB manager
When Baseball-Reference doesn't know which way some of your players batted or threw (I'm talking to you John O'Connell, Lou Post, Arch McCarthy, and Sam McMackin) you know you're from a bygone era. In their second year of playing in the American League, Dwyer's boy set a team record low winning percentage that wouldn't be touched for 50 years.
Kid Gleason who would be played by John Mahoney (Fraiser Crane's dad, Marty) eighty-six years later, had a team low batting average of .247 among qualifiers as the regular second baseman.
On the positive side, George Mullin, second on the Detroit's all-time wins list, made his debut and won 13 games and hit well too (39 for 120)
Rod Allen would have a field day with player's first names like Deacon, Pop, Ducky, Sport, Fritz, Win, Roscoe, Rube, Wish, and not one but two Kids.
Leaders
HR - Jimmy Barrett 4
RBI - Kid Elberfeld 64
BA - Jimmy Barrett .303
OPS - Jimmy Barrett .784
Wins - The appropriately named Win Mercer 15
Losses - The inappropriately named Win Mercer 18
ERA - Ed Siever 1.91
Saves - Wouldn't be an official stat for 67 more years, so I doubt they cared if they were pitching in a save situation or not
1952 Detroit Tigers (50-104)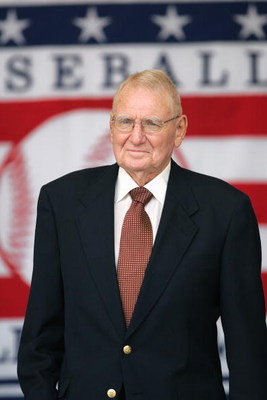 Managers - Red Rolfe (23-49)—Career (278-256 all w/DET)
Fred Hutchinson (27-55)—Career (830-827) w/DET (155-235)
The 1952 Tigers finished with the worst winning percentage of any Tiger team in the 20th century, finishing lower than the previous worst team from 1902. The .325 winning percentage would remain the lowest until 2003, who, don't worry will get their due over two slides in a couple of clicks.
1952 was an interesting year for Virgil Trucks. An often overlooked pitcher in Tiger history, Trucks had a very solid career. But in 1952, he endured a 5-19 record.
A victim of poor run support with an ERA near league average, Trucks had to take matters into his own hands. For not one, but two of his five wins, Trucks threw complete game, no-hitters! In both games the final score was 1-0. He tossed another shutout on the year. In games where he gave up a run he was 2-19, ouch.
The 1952 season saw George Kell being traded to Boston in a deal that brought Boston legend Johnny Pesky to Detroit. Also in the deal going to Boston, Dizzy Trout, the greatest name in baseball history.
Another part of the big Kell trade, was Walt Dropo, Boston's big first baseman who came to Detroit. Despite not arriving to the corner until June 3rd, Dropo led the team in home runs with 23.
On a sidenote, Dropo had one of the most impressive rookie seasons ever in 1950, just a little more than a year prior to the trade, hitting .322 with 34 homers and 144 RBIs! He won the fourth Rookie of the Year award ever given out, but never duplicated that production, the closest being 1952 with Detroit.
This is proving to be a history lesson for me. Even terrible teams can have good players and some good stories. The 1952 Tigers are the one team on this list to feature a Hall-of-Fame player by actually having two, George Kell and Hal Newhouser.
Leaders
HR - Walt Dropo 23 (He hit 6 more while with Boston to bring his total to 29)
RBI - Dropo 70 (27 with Boston to bring season total to 97)
BA - Johnny Groth .284
OPS - Vic "Two Years Away From Being a Trivia Answer" Wertz .851
Wins - Ted Gray 12
Losses - Art Houtteman 20
ERA - HOFer Prince Hal Newhouser 3.74 in his last full year with Detroit
Saves - Hal White 5
No-hitters - Virgil "Fire" Trucks 2 (An AL Record, tied for MLB record)
1975 Detroit Tigers (57-102)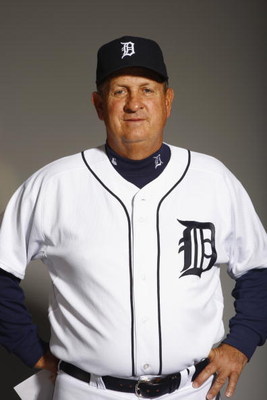 Manager - Ralph Houk (57-102)—Career (1619-1531) w/DET (363-443)
The bottoming out of the Tigers in the '70s, 1975 was the bridge between the old and new guard. Al Kaline and Norm Cash had retired the previous season, and many members of the 1968 championship team were gone or on the way out.
Mickey Lolich, the World Series MVP in '68, was traded after the season to the Mets in a deal for Rusty Staub. Willie Horton The slow rebuilding was beginning. Lance Parrish was the first round pick in '74. Lou Whitaker was drafted in '75, and Jack Morris and Alan Trammell were drafted the next season.
Bill Freehan made his 11th and final All-star team, but did not play.
The Nate Colbert experiment went poorly. The former All-Star hit .147 in 45 games after being acquired from San Diego for Eddie Brinkman, Dick Sharon, and Bob Strampe. A trade that in retrospect, returned very, very little for both sides.
Gene Lamont (Pictured) of third-base coach and helmet fame played his last MLB game, and Steve Grilli played his first. (His son Jason was born a year later, and you can be sure Jim Leyland cringed at that moment, but shrugged it off and lit another Marlboro.)
Mickey Lolich threw 19 complete games, not even close to his career high of 29 in 1971
The low-point of the season was a 19 game losing streak from July 29 to August 15. In that stretch, the Tigers were swept in two double-headers and shutout four times. From the beginning of the streak through the end of the season, the team went an abysmal 11-47, which ironically included a four-game winning streak directly after the 19 game losing streak. (Hat-tip to Greg Eno for that bit o' Tiger knowledge)
Leaders
HR - Willie Horton 25
RBI - Willie Horton 92
BA - Ben Oglivie .286
OPS - Willie Horton .740
Wins - Mickey Lolich 12
Losses - Lolich and Joe Coleman 18
ERA - Lolich 3.78
Saves - John Hiller 14
1989 Detroit Tigers (59-103)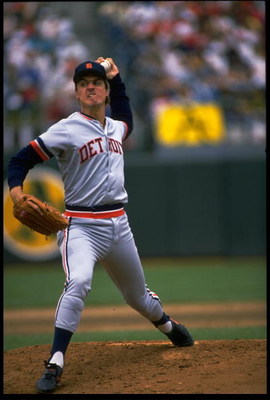 Manager Sparky Anderson/Dick Tracewski* (59-103)
Sparky's career (2194-1834) w/DET (1331-1248)
* Sparky took a leave of absence as the stress from losing was bearing on him.
As with all children of the 80's who happened to be baseball fans, I bought up about 10,000 1990 Donruss cards, when they came 20 to a pack for a quarter.
Thinking my future was set, I began to slack off, much of the chagrin of Mr. Strickland, and am now the loser you see before you. If only I'd have known that the only way to get a return on my fifty Frank Tanana cards would me to use them for jotting down notes, or to start campfires.
This team was forced to buy uniforms for 46 different players throughout the season. Players that ranged from Alan Trammell to Torey Lovullo and from Jack Morris to Randy Nosek.
Unfortunately, for much of the season, not only did Trammell and Morris struggle, but Kenny Williams (yeah, the much despised GM of the White Sox) somehow stepped up to the plate 285 times, and folks like Charles Hudson and Mike Schwabe were allowed to affect the team's ERA in a manner inverse to the stock price of Charles Schwab over the final months of 2008. Finance jokes aside, sad pathetic ones at that, here are some "highlights" of the 1989 season.
Lou Whitaker hit a career high 28 homers to lead the team
Mike Henneman lead the team in wins with 14, as a reliever, and made his only All-star team
Guillermo "Don't Call Me Willie" Hernandez and Doyle Alexander pitch their final games. Twenty years later, it looks like John Smoltz is done. No comment on that trade, no comment.
The Tigers began to scout a certain large papa conveniently playing for the Hanshin Tigers.
Leaders
HR - Lou Whitaker 28
RBI - Lou Whitaker 85 (2nd place was Chet Lemon with 47...yikes)
BA - Keith Moreland .299 (in only 347 ABs, next best Dave Bergman .268)
OPS - Lou Whitaker .822
Wins - Mike Henneman 12
Losses - Doyle "Trivia Answer" Alexander 18
ERA - Frank Tanana 3.58
Saves - Willie Hernandez 15
1996 Detroit Tigers (53-109)
Manager Buddy Bell (53-109)—Career (519-724) w/DET (184-277)
This is my team. I wish I had $10 sitting around so I could sponsor the Baseball-Reference page. This is the season in which I earned my stripes.
As a nine-year-old, I had already been through a lot for a baseball fan. Some of my favorites—Trammell, Whitaker, and Sparky—had all retired or were about to (Tram should have retried in 1995). After the strike Tettleton left for Texas, and others that I had first began to watch moved on. But at least I had Cecil.
Well, I did until one stormy night, the trade deadline when he was dealt to the Yankees in yet another case of the Yankees using small-midwest teams as a second farm system.
I had the choice right then, follow Cecil to the Yankees and root for him and them, or stay with the Tigers.
I made the choice that allows me to sleep at night. I decided that day to stay with the Tigers through thick and thin, and it has been very thin at times, but it made beating the Yankees 10 years later so much sweeter.
The Tigers of 1996 were built much like other Tiger teams of the '90s. The game plan was to not care about the pitching, but instead invest in hitters who could hit three-run home runs with no one on base.
Unfortunately, MLB would only grant them one run when a home run would be hit with no one on base, as was most often the case. For a team with five guys who hit more than 20 home runs, they only scored 783 runs. Which with good pitching, a decent season is possible.
But alas, the 1996 season was the worst season for Tigers pitchers ever, and second place is not even close. Detroit gave up 1103 runs (a modern-day AL record) in 1996, trumping the 928 runs allowed by the 1929 Tigers and matched by the immortal 2003 squad.
Tony Clark ended up claiming the team HR crown from the departed Cecil Fielder and Bobby Higginson by hitting two home runs on the last day of the season to finish with 27 to Cecil and Bobby's 26.
Leaders
HR - Tony Clark 27
RBI - Travis Fryman 100
BA - Bobby Higginson .320
OPS - Bobby Higginson .982 (The highest since Norm Cash in 1961 (1.148) and not beaten until Magglio Ordonez (1.029) in 2007. Draw conclusions if you must. 31st best all-time for a Tiger.)
Wins - Omar Ovilares 7
Losses - Felipe Lira 14
ERA - Ovilares 4.89
Saves - Gregg Olsen 8 (I had no idea either)
2002 Detroit Tigers (55-106)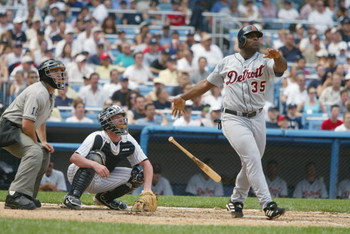 Managers Phil Garner (0-6)—Career (985-1054) w/DET (145-185)
Luis Pujols (55-100) in his only season as a big league manager
Coming off a 96-loss season in 2001, the 2002 Tigers found a way to fit an extra 10 losses into their schedule. The season started off and ended in much the same way, miserably. The Tigers lost their first six games, leading to the firing of Phil Scrap Iron Garner, then preceded to lose the next five under interim manager Luis Pujols.
They finished April 8-17. September, filled with call-ups, players expected to help in 2003 (see next slide) resulted in a 5-21 mark.
The 2002 Tigers featured many old Tiger favorites in their last days with the franchise. Tony Clark was allowed to be claimed on waivers and Juan Encarnacion was dealt for Dmitri Young in the offseason prior to 2002. Brian Moehler and Jeff Weaver were dealt during the season.
Damion Easley, Randall Simon, who never saw a pitch or sausage he wouldn't swing at, and Rob Fick, the lone 2002 Tiger All-star representative, were let go after the season.
The youth movement was in full bloom, and 2002 marked the big league debut of Omar Infante, Ramon Santiago, Mike Maroth, Franklyn German, Fernando Rodney and the first and last games of the unforgettable Jeff Farnsworth and Andy Van Hekken among others.
It was clear this team, with no clear nucleus nor young talent waiting in the wings was going nowhere fast. It was clear the next season would be rough, but little did we know....
Leaders
HR - Randall Simon 19
RBI - Simon 82
BA - Simon .301
OPS - Simon .779
Wins - Steve Sparks and Mark Redman 8
Losses - Sparks 16
ERA - Jeff Weaver 3.18
Saves - Juan Acevedo 28
2003 Detroit Tigers (43-119)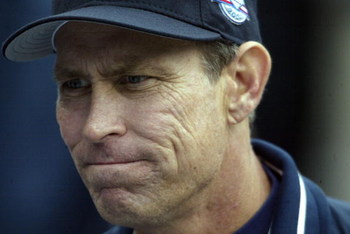 Manager Alan Trammell (43-119)—Career (186-300) all w/DET
This was perhaps the worst season in Detroit sports history until the Lions took that honor last year with their "perfect" season.
Had the Tigers not miracuously won five of their last six games, they would have tied or passed the 1962 Mets for the most losses in a single season in MLB history. In the Mets inaugural season they finished 40-120.
I was able to attend eight games, including the season finale, that year without paying a dime. A family member was often given tickets and since nobody in their right mind wanted the tickets, I ended up with them. I'm not sure but I believe I saw Nate Robertson pitch four times, including his Tiger debut all by chance, and he only pitched in eight games that year.
Big league debuts were common in Detroit in 2003. Three players were kept as Rule V draft picks. On other teams Wil Ledezma, Matt Roney, and Chris Spurling would have been in the minors, but with Detroit they were used often. Also making his debut and pitching a great deal was Jeremy Bonderman, who at 20 years old, lost 19 games.
Perhaps without the near record breaking worst 2003 Tigers' 119 losses, the Tigers don't reach the World Series in 2006. If the Tigers had just had another 95-105 loss season, perhaps owner Mike Ilitch wouldn't have felt the pressure to add players such as Fernando Vina, Ivan Rodriguez and Rondell White.
With the infusion of free agency talent, the Tigers improved to 72-90 in 2004, and for the first time in years looked to have promise. That promise was fulfilled in 2006. The suffering through the losing seasons, culminating in 2003, that the true Tiger fans stayed loyal through made 2006 that much sweeter.
Leaders
HR - Dmitri Young 29
RBI - Young 85
BA - Young .297
OPS - Young .909
Wins - Mike Maroth 9
Losses - Maroth 21
ERA - Nate Cornejo 4.67
Saves - Chris Mears and Franklyn German 5
Keep Reading

Detroit Tigers: Like this team?