2009 NFL Season Predictions: Awards Edition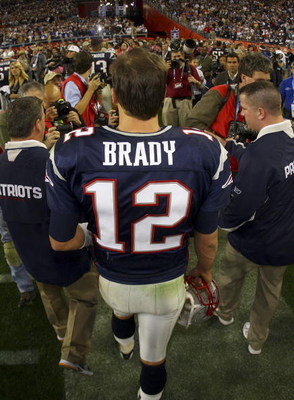 One of the most interesting things to predict in the NFL is who will win the NFL season awards. Will someone like Tom Brady win the MVP or will someone new snatch the award come seasons end? How about coach of the year? What about the Lombardi Trophy?
Many questions loom going into the 2009-2010 NFL season. Who will win what? I am here to answer those questions.
Most Valuable Player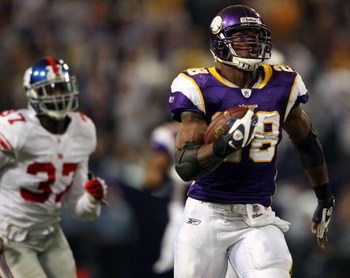 Sophomore slump? What? What's that? Adrian Peterson doesn't know either.
In his sophomore season, Peterson lead the NFL in rushing with 1,760 yards and 10 touchdowns. A great season if you ask me.
In 2009, Peterson is set to have another breakout year if he stays healthy. As of August 13, NFL.com has Adrian Peterson rated as the No. 1 player in the NFL. Can't say I disagree.
He is so athletic and so well built to be a great NFL running back. Peterson stands tall and proud at 6'2" 217 lbs. Such a great build for a running back.
Offensive Player of the Year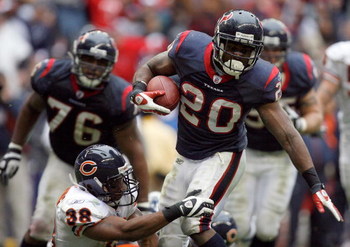 I don't even think this is a question. In my mind, there is no one better suited for this award. Last season as a rookie, Steve Slaton rushed for 1,282 yards and nine touchdowns.
Slaton was a gift for my struggling fantasy team! After week one, I picked him up on waivers and he did wonders for me. He almost single-handedly lead me to the playoffs and championship for my league.
Defensive Player of the Year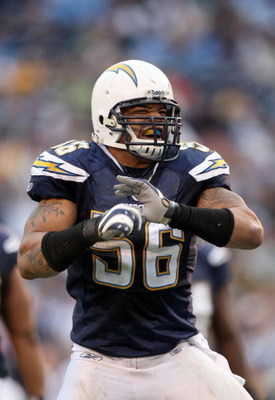 Shawne "Lights Out" Merriman is such an awesome football player. In his sophomore year, he had 17 sacks as a linebacker! He led the league!
Merriman is a freak athlete. He is 6'4", 272 lbs of all muscle. Least I forget to mention that he is incredibly fast for a linebacker.
I'm predicting a 16 sack season for Merriman with 50+ tackles. A definite Defensive Player of the Year season.
Offensive Rookie of the Year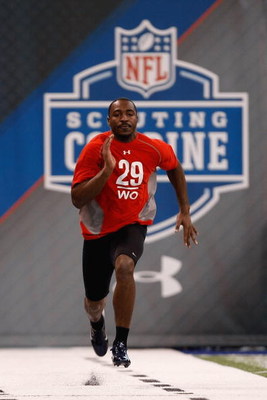 Hakeem Nicks is a mold between Amani Toomer and Plaxico Burress. He has hands like Toomer and the potential to have the red zone skill like Burress.
I predict that the 6'1" 215 lb receiver out of North Carolina will be the favorite target of Eli Manning by the end of the season.
If you watched Nicks at UNC, you can tell that he has the potential to be a great wideout in the NFL.
Defensive Rookie of the Year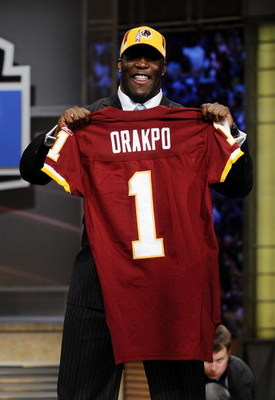 The new defensive lineman for the Redskins is a freak. Brian Orakpo stands at 6'3" 260 lbs.
He benches 515 lbs and squats 600 lbs. He runs a 4.63 40-yard dash. His vertical is 39 1/2 inches. What more could you want?
Quarterbacks beware. Brain Orakpo is coming for you.
NFL Coach of the Year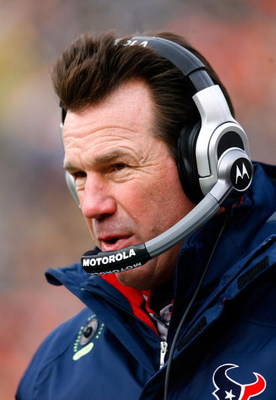 This is a no-brainer for me. Gary Kubiak, head coach for the Texans, is going to lead his team to their first playoff berth in their young history. I don't care if they win or lose in the playoffs. Just for getting his team to the big show, Kubiak gets the nod as coach of the year.
Superbowl Winner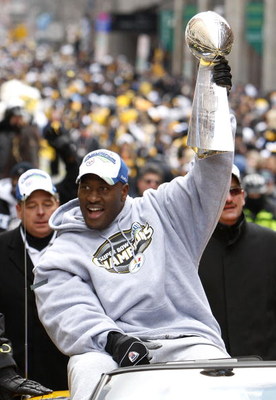 Right now, the Steelers are the best team on paper; there is no doubt about that.
If the Steelers can win the championship without a healthy Willie Parker, imagine what they will do with Parker healthy!
They have the defense to do it and they most definitely have the offense. Look for the Steelers to win another championship in the 2009-2010 season.
Keep Reading