Oakland Raiders vs. Dallas Cowboys '09 Part One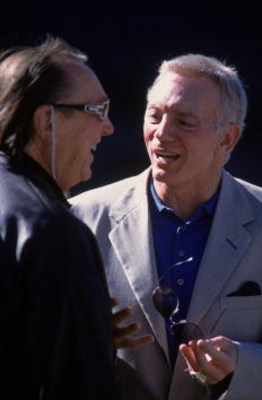 Although it is not a regular season match-up, do not think for one second that these two teams do not want to make a statement.

I think, after the year these two squads had, they both want to show America that they can return to greatness once again.
On top of that, you know new Raiders' defensive end, Greg Ellis, will be fired up, preseason or not.
Jerry Jones and Al Davis are two of the most notable owners in the history of the league. The Raiders and the Cowboys are two of the most memorable teams in the history of the NFL.

Who is there to say this is not a first glimpse of the 2009-2010 Super Bowl? It could be, you can never be too sure these days.
Who would have predicted Arizona there last year? To take that a step further, who would have thought they would come so close to winning the game versus that stingy Pittsburgh defense?
Not I, that is for sure. Heck, I can't even trust my own predictions these days, let alone everyone else's. That's a different article altogether.
Anyhow, to get the point of this article, enough with the filabuster.
This is a stab at giving you fans something to look for...in another "boring" preseason game that means virtually nothing.

I am going to give you some Raider's names to watch for as the players try to make their respective 53 man rosters.
Players who may or may not be unknown, but could take a crack at not only making the team, but having some impact on their success this year as well.
So here goes nothing.
TE No. 83 Brandon Myers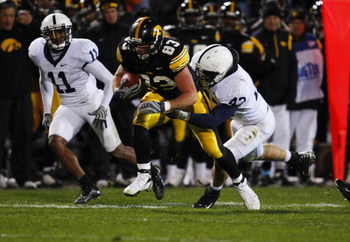 Originally brought in to be a blocking tight end, who could fill in as a blocker for Zach Miller to catch more balls, Brandon Myers has proven to be of some consistant hands as well. Myers is 6'4" and 250 lbs.
As a member of the Iowa Hawkeyes, Brandon had 56 receptions for 665 yards and nine touchdowns.
He was named first team All-Big Ten by conference coaches as a senior.
He really has shown a knack for being able to lose himself in the opposing defenses red zone. As a result a high percentage (16 percent; or one out of every 6.25) of his catches end up being touchdowns.
Brandon is a special teams ace as well, and once recorded six special teams tackles in a game versus Ball State.
As a senior at Prairie City-Monroe (Prairie City, Ia.) High School, Myers played running back, and ended up averaging 10.6 yards per carry while rushing for 932 yards and 15 touchdowns.
He was also a member of his high school basketball team that won the class 2A State Championship his senior year. Myers averaged 27.0 points per game. It was a team that advanced to the state basketball tournament in four consecutive seasons
Coach Tom Cable and his staff are looking for very important, under the radar contributions from Myers in his first season. Look for this tight end to get a lot of reps in the Dallas game. You might find him in the trenches getting his nose dirty.
Charlie Frye or Bruce Gradkowski might find him in the end zone in the red zone.
WR No. 89 Nick Miller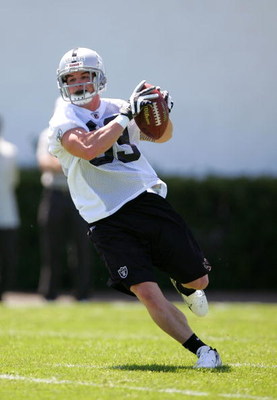 It could end up being "Miller Time" in Oakland times three this year with Nick Miller, Justin Miller, and Zach Miller all taking the field for the silver and black.
Nick miller is an undrafted rookie free agent from the Southern Utah Thunderbirds. He is 5'9", 180 lbs.
At his college, he was a record breaker.
He set Southern Utah records for single-game, single-season and career kickoff return yardage.
As a senior, he was named the 2008 Great West Conference special teams Player of the Year, something I'm sure that Al Davis was fond of due to the recent success of the special teams unit in Oakland.
Miller led the nation in all-purpose yards last year.
In college, he recorded 125 catches for 1,596 yards and eight touchdowns. He was also used heavily as a kickoff and punt returner.
At Red Mountain (Mesa, Arizona) High School he was a second team all-state honoree and a first team All-Tribune selection at DB. Nick had 656 receiving yards, eight touchdowns and intercepted five passes in his senior year…and he also lettered in baseball and track.
The coaches and reporters, Jerry McDonald and David White, have raved about his pass catching and effort this preseason. White even went so far as to call him, "Mr. Darkhorse" and "a real Wes Welker look alike."
Watch for Miller to make his presence known in Thursday Night's game not only as a kickoff and punt returner, but also as a suitable back-up wide receiver.
CB No. 26 Stanford Routt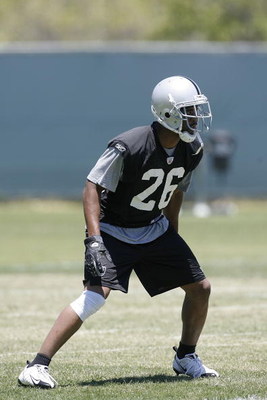 Stanford has worked very hard this offseason, and it has proven to be beneficial to him so far.
Currently, he is splitting time in the starting line-up with expected starter Chris Johnson.
Stanford was a 2nd round pick from the 2005 draft. He is 6'1" and 195 lbs. He is finally starting to get his fast feet underneath him in the big leagues.
He has made 22 starts in 61 games, and has defended 16 passes with four interceptions, and a sack.
Four of his career starts came last season, as did five of his pass break-ups.
It seems that this world class college sprinter is starting to come into his own as a defensive back for the Oakland Raiders.
The coaches are singing him praises, and trying to get Johnson better with a little competition breathing down his neck.
It is rightfully so, Stanford has already had at least two interceptions in training camp.
Look for Stanford to try and shut down his side of the field in the Cowboys' game Thursday, in an attempt to prove he is worthy of starting over Chris Johnson.
HB No. 40 Louis Rankin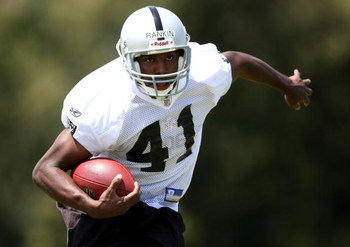 6'1" 205 lbs., and dangerously quick, Louis Rankin needs to make a very strong arguement to earn his roster spot in a very crowded backfield.
Rankin was an undrafted free agent from the 2008 class who spent most of last year on the practice squad.
He played his college ball with the Washington Huskies. In college, he totaled 2,480 yards with 11 touchdowns and averaged 5.1 yards per carry. He also managed 205 receiving yards and two touchdowns.
After his senior year he ranked second in Pac-10 in all purpose yards and second in Washington history with 2,396 yards.
As a senior at Lincoln High (Stockton, California), Rankin set a school record with 41 touchdowns. The mark was the second highest in California history. Louis ran for 2,245 rushing yards that year. He was also a member of Lincoln's basketball and track teams.
The bottom line for Rankin is that LB Jon Alston had more rushes (one), and more yards (22) than Louis (zero carries, zero yards) did last season.
He may have to post four 100 yard contests this preseason to get a harder look amongst the talent at his position.
However, I will say that it would sure be a shame to miss out on a guy with really good potential like Rankin.
Finishing Touches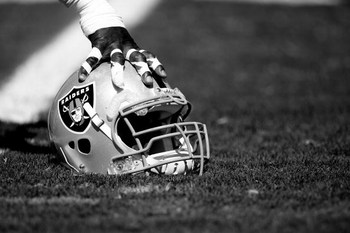 There, I gave you something to look forward to tomorrow as you drudge through a game that, for the most part, will be starter-less.
Granted, three of the guys I say to look for are on offense, so here are some honorable mention defensive guys you can booknote.
LB No. 57 Ricky Brown
DT No. 67 Desmond Bryant
and,
DE No. 97 Greyson Gunheim
All three of these men should be heavily active on the defensive side as they try to impress there respective position coaches, and Tom cable.
The 2009 Oakland Raiders are prepared to give us a small dose of what they will bring to the table Thursday night.
Coach Cable has stated that he expects the starters to play for approximately one quarter, so we should have a feel for them too.
Until next time, take care Nation...over and out.
Keep Reading

Dallas Cowboys: Like this team?