The 10 Greatest (and Most Devastating) Strikes in MMA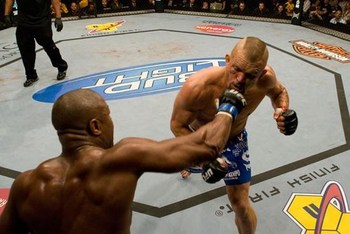 First and foremost, I would like to say that this slideshow is part of Harry Smith's "The 10 Greatest..." series.
Now, any fight fan knows that one punch can change it all. It can turn a losing affair into a highlight reel knockout. But in MMA with the variety of punches, kicks, knees and elbows, the window of opportunity for a single strike—although possible to be the finishing blow—is not all that common.
That is why this list counts down not only the few great single strikes in MMA, but also the greatest flurry of strikes or combinations.
And because this is MMA, ground strikes will also be included.
The criteria for making the list includes not only effectiveness, but also frequency. Meaning if it's a one-strike-wonder, it does not make a very strong case for itself.
So, without further adieu...
Honorable Mentions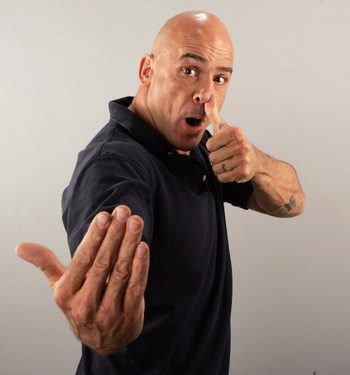 Here are the strike(s) that didn't crack the top 10 (in no particular order):
-Mauricio "Shogun" Rua's soccer kicks/stomps
-Keith Jardine's right roundhouse kick (to the leg or body)
-Scott Smith's right hand
-Dan Henderson's right hand
-Miguel Torres' jab
-BJ Penn's jab
10. Brock Lesnar's right hand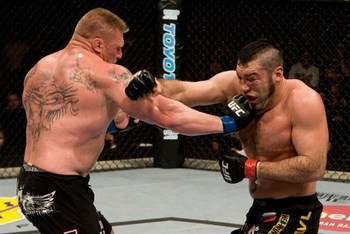 The number of fights former NCAA wrestling champ Brock has in the UFC: 4. The number of knockdowns his right hand has earned him: 3.
This strike which helped turn Frank Mir's face into "hamburger hill", has broken an orbital bone, and has knocked down the legendary Randy Couture.
With XXXL hands, even if Lesnar weren't the size of a silver-back ape, his right hand would still be devastating. Brock's right hand usually draws comparisons to sledge hammers or bricks.
*Worth noting though, Brock should work on punching technique—as shown in the picture—or he could hurt himself.
9. Forrest Griffin's right roundhouse kick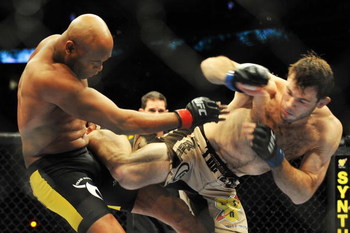 The round kick depicted in the photo could have been Forrest's biggest bright spot against "The Spider". His right round kick could also be the biggest bright spot in all of Griffin's game.
Forrest is definitely not known as a striker. But his right roundhouse kick is a staple within his attack. Whether it be a leg kick or a body kick, it is very effective.
This strike played a pivotal part in helping Forrest win the UFC's light heavyweight championship from Quinton "Rampage" Jackson, methodically breaking down Rampage's front leg throughout the fight. Forrest also holds the record for most leg kicks landed in a three-round UFC fight: 38 against Hector Ramirez (thank you Joe Rogan!).
While effective, these kicks don't seem to be nearly as damaging as in previous bouts. In his last two fights, Griffin has had his right roundhouse caught and countered by both of his opponents.
After a brutal KO loss to Anderson Silva, Forrest is back to the drawing board again as he awaits his next fight and next step in trying to regain the prized light heavyweight title.
8. Lyoto Machida's counter strikes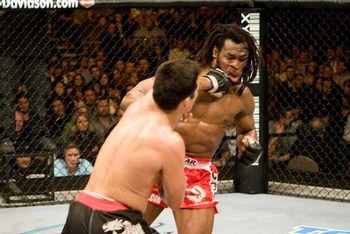 Number 8 on this list is Lyoto Machida and it is one of many special "group strikes" on the list. It is not specific like a left hook or right hand, but it is ALL of the counters in "The Dragon's" arsenal.
Lyoto's counters are what he is known for. Derived from his Shotokan karate base, Machida comes in to strike and jumps right back out. Nowadays Machida prefers to evade most strikes thrown by his adversary with his much superior speed, quickness and footwork and lunge in afterwards for a kill shot. His last two bouts have both ended in KO because of this slight change in his style.
Although a great majority of Machida's counters are punches, he does like to mix that up with an unorthodox leg sweep. This leg sweep comes right after Machida throws a counter left and has brought down the likes of Sokoudjou and Thiago Silva.
7. Nick Diaz's punches in bunches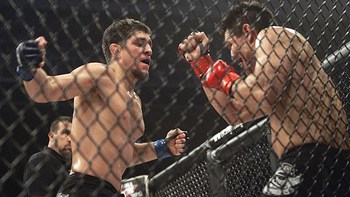 A BJJ black belt under Cesar Gracie, Nick Diaz's unorthodox boxing style is not to be taken lightly. It is not uncommon for Diaz to suddenly flail both arms in the air, trot the other fighter down, drop his hands, stick his chin out and start taunting his opponent. The details of what he says are not important!
What is important is how stunningly effective his style is. Obviously "punches in bunches" is not a single strike, but Diaz does not have one. He regularly throws upwards of 300 punches in a single fight and lands most of them. Though not swinging for the knockout with every punch Diaz peppers you continually until the moment is right to try and finish you.
Diaz likes employing left high kicks as well. They do not land but act as a decoy of sorts, just to get his opponent thinking. But that's not where the story ends. Nick Diaz's greatest weapon in his boxing style may be his body punches. These dropped both of Diaz's last two opponents Frank Shamrock, and Scott Smith on his way to victories in both fights.
6. Fedor Emelianenko's ground strikes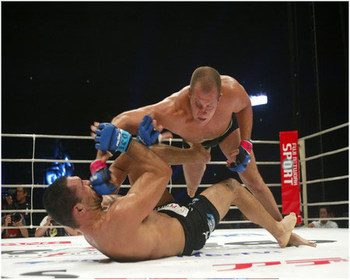 This is category of strikes is MMA-specific, the "ground strikes". This refers to any strikes thrown while on the ground (what a surprise)! Also known as "Ground 'n Pound", Fedor does it with the best of them.
The only proof needed is Fedor's fights with Heath Herring and Antonio "Minotauro" Nogueira respectively.
A cut opened on Herring's face during Fedor's ground assault caused the fight to be stopped. And in the first encounter between Fedor and Nogueira, he pounded his way towards taking the Pride heavyweight belt from Minotauro.
What makes Fedor so dangerous is his mixture of deadly submissions and brutal ground strikes. If he's not hitting you in the face, he's breaking your arm. Pick your poison!
5. Thiago Alves' right roundhouse kick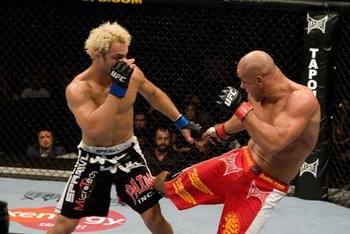 SPLACK! That's the sound of one of Alves' kicks meeting the thigh of another fighter.
The absolute staple in Alves' game: his right roundhouse to the leg. His leg kick is second to none in MMA right now.
With this weapon he is able to break down the base of any fighter—not named GSP—leaving them not able to shoot in for a takedown. Coupled with this strike is "The Pitbull's" world class takedown defence which enables him to keep fights in his realm, the stand-up game.
After a humbling defeat to GSP, Alves will have to climb the UFC's steep welterweight ladder one SPLACK! at a time to try and achieve his lifetime goal of becoming world champion.
4. Anderson Silva's laser strikes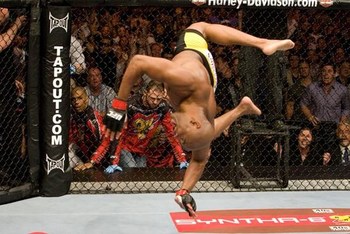 I call them "laser" strikes. You can give them whatever name that pleases you.
Anderson "The Spider" Silva is not only the best striker in MMA, but also it's Pound4Pound king. He is a true ninja in the stand-up game and can hit you without getting hit.
I deem his strikes "laser" because they are just that. Fast and on point. They never miss, and more often than not they knock you out.
Anderson's dominance may even lead him to move into the UFC's shark tank light heavyweight division. He makes all of his opponents look like children and who knows where his next real challenge will come from.
So, until he finds one, he'll continue making all of his fights look as easy as taking candy from a baby.
3. Wanderlei Silva's looping flurries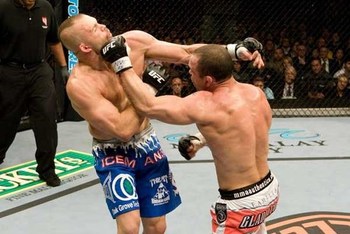 No picture, no words can capture all the passion and emotion Wanderlei Silva puts forth. Fight after fight he leaves absolutely everything in the cage. Wanderlei Silva is the definition of a true warrior.
His fighting style also reflects his nature. Balls to the wall, all out on every punch! "The Axe Murderer" plants both feet and swings away. Hooks, crosses, haymakers, anything that will make contact with the opponents flesh.
It is sad to say, but it seems Silva's better days are behind him. Loser of 5 of his last 6 bouts, Wanderlei has been forced to drop down to the middleweight division.
But regardless of where Wanderlei's career takes him from here, his style, passion, and love for the sport has already cemented him as one of the greatest ever.
2. Chuck Liddell's overhand right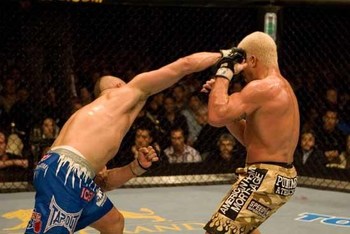 When you hear Chuck Liddell, what do you think of? When you hear overhand right, who do you think of? "The Iceman" was born throw the overhand right.
Time and time again, Chuck has turned to his favorite punch and thrown it. Time and time again he's thrown it and put someone to sleep.
Already inducted into the UFC's Hall of Fame, Chuck Liddell has already had his name written down as a legend. And throughout the rest of MMA, The Iceman and his overhand right will always be remembered.
1. Mirko Cro Cop Filipovic's left high kick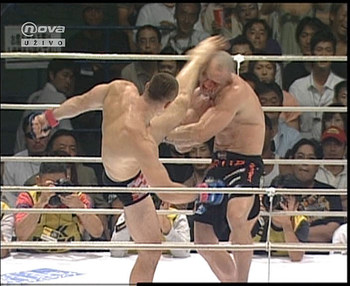 The epitome of a knockout. Cro Cop's left high kick!
Starting out in K-1, the man known to all as Cro Cop proved his stand-up prowess on his way to Pride FC. Where kick after kick and highlight after highlight, he still stood and his opponents fell flat after experiencing this left high kick.
The list of Cro Cop's victims include: Yuji Nagata, Igor Vovchanchyn, Aleksander Emelianenko and even "The Axe Murderer" Wanderlei Silva. Still to this day, the pure speed, power and brutality of Cro Cop's kick still dazzles fans.
This is why Mirko Filipovic's left high kick is the greatest and most devastating strike in MMA.
Keep Reading