The Toughest Position in the NFL: Defense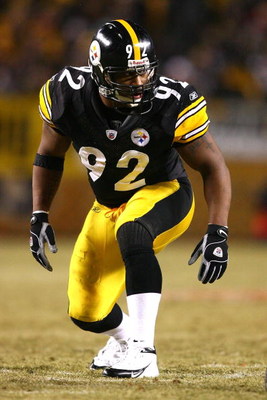 Pittsburgh Steelers linebacker James Harrison has to focus on several responsibilites on every play.
But who has the toughest job on the football field?
Is it the defensive tackle position that faces double-teams on every play while receiving little recognition? Is it the cornerback that challenges bigger, stronger wide receivers armed with speed and awareness?
Is it the quarterback that faces blindside pressure? Or the running back that takes a pounding every game?
What about the linemen that must protect those quarterbacks and running backs?
Here's a look at all the defensive positions, what they entail, and what makes each position tough.
Each position features a Pro Bowler who embodies greatness at the position.
Are some positions tougher than others? You decide.
Defensive Ends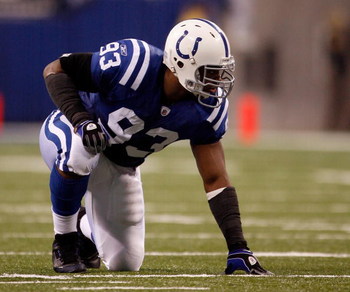 The Indianapolis Colts' Dwight Freeney digs in before going after the quarterback.
Why It's Tough
At first thought, defensive ends have it easy—their job is to sack the quarterback.
Yet, week in and week out, defensive ends face offensive tackles that are almost guaranteed to be taller and heavier.
They're also responsible for making sure the running back/quarterback/wide receiver can't reach the outside on running plays. They have to contain the outside—even though they're often double-teamed by offensive tackles, running backs, fullbacks, and tight ends.
Why It's Not So Tough
Defensive ends have become specialists in today's NFL, often rotating during series and staying fresher than other defenders.
While linebackers chase offensive players all over the field and defensive tackles are hit on every single play, some defensive ends make a bee-line for the QB, then rest before doing the same on the next play.
Defensive Tackles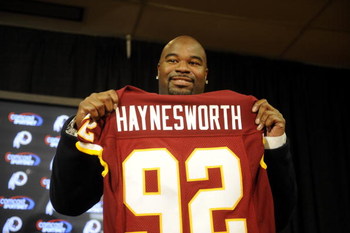 At 6'6" and 350 pounds, Washington Redskins defensive tackle Albert Haynesworth can wreak havoc on offenses.
Why It's Tough
While some premier defensive ends are double-teamed on passing plays, good defensive tackles will almost always get hit by two offensive linemen, especially on crucial plays. Plus, they hardly receive credit on highlight films.
Their job is to plug a particular gap, clog running lanes, tackle ball carriers, and sack the quarterback when the rare opportunity presents itself.
Why It's Not So Tough:
Defensive tackles aren't asked to make a lot of tackles or sacks. They hardly receive blame even though a lack of penetration can be the reason the opposition puts up huge numbers.
Linebackers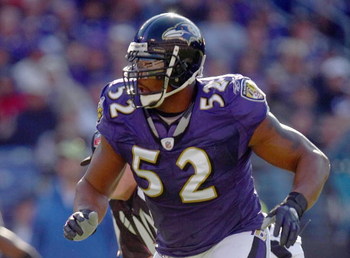 Ray Lewis of the Baltimore Ravens is a future Hall of Fame linebacker that talks the talk and walks the walk.
Why It's Tough
Linebackers have to be skilled in several areas: tackling, pursuing, containing, defending the pass, stopping the run, sacking the quarterback, and setting up the defense while predicting which play the offense will run.
Linebackers have to clean up everything that the defensive linemen miss and also help defensive backs in pass coverage.
A running back squeezes through a gap? Seek a linebacker.
A quarterback is running outside of the pocket? Find a linebacker to bring the QB to a crushing halt.
Are there too many short passes over the middle? Not for long once a good linebacker takes the field.
Great defenses—like the Steelers in the '70s, the Bears in the '80s, and the Ravens and Steelers in the '00s—always feature excellent linebackers.
Why It's Not So Tough
Linebackers can freely pursue the ball carrier before making contact with an offensive lineman, while defensive ends and defensive tackles will endure contact on nearly every play.
Often out-of-position linebackers make mistakes that are unfairly attributed to cornerbacks and safeties.
With 3-4 defenses, 4-3 defenses, prevent defenses, and nickel and dime packages, linebackers aren't as versatile as in times past.
There are plenty of specialists: Outside linebackers that often line up in a three-point stance and function more like defensive ends; inside linebackers that enter the game for pass coverage; and linebackers that only play in either running or passing situations.
Cornerbacks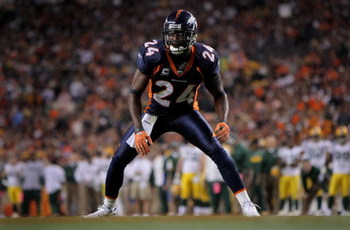 Denver Broncos cornerback Champ Bailey is a rare all-around defender at the position.
Why It's Tough
Probably one of the toughest positions on the field, cornerbacks often play on an island, all alone in their efforts to stop wide receivers from scoring.
On crucial plays in the red zone, corners—many under six feet tall—have to prevent taller, bigger wide receivers from catching jump balls near the goal line.
Unlike other positions, corners usually run backwards, instantly putting them at a disadvantage. They have little time to react to quick wide receivers who use their myriad of moves to create separation and catch the ball.
They're charged with defending wide receivers and preventing big plays, but the biggest annoyance for a CB has to be the rules that favor the offense.
Corners can't hit receivers down the field before the ball arrives although many big receivers like to push off prior to making a catch.
Too much contact from a cornerback on a long passing play will lead to a defensive pass interference call that is nearly the same as a big play from the offense.
Why It's Not So Tough
Often the best corners aren't asked to make a lot of tackles, and many seem to avoid contact. They usually endure the least amount of contact during games.
With more zone coverage in today's NFL, lots of corners have plenty of help in passing situations, and there are few lockdown cornerbacks who also like to tackle.
Safeties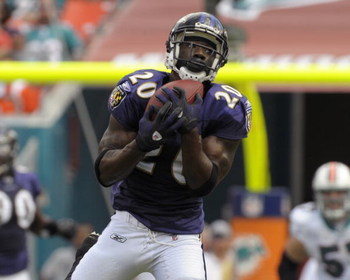 Ravens safety Ed Reed, the 2004 NFL Defensive Player of the Year, loves to get his hands on the football.
Why It's Tough:
Safeties are the last line of defense. They have to be fast, strong, and have a nose for the ball.
Most long offensive plays involve a safety that was out of position and whenever there's a big play, coaches, fans, and commentators will look to see where the safeties were on the play.
While they have to play the run and the pass, free safeties are better equipped to defend the pass and strong safeties are built to stop the run.
Why It's Not So Tough
While linebackers clean up after the defensive line, safeties clean up after linebackers. Free safeties may spend several plays, especially against running teams, making little contact.
Strong safeties can go after quarterbacks and running backs without facing the blockers that usually surround linemen, linebackers, and corners.
Likewise, free safeties can seek interceptions without having to shadow receivers like cornerbacks and usually receive interceptions that are results of great coverage from corners and linebackers.
Keep Reading

Pittsburgh Steelers: Like this team?