Top 10 Short Stops Of All Time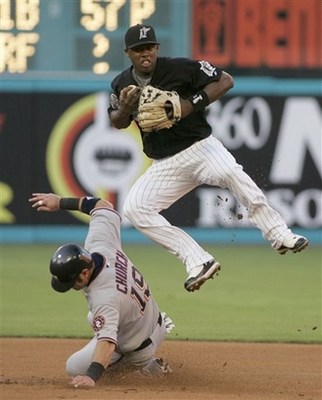 Here it is folks the top 10 SS of All Time.
Threw the history of MLB the SS have been considered the glove men number 9 hitters, but don't say that to any of these men on this list we have guys that are HOF and guys that will be HOF.
Please excuse me if there are any grammer problems, I worked really fast on the article.
I believe I got this list right and if any of you have a problem with the list or just want to " Good Job" just comment.
10." Flashy Glove" Luis Aparicio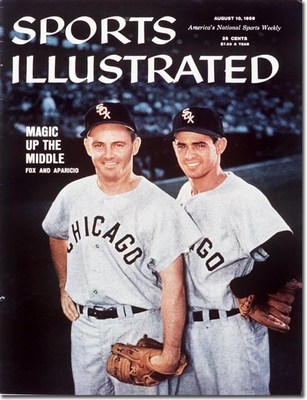 Luis is the one with the sleves
Games 2601
Runs 1335
Hits 2677
RBI 791
Doubles 394
SB 506
.BA .262
Hall Of Famer Luis Aparicio will lead off our list, he was one of the dominate SS of his era. You can tell that by the fact that he had 10 All Star appearences
He was never a high .BA hitter but he could steal you a few bases, in fact he led the league in steals 9 times and all 9 times were in the first 9 seasons of his career.
He was never a great hitter he only hit .300 once but his piers obviously thought he was good voting him in into the HOF on first ballot.
A lot of Luis's seasons were similar low .BA but a lot of steals so I did the best I could to narrow it down and in my eyes his best season was
1960 CHW
86 Runs
166 Hits
20 Doubles
51 Steals
.277
9. " The Wiz " Ozzie Smith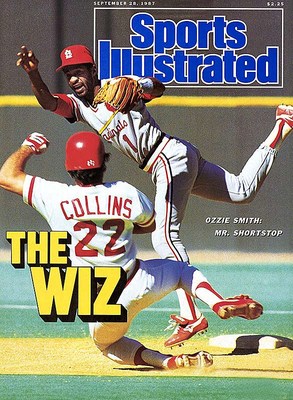 Games 2573
Runs 1257
Hits 2460
Doubles 402
RBI 793
SB 580
.BA .262
OBP .337
Another Hall Of Famer is on the list, The Wiz Ozzie Smith checks in at number 8.
No better fielding SS then Ozzie Smith, The Wiz could make the most impossible of plays seem so easy and smooth.
Ozzie was a demon on the base paths stealing more then 20 bags 16 times, Ozzie never was able to hit for a high .BA and some seasons he hit 0 HR but he had a amazing .978 fielding%.
His best season was:
1987, STL
104 Runs
182 Hits
40 Doubles
75 RBI
43 SB
.303
.392 OBP
8. "Milwaukee King" Robin Yount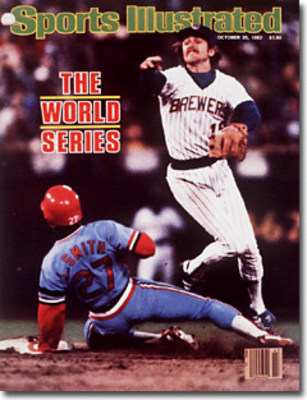 As A SS these are his numbers
Games 1549
Runs 885
Hits 1727
Doubles 323
RBI 713
SB 142
. BA .286
OBP .331%
OPS .905
Before he made the transition to a OF Robin Yount was a SS and a pretty good one at that.
Robin was fairly consistent as a SS, usually hit .280 with at at least 150 hits.
As a SS Yount had 4 seasons of 100+ Run scoring seasons, 7 times had 150 hits or more, 9 times had double digits in steals and times hit higher then .270.
His best season as a SS was
1982, MIL
210 Hits
46 Doubles
29 HR
114 RBI
.331
.379 OBP
.578 SLG%
.957 OPS
7. "White Sox Great" Luke Appling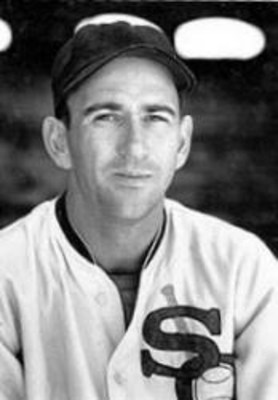 Games 2422
Runs 1319
Hits 2749
Doubles 440
RBI 1116
SB 179
.310
.399 OBP
White Sox great Luke Appling makes the list at number 7, he spent his entire career with the Sox and the case could be made that he only had 2 bad seasons in his entire career.
This was a bonified contact hitter, his career high for striking out in a season was 41 and he set that when he was 39.
In a 20 year career he had more then 150 hits 11 times and hit above .300 16 times. He was a type of player Billy Beane of Oakland would have loved to have becasue 15 times he had a OBP over 370%.
He was very consistent with his numbers threw the years but I believe his best year was :
1936, CHW
6 HR
128 RBI
.388
.474 OBP
.508 SLG%
210 Hits
.988 OPS
31 Doubles
6. "Yankee Captain" Derek Jeter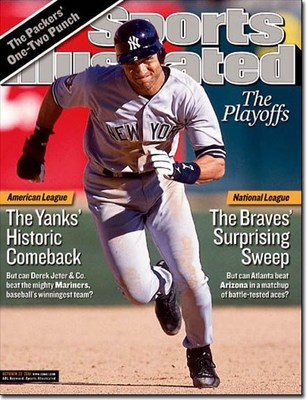 Games 2090
Runs 1539
Hits 2674
Doubles 431
HR 218
RBI 1049
SB 294
. 316
OBP .386%
One of the most consistent players in MLB history is at number 6, the Yankee captain has had great success threw his career and here are some highlights.
In 14 full seasons Jeter has only hit under .300 3 times, he has over 150 hits 13 times and is on pace for another 150 hit season this year.
A amazing 11 times he has sccored over 100 Runs and 7 times has had over 30 Doubles.
He is currently is on pace to break Pete Rose's All Time Hit Record but we will see if the Yankees will allow Jeter to play for another team if he wants to break that record.
Well Jeter has had many great years and here is his greatest.
1999, NYY
134 Runs
219 Hits
37 Doubles
24 HR
102 RBI
SB 19
.349
OBP .438%
.552 SLG%
OPS .977
5. "Cincinatti Captain" Barry Larkin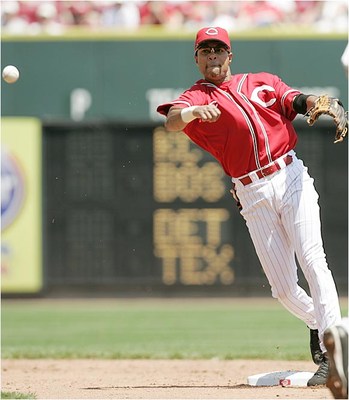 Games 2180
Runs 1329
Hits 2340
Doubles 441
RBI 960
SB 379
.295
OBP .371%
198 HR
Future Hall Of Famer Barry Larkin is you 5th best SS All Time, the Reds captain is in a exclusive club for he is one of only 4 SS ever to go 30/30 and he is the first SS to ever go 30/30.
Larkin was never a guy that was completly durable only 7 times in a 19 year career he played more then 140 Games, but even with that obstacle he topped 150 hits 7 times.
Definitly a threat on the bases 9 times in his career he had 20+ steals. 6 times he topped 30+ doubles or more. To show that the glove men can rake 3 times he had a SLG % higher then .500%.
His best year came in:
1996, CIN
117 Runs
154 Hits
32 Doubles
33 HR
89 RBI
36 SB
.298
OBP% .410
SLG% .567%
OPS .977%
4. " Mr. Cub " Ernie Banks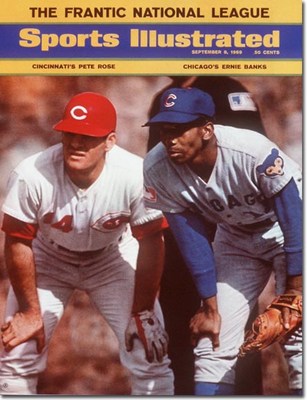 His numbers as a SS
Games 1216
Runs 751
Hits 1355
Doubles 210
HR 298
RBI 858
.290
OBP% 353%
SLG% 552%
OPS .905
Mr. Cub checks in at number 4, perhaps the most powerful SS of All Time.
Mr. Cub didn't get to 500 HR by hitting 20 HR every year, oh no far from it.
Ernie's 9 seasons as a SS were awesome, he hit 40+ HR 5 times with 100 RBI+ 5 times. Not to mention he won back to back MVP's
Mr. Cub's best years were his years at SS as well because after he had the transition to 1B he hit 30 HR twice and knocked in 100 3 times.
But those SS days were more then just power days for Ernie, he had 160+ hits 7 times from SS, .270+ 9 times, SLG% over .500% 8 times and scored over 100 Runs 2 times.
He had great years at short but I narrowed it down to one:
1958, CHC
193 Hits
23 Doubles
47 HR
129 RBI
.313
OBP .366
SLG% 614%
OPS .980
3. " The Iron Man" Cal Ripken Jr.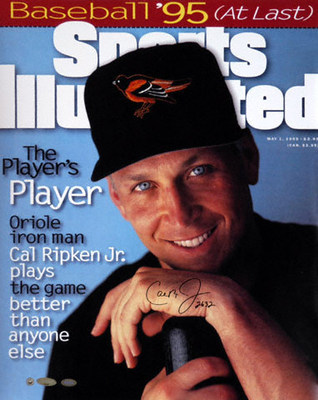 Games at SS
Games 2381
Runs 1366
Hits 2549
Doubles 487
HR 353
RBI 1369
.277
Triples 43
The Iron Man is at number 3, the greatest worker in the history of the game truly represented the everyday American.
He started his career with 11 straight full seasons of 150+ Hits, he knocked in 100+ Runs 4 times.
You have to believe Cal would have been a even bigger hitting threat if he had taken a day off every now and then.
Terrific extra base hitter he had more then 30 Doubles at SS 10 times, and hit more then 20 HR 11 times.
He had good years but his best was:
1991, BAL
99 Runs
210 Hits
46 Doubles
34 HR
RBI 114
.566% SLG%
OPS .940
2. " A-Rod" Alex Rodriguez
Games 1275
Runs 1009
Hits 1535
HR 345
RBI 990
.308
OPS .963
OBP% 382%
SLG% .581%
The most talented player in the game comes in at 2, when I placed him into 2 I considered the fact even he didn't use the roids he would still hit 50+ HR in Arlington.
Alex topped over 200 Hits 3 times as a SS, 8 times topped 30+ HR, 7 times 100 RBI, 8 times topped 100 Runs.
Not to mention 6 times hit higher then .300 and 5 times had a SLG% over .600%.
His best year was:
1998, SEA
123 Runs
213 Hits
35 Doubles
42 HR
124 RBI
46 SB
.310
OBP% .360%
SLG% .560%
OPS .919
1. " All Time Great" Honus Wagner
Stats as a SS
Games 2792
Runs 1736
Hits 3415
Doubles 640
RBI 1732
SB 722
.327
OBP .391
OPS .857
One of the original HOF inductees is your greatest SS of All Time.
For a guy that never hit more then 10 HR in a season, Honus had 9 100 RBI seasons.
He had 16 150+ Hits seasons, in a 21 season career he hit under .300 5 times and 4 of those times came in his last four seasons.
The record books say that he didn't strikeout out at ALL untill his 14th season in the Bigs.
Think about that Mark Reynolds last year struckout more then half the total K's by Honus Wagner.
He had years were he hit .380 and years were he had 120 RBI's but his best year was:
1900, Pitt
107 Runs
201 Hits
45 Doubles
22 Triples
4 HR
100 RBI
38 SB
.381
OBP% .434%
SLG% .573%
OPS 1.007
Honarable Mentions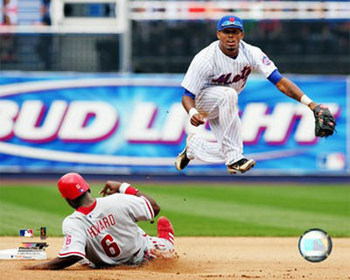 Jose Reyes
Jimmy Rollins
Hanley Ramirez
Dave Bancroft
Phil Rizzuto
Joe Tinker
Joe Sewell
Pee Wee Reese
Travis Jackson
George Davis
Troy Tulowitzki
JJ Hardy
Sorry if I am forgetting somebody.
Keep Reading