Top Ten Liverpool Kits Since 2006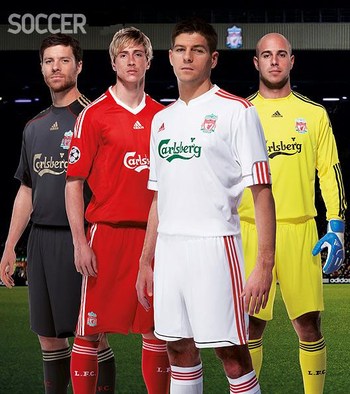 Liverpool have been wearing jerseys designed by Adidas since 2006, ten years after wearing jerseys designed by Reebok.
And this isn't Adidas's first co-operation with Liverpool as Adidas designed Liverpool's kits from 1985 to 1996 as well.
Since then, Liverpool have worn ten different jerseys designed by Adidas. Home jerseys are changed once every two seasons while away and third jerseys are changed every season, making the number of jerseys worn over the last four seasons to ten.
The season starts this coming Sunday and let's ease some pressure by going through this list. This is my personal ranking of the best Liverpool jerseys since 2006.
Here we go.
10. 3rd Kit 2007/08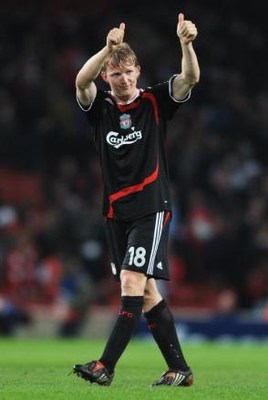 Picture: Dirk Kuyt's reaction after scoring the equaliser against Arsenal in the first leg of Champions League quarter-final. The draw in Emirates Stadium was good enough for the Reds as they triumphed 4-2 at Anfield in the second leg.
Jersey Comment: All the ten jerseys are great and therefore, it was hard for me to pick this first in the reverse order. The black jersey is decent and the red colour improves the appearance of the jersey. But somehow, the design of the red lining seems wrong.
9. 3rd Kit 2008/09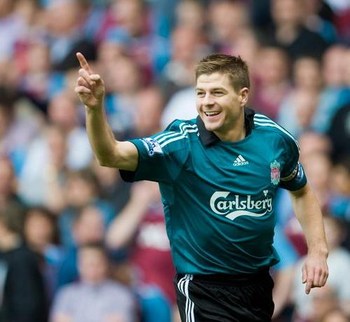 Picture: Steven Gerrard celebrating his goal against West Ham. Liverpool won comfortably at Upton Park as the season went into the closing stages.
Jersey Comment: Heavily criticised at first but to me, there is nothing wrong with last season's 3rd kit. The green colour is awesome but the weird collar pushed its ranking down by a few spots.
8. 3rd Kit 2006/07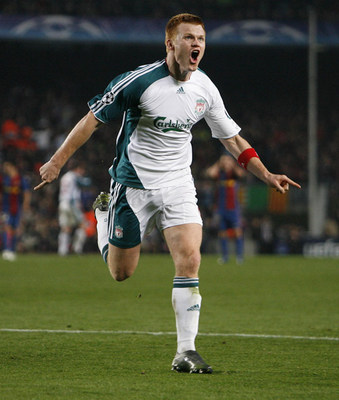 Picture: John Arne Riise celebrating after scoring the winning goal against Barcelona in the first leg of Champions League second round. The win at Camp Nou gave Liverpool the important one-goal advantage and two away goals ahead of the second leg at Anfield.
Jersey Comment: Simple yet brilliant.
7. Away Kit 2007/08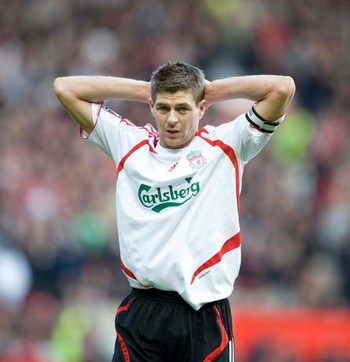 Picture: Steven Gerrard reacts after missing a chance against Manchester United at Old Trafford. Liverpool were beaten 3-0.
Jersey Comment: Many liked the jersey when it was revealed ahead of season 2007-08. But like the 3rd kit of the same season, the red lining seems wrong to me. Overall, this is a brilliant jersey. Unlucky to be compared with other brilliant jerseys.
6. Away Kit 2008/09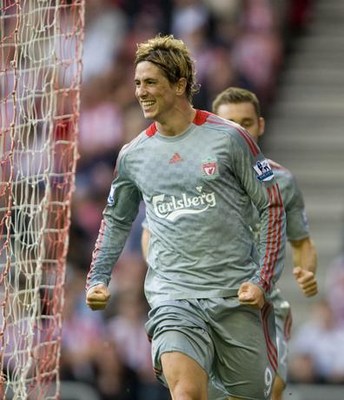 Picture: Fernando Torres in joy after scoring the only goal against Sunderland at the Stadium of Light. The win gave Liverpool a strong start to season 2008/09.
Jersey Comment: Another heavily criticised jersey but the design was simply beautiful. Decent grey colour with simple red linings, awesome!
5. Home Kit 2006/07 And 2007/08
Picture: Ryan Babel celebrates after scoring his second goal against Besiktas at Anfield, a match which Liverpool won 8-0.
Jersey Comment: What else can I say? Every fans agreed that the jersey was good.
4. 3rd Kit 2009/10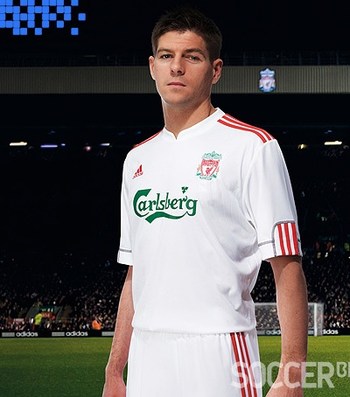 Picture: Liverpool skipper's Steven Gerrard wearing the 3rd kit for this season.
Jersey Comment: Haven't seen the players wearing the kit. They did wear that in a pre-season game against Lyn Oslo (without "Carlsberg" though). A true example of "simple does it".
3. Away Kit 2006/07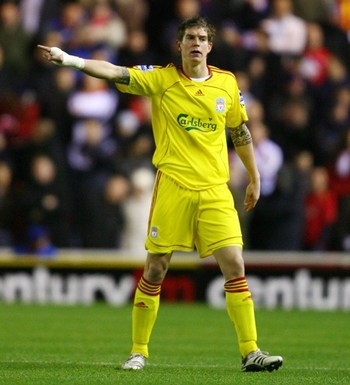 Picture: Daniel Agger in the game against Middlesbrough. Liverpool had to settle with a point.
Jersey Comment: Surprising third ain't it? Many might disagree but this jersey has to be in top three. Plainly stylish design and brilliant yellow tone.
2. Home Kit 2008/09 And 2009/10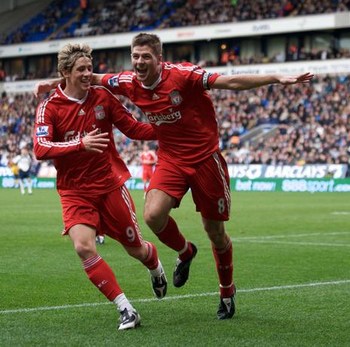 Picture: Steven Gerrard celebrates after slotting a low cross from Fernando Torres into the back of the net. That goal summed up Liverpool's 2-0 win over Bolton at the Reebok Stadium.
Jersey Comment: Fans didn't buy the jersey because Liverpool would wear that for two seasons, or simply because the jersey was red. The jersey is close to perfection and is undeniably better than the other home jersey designed Adidas in 2006.
1. Away Kit 2009/10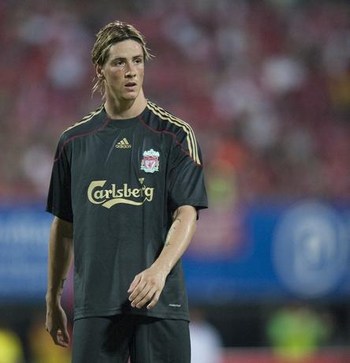 Picture: Fernando Torres featuring in the match against Singapore in a pre-season friendly. He went on to score a goal in the 5-0 win.
Jersey Comment: Narrowly edged the second-placed home kit. The gold colour matches perfectly with the classy black jersey. But what really gives this jersey the first spot is the winged guardian on the jersey which can only be seen up close.
Keep Reading

Liverpool: Like this team?