LSU Will Win the SEC and Six Other Fearless College Football Predictions for 2009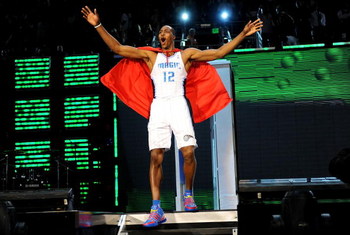 Virtually every mainstream media outlet has proclaimed the defending SEC and national champion Florida Gators as the overwhelming favorite to repeat both accomplishments en route to Tim Tebow's second Heisman and general coronation as "The Greatest" CFB player of all time.
The growing legend of Tiberius Tebow or Towering Tim may in fact be well founded, but Superman he is not. Dwight Howard has already claimed that identity.
There can be little doubt, however, that Florida will be the team to beat in 2009 and that picking them to win it all is the safe, if not smart, call.
Nonetheless, these are my "FEARLESS" predictions.
1. LSU Will Win the SEC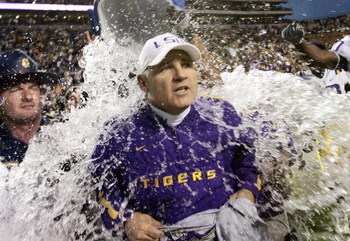 Most of those aforementioned media pundits are not expecting much from the Tigers.The Coaches' Poll released last week did have the Tigers in the top 10, one spot ahead of Ole Miss but third in the SEC behind Alabama and Florida.
Worse still, most preseason CFB magazines have the Tigers outside of the top 10 and in some cases barely in the top 20.
That's understandable, considering last year's:
* 8-5 finish
* inability to establish an effective passing game (unless you consider passes completed to opposing linebackers!)
* dismal performance of the once vaunted defense.
Rarely can a team turn around such seemingly systemic problems in just one offseason with only one significant player upgrade and/or a few non-head-coach-related coaching changes.
Yet for the eternally optimistic "homer" fan (guilty as charged), it is easy to point to these two glaring issues and say, "ALL is well. Didn't you see Jordan Jefferson in the Peach-fil-A Bowl?" (That's Chick-fil-A for the younger audience.)
OK, Homer, but your defense, it was...pitiful, to put it mildly.
"Ah, but we hired John Chavis. He put together all those great defenses at Good Ole Rocky Top. ALL is well..."
The problem with Homer's thinking here, you might say, is that it is all too simple. Was that REALLY all there was to the Tigers' demise last year? Can everything be fixed by virtue of those two simple changes?
Isn't the real problem that Les Miles could only win with Nick Saban's recruits or that he just got lucky all those times before, yada, yada, yada...?
Sorry to break it to you, CFB world, but Homer's got this one right. LSU was hit last year by a perfect storm of decisions made by head coach Les Miles that led to an impossible situation.
These were however, good AND honorable decisions.
First, releasing Ryan Perrilloux had to be done.
But Miles did so knowing full well that his team's hopes for success in the upcoming year would be in jeopardy.
Second, promoting from within and being loyal to your people is honorable leadership.
Not throwing them under the bus and making them the scapegoat when things go wrong is ultimate leadership.
The decision not to go out and find a suitable replacement for Bo Pelini led to the breakdown of an otherwise talented and skilled defensive unit that had been one of the best in the country in 2007.
However, not replacing Pelini last year allowed LSU to hire Chavis this year.
We may not yet know the result of that hire, but you would be hard pressed to find any so-called "expert" that doesn't rank the Chief (John Chavis) as one of the best defensive coordinators in the country.
Moreover, the true sophomore Jefferson may have only had a short time to prove himself last season, but everything about the kid—particularly his performance in several games last year and winning the Chick-fil-A Bowl's MVP award—indicates that he is the real deal.
Also, look for LSU to throw a devastating change of pace at defenses this year with five-star true freshman Russell Shepard. (Just picture the Geaux Wild Formation—LSU's version of the Wildcat—only turbocharged!)
Also, speedsters Brandon LaFell, Trindon Holliday, and Kieland Williams lead a long list of impeccable talent at every skill position.
Look for the Tigers' offense to be one of the most potent and dynamic the SEC has seen in recent years.
Bottom line: The Tigers will be the most improved team in the country and will split with the Gators.
Florida will eke out a win in Tiger Stadium, but LSU will regain the conference crown in Atlanta by avenging that loss.
The win could propel LSU into the BCS National Title Game, although chaos in the BCS is more likely. (More on that to follow...)
2. Virginia Tech Will Beat Alabama and the ACC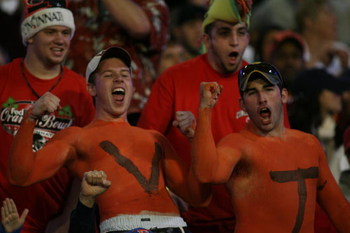 Despite preseason accolades for the Hokies in some circles, not many people are giving Frank Beamer's team much of a chance in the Chick-fil-a Kickoff Classic in Atlanta on Sept. 5.
The Hokies will be the class of a much improved ACC. Their defense will be led by a solid line, experienced and talented linebackers, and a secondary that is returning seven of its top eight defensive backs.
It will be every bit the match for an Alabama offense looking to replace top running back Glen Coffee and break in a new quarterback.
Bottom Line: The Crimson defense will keep 'Bama in the game. But Virginia Tech's offensive attack, led by junior QB Tyrod Taylor and sophomore RB Darren Evans, will put up just enough points to pull off the upset.
Virginia Tech 17, Alabama 13 (Tech will also win the ACC and is one of my dark horses to make it to the BCS Title Game in Pasadena, CA.)
Gobble, gobble!
Post publication update - 8/11/09: With the devastating loss of Darren Evans this pick just went from 'fearless' to frightful – I'll stick with it for now but 'Bama fans just got a huge boost.
Josh Oglesby, Ryan Williams and possibly highly touted freshmen David Wilson should be able to carry the load but this is a big loss for the Hokies.
(I hope Evans will fully recover to recognize his potential.)
http://bleacherreport.com/articles/234612-hokies-evans-tears-acl-out-for-the-season
3. Texas A&M Will Win 09 in '09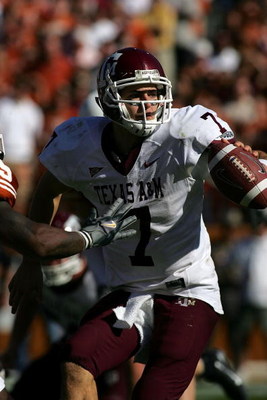 Mike Sherman knows how to win.
He didn't have a lot to work with when he took over from Dennis Franchione last year. But after landing a very solid recruiting class and returning 16 starters—10 on offense—he should have A&M ready for a breakout year.
Based on the schedule, they could be favored in as many as eight games. With a couple of upsets, the Aggie faithful should have a lot to cheer about.
Bottom line: Look for the Aggies to play a bowl game no earlier than New Year's Eve. The Sun Bowl in El Paso could be a strong possibility.
4. USC Will Lose to Ohio State and the Pac-10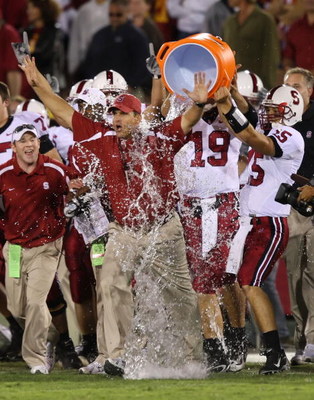 There are some things I know about September.
The neighborhood kids will have returned to school. My wife will be yelling at me to rake the leaves that will be falling off my trees. College football season will be here.
And USC will be ranked near the top of the polls.
Naught should it matter that USC has not a proven general on the field.
Nor should attention be paid to the lack of production by a group of highly touted running backs.
Nary a disheartening utterance need be made for the departure of just about the entire defense.
Nay nay, for these are the mighty men of Troy led by Pete…er the Great. Surely they will win their 11th national title of this decade…
Sorry, I got off track.
There are also some things I know about December.
The neighborhood kids will be riding around on new bicycles, bells will be ringing, the trees will have dumped leaves all over my yard, and my wife will still be yelling at me.
Football season will be coming to a climax, and someone will still be arguing that USC is the best team in the country. This will be in spite of losing to Ohio State on Sept. 12 and to at least one Pac-10 team that shouldn't have beaten them.
Bottom line: This will be a down year for the Trojans, as they could lose up to four games and may very well end their streak of Pac-10 titles at seven.
5. Ohio State Will Lose to Illinois and the Big Ten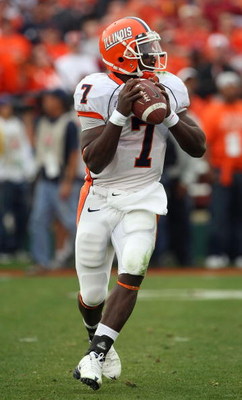 If an improved offensive line can give him a little more time, look for sophomore QB Terrelle Pryor to interject his name into the Heisman discussion.
He has weapons in junior RB Brandon Saine, senior WR Ray Small, and a deep and talented skilled position corps.
The Buckeye defense will be one of the best in the country. It will be anchored by a top five line and a solid secondary and will be the key to beating USC on Sept. 12 at the Horseshoe.
Two weeks later, the Buckeyes will have their national title hopes squeezed to a pulp by Juice Williams and the Fighting Illini.
Illinois is another of my dark horse possibilities to make the BCS title game in Pasadena.
The Illini had a disappointing year in 2008, going just 5-7 in Ron Zook's fourth year as head coach.
Nonetheless, Williams' senior campaign should be special, and the offense, which includes eight returning starters and one of the best receiving groups in the country, is loaded.
Bottom line: Illinois will be a lot better than last year, and they could very well win the Big Ten. If a few things fall into place, they could find themselves in Pasadena.
6. Tim Tebow Doesn't Win Second Heisman; Take the Field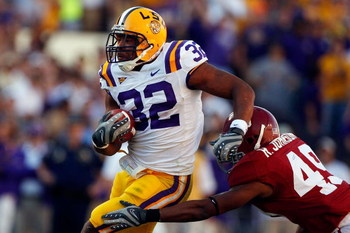 The safe bet to strike the pose this year in New York at the Downtown Athletic Club is none other than Florida's Towering Tim Tebow.
He could join Archie Griffin as the only two-time winners of college football's most prestigious award.
When you look at what the man has done over the last three years and consider just how talented the team around him is, you almost have to be crazy to pick against him.
But remember, these are FEARLESS predictions, and the competition is strong. So if the question is Tebow versus the field, I'm taking the field.
Contenders
Sam Bradford, Jr.—Oklahoma (Also a potential two-time recipient)
Colt McCoy, Sr.—Texas
Jevan Snead, Jr.—Ole Miss
Jahvid Best, Jr.—California
Jonathan Dwyer, Jr.—Georgia Tech
DeMarco Murray, Jr.—Oklahoma
C.J. Spiller, Sr.—Clemson
Dark Horses
Juice Williams, Sr.—Illinois
Charles Scott, Sr.—LSU
Brandon LaFell, Sr.—LSU
Todd Reesing, Sr.—Kansas
Tyrod Taylor, Jr.—Va. Tech
Real Dark Horse
Jordan Jefferson, So.—LSU (Sorry, I just had to throw it out there.)
Bottom Line: Tebow finishes his career at Florida with some VERY impressive numbers, a Heisman Trophy, two national championships, and an appointment at the College Football Hall of Fame.
7. BCS Chaos—The Presidential Solution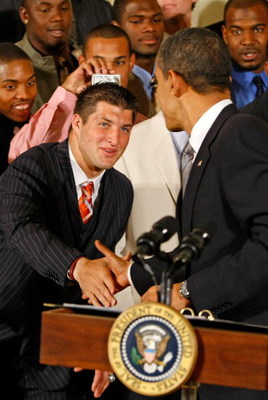 This could be an interesting year for the BCS.
It is increasingly unpopular despite the stranglehold it seems to have on college football.
President Barack Obama has spoken out on numerous occasions in favor of a playoff.
And believe it or not, even with all the chaos in the economy, the health care debate, and a myriad of other issues of national importance, some Congress members have actually discussed having hearings and/or introducing legislation to force CFB to devise a playoff.
Consider the debate that would ensue in the event of the following:
Virginia Tech—ACC Champion (13-0)
California—Pac-10 Champion (12-0)
Illinois—Big Ten Champion (12-0)
Rutgers—Big East Champion (13-0)
LSU—SEC Champion (12-1) (Loses close one at home to UF in September, avenges in SEC Championship game convincingly)
Texas—Big 12 Champion (12-1) (Loses close game to OU on a controversial call, SMOKES everyone else)
AND just for giggles, let's throw in the Utes.
Utah—MWC Champion (12-0) (The schedule says they could run the table again)
Stranger things have happened!
So go ahead, tell me who should be playing for the title.
Coming soon: Why President Obama should appoint ME as the CFB Czar and why the Southern Fried Football Playoff would rule the world!
Keep Reading

LSU Football: Like this team?