The Black Aces: A Bright Future for Red Wings Hockey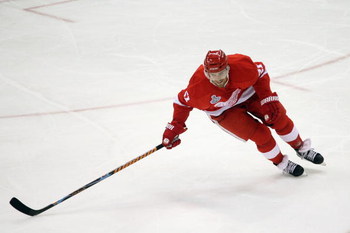 As the buzzer sounded at the end of Game 7 of the 2009 Stanley Cup Finals, the Pittsburgh Penguins were crowned champions, and more than a few Red Wings stepped off the ice at the Joe Louis Arena for the (presumably) last time.
Marian Hossa, Tomas Kopecky, Ty Conklin, Jiri Hudler, and Mikael Samuelsson have all left Detroit for other teams this off-season.
Okay, it's actually still anyone's guess what's happening with Huds, but as the 2008-2009 season ended, the most frequent question that arose was:
Who's stepping in?
This article is here to answer that very question for you hockey fans who don't follow what happens in Detroit .
As any Red Wings fan worth their salt knows, this organization takes great pride in developing their talent from within and only unleashes them on the NHL when they are good and ready.
And believe me when I say that this new batch of future stars is ready.
After outstanding performances in the 2009 Stanley Cup Playoffs, the hockey world was put on notice that a new crop of Red Wings are ready to step into the Hockeytown spotlight and help lead Detroit into yet another promising season.
So, without further adieu, I present to you...The Black Aces.
Justin Abdelkader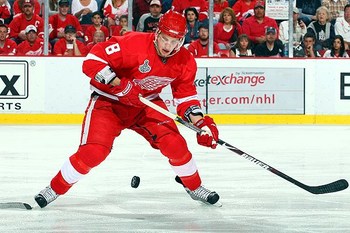 Quick Hits:
- Detroit's second pick, 42nd overall pick in the 2005 NHL Entry Draft.
- Won the Bronze with the US at the World Junior's in 2007.
- Scored the game-winning goal in the NCAA Frozen Four championship game with just 18.9 seconds left.
- 52 points (24 goals, 28 assists) in rookie season with Grand Rapids Griffins of the AHL, including 8 points (6 goals, 2 assists) in 10 playoff games.
Lowdown:
With Abdelkader, not only are the Wings getting a fresh, young, physical forward, they're also getting a local product of Michigan.
The Muskegon, Mich., native played his college hockey for Michigan State, and in doing so, helped the Spartans win the 2007 Frozen Four and was named tournament MVP after scoring the winning goal in final moments of the championship game.
Combine Abdelkader's physical 6'2", 215 pound frame with his responsible two-way playing and "Abby" (or "Abdel-Gator" even) looks like a great fit for the Red Wings organization.
Abdelkader isn't exactly explosive offensively, but he does play physically and he's shown that he can find the back of the net from time to time.
This was shown in the Stanley Cup Finals when he scored in back to back games against the Pens, the first time a rookie has scored in consecutive Finals games since Dino Ciccarelli did it in 1981.
The big concern at this stage is playing time. There's no doubt Abdelkader will be a Red Wing very soon, but he may start the season with the Griffins in order to gain big playing time minutes and experience as opposed to riding the Wings' bench.
Future:
Third line
Jonathan Ericsson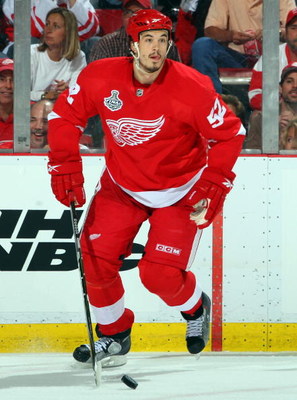 Quick Hits:
- Selected 291st overall in the ninth round of the 2002 NHL Entry Draft.
- Played centre until 2001, when Red Wings scout Hakan Andersson convinced Ericsson to switch to defense.
- 29 points (5 goals, 24 assists), +5, 105 PIM in rookie season with Griffins.
Lowdown:
Question: What can you get with the VERY last selection in the 2002 NHL draft?
Answer: A future top 4 defensive stud named Jonathan Ericsson.
One thing Red Wing fans never like discussing is the eventual retirement of Niklas Lidstrom, the greatest defenseman of this generation.
However, if there was a prospect to work with in hopes of helping to fill the Lidstrom void, you'd be hard-pressed to find one better than the 6'5", 215-pound Ericsson.
With a booming 100-mph slap shot, a massive physical frame, and a willingness to drop the gloves even, this Swede is far from a "soft Euro" and should prove to be an exceptional addition to the Wings blueline given enough tutelage under Lidstrom.
When Ericsson was required to step into the Wings lineup after an injury to Andreas Lilja, he made the most of his time by tallying 8 points in the playoffs and going +8 over that time including scoring the only Red Wings goal in Game 7 of the SCF.
Ericsson has shown the Red Wings organization why he's ready to take the next step to the NHL and help patrol the blueline with the help of one of the greatest defensemen of all time.
Future:
Top 4 defenseman
Darren Helm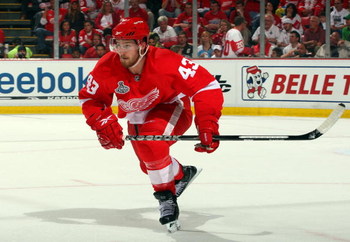 Quick Hits:
- Detroit's fifth choice (132nd overall) in the 2005 draft.
- Won the Gold medal with Canada at the World Junior Hockey Championship.
- In 2007 he racked up 64 points (25G, 39A) and helped Medicine Hat Tigers win the WHL title.
Lowdown:
Of all the Black Aces, Darren Helm has certainly had the most impact on the Red Wings and it may be due to the fact that he's played more NHL playoff games than he has regular season games.
Helm has a total of 41 playoff matches under his belt as compared to a total of 23 regular season games. With Darren Helm, the Red Wings are getting a blazingly fast forward with great hands who just also happens to be a great physical player.
In the 2009 playoffs, Helm led all players in hits with a total of 118.
Another asset that Helm possesses is an incredible work ethic which was demonstrated in the WCF's against the Blackhawks. In the second period of a scoreless Game 5, Helm almost single-handedly killed off the last 30 seconds of a power play himself.
Also he was the OT hero that game when he banged home the winner that sent the Wings to the Stanley Cup Finals for the second year in a row.
One thing that may hold Helm back from being an elite forward is his lack of size, which is a cause for concern given that Helm loves to play physically and this may present injury issues down the road.
However, if Helm is going to be played physically by other players, they'll still have to catch this lightning bolt first.
Future:
Third line
Ville Leino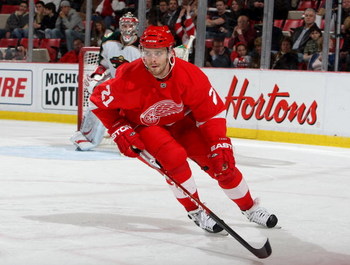 Quick Hits:
- Undrafted. Signed one-year contract in 2008.
- Holds Jokerit Helsinki's single-season club record for points with 77 points during the 2007-2008 season.
- Won the Lasse Oksanen trophy for Finnish SM-liiga's best player same year.
- 46 points (15 goals, 31 assists) in rookie season with Grand Rapids Griffins including 13 points (3 goals, 10 assists) in 10 playoff games.
Lowdown:
Ville Leino potentially represents the Red Wings next big find in a long history of great scouting pick-ups. Along with Darren Helm, Leino would have been a regular on the Wings lineup last season had it not been for cap issues and an already talented bench.
Mike Babcock also stated that Leino was the "best player" he had ever sent to the minors.
However, Leino showed that he was committed to the Red Wings organization and agreed to spend time with the Grand Rapids Griffins in order to gain valuable playing time and prove himself.
His work paid off in his very first NHL game against the Washington Capitals where he scored on a spin-o-rama in the first period.
Leino played a total of 13 regular season games for the Wings last year and had 9 points (5 goals, 4 assists) in that time.
Leino's style of play should fit the Red Wings plan very well but if he's to be successful in Hockeytown, then Leino is going to have a ton of work ahead of him in the defence department if he wants to play alongside Datsyuk and Zetterberg, who are the best pair of two-way players in the NHL today.
Future:
Top 6 offensive forward
Keep Reading

Detroit Red Wings: Like this team?