Can Darren McFadden, Justin Fargas, and Michael Bush Shake, Rattle, and Roll to 3,000 Yards?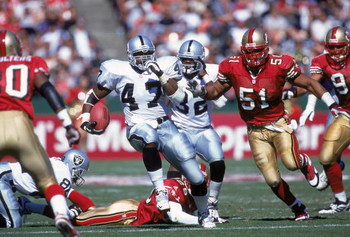 While Oakland has been in the top 10 in rushing at the end of the last two seasons, they have not led the league in rushing since 2000, when they put up 2,470 yards on the legs of Tyrone Wheatley, Napoleon Kaufman, and Rich Gannon.
That year, they averaged 32.5 attempts per game on the ground. Wheatley ran for 1,046 yards and nine touchdowns, while Gannon and Kaufman added another 1,028 yards.
This year, the Raiders have feasibly the most outstanding combination of halfbacks in the league. Darren McFadden, a second-year man from Arkansas, is the expected feature player in the backfield.
McFadden is also a good receiver, and with some underdeveloped talent at wide receiver for the Raiders, he could be called upon in the passing game more than the rushing attack.
Justin Fargas is a fan favorite. A six-year pro from USC, Fargas has been the starter at tailback for two consecutive seasons, in which he won Oakland's commitment to excellence award. He has run for 1,862 yards and five TDs as Oakland's leading tailback for the previous two seasons.
Michael Bush, a third-year back and former Louisville Cardinal, lit up Tampa Bay last year for 177 yards and two touchdowns. His first year in Oakland was lost to recovering from a broken leg, suffered early in his senior year in college.
Bush was once considered to be one of the top halfbacks of the 2007 rookie class before the injury knocked him all the way to the fourth round of the draft. Oakland really got a steal on this 6'1", 245-lb. beast.
So, let's really examine this quote from Justin Fargas: "There's going to be plenty of carries and plenty of yards out there for each of us. I feel like we can all have great seasons and all complement each other well. Three 1,000-yard backs aren't out of the question."
Okay, Justin, maybe not out of the question, but you have to admit that it hasn't been done before in the history of the NFL. There have been teams with two 1,000-yard backs, but never a team with three.

In fact, only two teams in league history have broken 3,000 combined rushing yards. New England did it in 1978 with a committee of runners, and Buffalo did it in 1973 on the legs of O.J. Simpson, Jim Braxton, and Larry Watkins.
Albeit, they are both AFC teams, so the idea is conceivable, but that is in the entire history of the NFL.
The only team to come close to 3,000 this decade was Atlanta in 2006, when Warrick Dunn and Michael Vick both topped 1,000 yards, and Jerious Norwood added 633 more rushing yards to their total. Even with those totals, the Falcons only accumulated 2,939 yards that season.
Only four other teams have come close to the 3,000-yard mark besides the 2006 Falcons. We'll get to that in the slideshow, but for now let's take a look at what could happen this year in Oakland.
Fans don't know who will be the starter—mainly because the coaches are putting the blinders on when it comes to the subject.
Tom Cable had this to say: "We have three starters. The important thing is, getting them each in a role that's productive for this football team because we know all three are going to impact us in a great way."
That seems to be the biggest dilemma: How do you develop a scheme where they can all be productive and make an impact on the 2009 squad?
Bush appears to be the clear-cut most durable player—the type of back that can wear down a defense without getting worn down. His big frame can dish out as much punishment as any defense can deliver.
His biggest game last year came against the Buccaneers when he totaled two touchdowns and 177 yards on 27 carries.
McFadden has the ability to break a long gainer at any point when he touches the rock. He is a shifty runner who himself can pack a punch with his 6'2", 210-lb. frame.
We got to see his brand of running early in the year in Kansas City, when he ran all over the Chiefs for 164 yards and a touchdown on 21 carries—a game where Bush added 90 yards and a touchdown on 16 carries.
Fargas' biggest game came against Denver in week 12 last season. He ran 24 times for 107 yards but failed to reach the end zone. He did, however, lead the team in rushing last year with 853 yards.
So, let me break it down. Last year, we had Fargas with his 853 yards. McFadden put up 499 yards on two bum toes and an injured shoulder. Bush was right behind McFadden with 421 yards. Together they averaged 4.23 yards per carry on 426 carries (26.6 attempts per game).
Now, let's assume that the running game will be more of a factor this year, and that the addition of Lorenzo Neal will add 0.5 yards per carry to the trio's tally. Let's say they get the 32.5 attempts per game of the 2000 squad, with their improved "Lozo Average" of 4.73 yards per carry.
The grand total for the year for the three backs would be 2,459.6 yards for the year. Add in the 216 yards accumulated by the other Oakland rushers last year, and that brings you to 2,675.6 yards.
Conclusion: While the runners may lead the league in rushing when all is said and done, it would be a remarkable feat to reach 3,000 yards rushing—even more unbelievable to have three 1,000-yard runners.
So, will they shake, rattle, and roll to 3,000? Probably not. Will it be a treat to watch them try? Absolutely—it sure will.
Here's a look at the teams that have made it, and a few that have come close.
Atlanta Falcons, 2006
The 2006 Falcons almost broke the 3,000-yard mark. They were the first team to come close since the Chicago Bears 22 seasons before them.
Mike Vick compiled 1,039 yards as a quarterback and has two rushing touchdowns. Warrick Dunn added 1,140 yards and scored four times. Jerious Norwood added 633 yards and two touchdowns.
The three combined for an average of 5.5 yards per carry.
They averaged 33.3 attempts per game on their way to a 9-7 record for the season. They finished with 2,939 yards on 538 carries. They averaged 183 rushing yards per game.
Chicago Bears, 1984
On the groundbreaking legs of Walter Payton, the Chicago Bears nearly made their mark in history with a 2,974-yard performance in 1984.
They had an average of 42.1 attempts per game and put up 185.85 yards per game that year.
Led by the incomparable Walter Payton, they accumulated 22 touchdowns, a 4.4 yards per carry average, and a 10-6 regular season record.
Payton put up 1,684 yards that year and ran for 11 touchdowns. Matt Shuey added 424 yards and four touchdowns, and QB Jim McMahon racked up 276 yards and two touchdowns for the Monsters of the Midway.
New England Patriots, 1978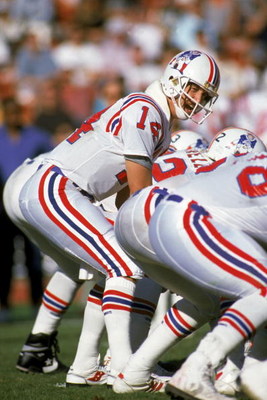 In a committee effort, the New England Patriots managed to be the last team to make the 3,000-yard mark in a season with a league-record 3,165-yard effort in 1978 without a single 1,000-yard runner.
It was done with a combination of Sam Cunningham's 768 yards and eight touchdowns, Andy Johnson's 675 yards and three touchdowns, Horace Ivory's 693 yards and 11 touchdowns, Steve Grogan's 539 yards and five touchdowns, and Dan Calhoun's 391 yards with a touchdown.
The '78 Pats averaged 41.9 attempts per game and 197.81 yards per game on their way to the NFL single-season record. They scored 30 rushing touchdowns and averaged 4.7 yards per carry on their way to a 12-4 record.
Pittsburgh Steelers, 1976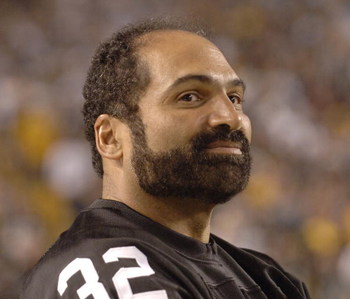 The Pittsburgh Steelers almost made it in 1976. They racked up 2,971 yards on 46.6 attempts per game in a 14-game season.
They also pitched five shutouts that year, with their combination of a sound rushing attack and a smashmouth defense known as "The Steel Curtain."
Franco Harris led the team with 1,128 yards and scored 14 times. Rocky Bleier added another 1,036 yards and scored five times. Terry Bradshaw and Reggie Harrison combined for another 454 yards and seven touchdowns.
The Steelers had 212.21 yards per game with a 4.5 yards per carry average, scored 33 touchdowns, and finished the year with a 10-4 record.
Buffalo Bills, 1973 and 1975
The Bills were the first team to break the 3,000-yard mark. They did it in 1973 with a final tally of 3,088 yards and scored 20 touchdowns.
O.J. Simpson's 2,003-yard effort for the year, combined with 494 from Jim Braxton and 414 from Larry Watkins, gave the '73 Bills the second highest total in league history.
They finished the year marking 43.2 attempts per game, with an average run of 5.1 yards. They accumulated a 9-5 record that year.
Two years later, in 1975, they came close to the 3,000-yard mark again with a 2,974-yard effort.
Simpson again led the team in rushing with a 1,817 yard effort, and he scored 16 times. Braxton added 823 yards rushing and scored nine times.
In 1975, the Bills averaged 5.1 yards per carry on 42 carries per game. They scored 26 touchdowns and finished the year with an 8-6 record.
Miami Dolphins, 1972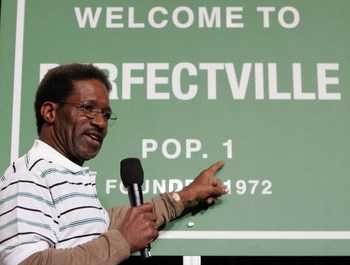 The perfect season in 1972 was almost topped off with a 3,000-yard performance. The Miami Dolphins' combination of Larry Csonka, Jim Kiick, and Eugene "Mercury" Morris compiled 2,960 yards and 26 touchdowns.
Csonka led the team with 1,117 yards and six touchdowns. Morris added 1,000 yards and scored 12 times. Kiick had 521 yards and five touchdowns.
The trio averaged 4.8 yards per carry on 43.8 attempts per game.
They were the only team to finish the year undefeated (14-0) until the 2007 Patriots went 16-0. The Patriots, however, failed to finish and lost the Super Bowl that year to the New York Giants.
Oakland Raiders, 2009?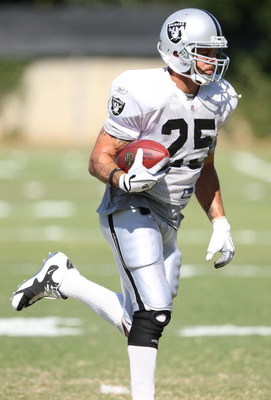 To be a part of the 3,000-yard club is a very special thing. It has only been done twice in league history. In fact, to be a part of the 2,900-plus-yard club is almost just as special, as it has only been done seven times in league history.
The seven clubs that have reached the feat have a combined record of 70 wins and only 34 losses.
If Oakland could reach the mark of 2,900 rushing yards, they would likely win 10 games this year.
That would give them a shot at winning their division and making the playoffs.
It would be in accordance with Justin Fargas' plan: "We plan on making the playoffs and having an extended season."
To accomplish the feat, the Raiders would have to average 181.25 yards per game in the regular season—an accomplishment that is believable for these three tailbacks, but would mean a tremendous amount of effort by a young squad of halfbacks.
They would also need some help from a recently subpar passing attack. The passing offense only averaged 148 yards per game last season, a number that needs to improve if they are to make their mark in history.
So, while it is not impossible, it is unlikely that the trio known as Shake, Rattle, and Roll will reach their goal.
However, it is very possible that they will get the NFL's attention this year regardless of what their final total is.
Keep Reading

Oakland Raiders: Like this team?