10 Reasons to Hate Fantasy Football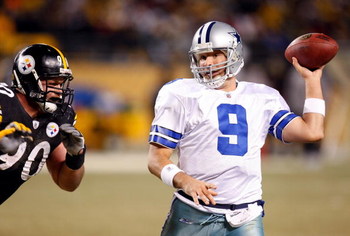 Football is the most popular sport in the country, so it should come as no surprise that it dominates the fantasy landscape as well.
The roster size is usually small and very manageable, you don't need to check your team every single day, and you get to go one-on-one against your buddies for bragging rights.
But the reality is, very few actually succeed at fantasy football.
Some will get lucky along the way, but many more will fail over and over again as they try to master this maddening art.
In an effort to save you some time by getting you down from the fantasy football bandwagon, here are ten reminders of why you should just give it up.
1. Defensive players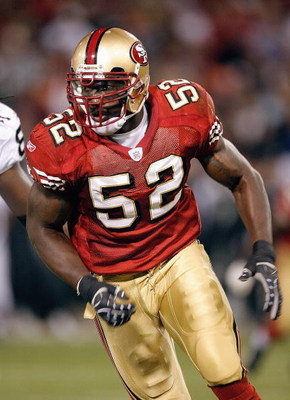 Thankfully, most leagues do not employ individual defensive players. But if you've ever played in a league that does, you know what a headache it is.
Yes, there are as many statistical references for defensive players as there are for offensive players, but the categories aren't as instantly recognizable as things like rushing yards and touchdowns.
While most fantasy players can rattle off the top fantasy studs at every offensive position, what do we really know about rating defensive players?
If you had a choice of Patrick Willis or Karlos Dansby, which way do you go? How about Cortland Finnegan vs. Rashean Mathis? And do you even know who in God's name Oshiomogho Atogwe is?
You just end up sorting players based on last year's stats and mindlessly take the next player available, a sure recipe for disaster.
Come to think of it, defensive teams as a whole can be a fantasy headache. Every year, someone at your draft reaches and takes the Ravens or Bears or someone way too earlier, and then a run on defenses starts a little while later.
By the time you get around to picking one, you wonder to yourself "The Lions D really has to have a bounceback year, doesn't it?"
2. Injuries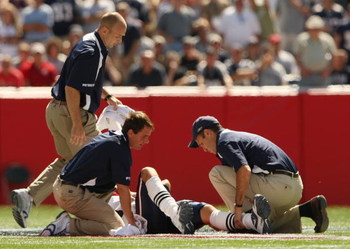 Injuries are a part of every sport. But in football they happen in such a far greater number and severity that odds are one of your best players will have some issue to deal with during the course of a season.
If you're lucky, it'll just be a mild sprain that keeps him out of action for a week or two. But every year, there are more than a few separated shoulders and torn ACLs that dictate the course of a fantasy season.
There is no more helpless feeling in all of fantasy sports than watching your first round pick twitching on the ground in agony four minutes into the second quarter of week one.
You aren't surprised to see it, though. It's happened to you so many times you are numb by now.
3. Rooting for teams that you don't care about at all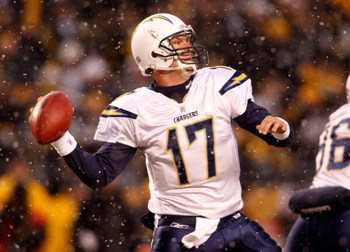 So you're a Buccaneers fan. Why should you give a crap about the Chargers? Because you own Philip Rivers, that's why.
Each week your own fantasy team's fate seems closely linked to that of a team that you are not a fan of. So you root for this team, if not to win, to at least put up huge points so that your fantasy players can reap the rewards.
If you ever watch one of this team's games, you follow intently. But you are not watching as a football fan. You want only your player to succeed.
You yell obscenities at the television following every incompletion. You jump for joy at a 9-yard pass that puts you over another yardage threshold for the week.
All the while you are keeping a running tally of your fantasy matchup for the week but you probably do not know the score of the game you are watching even though it is displayed at the top of your tv screen.
You don't care about the team you are watching. You just want them to mop the floor with the other team, with your player(s) leading the way.
The situation becomes even more convoluted when you own a player who plays for a team that you hate. In this case, you must root for individual success but team failure in the end, which is quite a narrow window for satisfaction.
4. Your players having great games...on your bench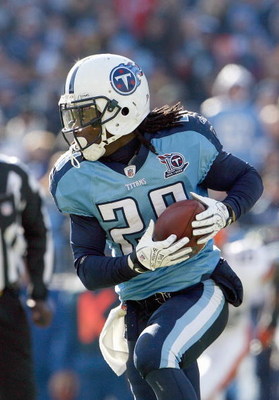 In other fantasy sports. the players on your bench are there because they are simply not as good as the ones in your regular lineup. Yes, you might miss out on some good performances, but they will have their share of struggles as well.
Sticking with a solid everyday lineup gives you the best chance to win because it is a long season.
Not so in fantasy football. It is a sprint. You cannot afford to leave career days on your bench or endure too many pathetic games from your starters.
So it's no wonder when you are left pulling your hair out when one of your reserve running backs, LenDale White, goes off for 158 yards and three touchdowns while your team endures a fairly close loss.
You do the math and figure out that you would have won your game for the week easily if you had swapped out one of your normal players for him.
This puts fantasy football devotees in the awkward position of having to root against the players on their bench every week.
Of course, if the player stinks week after week on your bench, why would you ever want him in your active lineup to cover for a bye week or injury?
It's enough to make your head explode.
5. Matchups against teammates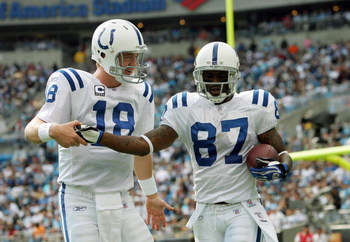 Peyton Manning throws an early 20-yard touchdown pass to Reggie Wayne and your fantasy team is off and running for the week.
Or is it?
Yes, you just got 6 points for that touchdown plus an extra point if you broke some kind of yardage barrier for the day, but your opponent for the week has Wayne and he just outscored you on the play because Wayne got two extra points for the 20 receiving yards.
Now it's not good enough that Peyton Manning has a solid game. He has to avoid throwing the ball to Reggie Wayne for your fantasy team to have a successful week.
You hold your breath every time the ball is in the air. When you see it sailing towards Wayne, you actually hope it is batted down or dropped.
It's even worse if your league awards points for every reception, because then you really get hammered if your quarterback keeps passing to your opponent's wide receiver.
Things are even more frightening when your opponent owns the running back on your QB's team.
Your quarterback goes to hand it off and you tense up. But it's play action. You breathe a sigh of relief. Suddenly you spy the halfback running a wheel route at the bottom of the screen and you lunge at the television, seemingly in slow motion, "Nooooooooooooo!"
A 50-yard catch and run for a touchdown. You just scored some points. But your opponent bagged even more.
Why does this always happen?
6. Negative points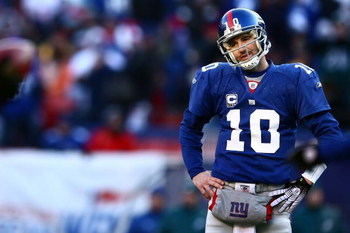 There are very few games where you can earn a certain number of points and then lose them at some juncture of the contest. Fantasy football, of course, is one such place where this happens.
Your players lose a lot of luster when you look through the box score at the end of the game and see a fumble or two. Those were points you thought you had, no, you already had! And some bozo just gave them away.
And sometimes it's not even your player's fault. Imagine Eli Manning is having a mediocre day for you, but a big finish can really help your team out.
You watch him drop back to pass, and out of nowhere he is blindsided and crushed by some 300-pound dude that just blew right by one of Eli's worthless, non-fantasy factor teammates.
The ball goes flying away and is picked up by the other team. Negative points for you.
Some leagues even have negative points if your kicker misses a field goal. Give me a break.
Fantasy football, like life in general, is not fair.
7. Handcuffing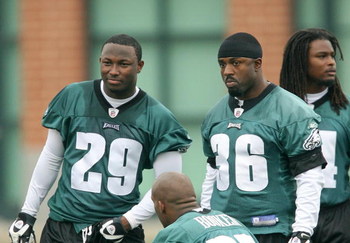 Thinking about drafting Brian Westbrook this year? Well, then you'd better take his rookie backup LeSean McCoy as well.
Same thing goes for Willie Parker, Joseph Addai, and the majority of running backs in the league.
God forbid that another team takes your handcuff back and then cashes in when your starter goes down with an injury.
Fantasy football forces you to reach a round or two early and draft a backup player so that you can protect your investment in the starter that you chose several rounds earlier.
This backup just sits on your bench the entire season. He's only there for an emergency.
But he looks good when you see brief glimpses of him. Secretly, you want your starter to get hurt because you think his handcuff back can do more for your team.
In fact, you've gotten so carried away with handcuffing your running backs and QB that you have no backup kicker, tight end or defense and are left scrambling when the bye weeks come around.
Good thing you played it safe and drafted your handcuff.
8. Overimportance of running backs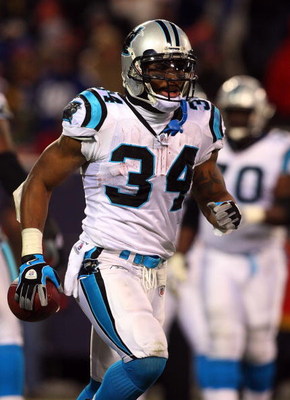 Everybody knows that the quarterback is the most important player on the field. But in fantasy fooball, it's all running backs all the time.
Depending on how your league is set up, it wouldn't be a stretch to see running backs taken with about 15 of the top 20 picks in your draft.
The fact that DeAngelo Williams is probably much more valuable to your team than any quarterback shows that fantasy football is worlds away from the actual thing. Just because you know who the best players in the league are doesn't mean you will be able to translate that to fantasy success.
Some leagues are ricidulously RB-heavy because they don't give you the full six points for passing or receiving touchdowns. But even in higher scoring leagues, there are only a handful of other players that can get you as many points as the top half of the league's starting running backs.
So you end up taking running backs with your top two picks even though you don't really like them. But they just happened to be the best players left and you have to take them because they are running backs.
You probably even draft your first reserve running back before you fill out your starting WR group.
Someone unexpected goes off for 100 yards in week one. You pick him up.
A part-time player starts to get goal-line carries. You pick him up.
Before you know it, you have nine running backs and can't even fill out the rest of your roster spots. Your team is doomed.
Guess you overestimated the importance of running backs. Too late.
9. Thursday night games late in the season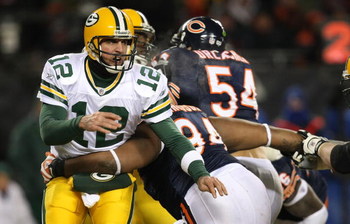 One of the nice things about fantasy football is that you can step away from your team for two or three days in the middle of the week and not have to worry. The weekly nature of the sport means that you don't need to be acutely aware of things every day in a sport like baseball.
When the week's action is over, it's only natural to take stock of your performance and address your needs later on in the week as injury reports take shape or you wrestle with a tough decision on who to start and who to sit.
But the NFL really throws a wrench into those plans with its ever-increasing slate of Thursday games.
Before it was just Thanksgiving and maybe another week or two. But now they get you on opening week and the entire second half of the season.
If you are in a league that forces you to lock in a starting lineup by the start of the the first game for the week, this is horrible.
Your running back and his injured toe are far from a sure thing so you make the decision on Thursday to bench him. Of course, he goes out on Sunday and rushes for 150 yards.
Even worse is the mid-week brain cramp when you forget about the Thursday game. By the time you look at your team on Friday, your lineup is locked and you are starting two players who are questionable for their games that weekend. They never play when this happens, of course.
Even if your league doesn't make you lock in a lineup by the start of the first game of the week, it most likely doesn't allow you to make any transactions aside from swiching your own players in and out. Forget about the waiver wire gamble you were going to make this week, it's too late.
And of course the NFL does this at the most crucial point of the fantasy season with the playoffs rapidly approaching. With less than 72 hours between the end of one week and the start of the next, you barely have time to think.
And speaking of the end of a fantasy week...
10. Monday Night Football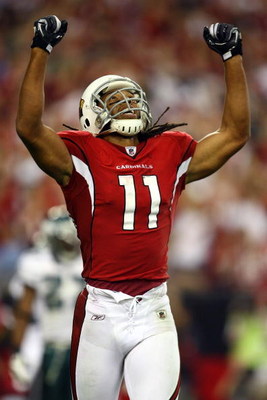 For as long as there has been fantasy football, there have been Monday night fantasy football losses. It has happened to everyone.
You're always leading by a seemingly comfortable margin heading into Monday Night Football, but your opponent has his quarterback and kicker left.
As you watch the game, you count the points off in your head. Your lead grows thinner and thinner. By the end of the night, it's always gone.
Sometimes the tables are turned and you are the one chasing down a potential Monday night comeback. But this is always the time when your running back fumbles twice and goes for just 37 yards when all you needed was a touchdown to put you over the top.
Worst of all is when you are actually leading going into Monday Night Football but get negative points from your defense, wide receiver or someone to drop you below your opponent and cost you the game.
Tuesday morning can be a miserable time.
The Overall Lesson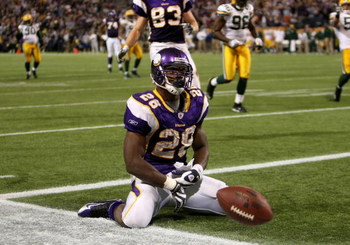 Fantasy football is a drug.
The initial high you seem to get every year when your team starts off 3-1 feels great, but you ignore the warning signs.
Several of your players have already had what will be their best games of the season. And your opponents have had some lousy performances against you.
Still, you feel invincible.
But then you get manhandled one week when most of your starters have byes. Then someone goes down with an injury. You miss out on all the hot pick-ups.
Before you know it, a 6-8 season comes to a merciful end and you are left crying in the shower like a scene out of a Lifetime original movie. You vow to never do this to yourself again. But deep down, you know you will come back for more next year.
You always do.
Keep Reading