My Top Five Unsung Bears Heroes of All Time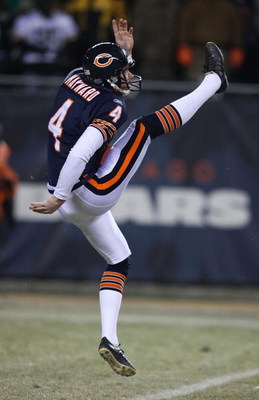 The Bears have had a lot of great players over the years. A lot of players who will never find a place among the best in Canton.
Included in my list are Bears players who have left a lasting impact on me as a fan. These people worked hard, and it showed on the field.
They deserve more credit than some of the players we know and sometimes love today.
5. Patrick Mannelly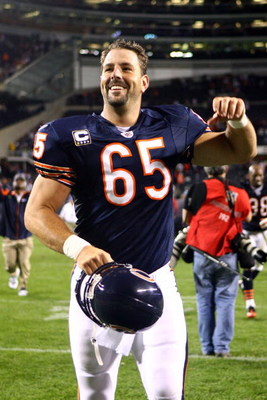 Yes, the long snapper makes my list. Without him, the ball wouldn't get to the kicker or the punter, and who knows what would happen.
To me, Mannelly is a first-class player. He will never find a place in Canton because he is a long snapper but he is one of my favorite players. He works hard and doesn't care that all he does is play long snapper.
Who knows how many field goals Robbie Gould will make without consistent snaps or how many great punts Brian Maynard will have.
Mannelly is well deserving of No. 5.
4. Hunter Hillenmeyer
The number 92 is a number that I will always remember when it comes to Bears players I watched growing up. I loved watching Hillenmeyer play.
Hillenmeyer hustled and played hard. He isn't the greatest Bears player but he is one of the hardest working by far.
Him, Briggs, and Urlacher made a fearsome tandem during most of the first decade of the 2000's.
It is too bad a class act like him will never find a place in Canton.
3. Thomas Jones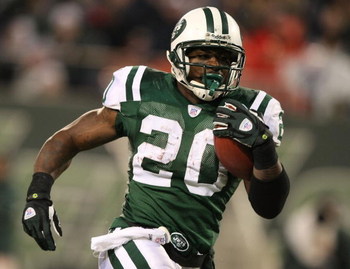 Even though this picture of Jones is in a Jets uniform, he is still one of my favorite players today.
Jones is real low-key about what he does. He works his tail off during the pre-season and regular season. Boy, does it show.
Jones played three great seasons with the Bears (2004-2006). He rushed for over 3,000 yards during this time and scored 22 touchdowns.
In 2006, the year the Bears made the Super Bowl, Jones rushed for 1,210 yards and six touchdowns that year.
2. Jim Miller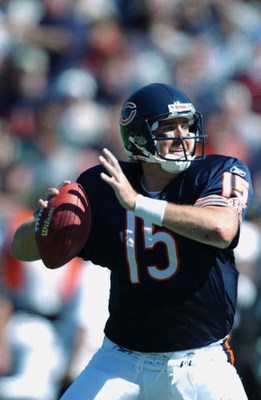 You may think I'm crazy but Jim Miller was one of my favorite players growing up.
He was such a tough player. He got killed thanks to the lack of offensive line that the Bears had but he usually popped back up.
What cemented him as one of my favorite Bears players was when I met the guy. He was such a nice guy and a class act. He wasn't cocky and didn't seem arrogant.
He seemed to be the type that let his play do the talking. There are very few of those kind of players left (Chad Ochocinco).
To me, Miller is well deserving of the No. 2 spot.
1. Mike Brown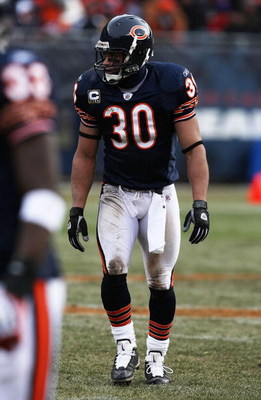 Mike Brown was and still is my favorite Bears player. He played so hard but was always injured.
I have two great memories of Brown.
I remember when in one week he intercepted the 49ers and returned it for a touchdown in overtime and then the following week did the same to the Browns.
Even though Brown was never healthy, he played so hard and played so well. He is a classy guy and just let his awesome play do the talking.
Brown is well deserving of the No. 1 spot.
Keep Reading

Chicago Bears: Like this team?