Ranking the Top Wrestling Divas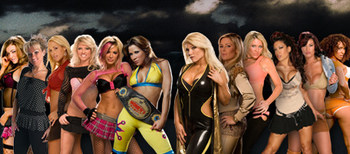 Diva's have been around since the early day's in pro wrestling, A Diva was a female wrestler.
Now a Diva is way more than just a female wrestler a Diva is some of the most beutiful women in the world today.
These Diva go from WWF/WWE, WCW, ECW, TNA. well enough talking weather your a wrestling fan or not you will enjoy this.
So enough talking here you go.
No. 25 Chyna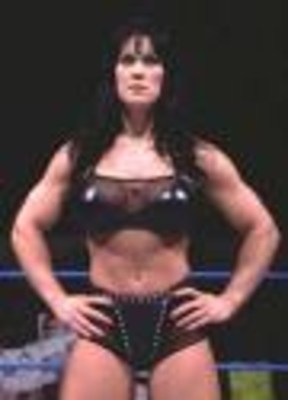 Chyna started in the WWF as the bodyguard to a young Hunter Hurst Hemsley. Yes HHH! Chyna has posed for Playboy and has since been on MTV reality shows.
No. 24 The Nitro Girls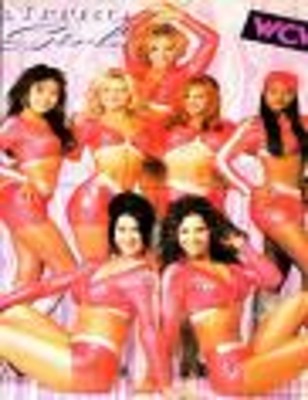 During the Monday Night Wars WWF had sexy Bikini clad lady's so WCW came up with a segment during the commercial breaks for the live crowd of sexy ladies dancing.
No. 23 Melina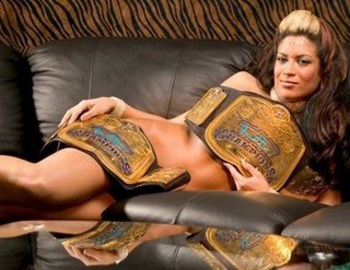 Some may disagree with this being No. 23, but Melina started as part of MNM and help manage Mercery and Nitro to a tag team title run. Now Melina regularly is in televison matches and is a former Womens Champion.
No. 22 Gorgeous George
George was a valet for Macho Man Randy Savage in the 2000-2001 WCW days and was some great eye candy to look at and brought a whole new attitude to the Macho Man.
No. 21 Angelina Love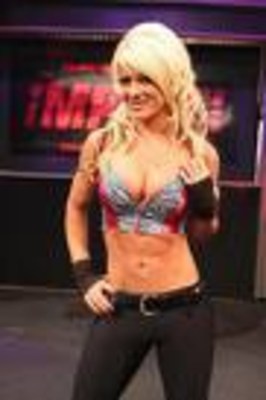 Angelina Love is the current TNA Women's Champion. TNA is the name of the company, but can be used to describe other thing's as well.
No. 20 Gail Kim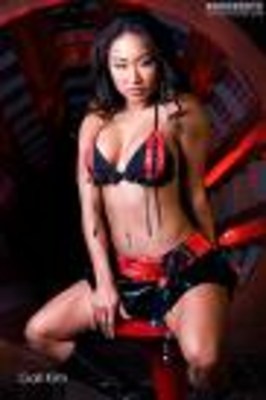 Gail Kim's wrestling career started in the WWF, then she moved to the NWA, TNA, and now she is back in the WWE and looking better than ever.
No.19 Maria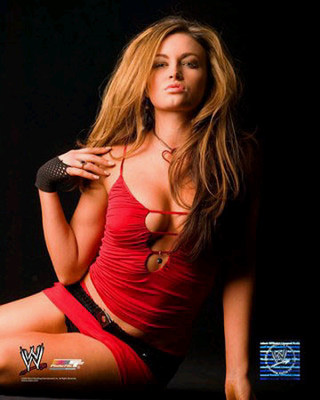 Maria is another former Playboy cover girl that is on this list and ranks in at 19th on my list. It may be a little high, but wait til you see who else is on the list.
No. 18 Lita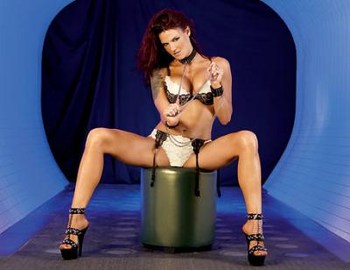 From the Godfather's hoe, to the Rated R Superstars hoe. Lita is a former Women's Champion and a great in ring performer.
No. 17 Madusa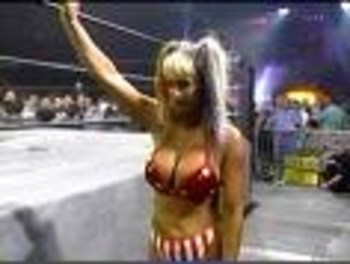 Alandra Blaze the former Women's Champion best know for dropping the WWF Title belt in the trash on a WCW NItro live event grew up a lot (if you get it GREW UP) to be Madusa in WCW uring its dieing days.
No. 16 Debra
Debra started in the WCW as Mango Steve McMichael's wife and Miss WCW then move to the WWF to be the valet for Oh Slap Nut's himself Jeff Jarrett—best know for showing he assets off to the other wrestlers to help Jarrett score wins. I mean do you blame them for being distracted?
Also Debra was married to Stone Cold Steve Austin.
No. 15 Christie Heeme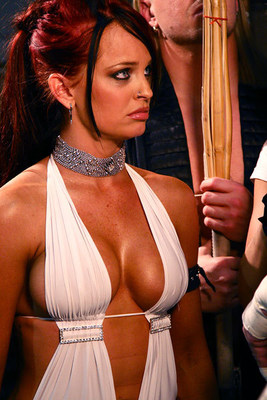 Yet another Playboy model makes the list. Heeme is a former WWE and TNA Diva just look at her enough said.
No. 14 Stephaine McMahon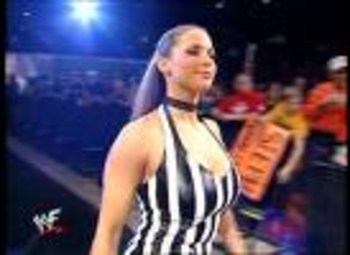 It's WWE owner/chairman and CEO's daughter herself making the list—the Billion Dollar Princess Stephaine.
Steph is the wife of WWE wrestler HHH and works behind the curtain for WWE on the creative side.
No. 13 Michelle McCool
The Current WWE Champion McCool is a very attractive former school teacher. Editor's note: I wouldn't get much done in class.
No. 12 Terri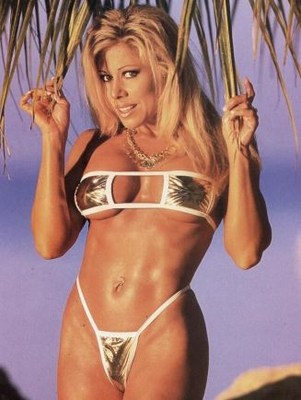 Terri started as the director to the bizarre one Goldust, and went on to interviewer before her release from WWE.
No. 11 Dawn Marie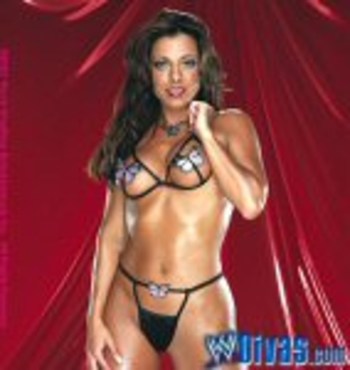 Dawn Marie from ECW Hardcore to WWE Diva and boy she didn't disappoint, coming in at No. 11 on the list.
No. 10 Myrese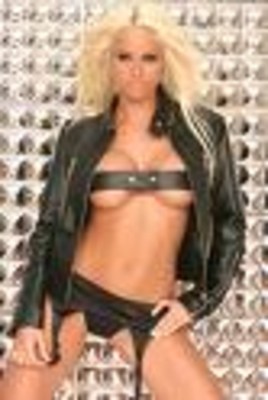 Coming in at No. 10 on the list is the rising female wrestler and what a hottt one to say the least.
No. 9 Sunny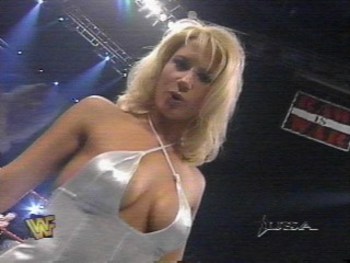 Tammy Synch—AKA Sunny—whatever you want to call her, this former girlfriend of HBK Shawn Michaels, former ECW, WCW, WWE Superstar is definitely a hot one.
No. 8 Kelly Kelly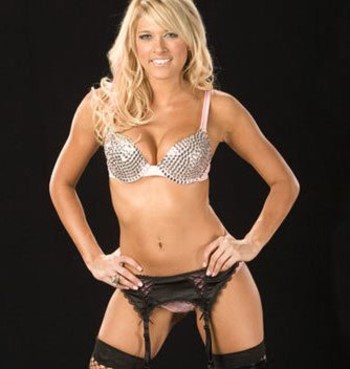 Kelly Kelly is probably the current most popular Diva in the WWE. She ranks in on this list at a respectable No. 8.
No. 7 Mickie James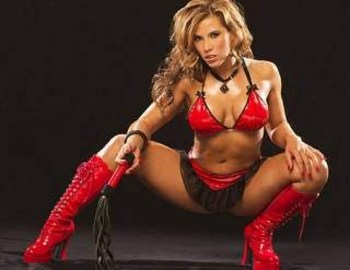 Next up is Current Divas Champion Mickie James. Here she is looking very good in red in the picture above.
No. 6 Candice Michelle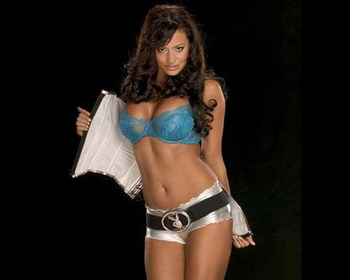 Former WWE DIva and current GO DADDY.com girl Candice Michelle comes in right on the outside of the top five.
No. 5 Francine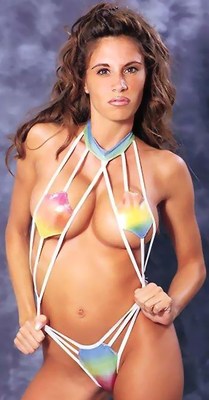 Some say a ranking of No. 5 is a little high for the former Hardcore Angel Francine, but just look at the picture and that will change your mind.
No. 4 Stacey Kibler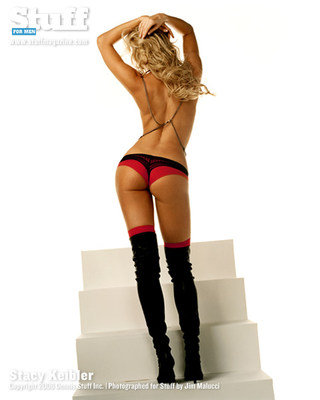 From the days of dancing on top of the WCW announce table, to "Dancing With The Stars," Stacey and those legs are famous.
No. 3 Torrie Wilson
Another former Playboy cover girl, Wilson comes in at No. 3 on this list. By this point this list has gotten very hard.
No. 2 Sable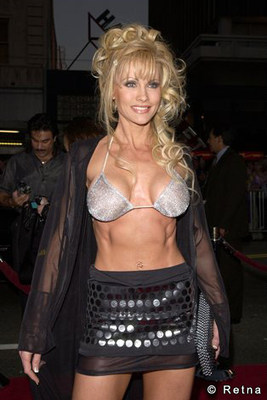 I know this is a big shock Sable isn't No. 1.
The former girlfriend of Johnny B. Bad Mark Mero and the current eye candy for UFC Champion Brock Lesner is a respectable No. 2.
By this point you probably have a good guess who's next...
No. 1 (tie) Trish Stratus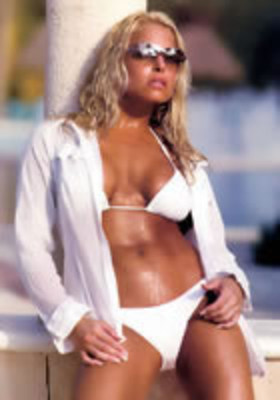 Yes! Exactly what you were thinking. The very sexy Trish Stratus. But too bad it was a tie for the No. 1 spot.
No. 1 (tie) Karen Angle
YES! YES! YES! I'm putting Karen Angle at No. 1. Even though she wasn't on TV a lot, she is No. 1 in my eyes.
This completes the list. I hope you enjoyed.
Keep Reading