My 2009 Fantasy Baseball Surprise Team
Some people like surprises, some people do not. When it comes to fantasy sports, surprises are only good when you can catch them and not let them slip away.
My list goes position-by-position to find one player that likely was taken late or not at all in your fantasy baseball draft.
I went back and looked some baseball publications and my own personal notes to come up with a list of players that are having very good seasons
For me, it is always fun and painful at the same time to see what players you either got right or completely missed the boat.
It is only August and while the season is not over yet, there may be one of these players still available in your league.
Most, if not all of these players will be selected much higher in your 2010 fantasy baseball draft.
The preseason rankings were pulled from CBS Sports Fantasy Baseball Preview.
Here are ten pies-in-the face for the 2009 Fantasy Baseball season.
First Base - Russell Branyan, Seattle Mariners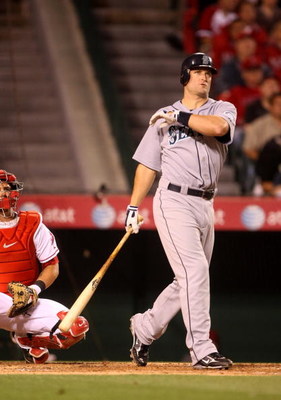 Russell Branyan came up with the Cleveland Indians. He was nicknamed "Russell the Muscle" when he came to the majors. He showed power early on, but it seemed like his at-bats would end up either a strikeout or a home run.
The Seattle Mariners became Branyan's ninth team in eleven seasons.
In 2009, he has already set a career high in with 64 RBI and 20 doubles. He has tied for his career high in home runs with 24, and his .263 batting average is currently his tops for his career.
Branyan is 34 years old, and is a free agent after this season. It will be interesting to see what happens to him in 2010. Was this just a special contract year season, or has he finally found himself as a legitimate starting first baseman?
Preseason Rank: 28th Among 3rd Basemen
Honorable Mention: Kendry Morales, Los Angeles Angels, Billy Butler, Kansas City Royals and Jorge Cantu, Florida Marlins
Second Base – Ben Zobrist, Tampa Bay Rays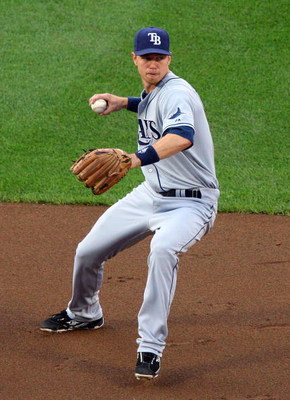 The versatile Zobrist played a few different positions, but he never was an everyday starter.
He never had more than 198 at-bats in a season, and he never hit higher than .253.
What a difference finding a home makes. In 2009, Zobrist is hitting a career high .293 along with career highs in home runs (19) and runs batted in (56).
Zobrist's numbers mirror that of perennial All-Star Chase Utley's of the Phillies. But, I guarantee you that Utley went a few rounds before Zobrist in your draft.
Zobrist has .968 OPS. He is number one among all Major League second basemen in that category.
Preseason Rank: 39th Among Shortstops
Honorable Mention: Aaron Hill, Toronto Blue Jays, Martin Prado, Atlanta Braves
Shortstop – Marco Scutaro, Toronto Blue Jays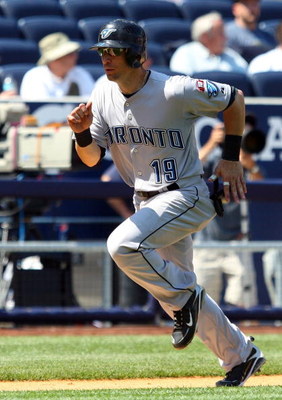 Marco Scutaro was an average everyday shortstop with Oakland and Toronto the past five seasons. He was someone you would likely pick up based on the fact that he can play a few different positions. You knew he was not going to give you much, but maybe he could help your team for a few days.
Marco Scutaro is fourth among shortstops in hits. He leads the American League with 32 doubles and leads all Major League shortstops with 64 walks. He has tied for his career high in home runs with nine and set a new career high with 77 runs scored so far in 2009.
Scutaro, like Branyan, at first base, is 34 and will be a free agent in 2010.
Preseason Ranking: 31st among shortstops
Honorable Mention: Jason Bartlett, Tampa Bay Rays, Asdrubal Cabrera, Cleveland Indians
Third Baseman – Pablo Sandoval, San Francisco Giants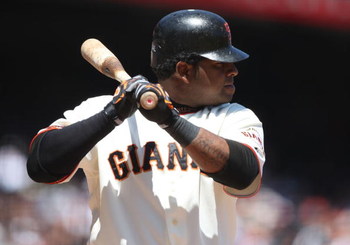 Pablo Sandoval signed with the Giants as an undrafted free agent in 2002. It is likely that in your 2009 Fantasy Baseball Draft, he went undrafted as well.
No one had any idea that Pablo Sandoval would have the season that he is having so far. He made the All-Star team and has been by far the best hitter on the San Francisco Giants. You will probably see Sandoval end up with a few MVP votes this year.
While the Giants are known for their pitching, it has been Sandoval who has delivered with the bat to keep this team very much in the race for a playoff spot in October.
Sandoval leads all third basemen in batting average; he is up near the top in many of the offensive stat categories.
At 22, it seems the sky is the limit for Sandoval.
One thing I guarantee you is that in your 2010 fantasy baseball Draft he will go much, much higher.
Preseason Ranking: 29th among First Basemen
Honorable Mention: Pedro Feliz, Philadelphia Phillies, Mark Reynolds, Arizona Diamondbacks
Catcher – Joe Mauer, Minnesota Twins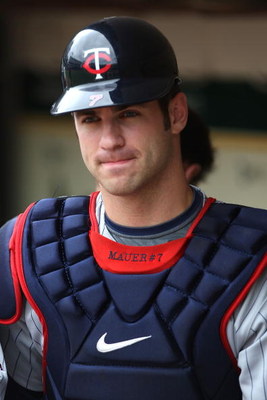 Ok, before you crucify me, I know Mauer was ranked number one, but please hear me out.
Joe Mauer was ranked as the number one catcher in fantasy baseball. But, there was a strange back injury that put his season in jeopardy.
I remember at my fantasy baseball draft everyone was very speculative on not whether Joe Mauer could play catcher in 2009.
Most likely Mauer went lower than he should have because of this injury. Mauer missed the entire month of April.
But, Mauer, like the great player that he is, did not miss a beat when he returned.
The 2009 season has been Mauer's best by far. He flirted with .400 for a little while and has settled in with the second best batting average of .359. He already set a career high in home runs with 18.
Mauer's OPS is 1.028 which is extremely rare for any player, let alone an everyday catcher.
The fact that Mauer not only came back and played catcher after this injury, but played at an MVP level is a true testament to type of ball player Joe Mauer has become.
Preseason Ranking: 1st among catchers
Honorable Mention: Omir Santos, New York Mets, Miguel Montero, Arizona Diamondbacks
Center Field – Melky Cabrera, New York Yankees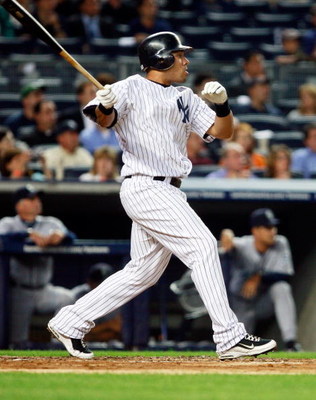 Melky Cabrera came up with the Yankees and had two average years as one of the Yankees starting outfielders in 2006 and 2007.
But in 2008, Cabrera took a step backwards. Cabrera had his worst season as a professional and was demoted to AAA in August. It was unknown if Cabrera would ever be a starting outfielder on the Yankees.
The Yankees did not re-sign outfielder Bobby Abreu, and Brett Gardner was the opening day centerfielder. But, Gardner slumped, and Cabrera took advantage of his second chance in the Bronx.
Cabrera has set a new career high with ten home runs and has a career best .451 slugging percentage in 2009.
In 2009, the "Melk" man has delivered for the Yankees and for fantasy owners. On August 2, 2009, Cabrera became the first Yankee in 14 years to hit for the cycle.
Cabrera ranks around 20th in terms of overall statistics for American League outfielders.
Preseason Ranking: 111th among outfielders
Honorable Mention: Marlon Byrd, Texas Rangers, Cody Ross, Florida Marlins, Michael Bourn, Houston Astros
Right Field – Nelson Cruz, Texas Rangers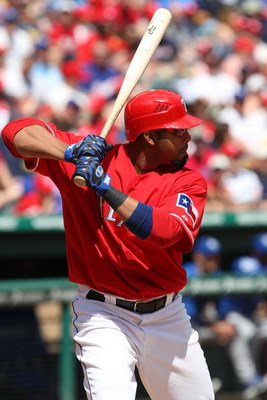 Nelson Cruz was called a 30-30 prospect. After four stints in the majors, it looked like the label of a bust was going to fit him.
Cruz began the 2009 season with 22 career home runs and just six career stolen bases.
One thing that made this season a little less surprising for Cruz was his fantastic 2008 triple-A season.
In 2008, at triple-A Oklahoma, Cruz was the Pacific Coast League's MVP, hitting .347 with 37 home runs, 99 RBI, and 24 stolen bases.
Be on the lookout for guys who have great seasons in triple-A this year, because they can certainly be steals for you in your 2010 Fantasy Baseball draft.
Nelson Cruz was selected to the 2009 All-Star team as a replacement for Torii Hunter.
This season Cruz is hitting .269 with 25 home runs, 58 RBI, and 17 stolen bases.
Preseason Ranking: Unranked (CBS ranked 260 outfielders)
Honorable Mention: Jayson Werth, Philadelphia Phillies, Bobby Abreu, Los Angeles Angels
Left Field – Juan Rivera, Los Angeles Angels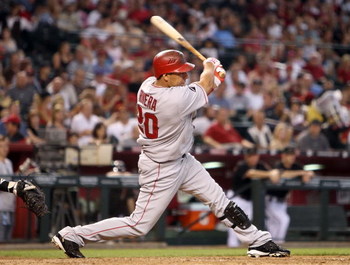 After the 2006 season, it looked like Juan Rivera had found himself with the Angels.
But, an injured leg ruined most of his 2007 season and his 2008 season he hit a career worst .246.
Fantasy owners were highly skeptical on whether Rivera could ever find that form that had him as a budding star and probably avoided taking him in their drafts.
In 2009, the Juan Rivera of 2006 came back with a vengeance. This season, Rivera is in the top ten in batting average, homeruns, RBI and slugging percentage for left fielders.
While he does not strikeout a lot, he does not walk very much either. He has only 22 walks and his OBP stands at .350, his batting average is .316.
If Rivera can stay healthy, I think there is no question he will be a player that will go much higher in your 2010 Fantasy Baseball Draft.
Preseason Rank: 92nd among all outfielders
Honorable Mention: Josh Willingham, Washington Nationals, Nolan Reimold, Baltimore Orioles
Starting Pitcher – Matt Cain, San Francisco Giants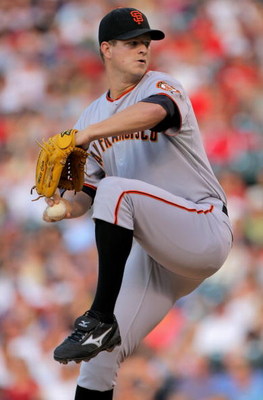 Matt Cain won a combined 15 games in 2007 and 2008.
In 2009, Cain has been more than able. He has an amazing 12-3 record and a career-low ERA of 2.25.
Cain has four complete games so far in 2009 and that gives a career total of eight in his fourth full season.
Opponents are hitting just .190 off of the righty.
He has the same number of wins as his teammate and Cy Young Award winner Tim Lincecum and their ERA's are nearly identical.
The Giants have the best one-two punch on the mound in baseball.
While Lincecum gets most of the notoriety, it has been Cain that has kept Giants fans and fantasy owners very happy this season.
Preseason Rank: 36th among starting pitchers
Honorable Mention - Zach Grienke, Kansas City Royals, Zach Duke, Pittsburgh Pirates, Chris Carpenter, St. Louis Cardinals, Jason Marquis, Colorado Rockies
Closer – David Aardsma, Seattle Mariners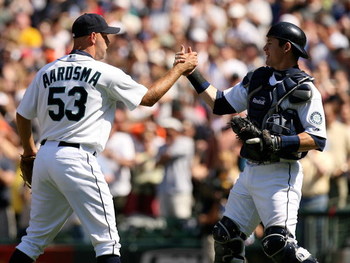 This one was the easiest selection. He is listed first alphabetically in the list of all-time Major League Baseball players.
At the beginning of the 2009 season, the Mariners were unsure who would take over their closer role. J.J. Putz had been traded to the Mets. The competition was supposed to be between young Brandon Morrow and Ryan Rowland-Smith.
Morrow began the year as the Mariner closer, but went on the disabled list on May 2, which opened the door to Aardsma.
David Aardsma was quickly becoming a baseball journeyman. The Mariners were his fifth team in just six seasons. He was a closer in college, but he had yet to record his first major league save.
Aardsma had four previous save opportunities in his first four seasons. Aardsma has saved 26 of 28 save chances so far in 2009. He has become one of the best closers in baseball.
His ERA is a terrific 1.61. That is nearly four runs lower than his career ERA. He has 59 strikeouts in 50 innings and opposing players are hitting just .169 against him.
Aardsma's ERA is better than Mariano Rivera, Jonathan Papelbon and Francisco Rodriguez to name a few.
Preseason Rank: 116th among Relief Pitchers
Honorable Mention: Ryan Franklin, St. Louis Cardinals, Rafael Soriano, Atlanta Braves
Keep Reading