Back-To-Backs With LeBron and Shaq Highlight Atlanta's Interesting Schedule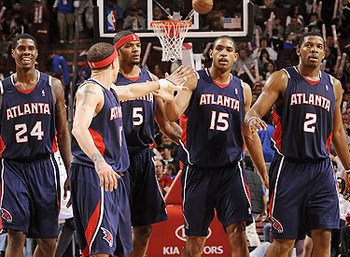 With the release of the 2009-2010 NBA schedule, hardcore basketball fans are searching up and down their favorite teams' schedules trying to determine which games are wins and which games are losses.
For Atlanta Hawk fans, there is much reason for hope in the upcoming season. After many years of being at the bottom of the Eastern Conference and outside of the playoff hunt, it would appear as if the Hawks have made a turn for the better in their franchise.
This slide show will present ten games that I feel will be difference makers for the Atlanta Hawks in this upcoming season. Of course, every game in an NBA Regular Season has significance, but these are games in which the Hawks will be tested and also games in which possible conference positions could be determined.
The Hawks Starting 5 will be able to contend with any other team in the NBA. Al Horford has come into his own. Josh Smith and Joe Johnson have developed into team leaders. Mike Bibby is back and adds veteran leadership to control the team. The bench got deeper with the additions of Jamal Crawford and drafting Jeff Teague from Wake Forest. The futures of Flip Murray and Marvin Williams with Atlanta remain undecided as they are still free agents. If Atlanta can bring both players back, they will be extremely deep and talented.
Sunday November 1st: @ Los Angeles Lakers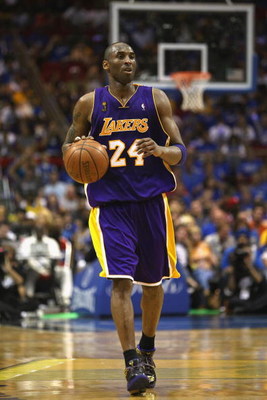 This will be a key test early in the season for the Hawks. They open up the season with Indiana and Washington at home before heading out on the road for four games straight. They open up that four game road trip in Los Angeles.
There will be many factors in this game to determine the outcome. Which Andrew Bynum shows up? Can Gasol match the physicality of Horford and Pachulia down low? Can the Hawks contain Kobe Bryant? The defensive match-up of Josh Smith and Ron Artest will also be a key factor to watch.
Both teams also have deep bench players as well. Lamar Odom and Sasha Vujacic bring the firepower for LA along with Jordan Farmar. Atlanta counters with Jamal Crawford, Jeff Teague, Maurice Evans, and ZaZa Pachulia off the bench.
This will be a great match-up to watch early in the season and will be a good start to determine how the Hawks season will go. The key will be controlling Kobe Bryant at first and not allowing him to get his other teammates involved. Just like with LeBron, it has been proven that you have a better chance to beat LA when Kobe Bryant is having to try and win by himself rather than being a distributor to his teammates.
Friday November 13: @ Boston Celtics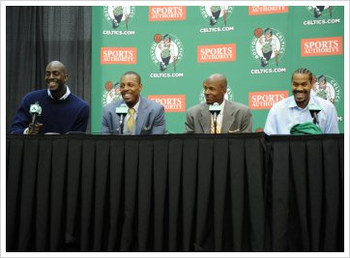 There is a new face in Boston. Rasheed Wallace was brought in to help in the front court to bring a championship back to Boston.
I am very big on Rajon Rondo. He has developed into a premiere point guard in the Eastern Conference and should continue his progression as each season goes along. He needs to get better on shot selection, but he distributes the ball as well as any other point guard in the league.
The Hawks will have to match-up with "The Big 4" now in Garnett, Piece, Allen, and now Wallace. Rondo emerging now makes them The Big 5.
This game will be the final game in a stretch of six away games for the Hawks out of seven. It will be another tough test early in the season to determine where the Hawks stand with the other teams around the league and in the Eastern Conference.
The key to this game will be deciding which one of the Big 5 to shut down first. My suggestion would be Rajon Rondo. Taking out the best distributor will make it tough for other Celtic players to get the basketball where they want it. This could lead to crucial turnovers that could be the difference maker in the game.
Wednesday November 18: Vs. Miami Heat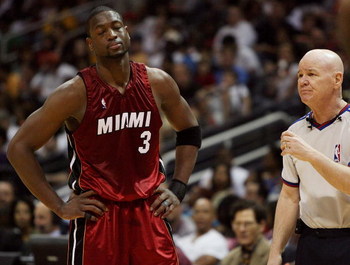 This is a statement game for Atlanta. They advanced past the first round last season for the first time in a decade by eliminating Miami. Dwayne Wade grows more and more frustrated as each season goes by and the Heat struggle. However, Miami has begun to show life again and obviously would like nothing more than to jump back ahead of the Hawks and other teams in the Eastern Conference.
The Hawks have the better roster overall. Jermaine O'Neal is another year older in Miami. Michael Beasley should continue to develop as a player as well as Mario Chalmers. Joel Anthony was a surprise role player for Miami last season and is still there as well.
Everything about Miami other than Dwyane Wade is young. The Hawks have the veteran advantage in this match-up and this game would be a perfect opportunity to add another dagger to Miami's chances of coming back to life in the Eastern Conference.
They key to this game is obvious. If he is healthy at that time, stopping Dwayne Wade is how you defeat Miami. Michael Beasley has the ability to beat you, but no one else on Miami does unless Mario Chalmers gets streaky. Forcing Wade to be a jump shooter is a much better option that letting him drive to the paint and penetrate.
Thursday November 26: Vs. Orlando Magic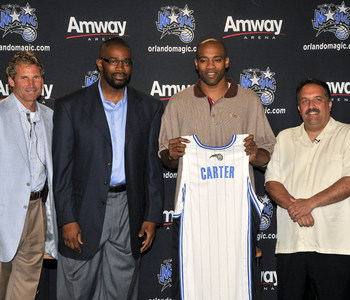 Vince Carter is now in the mix for the Orlando Magic. Hedo Turkoglu departs along with Rafer Alston and Tony Battie. Ryan Anderson was also acquired in the trade with New Jersey. Carter and Anderson will be added to a starting lineup for Orlando that also features Jameer Nelson, Rashard Lewis, and Dwight Howard.
It will be interesting to see how Atlanta handles Dwight Howard. Al Horford will have a tough time matching Howard's physicality without timely double teams. The key for Atlanta will be knowing when to double team and when to switch back out of it when the ball has been kicked back out. Orlando makes a living by drawing the double team and kicking it back outside to a wing player for a three point shot.
The Hawks starting 5 are competitive with Orlando as they are most other teams in the Eastern Conference. I do think at this point Orlando has a better starting rotation. However, I feel Atlanta has a deeper bench. This is another key match-up in the first part of the season to establish some sort of momentum for the rest of the season.
The key to this game for Atlanta is consistent defense. Orlando can beat you so many different ways. Being smart on double teams with Dwight Howard is the easiest way to control your fate against Orlando. They rely on when the double team comes and spotting up in open passing lanes for numerous three point shots. Vince Carter likes to shoot it with the best of them, so he should fit right into Orlando's scheme. It will be interesting to see how Atlanta decides to defend them.
Tuesday November 29: Vs. Cleveland Cavaliers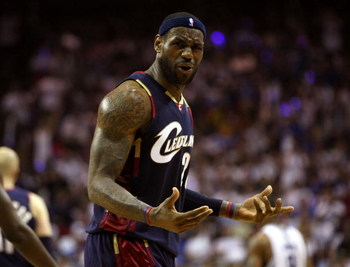 King James has a new jest in his court. The Big Jester Shaquille O'Neal now joins Cleveland in their attempt to finally bring a championship back to their city. LeBron and Shaq along with Mo Williams and DeLonte West will carry Cleveland all season long as they should be in the mix as championship contenders by the time the season ends. They have also added Anthony Parker from Toronto at shooting guard and Jamario Moon from Miami who was acquired in the trade with Toronto for Jermaine O'Neal. Both of these players should compliment Cleveland in being a dominant force in the Eastern Conference all season long. Daniel Gibson is also an X factor. He is inconsistent and unhealthy a lot, but he can provide big moments when he does contribute.
Without Shaq last season, Cleveland made it to the Eastern Conference Finals before being eliminated by Orlando. They ran through the first two rounds without a loss, including a second round sweep of the Hawks. Atlanta surely has not forgotten how easily Cleveland dismantled them and will hope to regroup this upcoming season.
Stopping LeBron James is nearly impossible. You just have to hope to catch him on an off night. Shaquille O'Neal taking up the post will not make life any easier on opponents. All the signs point to Cleveland running the league this upcoming season. However, as the old saying goes, "That is why they play the game."
Wednesday November 30: @ Cleveland Cavaliers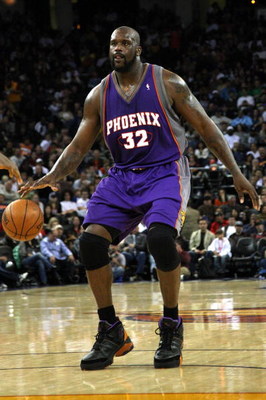 It would seem odd that another game with Cleveland would be considered crucial, but in reality all games against Cleveland are. This will be the second of a back to back home and home series between the two teams. Momentum is sure to carry over from the previous meeting the night before. Lucky for Atlanta, the first game of that home and home series is in Atlanta. It will be important for Atlanta to get off to a fast start in Cleveland and continue to play strong defense for the entire game. That is the type of effort it is going to take to knock Cleveland off at home.
Wednesday January 27: @ San Antonio Spurs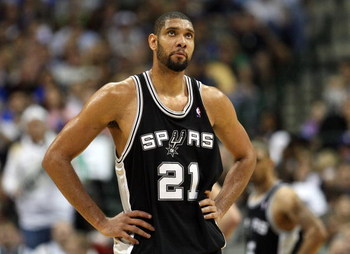 The Spurs have begun to break their roster apart and revamp it. Key pieces from last year's squad such as Kurt Thomas and Bruce Bowen. However, the Spurs added DeJuan Blair and Jack McClintock in the draft. They traded Bowen away to Milwaukee for Richard Jefferson. They signed Antonio McDyess as well. Theo Ratliff should be able to play the few minutes off the bench in the post needed as well to make San Antonio a deep squad.
On top of all of this, the main talent is still there. Ginobli's health has been an issue since his injury in the Olympics against the USA, but he is as good as advertised when he is healthy and on the court. Tim Duncan is the best power forward to ever play basketball. Period. Tony Parker slashes to the hole and penetrates the defense about as well as any other point guard in the NBA other than Chris Paul.
This isn't a conference game, but it could still be a fun one to watch and a major challenge for the Hawks. The Spurs kill you with fundamentals. It will be important for Atlanta to remember their assignments and be smart on offensive possessions. The Spurs play each possession which is why it is tough to keep them out of games. Atlanta has to play with high intensity in order to stay competitive with them.
Friday February 5th: Vs. Chicago Bulls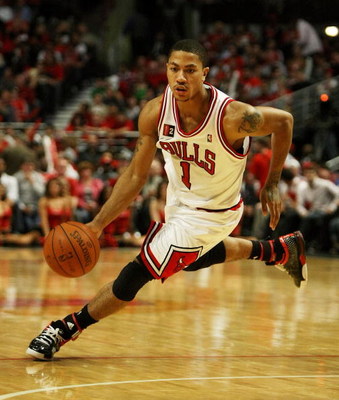 The Chicago Bulls seem to be back into the playoff mix in the Eastern Conference. Derrick Rose has taken over since his emergence onto the NBA scene and rejuvenated the city of Chicago when it comes to basketball. The Bulls gave the Celtics all they could handle in the first round of the playoffs last season and hope to build on that in the upcoming season.
Ben Gordon is gone. He was a key contributor for the Bulls since his inception into the NBA. It will be difficult to replace what he brought to the team. Jaenerro Pargo was signed from New Orleans after having a big year last year to try and help contribute for Gordon's loss. Chicago drafted Taj Gibson from USC in hopes to add some more athleticism. Luol Deng is underrated and a major contributor. I like Joakim Noah's game. The Bulls added Jerome James for some veteran leadership off the bench and they also have Brad Miller.
The Hawks can play with Chicago as long as they limit the number of times they let Derrick Rose penetrate. He controls everything Chicago wants to do. It is much better to force Rose to be a jump shooter rather than to let him drive toward the paint where he becomes a double threat as a scorer and a passer.
Wednesday March 17: @ Toronto Raptors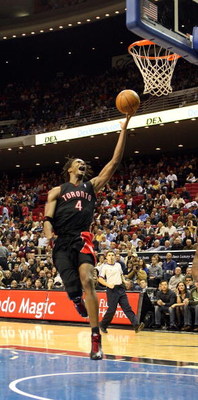 Toronto is another team to watch in the Eastern Conference for the upcoming season. They had a disappointing season last year after hoping that the combination of Chris Bosh and Jermaine O'Neal would be enough to put them into contention in the Eastern Conference. O'Neal was traded for Shawn Marion and the rest is history. Marion will not be returning as he signed with the Dallas Mavericks. Toronto does add Hedo Turkoglu and Jarrett Jack. Putting them with Bargnani and Bosh and Calderon gives Toronto a very versatile roster.
Stopping Toronto requires stopping Chris Bosh. He commands a double team every time he gets the ball in the post. Timing the double team and knowing when to get out of it will be crucial in stopping Toronto. Penetrating on their guards and forwards will be crucial offensively for Atlanta to get an edge on the Raptors.
Friday April 2nd: @ Cleveland Cavaliers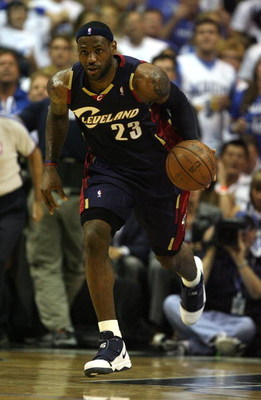 For the third time in this slide show, the Cleveland Cavaliers are brought up as a crucial game. A lot of this has to do with playoff positions while some of it has to be because of the bad taste left in the mouth of Atlanta after last season's playoff match-up.
The key players in the match-up have already been discussed. The situation is more important here. Injuries are sure to be a factor this late in the season. Depending on what pieces are available and how far apart these teams are at the end of the season will determine how this game goes. As a Hawks fan, I can only hope that Atlanta is close enough to Cleveland in the standings to make this game matter for both teams. If they are, it will be tough taking another one from Cleveland on the road. Consistent play on every one not named LeBron James will force him to try and do it by himself. In my opinion, that is the best strategy for being Cleveland.
Final Season Prediction - Atlanta Hawks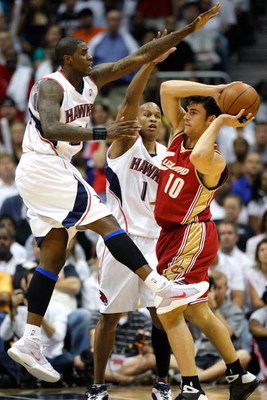 The Hawks will finish the season 50-32. They will finish 4th in the Eastern Conference. Atlanta should make it to the semi finals again. If this happens, the season should not be considered a failure. It is a work in progress and very tough to stay competitive with the likes of Orlando and Boston and Cleveland consistently. However, I cannot see another team in the East that has a better chance to contend than Atlanta does.
Keep Reading

Atlanta Hawks: Like this team?