August 6, 2009
The Yankees have an 0-8 record against the Boston Red Sox this season. This is a crucial series, as the Yankees can really pull away from Boston and run away with the division. I'm not calling a sweep right here..but the Yankees could be 6.5 games up on the Sox if they did that. They can either embrass themselves, or prove that they are capable of beating competitive teams. They will start the four game series tomorrow night. Here are the pitching probables:
Thurs: RHP Joba Chamberlain (7-2, 3.58) vs RHP John Smoltz (2-4, 7.12)
Fri: RHP A.J. Burnett (10-5, 3.89) vs RHP Josh Beckett (13-4, 3.27)
Sat: LHP CC Sabathia (11-7, 3.95) vs RHP Clay Buchholz (1-1, 6.05)
Sun: LHP Andy Pettitte (9-6, 4.35) vs LHP Jon Lester (9-7, 3.79)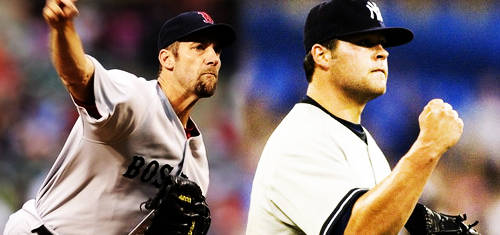 Like the new article format? Send us feedback!