The Buckeye Losses Stop Here: Five Things Ohio State Must Do To Beat USC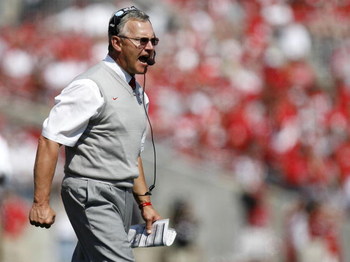 It was a cool, breezy, November night in Columbus, Ohio. Scarlet clad fans stormed the field after watching the top ranked Buckeyes defeat the second ranked Wolverines.
It was 986 days ago, and it was the last time Ohio State won a "big game."
It was the last time the Buckeye's weren't "outclassed" by equal competition.
It was the last time Jim Tressel was called "The best play-caller in College Football."
After two National Championship defeats and an embarrassing performance against USC last season, Ohio State's reputation has taken its lumps. And although the Buckeyes played both Penn State and Texas (top five teams) down to the wire, a loss is a loss, which gains no respect.
The next chance Ohio State gets to repair it's image is September 12, when the USC Trojans visit Columbus for part two of their non-conference series. And regardless of how much I hate this term (because every game is a must win), this game is as close to a must win for Jim Tressel as he's going to get.
And it's not just the Buckeyes reputation that's at stake; the Big Ten conference is at risk as well. The country has grown weary of watching Penn State, Illinois, and Michigan get blown out of the Rose Bowl. The conferences 1-6 bowl record last year didn't help the way people view the league.
Not to mention how this game will affect recruiting, momentum, and the perception of the Buckeyes remaining opponents.
The Buckeyes can regain some of the trust from college football fans that they've not-so-elegantly lost the last three years with a win against USC.
I've put together a list of five things Ohio State must do to beat the Trojans come September 12. Let's get started!
Protect the Quarterback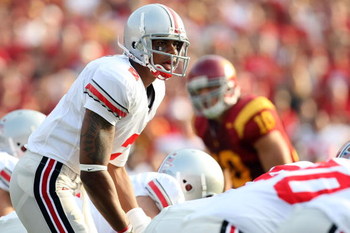 The glaring difference against Florida and LSU in the National Championship games and against USC last season was the Buckeyes inability to protect the quarterback.
The offensive line must do a better job at staying in front of whatever defensive lineman they are responsible for:
If that means Bryant Browning (last year's right tackle and this year's probable right guard) has to do the tire drill until he passes out to improve his lateral movement and foot speed, so be it.
If someone has to frame Offensive-Line Coach Jim Bollman for insurance fraud (or any crime, for that matter) so he can finally be fired, so be it.
If Jim Tressel makes all the offensive lineman eat the nails of an alligator and wash it down with a gallon of dragon tears (or whatever Justin Boren does that makes him so angry all the time) to teach them how to play with an attitude, so be it.
Ohio State must do whatever it takes to keep Terrelle Pryor on his feet. I'm tired of seeing Ohio State's quarterback looking like he wrestled a bear (and losing) after all their big games.
Protecting the quarterback is imperative. If the Buckeyes can do it, it will allow Pryor to get through his reads and move the offense down the field. If the Buckeyes can't do it, it could be another long night for Ohio State.
Open up the Playbook and Execute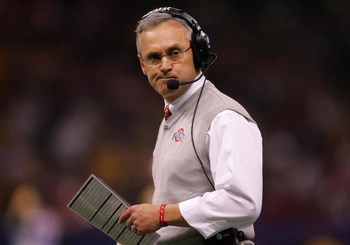 The look on Jim Tressel's face in this picture embodies all of the frustration stewing in the hearts of Buckeye fans. You can almost hear the coach's thoughts:
"Should I put five wide receivers in and let Terrelle Pryor take over the game with his natural ability to run the spread? Or should I send a couple tight ends and a fullback in to run the off-tackle play for Beanie that we just ran nine times in a row?"
A moment's pause follows as he weighs his options...
"We should just go with the off-tackle play again. I mean, Beanie hasn't hurt himself in a good three days, and I know that he's gonna break a big one soon. I just know it."
All kidding aside, Jim Tressel kept the offensive game-plan simple last year. He created a playbook that would maximize the unique talents that Beanie had and limit any potential mistakes from a freshman quarterback. If I were in his shoes, I would have done the same thing.
Of course, after last year's OSU-USC game, there were Trojan defenders who said they knew exactly what Ohio State was going to do on offense and that nothing surprised them. I would have an issue with that if it mattered.
You can't tell me that teams didn't know what Ohio State was going to do in 2002 when they won the National Championship.
Execution is just as important as, or even more important than, a variety in play-calling.
The Buckeyes will have to mix it up against USC this year. Pete Carroll will be replacing nine starters on his defense. With this being the second week of the season, it would be the perfect time to hit them with some trick plays and a diverse, hurry-up offense. But the priority here is execution. Ohio State must execute whichever offense they choose to run when the Trojans come to town.
Create Pressure up Front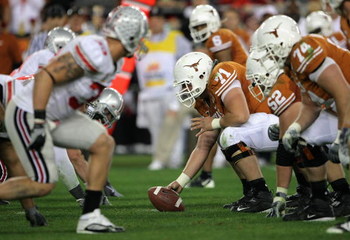 If you look at the defense for the National Championship Buckeyes in 2002, you'll notice that they consistently created pressure on the opposing teams quarterback.
As previously mentioned, creating that pressure upfront disrupts everything an offense is trying to accomplish. And since that championship team seven years ago, the Buckeyes have been unable to create such havoc (with a slight exception given to the 2003 team).
It seemed as though the blitz packages, the nasty attitude, and the attacking defenses left when Mark Dantonio did in 2003. Jim Heacock took over as the Defensive Coordinator (in '05) and implemented his I-don't-care-if we're-getting-picked-apart-we're-still-sticking-with-this-zone...defense.
But half way through the 2008 season, something clicked. Whether it was Nader Abdallah's out-of-nowhere realization that he was a man child, Thad Gibson's opportunity to play after Wilson's leg injury, or Heacock's sudden willingness to blitz more often, the Buckeyes started creating that pressure.
Ohio State must continue to get after the quarterback. Buckeye fans are holding their breath, crossing their fingers, and sacrificing small animals (chill out PETA, that was a joke) in hopes that Jim Heacock doesn't give up on that attacking mentality they displayed late last year.
Whether it's Aaron Corp or Matt Barkley behind center, this will be the first big game either quarterback will have played in. Pressuring him would be a very good thing for the Buckeyes.
Get Mad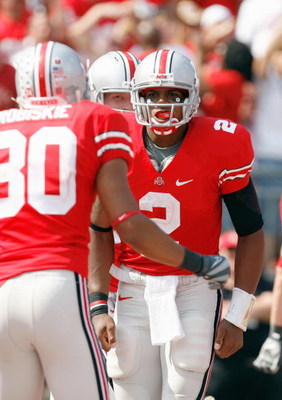 A recent article pointed out the difference between Marcus Freeman's reaction to the Texas loss in the Fiesta Bowl to Terrelle Pryor's reaction.
Freeman's reaction was one of...relief. As if he was relieved that his team wasn't blown out of the water by a good opponent. He was happy with the effort, and came away with the moral victory speech that losing teams often defer to.
Terrelle Pryor was upset. He was already looking ahead to the 2009 football season, saying the Buckeyes were going to put more points on the board. He told the media that there were some "teams we owe some stuff to." He was angry.
The Buckeyes need to take a nasty attitude into this football game.
They need to be-someone just spit in my mother's face and I'm mad-angry.
They need to be-Samuel L. Jackson, yelling his lines unnecessarily in every one of his movies-angry.
They need to be-Britney Spears strangling a paparazzi photographer with her man thighs-angry.
The key to playing with an attitude is to keep that anger in check. Tim Tebow plays with an attitude, but he controls it and redirects it toward the field and toward his opponents.
If the Buckeyes want to stop being the end of bad "big-game" jokes, they must get nasty. This is THE Ohio State University, and NO ONE comes into our house and pushes us around!
Wear Red and Be Very, Very, Very Loud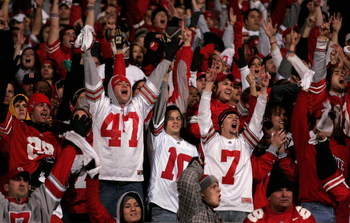 This last one is for the fans.
If you are in possession of a ticket that gives you admittance to this game, you must do two things:
One, you must wear red. The three gentlemen in the middle of this picture are breaking my first rule. This makes me so mad; I could kick a puppy (again PETA... a joke).
There is nothing cooler than seeing the bleachers in Ohio Stadium glowing a florescent red under the lights. If you're a buckeye fan and didn't get goose bumps from the birds-eye-view of the Shoe when Ohio State played Penn State this past year, you need to check your pulse.
I've sent Ohio State Athletic Director Gene Smith 318 letters demanding that any Ohio State fan who tries to attend a game wearing anything "not red", they will be required to wear a scarlet poncho and a matching sombrero. So if you don't want to look ridiculous for the game...wear red, it's intimidating and looks cool as heck.
Two, you must be very, very, very loud. "The Shoe" is arguably the loudest stadium in the country, and that is disorienting for the opponent. You already know that Aaron Corp or Matt Barkley will be making their first meaningful start. Your one goal in this game is to make whoever ends up being the starting quarterback to soil themselves.
Scream when they have the ball. Scream when they are in the huddle. Scream when they're trying to call an audible. Scream during the timeouts. And when your voice is shot, just clap. Give everything you can. Practice screaming with your friends two weeks before September 12 so you will be better at it.
If you have tickets to this game, do not sit on your hands in a white "away" jersey. Wear red and SCREAM!
Keep Reading

Ohio State Football: Like this team?