San Diego Chargers 2009 Roster Breakdown: OTs
Chargers RB LaDainian Tomlinson says he's motivated by talk that he's washed up and that his age is becoming a larger factor with each passing day. He promised a big 2009, a claim that weighs especially heavy on the men responsible for allowing L.T. to shine: his offensive linemen.
Although San Diego's line is stacked with Pro Bowl talent, the tackle position is considered to be the weakest link in an otherwise sterling front.
How much of a factor will that prove to be in the coming year?
Marcus McNeill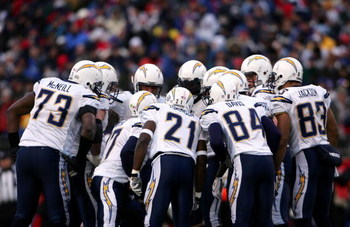 A three-time Pro Bowl alternate for the AFC, only a neck injury which eventually required offseason surgery in 2009 could keep McNeill off the field, who if not for the ailment would've certainly began his career with 48 consecutive starts.
For 2009, he is the unquestioned starter at left tackle.
Pros: Huge size (6'7", 335 pounds) and athleticism, stemming from his multiple sporting past (basketball, track, baseball), make McNeill virtually unbeatable. His great speed off the line and strength make him one of L.T.'s most dependable blockers.
Cons: Was slowed in 2008 by neck injury, will he back to 100 percent this season? Only recurring mental mistake is holding when he feels out of position, for which he is usually called.
Season Outlook: LaDainian Tomlinson is counting on McNeill not to make him look bad. A large part of L.T.'s production is thanks to Marcus and the left side of the line.
We'll know very soon if the surgery to repair his neck was successful, and that will give us a good idea of how San Diego's running game will pan out.
Jeromey Clary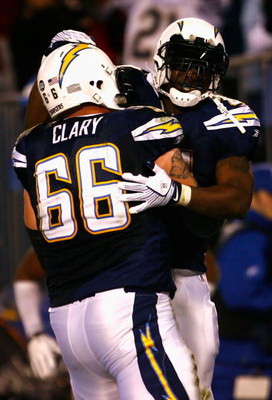 Jeromey Clary came into the fold for San Diego as a sixth-round draft pick in 2006. A season on the practice squad later he found himself in the unique position of filling in for ineffective RT Shane Olivea in the 2007 season.
Unsurprisingly, Clary's play on the line signified an improvement for San Diego's rushing and pass blocking. He has since solidified himself as the starter at RT.
On his best days, Clary is a Pro Bowler who looks like he belongs on the same line with Dielman, McNeill, and Hardwick. On his worst days, he justifies the fact that he is the only regular San Diego offensive line starter who has not been nominated to the Pro Bowl.
Pros: Good footwork and vision allows him to be effective against stronger, faster opponents. Good arm reach gives him space to maneuver against defensive linemen, keeping them at a distance, making him a solid run and pass blocker.
Cons: Lapses in judgment and mental mistakes see him lose focus of game situations, slow to adjust against troublesome opponents, can be beaten off line by faster opponents leading to sacks, is regularly pegged as "weak link" on the line and paired up against opposition's best defensive lineman.
Season Outlook: A.J. Smith re-signed Clary to a one-year contract for the third consecutive year in March of this year. The fact that A.J. Smith fails to commit long-term to Clary speaks volumes about his confidence in him, and could mean that the Chargers are simply waiting for something better to come along. Until then, he's the starter at right tackle.
L.J. Shelton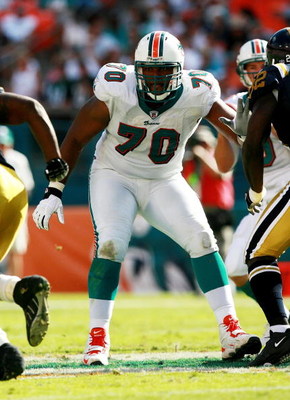 Shelton, an eleven-year veteran in the NFL, adjusted to life as a backup in 2008, filling in for Marcus McNeill and Jeromey Clary when needed, playing in 16 games and starting only two.
Brought in as a luxury sub in the 2008 offseason, Shelton had started all but five games during his stints in Arizona, Cleveland and Miami. He'll continue to be a prime option off the bench for the Chargers in 2009.
Pros: Decade-long experience, superior size, possesses great instincts and skills, great mentoring abilities for the younger starters, has proven to be durable.
Cons: His speed and quickness off the line are fading with age, seemed to struggle at times, especially against AFC West defenses.
Season Outlook: Shelton looks to fill in for McNeill whenever he needs the rest, and to ease him into proceedings early in the 2009 season if Chargers staff don't want Marcus to expose his neck too much, too soon. It's a contract year for Shelton, so look for that to come into play as well.
Corey Clark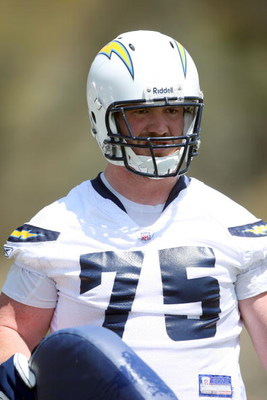 A seventh-round draft pick last season, Clark barely made the roster as a sub for Jeromey Clary, and after failing to be taken into consideration for the first nine weeks of the season, was waived and later re-signed.
He will look for his first taste of playing time in the NFL this season.
Pros: Experienced starter at Texas Tech, formidable upper body strength, pass blocking specialist, possesses good footwork.
Cons: Weak run blocker, slow off the line despite being a fast runner, lacks instinct and talent to push forward and create holes necessary for rushers, lacks aggressiveness.
Season Outlook: Clark is a project, and is being kept around in case Clary moves inside as a guard. This will only happen, however, if both players make strides to improve and if all of San Diego's acquisitions at the guard position fail to pan out.
Brandyn Dombrowski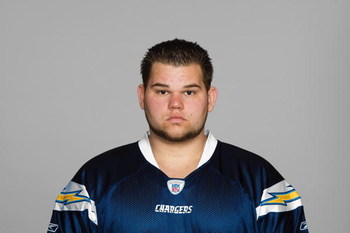 Dombrowski, listed originally as a guard, is being shifted over to be a potential backup at the tackle position. Signed as an undrafted free agent in 2008, Dombrowski failed to see significant action last season. He'll seek to impress coaches this preseason for a longer look.
Pros: Good instincts and speed, represents an insurance policy of sorts for San Diego as he can play multiple positions on the line as a guard or tackle.
Cons: Despite huge size, lacks strength to play guard in the NFL, thus the move to tackle, at this point, a stop-gap for injuries at best.
Season Outlook: Dombrowski's versatility is a huge plus for him, however, his continuity on the team is far from assured.
Dan Gay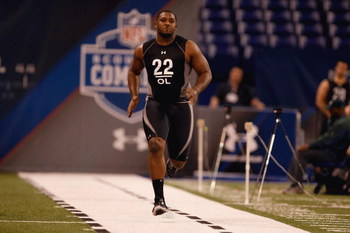 Gay, an undrafted free agent out of Baylor, had an underwhelming combine performance that dropped his draft stock significantly. Signed by the Chargers, Gay will look to squeeze himself into a stacked roster with a deep depth chart at his position.
Pros: Consistent, durable starter who packs a punch with initial burst, aggressive player who keeps pushing and shoving until whistle is blown.
Cons: Needs to work on his footwork, can be buckled with low blocks, lacks sufficient speed to play against most linemen.
Season Outlook: An interesting prospect, Gay will battle Dombrowski and Clark for a spot on the team. He'll get a long look.
Keep Reading

San Diego Chargers: Like this team?