Six reasons why Florida will not win the national title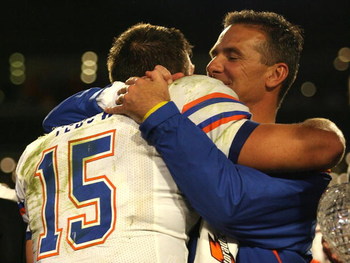 Since 1980, six teams have won a national championship and came back the next season ranked No. 1 in the AP preseason poll, only to fail in its quest to repeat.
The University of Florida this year is the next team to be ranked No. 1 after winning a title and many people have them pegged to win a third title in four years, thanks to the return of Tim Tebow and 10 defensive starters.
However, the recent history of college football gives us six good reasons why Florida will not be defending its title.
1986 Oklahoma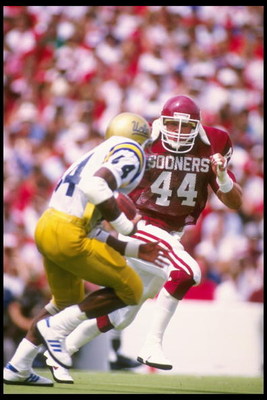 Finished: 11-1, ranked No. 3. Lost at Miami 28-16 on Sept. 27.
The Sooners outscored their opponents 508-81 on the year behind the Barry Switzer attack.
Unfortunately for them, they had to play Miami. From 1985-87, the Sooners lost three games, all to the Hurricanes.
In 1985 they were able to rebound and win the national title, but their fortune wasn't as good in 1986, despite pitching five shutouts. Penn State went on to win the title after beating Miami in the Fiesta Bowl.
1990 Miami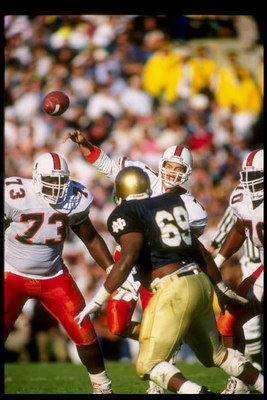 Finished: 10-2, ranked No. 3. Lost at BYU 28-21 to open the season and 29-20 @ Notre Dame on Oct. 20.
The season was one of the craziest in college football history. There were five different teams ranked No. 1 in the associated press poll, with Notre Dame making it to No. 1 twice.
Miami put its title on the line in its opening game in Provo, Utah against Ty Detmer's BYU team and came out on the losing end. Its trip to Notre Dame didn't end any better for the Hurricanes.
Despite the two losses, Miami got back in to the championship hunt, but the non-upsets in bowl games ended its hope. There was a split champion, with Colorado winning the AP and Georgia Tech winning the UPI.
1992 Miami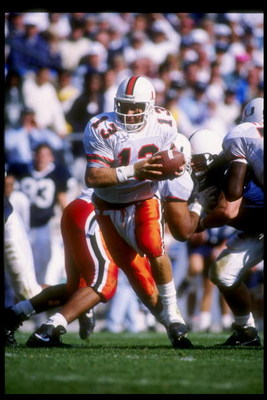 Finished: 11-1, ranked No. 3. Lost to Alabama 34-13 in Sugar Bowl for national championship.
After splitting the title in 1991 with Washington, the two schools went back and-forth again in this season until Washington lost to Arizona. The Hurricanes still had their stud trio of linebackers from the previous year, as well as many of their offensive weapons like Horace Copeland and Heisman winner Gino Torretta.
What appeared to be back-to-back national titles turned into a blowout loss to undefeated Alabama, where George Teague stole the show. Florida State ended the season No. 2, despite losing to the Hurricanes.
1996 Nebraska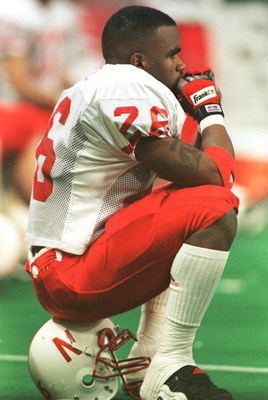 Finished: 11-2, ranked No. 6. Lost at Arizona state 19-0 on Sept. 21 and to Texas in Big 12 championship game 37-27.
I don't understand how this team was preseason No. 1 with a new quarterback in Scott Frost, but they proved they shouldn't have been early in the season with a shutout loss in the desert. Granted, ASU finished the regular season undefeated, but there were some much closer contests than that one.
In the inaugural Big 12 championship game, the Huskers were taken down by an inconsistent Texas team, with running backs Priest Holmes and Ricky Williams. The loss kept Nebraska from a possible third straight championship, as Florida won the title with one loss. It would have made for interesting debate as Florida, FSU, Ohio State and ASU all ended with a single loss.
2002 Miami
Finished: 12-1, ranked No. 2. Lost to Ohio State 31-24 in 2 OTs in BCS National Championship.
The Hurricanes were loaded with returning players and future pros, and were even a bigger favorite to win the title than the year before. There weren't too many close calls, with an 18-7 win at Boston College and a 26-24 win over Virginia Tech being the close ones.
Meanwhile, Ohio Sate was far from dominant, winning several close games.
Miami was a heavy favorite in the championship game, but a Willis McGahee torn ACL and a questionable pass interference call in overtime led to the OSU win.
2005 USC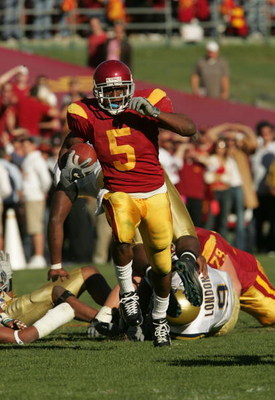 Finished: 12-1, ranked No. 2. Lost to Texas 41-38 in BCS National Championship.
USC and Texas were a clear No. 1 and No. 2 throughout the season.
Texas survived an early season thriller at Ohio State, 25-22, while USC held off Fresno State 50-42 late in the season.
The meeting between the two powers became known as the greatest BCS bowl game ever as both teams went back-and-forth. As was the case in 2002, USC was inches away from defending its title.
2009 Outlook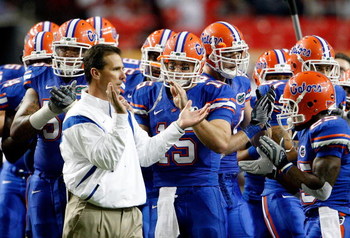 Based on past history, it looks like Florida will be in the thick of the title race.
The past two teams both lost heart-breakers in the championship game and five of the six teams finished in the top three.
Nebraska should be thrown out of the mix in my mind anyway, as there in no way it should have been ranked No. 1 without Tommie Frazier. Which also makes me curious as to why Nebraska wasn't preseason No. 1 in 1995 over Florida State. Now that team is known as one of the best in the history of the game. If they would have been preseason No. 1, would it have been different?
Note: I do not count USC's co-national title in 2003. The BCS championship is the only thing I recognize, so it did not defend a title in 2004.
Keep Reading

Florida Gators Football: Like this team?