Top 10 Rookies from the Second-Seventh Round Who Will Make an Impact in 2009 Part Two: Defense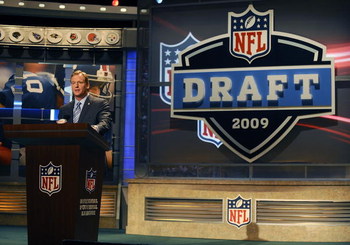 Before we look at Part 2 on the defense, I would like to thank those who read and commented on Part 1 of this article. Even if I didn't get more than 3,000 reads, I wanted this article to be recognized for the hard work I put in. I sound like I'm giving a speech at a awards show, lol, but seriously I wanna say thank you for making it a success.
For Part 2 of this article, I'm gonna be honest. Other than the top three, this had to be the toughest selection to put together based on the talent on defense. These guys have the potential to become starters. There's gonna be something different with this article but I think it was good idea to add these guys in my top 10. Let me stop talking and get to the top 10 but first let's look at guys who didn't make it but will make an impact this season.
BONUS PLAYERS TO LOOK AT
Jasper Brinkley LB Minnesota Fifth Round Draft Pick
Derek Cox CB Jacksonville Third Round Draft Pick
Roy Miller DT Tampa Bay Third Round Draft Pick
Jarius Wynn DE Green Bay Sixth Round Draft Pick
Jason Williams LB Dallas Third Round Draft Pick
Michael Hamlin S Dallas Fifth Round Draft Pick
Scott McKillop LB San Francisco Fifth Round Draft Pick
Sammie Hill DT Detroit Fourth Round Draft Pick
Kevin Ellison S San Diego Sixth Round Draft Pick
Jeremy Jarmon DE Washington's Supplemental Draft Pick
Kevin Huber P Cincinnati Fifth Round Draft Pick
Pat McAfee P Indianapolis Seventh Round Draft Pick
Lawrence Sidbury, Jr DE Atlanta Fourth Round Draft Pick
Ryan Mouton CB/KR Tennessee Third Round Draft Pick
Alex Magee DT Kansas City Third Round Draft Pick
Keenan Lewis CB Pittsburgh Third Round Draft Pick
Rashad Johnson S Arizona Third Round Draft Pick
Sherrod Martin CB Carolina Second Round Draft Pick
Bradley Fletcher CB St Louis Third Round Draft Pick
PLAYERS OUTSIDE OF THE TOP 10
20a. Kyle Moore DE Tampa Bay Fourth Round Draft Pick
20b. Terrence Knighton DT Jacksonville Third Round Draft Pick
19a. Jairus Byrd CB Buffalo Second Round Draft Pick
19b. Michael Mitchell S Oakland Second Round Draft Pick
18. David Veikune DE, Cleveland Second Round Draft Pick
17. Alphonso Smith CB Denver Second Round Draft Pick
16. Sean Smith CB Miami Second Round Draft Pick
15. DJ Moore CB Chicago Fourth Round Draft Pick
14. Clint Sintim LB NY Giants Second Round Draft Pick
13. William Moore S Atlanta Second Round Draft Pick
12. Sen'Derrick Marks DT Tennessee Second Round Draft Pick
11. Dorell Scott DT St Louis Third Round Draft Pick
No. 10: Cody Brown OLB (Arizona) & Fili Moala DT (Indianapolis) Second Round Draft Picks (tie)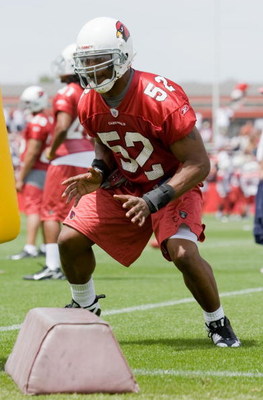 It was a tough to decision but I had to add these two on my list. Cody Brown of the Arizona Cardinals and Fili Moala of the Indianapolis Colts have the potential to be starters for this season.
Arizona has a juggernaut offense with QB Kurt Warner, wide receivers Larry Fitzgerald, and Anquan Boldin. What they don't have is a defense that can stop the run and pass altogether. Getting Cody Brown, especially for a new 3-4 system by new defensive coordinator Billy Davis (former DC of San Francisco) was a must to help Karlos Dansby, Gerald Hayes & Chike Okeafor to stop the run.
Connecticut has always been a basketball magnet but for football fans, Cody was someone who could contribute on both sides of the ball and make plays. He was the first freshman to line up for either the offensive or defensive line during the Huskies transition to Division-1A. His last two seasons he racked up a total of 105 tackles (68 solo), 18.5 sacks and a forced fumble. Left UConn with 148 tackles (90 solo), 22 sacks, and a forced fumble.
As a athlete, he's amazing. Able to position himself by using his chest to man to get close to the quarterback by bullrushing him. His speed enables him to close on quarterbacks and tackle them. Playing both strong and weak sides suits him best as a 3-4 rush linebacker. A true competitor with toughness. Has the mindset to read a misdirection play. Great special teamer. No stranger to the linebacker position and holds up well. A strong performance in the Senior Bowl raised his stock in the draft.
Brown's negatives are obvious. He lacks the size of a defensive lineman which moves him to the linebacker position. He needs to penetrate more and chase the opposition more in plays that are downfield or down the line. Not potent with instincts and awareness. With his size he can get manhandled easily. He's easy to go by for quarterbacks and ballcarriers because he doesn't slow down when making a tackle. Needs to improve on better leverage.
One team that has gone through the offseason with big changes is the Indianapolis Colts. Jim Caldwell replaces the well-respected Tony Dungy as head coach, while Clyde Christensen and Larry Coyer take over for Tom Moore & Ron Meeks as offensive/defensive coordinator. Pete Metzelaars takes over the O-Line coach position for Howard Mudd. The Colts look to continue to be a top ten offense but defense is a major work in progress. To improve in rush defense that has been dreadful for quite some time, they look for a run-stuffer and that guy is Fili Moala.
Fila Moala comes from a major powerhouse in USC that was headlined by the LB triple-threat that is Brian Cushing, Clay Matthews III, and Rey Maualuga. Even though he was overshadowed by the trio, Moala stepped up after the departure of top-ten pick and Saints DT Sedrick Ellis. He posted 31 tackles (17 solo) and four sacks in his senior season. He finished his career with 89 tackles (45 solo) and eight sacks for the Trojans.
He shows great lateral quickness and footwork. Has the combination and power to stack and shed blocks. For a guy that weighs over 300 pounds, he shows agility, versatility and quickness. Responds well to blocking schemes and locate the ball. Dominates at the point of attack and is a high-motor player. Shows great penetration as a pass rusher to cut through the backfield. Mentally inclined to hard coaching.
Has to play with great composure, because he shows frustration when blockers stand him up. He plays too tall at times and doesn't use good leverage. Needs to work on strength and hand usage. Needs to add bulk and strength to compete against experienced tackles. Moala lacks sudden closing speed. His durability and character issues are a big concern.
No question that these two will be starters when the season comes along. Both look to contribute on defense and make a impact right away. So don't be surprise to see these two starting on Sundays. Brown is gonna be on the outside and Moala could possibly be a starter in Week 1 alongside Keyunta Dawson.
No. 9: New England Patriots (CB Darius Butler, DT Ron Brace & S Patrick Chung) Second Round Draft Picks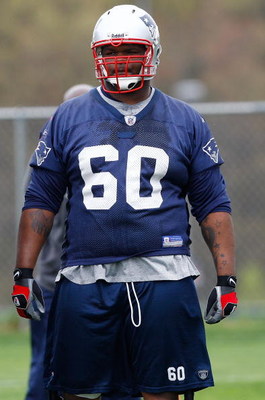 You gotta love the Patriots when it comes to replacing players and even picking the right ones. With the cornerback position in need of a makeover, Rodney Harrison retiring from football, and Vince Wilfork possibly on the way out, Bob Kraft and Co. look to build not only in the present but the future. The second round was a jackpot for the Patriots by drafting three defensive players who could be starters one day. Let's take a look at Darius Butler, Ron Brace (pictured), and Patrick Chung.
COLLEGE CAREERS:
Darius Butler, another UConn product, had a great career. He started 43 of 45 games in his career with the Huskies. He equaled four interceptions in his freshman and sophomore years. He finished with 183 tackles (129 solo), three fumbles, 10 INTs and two TDs at UConn.
BJ Raji was the main guy who received attention at Boston College and became a top 10 pick but Ron Brace was a mauler inside himself. Even though his numbers were not better than Raji, the Patriots took a chance on him because of his size and versatility for a big guy. His career at BC ended with 82 tackles (49 solo) and four sacks.
When you look at Patrick Chung, you don't know if he's a safety or linebacker due to his play. If you look at his numbers, you would be in awe of what he did at Oregon. In his career, he finished with 370 tackles (232 solo), including a career high 113 tackles in his junior year, four sacks, three forced fumbles, nine INTs and a TD.
STRENGTHS:
The Patriots loved the fact Butler was experienced in his position. Used in more various defensive schemes because of his versatility. He's great in zone coverage. Athletic as a cover corner against receivers. Great movement in the hips to turn and run with receivers. Great instincts and awareness. Hands are good enough to make a interception. Besides his hands, he uses his shoulders to force fumbles. He can close quickly when a pass comes his way. Doesn't mind getting in the heat of battle while making a tackle. Shows potential and speed to be a kick returner.
Brace has the frame to be a pro defensive tackle especially in a 3-4 system. Has initial quickness to get off the snap in pursuit of stopping a play before it actually begins. Great hands to fight off blockers who try to prevent him from getting to the passer. Not afraid when facing a double-team and has the ability to defeat the team. If you give him space, he will close easily. Has great versatility.
Chung is a multi-task player, not only a safety but he was a cornerback and kick returner at Oregon. He's effective underneath routes and making it difficult for receivers to make a catch. Intimidating in the middle causes receivers to stay away from him knowing very well he could take them out. Great timing in closing in on the ballcarrier. Was an excellent open-field tackler in the nation and could do the same in the NFL. In blitz schemes, he's perfect. Has his nose on the ball and makes an effort to force turnovers. He's a problem for ballcarriers when trying to gain a few yards. Nobody can match Chung when it comes to explosiveness and believe me ask the ballcarriers. Great leadership skills could move him up on defense and special teams.
NEGATIVES:
Butler's hips can be loose but thin with his lanky figure. Not strong enough on the line to get off on blocks. At times when he tackles, he can duck-and-swipe. Doesn't time his speed and that could be an advantage for receivers to get downfield. Because of his figure, bigger NFL receivers will use that and push him off in coverage. In man coverage, he allows the receivers to get extra cushion when being covered.
Brace is not gonna be a true interior pass rusher if he prefers open lanes to collapse in the pocket. His quickness is medium and could spell disaster against veteran tackles. The attention of Raji overshadowed his potential to be a first round pick. The focus is gonna be on his back. Had his share of back injuries at Boston College including last season.
Coverage could be a disadvantage because Chung's a bit short and tight ends could devour him. Deep speed is a big question mark and it's a must to have that at the next level. He can be overly physical by grabbing on the receivers and that brings attention to the men is stripes. He goes for the attack early in underneath routes and it makes him vulnerable when receivers go deep.
New England built a legacy of winning three Super Bowls and continue to do that with these three. They may not start right away but they are starters in training and look to build their way up to get there. I would like to see Darius Butler at RCB, I'm not big on Leigh Bodden. Ron Brace could be the man in the middle based on Wilfork's status with the Pats. Sanders and Meriweather are gonna be starters but if they slip, look for Chung to start.
No. 8: Michael Johnson DE Cincinnati Third Round Draft Pick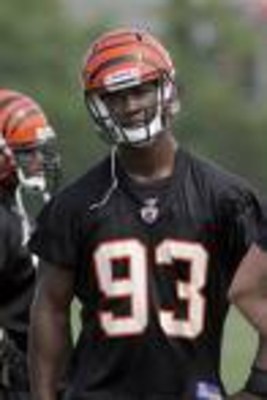 The Bengals organization—including head coach Marvin Lewis and defensive coordinator Mike Zimmer—wanted to turn a new leaf with the defense. This defense has been dreadful when it comes to stopping the run in recent years. With acquisitions like ex-Cowboys DT Tank Johnson and S Roy Williams, and another Bengal you'll see later on. Michael Johnson brings athleticism, height, and great pass-rushing skills to the defensive line.
As a Yellow Jacket, didn't get his break until his senior year due to him as a backup in his first three seasons. Last year, he finished with 46 tackles (28 solo), nine sacks and a INT that resulted in a touchdown. His career at Georgia Tech, ended with 103 tackles (65 solo), 20 sacks, two forced fumbles, an INT and a touchdown.
Very athletic for this position. He gained upper-and-lower body strength in his senior season to bull rush tackles. Has the height to bat down passes and make interceptions. He has the speed to get by tackles. Excellent as a pass rusher. Long arms help him keep tackles in distance for him to get to the quarterback. Enables himself to punch, rip off and move tackles out of position due to length and increasing strength. He can fight off tackles in order to avoid the cut block. Great agility and well-balanced. Johnson can read the quarterback and get his hands in passing lanes.
He has to add bulk because of his lean figure. He lacks explosiveness off the ball and as a tackler. Relies on his speed too often and alienate other ways to pass rush. His technique and effort is a work in progress. Strong, tough and physical are not his best attributes. Because of that, tackles could dominate him. He's not an every down defensive player and could be used as a pass-rush specialist until he adds bulk and strength. Inconsistent against the run. He easily takes himself out of plays by standing around instead of chasing the opposition. Unfinished product due to lack of experience. There are big questions about his intensity and commitment to the game. If he doesn't hold up at DE, a move to the outside linebacker position could be possible in the future.
The Bengals look to turn a new leaf not only this season but with the defense. There's no question he'll be a backup with Robert Geathers and Antwan Odom starting. This guy's length and athleticism could help the Bengals improve but if he works on his play and add some strength, he'll be okay.
No. 7: Jarron Gilbert DT Chicago Third Round Draft Pick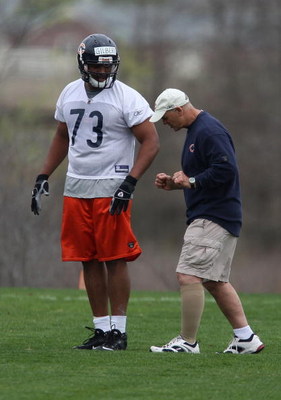 The identity of the Chicago Bears has always been about defense. Guys like Dick Butkus, Richard Dent, William "The Refrigerator" Perry, Mike Singletary, and Brian Urlacher have been the evolution of Chicago's D. The Bears continued that by adding San Jose State DT Jarron Gilbert, to help in the middle alongside Tommie Harris.
Not only was Gilbert a sensation at San Jose State with 144 tackles (87 solo), 42 tackles for a loss, 22.5 sacks, three forced fumbles, and 15 pass deflections but on YouTube. There was a video online of him jumping out of a pool. For a lightweight, yeah they could be get away with it but a guy that weighs 288 is a big deal. He definitely earns a spot in my top 10.
What makes Jarron special is that he can play both tackle and end positions and is versatile in both. For a guy his size, he show athleticism. Shows great upper-body strength to fight off blockers. His balance is up to par. He can also break down in pursuit of closing in on the ball carrier for a tackle. He likes to be comfortable when shooting the gaps to get to the quarterback instead of trying to get around the edge.
What are Jarron's flaws? Though can be effective inside, he struggles with leverage, and could lack the burst of speed to get off the snap and flexibility to surpass blockers. To be more physical and aggressive at his position. Motor level is lukewarm. His level of competition is questionable. He's a raw athlete instead of a bonafide football player.
Expect Jarron to be a backup or a starter next to Tommie Harris. This guy has potential to be a run stuffer in the middle for the Bears. Watch out for Jarron Gilbert, this guy could be something special.
No. 6: Paul Kruger DE/LB Baltimore Second Round Draft Pick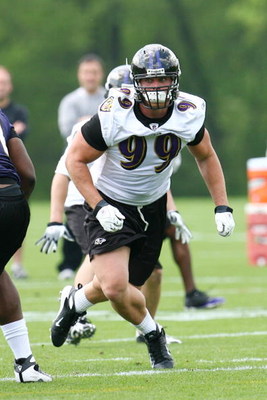 The defense has always been the anchor for the Baltimore Ravens. Ray Lewis, Ed Reed, Terrell Suggs, and Co. are the reason why the Ravens are the best today in Defense. They continued with their pursuit of adding young talent who could one day be in the field with Lewis & Suggs. Even though the Ravens didn't draft a receiver getting Paul Kruger was a plus by Steve and Ozzie.
At Utah, he only played two seasons of College Football. He finished his career with 119 tackles (50 solo), 10.5 sacks, three forced fumbles/fumble recoveries and two INTs. What's interesting about Kruger was he signed with the Utes as a quarterback in 2004 and he was the member of two undefeated teams in 2004 and 2008 where he started at left end. He redshirted in 2005. He forgo his two years to enter the NFL Draft.
Kruger has come to long way to the NFL by overcoming obstacles that could have put an end to not only his chances in the pros but life. As a child, his one kidney had to be removed after a car accident. Then Jan 20, 2008, he was one of the players stabbed during a fight outside a party. Luckily Kruger survived the attack, but stabbed twice in the area of his ribs and abdomen and there was a wound close to his lung.
He's dangerous as a pass rusher which suits the Ravens. He has the eyes to attack the passer whether he's line up inside or the outside. He's dominant in pass protection against backs and tight ends. Kruger can get under the tackles pads and forces them to get closer to the quarterback in pursuit of a sack. He has the size, length and athleticism to fit in a 3-4 system which the Ravens run as a defense. Nothing negative can be said about this guy's character. He's quick when it comes to chasing running backs downfield.
Build more strength throughout his body. Has short arms. He allows greater tackles to move him out of play because he's play tall more often. He's inexperience when it comes to ripping off blocks at the line. He was better with bull rushes at Utah but it might hurt him against experienced tackles. Needs more pass rush moves. Health and durability issues are a concern. At 23, he's a rookie with just two years of experience in College Football.
With age growing on Trevor Pryce, Kruger could be the right person to fill the void when that opportunity comes. He'll start out as a backup to Pryce but if things get tight in the linebacker position, look for him to play outside. Kruger is gonna be an asset for the Ravens.
No. 5: Connor Barwin DE/OLB Houston Second Round Draft Pick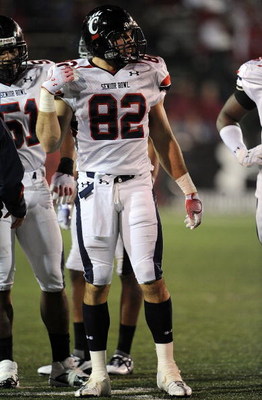 Houston Texans have never been stellar on defense especially against the run. With Mario Williams, Amobi Okoye, and DeMeco Ryans anchoring the defense their plan was to attack the run. By acquiring first round pick Brian Cushing and this guy here second round pick Connor Barwin (#98) could help solve that problem.
This guy should be called "Mr. Do-It-All" because he plays different positions and sports. In his freshman year at Cincinnati, he played 11 games as a backup tight end and finished with eight receptions, 144 yards, and a touchdown. In early January, he played college basketball as a backup forward in 16 games. 2008 was the year he made the transition to become a defensive player. He switched to defensive end and finished with 53 tackles and a Big East/team leading 12 sacks, three fumble recoveries and three blocked kicks. On offense, he finished with 53 receptions, 692 yards and six touchdowns. He finished his career with 66 tackles, 12 sacks, three fumble recoveries, eight deflections and five blocked kicks on defense.
Great upside (upper body) for a guy at 6'4". He's a beast when it comes to getting under the offensive tackle's pads to levels him towards the quarterback. His speed enables him to use spin moves to surpass the blockers. Great with his hands for use to keep blockers away and has the agility to shed tackles. In the backfield, he's a terror when knocking down passes, closing in on reverse plays, stopping the run and bootlegs. Easy to coach because of his intelligence and style of play. Excellent work ethic and a high motor. He has great energy and passion for the game. Connor of course makes a great special teamer with his background at Cincinnati. He doesn't limit himself to one position and that's why the Texans took their chance on him.
As a good athlete, he's an unfinished product due to switching from tight end to defensive end. He's stiff around the hip area and is rough switching directions or dealing with coverage in the flat. Not a stout player in attack and could get pushed around. Even though he put in effort by being explosive off the edge, it may be disadvantage to fend off the NFL tackles. Pass-rushing skills are limited, he needs work on that to be a complete defensive player in the NFL.
With Mario Williams and ex-Cardinal Antonio Smith as the starters at defensive end, Barwin could still contribute, but as a backup. However, if giving the chance, it would be wise if the Texans start Barwin at linebacker with fellow draftee Brian Cushing and DeMeco Ryans. This guy is gonna be a darkhorse.
No. 4: Everette Brown DE Carolina Second Round Draft Pick
Julius Peppers' future in Carolina is up in the air. With failure to come to terms on a long-term deal, this could be the last year Peppers plays in a Panthers uniform if nothing is resolved after the 2009-10 season. Just in case if things don't work out, Carolina drafted a defensive end but in the second round (due to last year's trade with Philadelphia) to get ex-Seminole Everette Brown.
In his days at FSU. Brown's career didn't pick up immediately because he redshirted in 2005. However, 2006 was a start with 27 tackles (16 solo), 13.5 tackles for a loss and three sacks but was a starter for three games. Last year, he had the best season of his collegiate career with the Seminoles, posting 36 tackles (30 solo), 21.5 tackles for a loss, 13.5 sacks, four forced fumbles, a fumble recovery, and two pass deflections. He finished his career with 100 tackles (70 solo), 46.5 tackles for a loss, 23 sacks, five forced fumbles, a fumble recovery, and five pass deflections.
What made Everette successful at FSU was his speed and quickness to get to the quarterback and make a tackle. Has great quickness to get off the snap. Speed good enough to quickly force the tackle wide. Has the flexibility and balance to position his shoulder then slip under the tackle to close in on the pocket. Good with his hands and reverse spin moves. Quickly closes in on the ballcarrier and delivers bonecrushing hits to force turnovers. His lower-body strength is great for use to hold his own against the run, despite his size for a defensive end. His experience as a stand-up rusher is a big plus. Right kind of speed to make plays in pursuit.
Brown needs to add bulk and work on his upper-body strength to compete against experienced tackles. He's raw and not used in coverage more often. Instincts and awareness are not there. The track record on FSU's pass rushers to the NFL is not good and Everette has to work hard not to be that statistic.
Everette Brown could be the starter in Week 1 but has to compete against Tyler Brayton and Charles Johnson for the LDE spot. When Julius's time in Carolina is done, look for Everette to be the anchor of the defense. As for now I think will he win the spot alongside Peppers.
No. 3: James Laurinaitis LB St Louis Second Round Draft Pick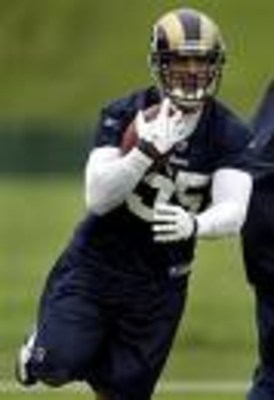 St Louis in recent years has been dreadful. The Rams haven't seen the light of day to be a great defense. With former New York Giants defensive coordinator Steve Spagnuolo as head coach, he looks to bring a new attitude to the Lou and build a better defense. Most importantly, the front seven is a big issue to tackle. In the draft, St Louis must have been in heaven when former Ohio State LB James Laurinaitis was available in the second round.
Laurinaitis made a name for himself at Ohio State. He finished his career with 376 tackles (211 solo), 13 sacks, nine INTs, four forced fumbles. He was the winner of the Nagurski, Butkus, Lott, Lambert (2-times 2007-2008), and Lowe's Senior Class awards, and a three-time All-American (2006-2008).
James was born and raised with toughness. His father, Joe "fka" Animal was one half of the tag team Road Warriors/Legion of Doom. His uncle John was a wrestler under the name "Johnny Ace" and uncle Marcus aka "The Terminator" was one half of the tag team the Wrecking Crew. His older brother Joe II, served in Iraq and now is training to be a police officer. Even younger sister Jessica played hockey in high school. This is why James is a beast and could be one in the NFL.
What makes James good at what he does? He's tough like I said before but he's a prototype for the linebacker position. Capable mentally by reading action and puts himself in good position to make a play. His hands are his best friend when taking on blockers and dominate them. His open-field tackling is his strongest attribute. Shows explosiveness as a tackler to deliver hits on opponents. Hands are soft enough to make a interception. Good range and change of direction agility. Smart and productive. Very experienced.
He needs to build more on strength, especially his upper body. Uses athleticism and good technique as his attributes but it puts him in a disadvantage to fight off blockers. He needs to be physical. Good as he is, he never was a game changer at Ohio State. Excellent blitzer but goes for the attack instead of using pass rush moves to defeat blockers.
With James going to St Louis. The move allows him to be in the middle which cements Will Witherspoon and moves him to the outside. James Laurinaitis is the right guy to be in the middle. The Rams look to improve a rush defense that was near dead last at 29.
No. 2: Louis Delmas S Detroit Second Round Draft Pick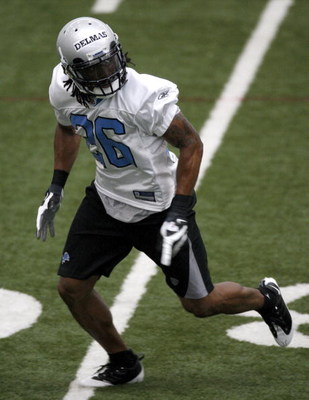 The Detroit Lions did what no team has ever accomplished in the NFL, but on the wrong side of history. Last year, the Lions went through the season without a win and finished at 0-16. With the organization and fans fed up of being a doormat, the front office took the first step by firing former GM Matt Millen and former head coach Rod Marinelli.
The Lions wanted a new identity, they changed their logo, and made defensive-minded coach in Jim Schwartz formerly DC (that's Defensive Coordinator) of the Tennessee Titans, the head coach. His mission is to make the Lions (especially), better than the ones who haven't seen the light of day as a top ten threat. Getting Louis Delmas was a big must for the safety position.
Western Michigan hit a goldmine when the Florida native came to Kalamazoo. Delmas was respected for his phyiscal play, strong work ethic, leadership skills, and making plays. He finished his career at WMU with 303 tackles (191 solo), two sacks, a forced fumble and 12 INTS (one for a TD).
Louis was successful because of his toughness and being physical. Shows no fear against the run and helps support the line. His explosiveness enables him to deliver hard hits on the opposition. For a safety, he's a great tackler and has no problem attacking the ballcarrier at their knees to bring them down. Receivers are intimidated by him because if they go the middle, there's a 95% chance that they will be laid out. He's always active in every play. Has the ability to match up in coverage. Great instincts and awareness in coverage. Great hands to make a interception. Very experienced. He's productive and works hard on the field. Also he's a true leader, something that the Lions need on defense. Even his strong work ethic made him a team captain.
Even though he's a master of his physical play, he can be overly aggressive at times. He needs to add more weight for his position. He can miss tackles if he's in space. Goes lows than high for tackles and tends to duck and swipe. He avoids blockers instead of going head on and shedding blocks. He can be beat in play-action for his aggressive play and that can give NFL receivers a chance to go deep for the touchdown. Lack of competition in his college career.
With the Lions making changes to the secondary, Delmas is gonna start right way. By having the right corners and a young physical safety, they look improve the pass defense which was pedestrian at 27. This secondary could build a new attitude if it holds up against the competition. Louis Delmas is gonna be a name that people will remember.
No.1: Rey Maualuga LB Cincinnati Second Round Draft Pick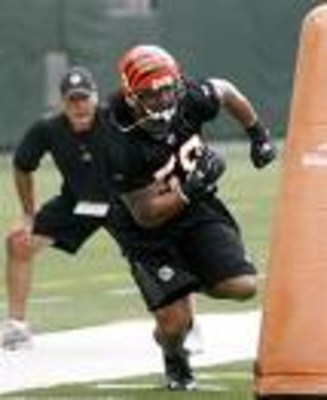 Last but not least is Rey Maualuga. It was no surprise that he was gonna be taken Day 1 of the draft but the second round was a big surprise given the fact that teams like Detroit, San Diego, and Miami who were looking for a middle linebacker.
He brings a different attitude and swagger that could help revive the Bengals D. He's energetic and loves football like a fat kid loves cake, lol. In USC, he was a monster. He finished his collegiate career with 272 tackles (163 solo tackles), nine sacks, five interceptions (one returned for a touchdown) and two forced fumbles. He has the pedigree to be the anchor on defense.
He's fearless and doesn't mind going at it with the offensive line and quick enough to shed those blocks. An intimidating force. He's capitalizes off of the pass drop. Rey has the size and speed to force a turnover and punish ballcarriers with excruciating hits. He's an excellent pass rusher. Has great timing to use his ability to collapse in the pocket. He has the eyes to read play action plays. He's the kind of player to build around especially on defense.
Negatives but off the field first. The track record on Rey is not good. Number one is his maturity. The stigma that's attached to the Bengals is players with off the field issues. Guys like Chris Henry, Odell Thurman (currently not in the NFL), Jason Shirley, Leon Hall, Tank Johnson, etc have been that statistic.
He's been in trouble at USC that stems from fights and alcohol. He was arrested for misdemeanor battery after punching a student at a Halloween party in 2005. However the charges were dropped, because he agreed to a program that helps with his alcohol issues by going to counseling and community service.
Now back to Football and to the negatives of him on the field. He becomes a target due to overpursuing the offense. With that, it allows the ballcarrier to easily breakthrough the holes left open on defense. He likes to use his explosiveness to knock down ball carriers but doesn't wrap around them enough to secure a tackle. Durability is also one of his problems He's had his share of injuries at USC and it could be a problem in the NFL.
Who knows whether he'll be in the middle or the outside. The middle position is held by Dhani Jones but wherever he lines up, he'll contribute right away. Rey has come along way from losing his father, getting in trouble but hopefully he matures enough to succeed in the NFL. I like this guy and he has potential, the last thing you wanna see is someone so gifted getting in trouble.
Keep Reading