College Football Preseason Top 25 Power Rankings: Cheerleader Edition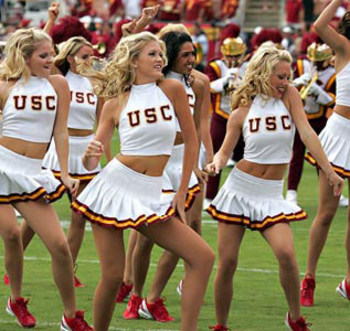 It's finally August, which means that football season is almost underway. Now is the time for analysts to spend hours debating over who they think the best college football teams in the country are.
That's way too much time to spend guessing about rankings that will look completely different a few weeks into the season. I prefer to spend my time on a more rewarding rankings that don't flip flop nearly as much.
So without further ado, here is the best college football preseason rankings you will see all year.
No. 1: Oregon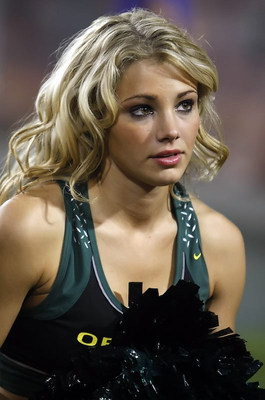 Oregon has stood in the shadow of USC in the Pac-10 for far too long, in football and in cheerleader hotness, but no longer.
The Ducks have consistently had some of the hottest cheerleaders in college football and it's time they got shown a little love over their west coast counterparts.
No. 2: Texas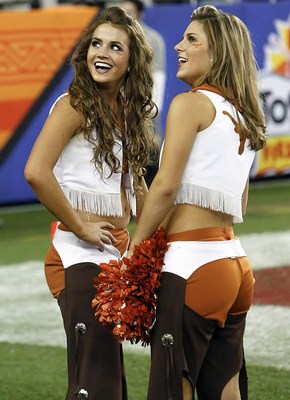 You have to hand it to Texas. They know how cheerleading uniforms should look.
You know the saying "That really chaps my ass," but these Longhorns are changing it to, "Ooh, chaps...look at that ass."
No. 3: East Carolina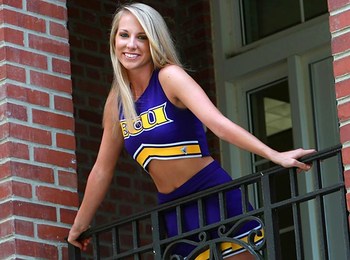 ECU is trying to be the first Conference USA team to finally get into the BCS Championship, and by the looks of their cheerleaders, they can definitely be motivated enough to do it.
This Pirate is a treasure all by herself.
No. 4: USC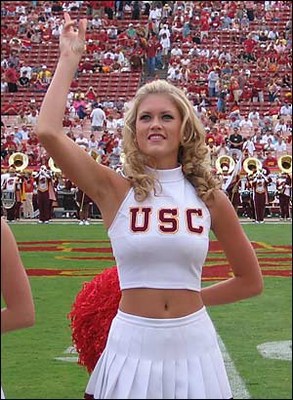 Southern California is not a cool place as far as temperature goes, but the Trojans continue to dress up their cheerleaders in sweaters, to the delight of football fans everywhere.
It's the quintessential cheerleader look, and the SoCal girls pull it off beautifully. And you wondered how they manage to pull in such great recruiting classes year after year.
No. 5: Kansas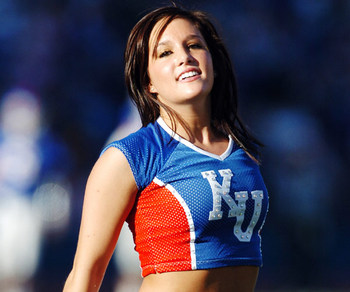 Kansas has always been a basketball school, but recently they have asserted their skills in football, which means we get to see more of their cheerleaders out on the field.
They are as hot as Mark Mangino is huge.
No. 6: Ole Miss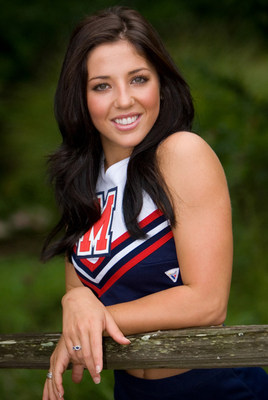 It's common knowledge that women love bad boys. There is something mysterious about the rebel that they are drawn to.
Well, men are drawn to Rebel's too, more specifically the Ole Miss cheerleaders. Except there's nothing mysterious about it... it's just because they're hot.
No. 7: Florida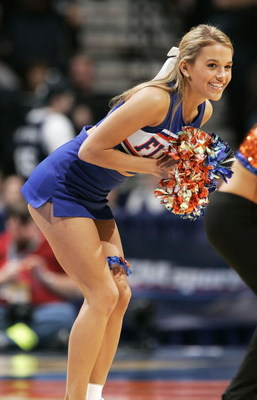 No. 8: TCU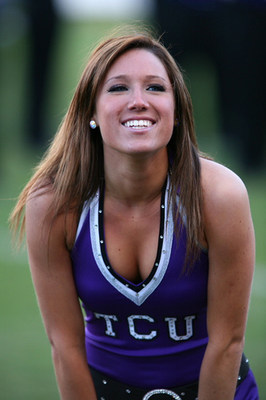 If you were wondering how those Frogs got to be Horned in the first place... here's your answer.
No. 9: Boise State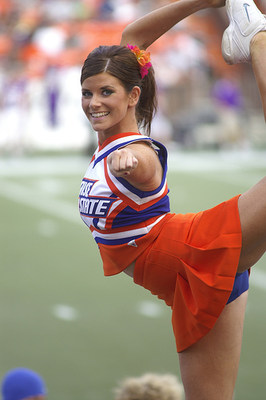 If all Boise State cheerleaders look like this, I'm shocked that only one player has proposed to one of them after a game.
Come on guys, run whatever trick play you gotta run, but make your move.
No. 10: Penn State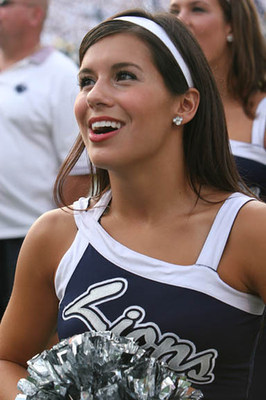 This is what JoePa is really looking at when he's up in the coaches box with binoculars.
He's not still coaching for the players, he's in it so he can stay close to their amazing cheerleaders.
No. 11: Nebraska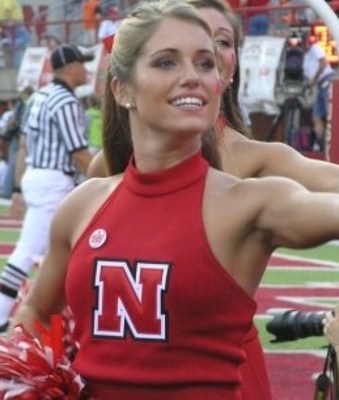 Husker? I don't even know her!
No. 12: Florida State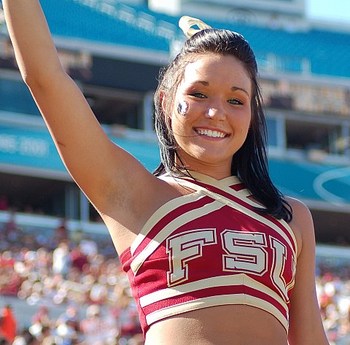 The FSU cheerleaders may have gotten overshadowed by a specific group of fans in years past, but their cheerleaders still pack quite a punch.
They may be the only reason I'll tune in to see the Seminoles get pounded by Florida again this year.
No. 13: Cal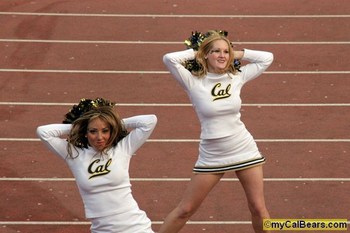 Again, California cheerleaders sticking with the sexy sweater. The Pac-10 just might become my new favorite conference.
Okay, it's official now.
No. 14: Oklahoma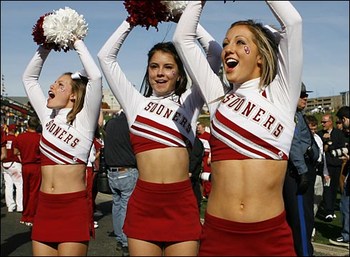 The Oklahoma cheerleaders have got the sexy stomachs working, but they'll need more than that if they want to challenge for the BCS title.
I do want to see more of them though, Sooner or later.
No. 15: LSU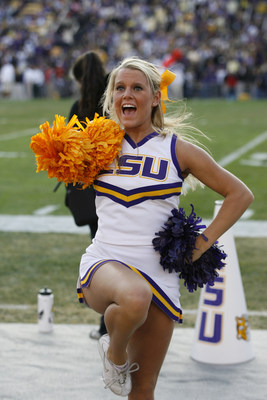 This cheerleader is dating my buddy, so I could never try to get with this hot LSU babe. You know how the saying goes in Louisiana:
Breauxs before Heauxs.
No. 16: Alabama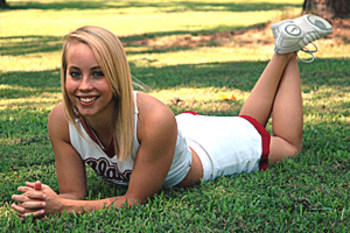 Nick Saban named this hottie his favorite cheerleader, after telling three other cheerleaders that they were his favorite, then going back on his word.
But yeah, she is totally his favorite now. You know, unless a hotter one comes along. Nick Saban can't be tied down.
No. 17: Georgia Tech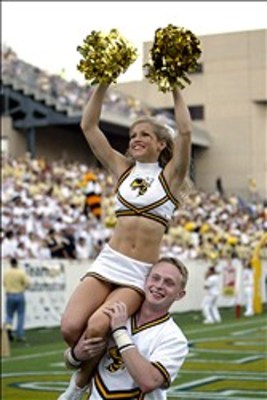 This cheerleader is even more versatile than Georgia Tech's option offense.
She can cheer, jump, sit on some guy's shoulders... um... okay, so she's not that versatile, but she sure is hot.
No. 18: Boston College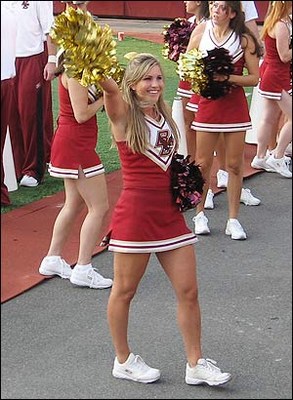 As Boston fans would say, this cheerleadah is wicked hawt.
No. 19: Michigan State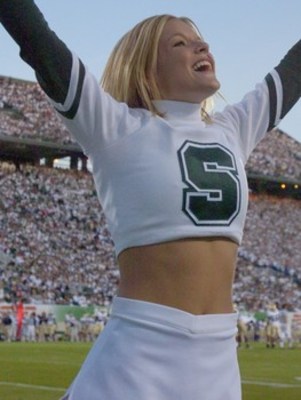 So she's not as tough as those other Spartans from 300, but I would much rather see this cheerleader in one of those loincloths.
No. 20: Oklahoma State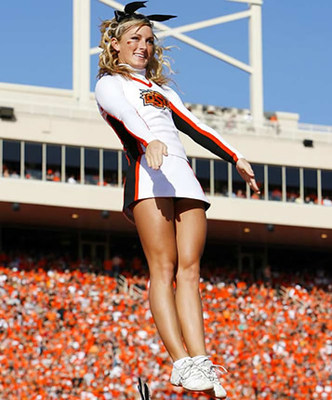 I'M A CHEERLEADER! I'M 22! COME AFTER ME!
No. 21: Ohio State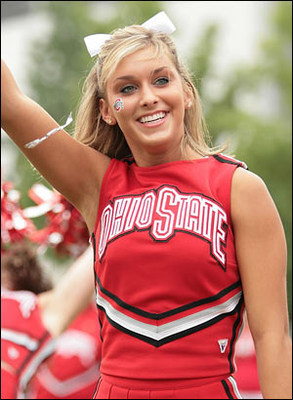 I could have ranked Ohio State much higher on this list, then watched as they failed to meet expectations and dropped significantly, but I figured Buckey fans have had enough of that in the past few years.
No. 22: North Carolina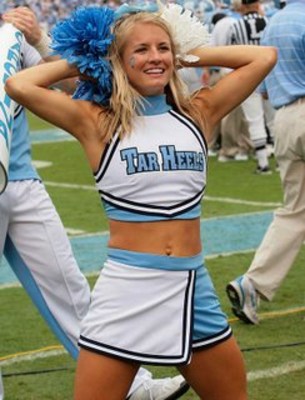 The Tar Heels just won the NCAA basketball championship and now they have their sights set on become a football powerhouse too.
If only they would have put Tyler Hansbrough on the football field during his time there, they could have accomplished this. He probably would have been a great tight end.
No. 23: Georgia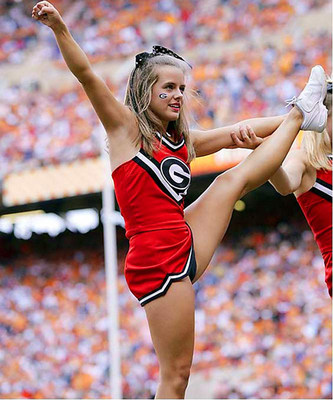 Georgia cheerleaders are definitely not dogs. Dawgs, maybe, but not dogs.
It's hard to believe Matthew Stafford wanted to leave these cheerleaders and head for the Detroit Lions. They don't even have cheerlea...
What? Oh, $41.7 milion? Really? Okay, now I get it.
No. 24: Cincinnati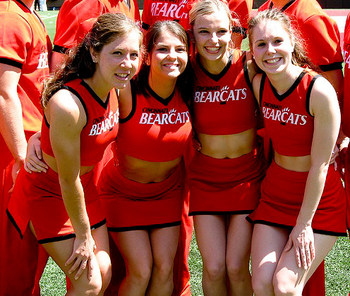 Here we see a group of Bearcats in their natural habitat. You'll notice how they stay in a group for maximum sexiness to attract other males, but at the same time protecting each other from sketchy predators that may approach them.
No. 25: Notre Dame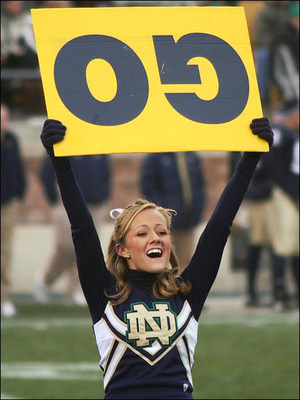 Well... at least she's hot.
Keep Reading