The Top 10 Running Backs of All-Time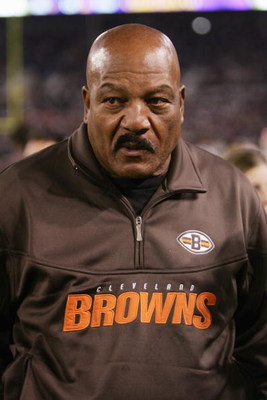 A running back (RB) is the position of a player on an American or Canadian football team who usually lines up in the offensive backfield.
The primary roles of a running back are to receive handoffs from the quarterback for a rushing play, to catch passes from out of the backfield, and to block.
There are usually one or two running backs on the field for a given play, depending on the offensive formation.
A running back may be a halfback (HB for short, in certain contexts also referred to as a tailback) or a fullback (FB).
10. Tony Dorsett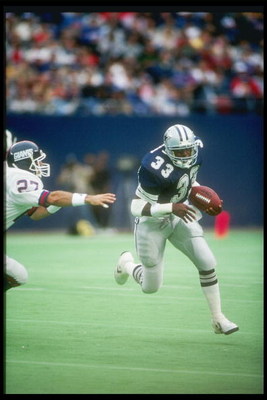 The prototypical NFL running back, Tony Dorsett dominated every level of competition he competed in.
The only football player to: Win a Heisman Trophy, a collegiate national title, a Super Bowl, and be enshrined in both the College and NFL Hall of Fames, Dorsett knew how to impress.
Through his 12,739 career rushing yards, Dorsett demonstrated a patience and intelligence seen in few other players. Running, more than any other position, is instinctive more than scientific.
Dorsett was the perfect complement of both those approaches. His deliberate approach to the line of scrimmage helped him achieve five rushes of 75-yards or more, including the unbreakable 99-yard touchdown, still an unmatched NFL record.
He concluded his career with four Pro Bowls and five All-Pro selections, and held every major Cowboy record until Mr. Smith went to Dallas.
9. OJ Simpson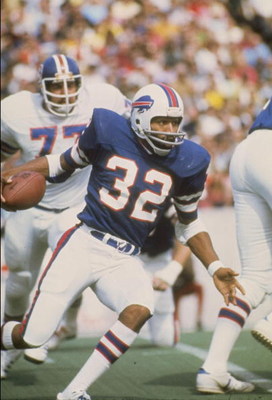 A track star in football pads, OJ Simpson possessed some of the most enviable athletic gifts in NFL history.
Perhaps the fastest of the entire top 10, Simpson combined great power and drive that led to 11,236 career rushing yards to go along with 61 touchdowns.
No other back in NFL history has the same brilliant acceleration as he did when he saw the open field. That speed and power culminated in his brilliant 1972 campaign, where he rushed for a then-NFL record 2,003 yards.
Though no one can ever see his name and not think of his trial and the aftermath of it, I will simply stay away from the whole thing and focus on the great player he was.
Six times a Pro Bowler and an All-Pro five times, Simpson's place among football greats is unquestionable. The rest I leave to you.
8. Earl Campbell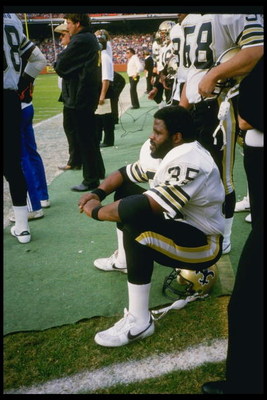 When 5'11", 232 lbs Earl Campbell came through the line, you had about as much of a chance stopping a Ford truck.
The greatest power back in NFL history, Campbell was nearly impossible to bring down alone. It took a collective effort of wills to match Campbell's drive, desire, and strength.
One of the best markers for a great player is when an opposition does everything to negate your effect, and you still deliver. Few did that better than Campbell.
With five Pro Bowls and four All-Pro seasons, Campbell was among the most feared ball carriers to ever done a uniform. His 9,407 career rushing yards (6,457 of which came in his first four seasons) were gained with little flash, and a lot of grit.
Seeing him today is a sad sight, as years of football have taken a dire effect on his body. He left it all on the field, and we should all be proud to have witnessed it.
7. LaDainian Tomlinson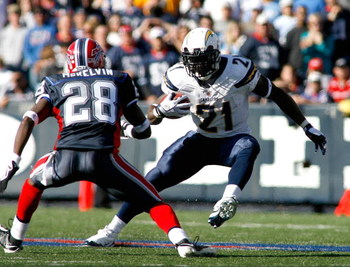 He easily makes this list, and there is likely more that will be written about his career when it is finally over.
Highly regarded when he was drafted fifth overall out of TCU, Tomlinson held the unenviable title of a great player on a terrible team for the first four years of his career.
He has already garnered six All-Pro seasons and five Pro Bowl invitations in his seven year career. At 5'10", 220 lbs., he possesses great power, vision, burst, and determination that has made him the best offensive player in the NFL this decade.
His 34 touchdown performance (28 rushing, three receiving, three passing) in the 2006 season earned him an MVP award, and ranks as one of the greatest single seasons in NFL history.
San Diego has been a perennial Super Bowl contender for the last five years, and Tomlinson has been at the center of that.
With three more years of production like this, he will be a top five all-time. Until then, here he sits, already among the greatest to ever play the game.
6. Eric Dickerson
Los Angeles Rams (1983-1987), Indianapolis Colts (1987-1991), Los Angeles Raiders (1992), and Atlanta Falcons (1993)
It is truly remarkable how often in the discussion of greatest NFL backs, Dickerson's name can be easily forgotten.
Playing in a great era of running backs, with Walter Payton, Marcus Allen, Earl Campbell, and Tony Dorsett, Dickerson, in terms of performance, impact, and production, is second to no one in NFL history.
The second pick in the legendary 1983 NFL draft (six Hall of Fame players), Dickerson was an immediate impact player. With sprinter speed and quicker than a hiccup, Dickerson could glide like a gazelle.
He loathed contact, and because of his speed, he rarely had to deal with it. He has held the single season rushing record for 24 seasons now, when, in 1984, he rushed for 2,104 yards.
While he was never able to win a championship in his career (half of the running backs on the list did, or have not either), he finished his brilliant career with 13,259 yards and 96 touchdowns to go along with six Pro Bowls and five All-Pro selections.
5. Gale Sayers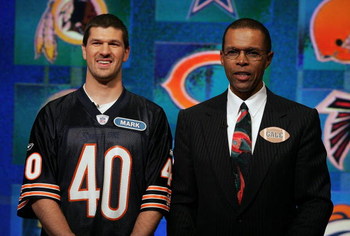 One of the most important facets of any great NFL player is longevity. Not just sustaining top flight performance for a number of seasons, but also avoiding injury as well.
For the most part, players with such short careers do not often make all-time great lists. But then again, most players aren't Gale Sayers. His career would last a scant five seasons. Two of those seasons were basically null and void due to injury.
So that leaves five seasons of production. How can that warrant his inclusion? Anyone who asks that has never seen film of Sayers. Four Pro Bowls and Five All-Pro seasons help cement him as one of the elite backs of the era.
Sayers recorded 22 touchdowns in his rookie season alone. He also holds an NFL record for three Pro Bowl MVP awards, in the day when that was a real game, not the two hand touch it is today.
4. Emmitt Smith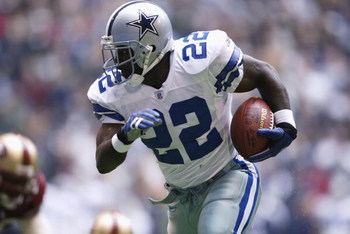 Say what you will, the man just got the job done better than anyone else. Football is at its core about production. Stats, but more importantly, wins.
No one did those two things better than Emmitt Smith. He was never the quite the quickest, never the fastest, or the strongest. He was just really good at, well, just about everything.
With near supernatural vision and great tackle breaking ability, Smith was the most important player on one of the NFL's greatest dynasties.
The NFL's all-time rushing king, Emmitt Smith ran roughshod over opposing defenses on his way to 18,355 yards (on 2,999 attempts) and 174 touchdowns.
His 78 100 yard performances is a record unmatched in NFL history, topping the great Walter Payton by one game. Eight Pro Bowls and six All-Pro awards were nothing compared to the big prize, three time Super Bowl winner with the Cowboys.
He was MVP for Super Bowl XXVIII. Those who argue that he was a product of great offensive lines are asinine. Smith was one of the best players to ever put a football in his hand.
3. Walter Payton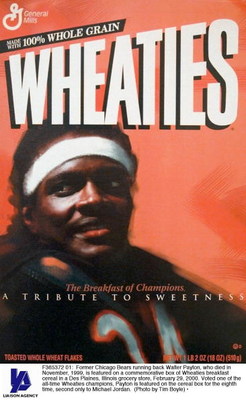 Perhaps no other single football player captured the hearts and minds of the great city of Chicago more than Walter Payton.
"Sweetness," as he was known was a polite, charitable, well-respected family man. But that was off the field. On the field, well, he knew how to lay down the beatings very well. His 5'10", 200 lbs frame was a model of his character; hard working, disciplined, and full of desire.
After 13 seasons, Payton had accumulated every major career record for an NFL back at the time; 16,726 rushing yards, 110 touchdowns, and 77 100-yard rushing games. Nine times he was named to the Pro Bowl. Nine times he was made an All-Pro.
For the first eight seasons of his career, he played on a sub-par Bears teams. With the addition of new coach Mike Ditka, who would later call Payton "the most complete football player I ever saw," the Bears became a contender.
Payton's Bears would win Super Bowl XX against the Patriots, ending the decade of frustration Payton had endured. His tragic death from cancer in 1999 robbed the world of a great man, but still left us with a legacy and role-model we can all admire.
2. Barry Sanders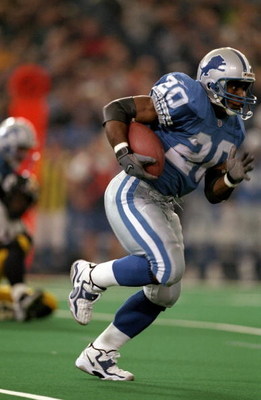 He was simply like no one else. My personal favorite player of all-time, Barry Sanders could do things with his legs that would make the Cirque Du Soleil performers take notice.
The jukes, the jives, the sudden bursts and explosions were just sights to behold. He was a Pro Bowler and an All-Pro every year of his career. For 10 brilliant seasons in Detroit, Sanders dominated the running back position.
With an uncanny quickness and change of direction, Sanders amassed 10 straight thousand yard seasons, finishing his career with 15,269 yards, 107 touchdowns, and a remarkable 5.0 yards-per-run average.
His abrupt retirement before the 1999 season stunned the football world, as he was just 1400 yards from becoming the all-time rushing king.
But stats didn't matter to Barry, it was all about winning, which Detroit just couldn't do well with him. He would be a first ballot Hall of Fame selection in 2004.
1. Jim Brown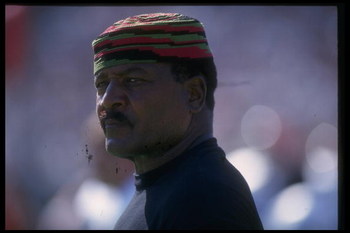 He was as close to perfection as anyone could ever be in sports. His name alone can surmise reverence, awe, and fear. Jim Brown is, and likely will forever be, the greatest running back in NFL history.
His body seemed to be carved by Zeus himself. This list has seen a plethora of great players who all possess great attributes. There is the power of Earl Campbell, the speed and acceleration of OJ Simpson, the burst and lightning quickness of Gale Sayers, and the almost superhuman moves of Barry Sanders.
Brown was a combination of all these men. Power, speed, agility, vision, any measurable and immeasurable standard you can come up with, Brown is at or near the top for all of them. That almost emotionless way he played, looking hurt and beaten after ever snap, was simply a mask for the drive within.
In his legendary nine year career, he obtained an almost god like status among fans, players, and coaches. Nine times a Pro Bowler, and nine times named to the All-Pro team, he would accumulate 12,312 career rushing yards in his career to go along with a 5.2 yards per carry average.
That folks is more than half a first down, every time he carried to football. The MVP three times (1957, 1958, 1965), he would dominate his position better than any other player before or since.
His stunning retirement after the 1965 season to pursue acting and community service was unfortunate for football fans.
But what he left in his time can never, and will never be forgotten. Jim Brown, the greatest running back in NFL history.
Keep Reading