Cincinnati Bengals' Top 5 NFL Draft Busts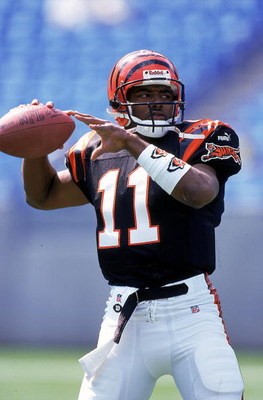 This is just a short list of mistakes the Bengals have made on draft day. Think of the significance if they had drafted smarter years ago. I would have much rather seen Champ Bailey at corner, than Akili Smith at QB, or Steven Jackson's double threat ability over Chris Perry's injury riddled body. Hopefully when the season comes to an end, and the Bengals have beaten out the Lions for that illustrious number 1 pick, they will use it a bit more wisely than they have in the past.
5.David Klingler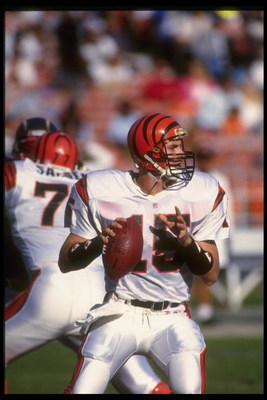 Drafted 6th overall in 1992 Klingler was a record setting quarterback from the University of Houston. Klingler was supposed to turn the Bengals franchise around. He turned out to be a complete bust. He started only 24 games before being replaced by third stringer Jeff Blake. Klingler's career stats: 33 games, 3994 Yards. 16 TD's 22 INT's.
4.Ki-Jana Carter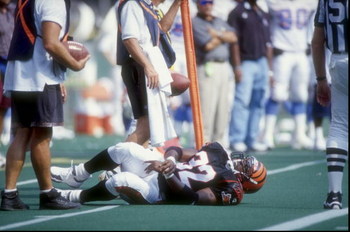 Drafted 1st overall in 1995. Carter was expected to be the franchise running back for years to come. He blew out his knee in the first preseason game and was never the same. In 35 career games (4 years) with the Bengals, Carter rushed 227 times for 747 yards and 16 TD's.
3.Dan (Big Daddy) Wilkinson
Drafted 1st overall in 1994, Wilkinson played 4 years with the Bengals. His prowess on the Defensive Line was supposed to improve a horrible defensive unit. Wilkinson had 25 sacks and 162 tackles in those 4 seasons. Not terrible numbers, but not great numbers for a defensive lineman selected first overall.
2. Chris Perry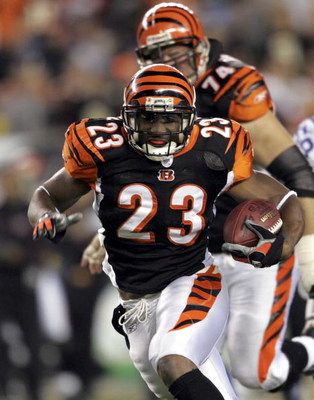 Drafted 26th overall in the 2004 draft, Perry has played 4 uneventful injury riddled seasons. He missed part of the 2005 and 2006 seasons before missing all of 2007. The reason this draft pick was significant is the Bengals traded their 24th overall pick to the Rams, where the Rams selected, Steven Jackson, who most consider a top five running back in the league. Jackson has rushed for over 4700 yards and has been to a Pro Bowl, while Perry has just over 500 yards rushing for his career.
1.Akili Smith
Drafted 3rd overall in 1999, ahead of such notables as Edgerrin James, Ricky Williams, Torry Holt, and Champ Bailey. Smith lasted just 22 games in a Bengals uniform. He threw for 2200 yards, with 5 TD's and 13 interceptions. His QB rating was an abysmal 52.8. Not what you want to see from a number one draft pick.
Keep Reading

Cincinnati Bengals: Like this team?