A Quick Look at the 2009 Wisconsin Badgers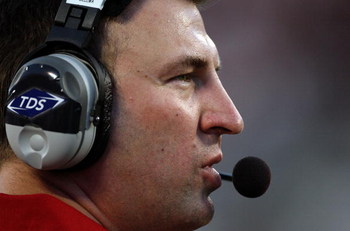 The Wisconsin Badgers are about a month away from kicking off their fourth season under head coach Bret Bielema.
In the previous three years, Wisconsin is 28-11, with a 15-9 conference record.
Wisconsin had an up-and-down season in 2008 and lost plenty of playmakers from the 7-6; 3-5 team.
Too many times, the defense let the team down late in games, and the offense just wasn't solid enough to regain the lead when it mattered most.
The 2009 Badgers will have 31 freshman, 28 sophomores, and 23 juniors and seniors. Having 59 underclassmen might force Wisconsin to go young in their position battles.
A new season brings new hope to any team, and the Badgers certainly need that hope. Before we look at what's in store for 2009, let's take a step back to last year.
What Happened in 2008?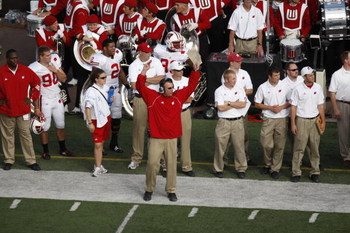 Week 1: Wisconsin 38, Akron 17, (1-0)
Week 2: Wisconsin 51, Marshall 14, (2-0)
Week 3: Wisconsin 13, Fresno State 10, (3-0)
Week 4: Michigan 27, Wisconsin 25, (3-1; 0-1)
Week 5: Ohio State 20, Wisconsin 17, (3-2; 0-2)
Week 6: Penn State 48, Wisconsin 7, (3-3; 0-3)
Week 7: Iowa 38, Wisconsin 16, (3-4; 0-4)
Week 8: Wisconsin 27, Illinois 17, (4-4; 1-4)
Week 9: Michigan State 25, Wisconsin 24, (4-5; 1-5)
Week 10: Wisconsin 55, Indiana 20, (5-5; 2-5)
Week 11: Wisconsin 35, Minnesota 32, (6-5; 3-5)
Week 12: Wisconsin 36, Cal Poly 35, (7-5)
Week 13: (Champs Sports Bowl) Florida State 42, Wisconsin 13, (7-6)
The Badgers lost their first four Big Ten games and weren't victorious in the conference until Week 8.
It was truly a disappointing season not only for the team, but for all the fans nationwide.
Key Losses Entering 2009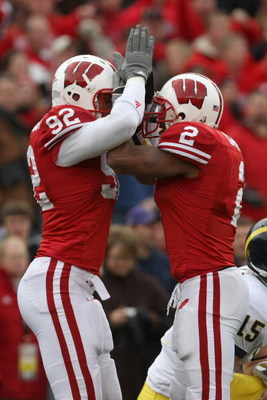 With every college season, teams lose dozens of quality players each year, and Wisconsin was no different.
The Badgers lost their starting RB, the LB core, and plenty of defensive lineman. Here's a look at some of departures:
-Xavier Harris (WR)
-Allan Evridge (QB)
-Allen Langford (CB)
-Elijah Hodge (LB)
-Eric Vandenhuevel (OL)
-Jason Chapman (DL)
-Matt Shaughnessy (DL)
-Kirk DeCremer (DL)
-P.J. Hill (RB)
-Chris Pressley (FB)
-Bill Rentmeester (FB)
-Jonathan Casillas (LB)
-DeAndre Levy (LB)
-Joe Stellmacher (CB)
-Travis Beckum (TE)
Even though the Badgers said "goodbye" to plenty of key players, they still have some guys to fill most of those holes.
So let's see the position break downs.
Quarterback: Looking For a Field General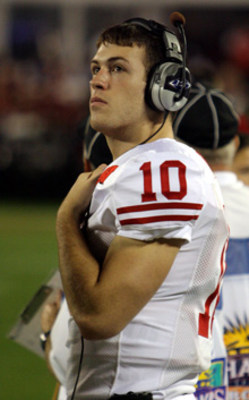 Right now, the QB role is between senior Dustin Sherer (6-4, 217 lbs.) and freshman Curt Philips (6-3, 215 lbs. and pictured).
If the Badgers not only want to win now, but also in the future, Bielema should hand the offensive reins to the youngster Phillips.
Sherer shared time with Evridge last year, but both were far from just being mediocre, so let's hope Bielema wants to change things up a bit.
Wisconsin has always upgraded the QB spot by simply giving it to the upperclassmen. Something needs to change in order to bring back the victories.
Ohio State and Michigan went young so the freshman could gain 12 games of experience in year No. 1. The Badgers should follow suit if they want to compete with the Buckeyes and Wolverines.
Giving Phillips the nod now will just make him that much better when he becomes the upperclassman in a few years.
Also on the roster:
-Scott Tolzein, junior, 6-3, 202lbs.
**All years represent the players' eligibility year**
Running Backs: Molding Clay
The nation will finally see what John Clay is made of. With P.J. Hill now in the NFL, Clay (6-2, 247 lbs.) can run wild for the Badgers.
Clay is an absolute beast in the backfield, and will definitely improve on his 895 yards and nine TDs off 155 touches (5.8 yds/carry) as a backup to Hill last year.
If he stays healthy, there is no reason why Clay can't lead the Big Ten in total rushing yards and yards per carry, because he is that good.
Backing up this running back in a linebacker's body is Zach Brown (5-11, 208lbs.), who should provide solid relief, provided he can contain his off-the-field problems.
The Badgers have just one listed fullback in freshman Sam Spitz (6-1, 245lbs.) after losing Bill Rentmeester and Chris Pressley.
Having a fullback is a much needed tool in the game, and if Wisconsin can't find stability there, Clay will have a much heavier workload.
Wisconsin has always produced solid running backs year after year, and 2009 might be one of its better years.
Also on the roster:
-Mike Preisler, senior, 6-0, 205lbs.
-Erik Smith, freshman, 5-11, 200lbs.
-Dex Jones, freshman, 6-1 245lbs.
-Bradie Ewing, sophomore, 6-1, 215lbs.
Wide Receivers: A Full Load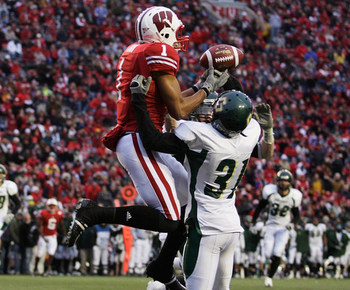 This is the lone position in which the Badgers did not lose much talent, as they have just lost Xavier Harris.
Wisconsin has the senior leaderships at receiver, but it also has a lot of young talent just waiting to have some break out years; one is Nick Toon (pictured).
If that names sounds familiar, it's because his father Al, put up some pretty good numbers in Madison himself.
Toon will have plenty of help in the flat; senior David Gilreath (5-11, 162lbs.), juniors Isaac Anderson (5-11, 180lbs.) and Kyle Jefferson 6-5, 180lbs.), and senior T.J. Theus (6-2, 188lbs.).
Gilreath will again fill the return man role with his speed, and Anderson and Jefferson have plenty themselves.
This is where starting Phillips at QB comes into play. With a majority of the receivers be younger, they would have more time to gel with Phillips being the starter, rather than giving them a new QB every year.
The Badgers have usually been a run-powered offense and should be this year with Clay, but there looks to be too many good targets to stay on the ground.
Wisconsin should be able to let loose a little more in 2009.
Also on the roster:
-Daven Jones, junior, 6-1, 177lbs.
-T.J. Williams, freshman, 6-0, 182lbs.
-Maurice Moore, junior, 5-11, 178lbs.
-Nate Emanuel, junior, 6-1, 191lbs.
-Eric Kossoris, sophomore, 6-1, 190lbs.
-Richard Kirtley, senior, 6-2, 186lbs.
Tight Ends: To Block or to Receive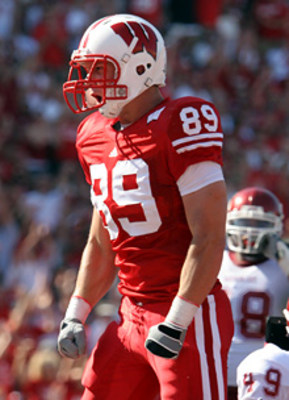 With Travis Beckum limited to just six games last year, Garrett Graham (6-4, 248lbs. and pictured) made a name for himself in the Big Ten.
Now a senior, and Beckum to the NFL, Graham looks to go better than his 50 catches for 540 yards and five TDs a season ago.
Before Beckum, Wisconsin barely used its tight ends, and now have a decision to make.
Should they go back to the old times and use the TE to just throw some blocks, or should they build off Graham's success and continue to make him a viable receiving option?
Either way, this year's Wisconsin offense should be one of the better ones that the school has seen.
Also on the roster:
-Lance Kendricks, junior, 6-4, 237lbs.
-Mickey Turner, senior, 6-4, 250lbs.
-Jake Byrne, freshman, 6-5, 245lbs.
-Rob Korslin, sophomore, 6-5, 254lbs.
Offensive Line: Still Bigger Than the Rest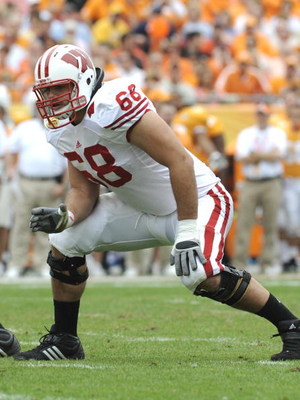 If there's one thing that Wisconsin does better than anybody else, it's have one of the biggest offensive lines in the nation.
The starting O-line for the Badgers in 2009 should be an average of 6-5, 314 lbs. That is the main reason why Wisconsin has had so many good running backs through the years.
The bookends of that line look to be junior Gabe Carimi (6-8, 313 lbs. and pictured) and sophomore Josh Oglesby (6-7, 329 lbs). Snapping the ball will be junior John Moffitt (6-4, 313 lbs).
Junior Jake Bscherer (6-7, 310 lbs.) will team up at guard with the smallest lineman in junior Bill Nagy (6-4, 307 lbs.).
These guys are excellent at pushing others around, and should give Clay huge holes to run through. Even if injuries occur to this line, there really isn't a drop in size to the line (just some inexperience).
Also on the roster:
-Ricky Wagner, freshman 6-7, 308 lbs.
-Travis Frederick, freshman, 6-3, 333 lbs.
-Jake Current, sophomore, 6-4, 290 lbs.
-Kevin Zeitler, freshman, 6-4, 301 lbs.
- Peter Konz, freshman, 6-6, 298 lbs.
Defensive Line: Plenty of New Faces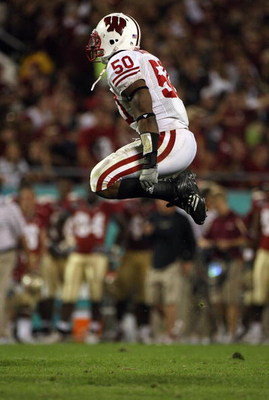 This is where things get a little thin for the Badgers. Wisconsin lost its entire starting line from a year ago.
The Badgers have just one guy who saw plenty of playing time returning; senior O'Brien Schofield (6-3, 242 lbs.). Schofield (pictured) led the team in sacks with DeAndre Levy, by racking up five.
The loss of Matt Shaughnessy, Jason Chapman, Mike Newkirk and Kirk DeCremer will really hurt the Badgers in the first couple of games, and they need to gain experience and togetherness quickly.
Newkirk led those four with 59 tackles, while Shaughnessy had four sacks. There will be some big defensive shoes that need filling in Madison.
Joining Schofield will be seniors Dan Moore (6-2, 278 lbs.) and Jeff Stehle (6-6, 291 lbs.), and sophomore J.J. Watt (6-6, 285 lbs.). The pressure will be on these four guys to stuff the running game, so the Badgers don't get run over by every other team in the Big Ten.
Also on the roster:
-Patrick Butrym, sophomore, 6-4, 280lbs.
-Dan Cascone, senior, 6-3, 296lbs.
-Louis Nzegwu, sophomore, 6-3, 240 lbs.
-Brendan Kelly, freshman, 6-6, 240 lbs.
Linebackers: Staying Fierce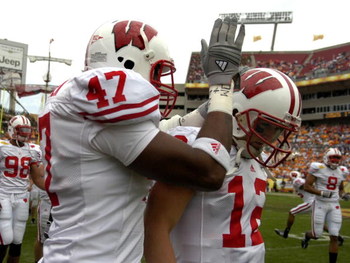 Like the defensive line, Wisconsin lost it's three starting linebackers from 2008, with DeAndre Levy, Jonathan Casillas and Elijah Hodge all moving onto the NFL. Casillas had 62 tackles last year, and Levy had 73 (third and second on the team).
The Badgers do still have guys that saw significant playing time last year in senior Jaevery McFadden (6-3, 226lbs.) and junior Culmer St. Jean (6-1, 235lbs.).
Joining them on the starting line will be junior Blake Sorenson (6-1, 230lbs.). These three look to continue the hard hitting that was caused by Wisconsin linebackers last year.
There's no doubt that McFadden (pictured No. 47) can be the leader of the defense, especially since he led the team with 84 tackles last year.
Also on the roster:
-Kevin Rouse, sophomore, 6-0, 229lbs.
-Tony Megna, sophomore 6-0 202lbs.
-Leonard Hubbard, freshman, 6-1, 233lbs.
-Mike Taylor, freshman, 6-2, 215lbs.
Secondary: The Last Line of Defense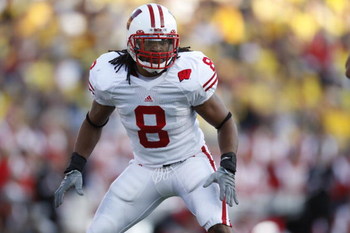 Probably the strongest aspect of the team returning, even though the team ad just 12 interceptions last year.
Niles Brinkley led the Badgers with 4 INTs a season ago. Now a junior, Brinkley (5-10, 180lbs.) is looking to led that secondary again.
Also returning is sophomore Aaron Henry (6-0, 197lbs.) who saw a lot of action as a freshman, and seniors Aubrey Pleasant (6-1, 196lbs. and pictured) and Shane Carter (6-2, 202lbs.).
Junior Jay Valai (5-9, 200lbs.), perhaps the fiercest player in the Big Ten, will also rejoin the Badgers. He has dished out his share of licks to opposing receivers, and absolutely decked Ohio State's Brian Robiskie last year.
The secondary this year will be daring opposing QB's to throw one up for grabs because their receivers might just be paying the price to catch a ball.
Also on the roster:
-Marcus Cromartie, freshman, 6-1, 187lbs.
-Kevin Claxton, sophomore, 6-2, 208lbs.
-Chris Maragos, senior, 6-0, 198lbs.
-Devin Smith, sophomore, 5-11, 187lbs.
-Antonio Fenelus, sophomore, 5-10, 186lbs.
Kickers: Staying Young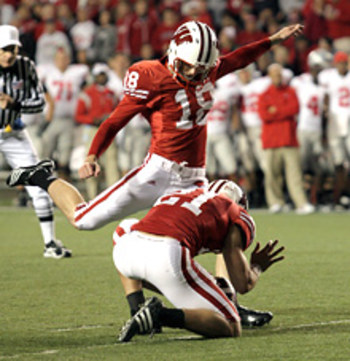 Wisconsin had two freshman kickers last season, and will stick with the same guys as sophomores.
(Pictured) Philip Welch (6-3, 200lbs.) should improve on his 20-24 in field goal attempts. He also missed a single PAT, going 39-40.
Brad Nortman (6-3, 214lbs.) was the strongest punter in the land last year, but he was a freshman, and should be much improved after a year of experience.
Kickers are often the joke of any team, but the a good kicking game will definitely help you win more games throughout the season.
I'll throw the long snappers in this category as well because the kicker/punter rely on them more than anybody else on the team. The Badgers are carrying two of them in senior Drew Woodward (6-4, 226lbs.) and sophomore Kyle Wotja 6-3, 231lbs.).
Also on the roster:
-Pat Hughes, kicker
-Ryan Wickesberg, punter, freshman, 6-1, 218lbs.
Schedule: Bucky's 2009 Opponents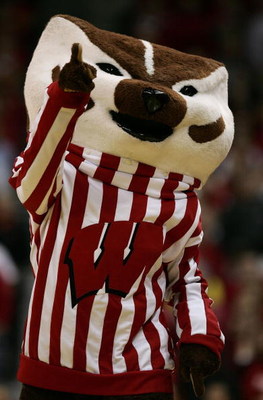 9/5: vs. Northern Illinois
9/12: vs. Fresno State
9/19: vs. Wofford
9/26: vs. Michigan State
10/3: at Minnesota
10/10: at Ohio State
10/17: vs. Iowa
10/31: vs. Purdue
11/7: at Indiana
11/14: vs. Michigan
11/21: at Northwestern
12/5: at Hawai'i
This year, Wisconsin will avoid Penn State, who crushed them last year, and Illinois. The Badgers will once again have to prove their mettle in the Big Ten by playing both Ohio State and Michigan.
Why in the world did Wisconsin schedule a home game on Halloween?
Hmm ... a football game and a late night rampage on State Street in the same day. Good luck to everyone in the Madison Police Department on Oct. 31.
Season Outlook: Badgers Need to be in Big Ten's Top 3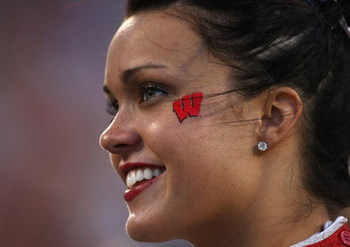 Wisconsin has the ability to go bowling every year, but in order to win the fans back, they need to be hungry for more.
Going to a bowl game is nice, but if you play in a BCS conference, you have to aim high.
As I mentioned in the previous slide, Wisconsin will play Ohio State and Michigan, and a win against one of them is a must.
A 7-6 record, and going 3-5 in conference won't make too many happy. So before the Badgers fall to far, they need to regain one of those top spots in the Big Ten.
It's usually Michigan and Ohio State at the top, and if Wisconsin can get that third spot (at least this year), the Badgers should be back on the right track.
The college football season is long, and upsets aren't so rare anymore. The Badgers have been upset plenty of times under Bielema, but perhaps this year, Wisconsin is looking to do some of the upsetting this time.
Keep Reading