San Diego Chargers 2009 Roster Breakdown: Centers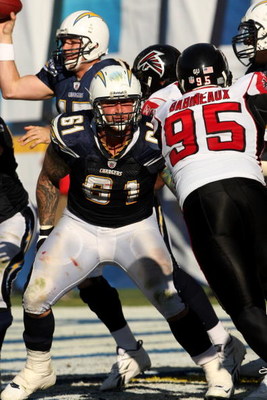 Pro Bowler Nick Hardwick will anchor San Diego's offensive line in 2009, hoping to repeat to avoid injury and achieve the 2006 form that helped LaDainian Tomlinson win the MVP award and break the single-season TD record.
Behind him, a pair of rookies and a jack-of-all trades in Scott Mruczkowski will look to back him up. Here's what to expect from them in 2009:
Nick Hardwick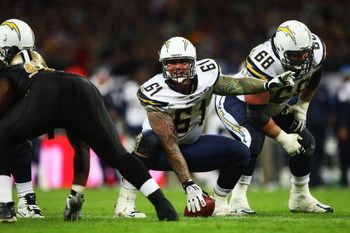 San Diego's multi-tattooed, long blond hair having, surf loving Nick Hardwick could very well blend in most Southern California communities if not for a couple of stark differences—his 6'4", 295 lb. frame and the fact that he spends his Sundays in the fall and winter bulldozing other men who are just as big or bigger.
The former high school wrestler is back and presumably healthy this season, as the 2008 off-season surgery that took care of an injury in his right foot came and went with no immediate complications upon his return to action.
Hardwick missed the first three games in 2008 but went on to start in the remaining 13 regular season games and the following two playoff contests.
A healthy and effective Hardwick means a major boost for San Diego's running game, as well as piece of mind for Philip Rivers and the passing game.
He will start the season hoping to regain his 2006 form which eventually led him to a Pro Bowl appearance and a team record 2,578 yards on the ground.
Pros: Excellent vision and tactical recognition of opposing defenses. His wrestling background allows him to outwit and outperform bigger opponents.
He is a fantastic inside run blocker with speed to help on outside runs, and a great pass blocker for pocket passers such as Rivers. His experience and leadership sets tone for rest of line.
Cons: His smaller and leaner size for an offensive lineman that leads to constant injuries. He hasn't played a full 16 games since 2006, the only full season of his career, and his absence produces immediate drop in play for offensive line.
Season Outlook: Resting on Hardwick's inked shoulders are a lot of responsibilities linked to the overall effectiveness of this offense.
San Diego is two different teams when #61 is on the field and off of it.
When Nick is anchoring the line, there's usually smooth sailing to go along with it, when he's not, everyone looks that much worse.
Scott Mruczkowski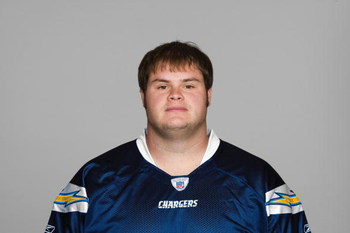 During his tenure in San Diego, Mruczkowski has seen time at virtually every single offensive line position.
With Jeremy Newberry's departure, Scott is lined up to take his spot as Nick Hardwick's backup.
A solid blocker with good footwork and size, Scott is a key reserve, filling in for fatigued starters and injured players alike, who has played in 31 of the last 32 San Diego games, earning one start.
In 2008, he played in every regular season game, starting once. An undervalued contributor in the eyes of most fans, Mruczkowski was directly responsible for allowing San Diego to stay on track for the playoffs last year.
He delivered a punishing block in Kansas City, leading to a TD that kept the Chargers afloat in Arrowhead Stadium.
Pros: A true jack of all trades, he plays wherever, whenever, and his excellent size and solid footwork make him a luxury reserve who could start elsewhere.
Cons: Despite 6'5" 320 lb. frame, he can and will be overpowered by stronger opponents, and lacks true speed to play outside line positions.
Season Outlook: Hardwick's injury history is iffy, and Mruczkowski is, in effect, an insurance policy. Otherwise, look for him to pop up in other situations and positions on the offensive line.
Tyronne Green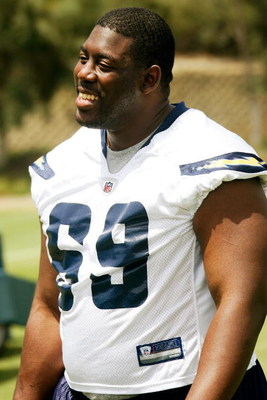 One of three San Diego fourth-round picks in this year's draft, Tryonne Green was brought in to battle for the backup center spot with Scott Mruczkowski.
The Chargers were impressed with his effectiveness (only one sack allowed in 25 games as a starter) and his background of high competition (playing in the SEC with Auburn).
Pros: He is an experienced starter with excellent run and pass blocking skills, and his prototypical size (6'2", 308) makes for big presence on line. The conversion from defensive tackle gives him strategic edge over opposition; he can double as guard.
Cons: He lacks upper-body strength to compete with pro linemen, and can't hold proper blocks due to hand placement on opponents. Short blocking time could lead to holding penalties.
Season Outlook: Despite looking like more of a long-term project than a short-term project, there's a lot to love about Green's athleticism and skills.
He will be groomed to be a suitable backup for Hardwick and maybe take over his spot one day. For now, look for him on the bench and as a sub.
Ryan McDonald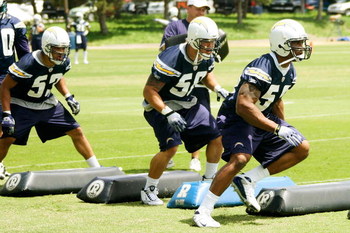 McDonald is just one in a cavalcade of undrafted rookies signed on by the Chargers, in the hopes that they will find a gem like Stephen Cooper or Antonio Gates.
The former starter at Illinois definitely fits that mold, as he was showered with accolades during his college career.
A preseason first-team Big Ten by several news publications, McDonald was a four year starter with the Fighting Illini after redshirting in 2004.
Pros: His is a polished competitor who has vast experience against quality opposition;l he possesses good size and is a dependable blocker.
Cons: Mobility issues and quickness may have prevented him from going in the draft. He may not be able to dominate a single position at the pro level, which would limit his starting opportunities.
Season Outlook: McDonald definitely has the pedigree to make an NFL roster, and it never hurts to add depth to an offensive line. Look for McDonald to make the team.
Keep Reading

San Diego Chargers: Like this team?