On The Hot Seat: New York Giants Training Camp Preview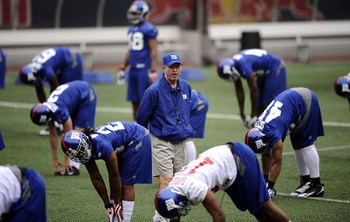 With the New York Giants reporting to training camp in just a few days (August 3rd), this slide show will highlight some of the players fighting to stay on the 53 man roster.
It's going to be immensely difficult in training camp for just about any player who is not a starter to make the team due to the depth at every position.
Let's begin.
Andre Woodson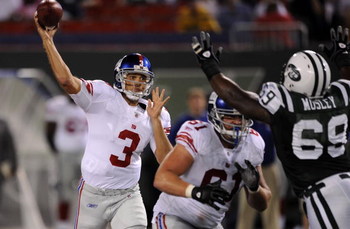 Quarterback Andre Woodson, the Giants' seventh-round draft choice from two years ago, looks to rebound in 2009.
The coaching staff, or more specifically, Quarterbacks Coach Chris Palmer, has been frustrated with Woodson's lack of progress this summer.
At the same time, rookie Rhett Bomar has been the recipient of much praise for his rocket of an arm and better mechanics.
Woodson would be lucky to reside on the Giants' practice squad this year, but more likely, he will just be outright cut.
Look for both Bomar and Woodson to duke it out in camp and the preseason with Bomar coming away the victor.
The question still remains, will the Giants even carry three QB's on the roster this year? If not, Bomar will be placed on the practice squad and Woodson will be gone.
If the Giants elect to keep three QB's on the 53 man roster, expect Bomar to learn under David Carr and become Eli's eventual backup.
Dave Tollefson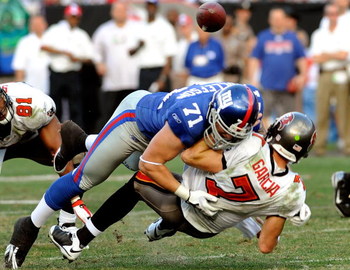 Defensive end Dave Tollefson has been a solid contributor when called upon for the New York Giants in his two seasons with the team.
Tollefson was originally drafted by the Green Bay Packers, 253rd overall in the seventh round of the 2006 NFL draft. With that considered, it's rather remarkable that he has become a nice, complementary backup defensive end for the Giants.
He is no where near the same level as Mathias Kiwanuka, Justin Tuck or Osi Umenyiora, but he has played well in his backup role.
In 2008, Tollefson finished the season with 19 total tackles and 3.5 sacks in 13 games played.
In 2009, he will be on the bubble.
Maurice Evans, an undrafted free agent out of Penn State, likely will be his replacement. Evans burst onto the scene his sophomore season for the Nittany Lions racking up 54 tackles, with 21.5 tackles for loss, to go with 12.5 sacks, 3 passes broken up in coverage, and 5 forced fumbles.
Evans would have been a first-round draft pick had he not been caught with marijuana in college. He was later replaced on the roster by Aaron Maybin, who went on to become a first-round draft pick in his own right this year, now with the Buffalo Bills.
The important thing to remember is that Maurice was not demoted because of his skills on the playing field, but for disciplinary reasons. He has first-round ability and Jerry Reese may have found yet another steal.
Dave Tollefson has reached his ceiling potential-wise, and is 27-years-old. Maurice Evans is the future, and not only do I believe he will make the roster replacing Tollefson, but I have a hunch that Giants fans will know who this kid is by the end of preseason.
Gerris Wilkinson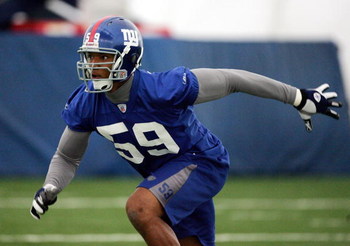 Linebacker Gerris Wilkinson has frustrated the Giants fans and coaches more than he has impressed them.
Like teammate Sinorice Moss, from the same 2006 draft class, Wilkinson has a lot of talent but has been unable to stay healthy long enough to see significant playing time.
Wilkinson has a lot to prove in training camp, not only with his football skills but his durability as well.
Second year LB Bryan Kehl looks to have a greater skill set and higher football IQ which should mean he will be the backup on the weak side under new free agent acquisition and starter, Michael Boley.
Chase Blackburn is also in the mix, and proved worthy of a starting spot late last season but will probably be limited to special teams and backup spot duty this season.
I don't see Wilkinson making the 53 man roster, but he has the skills to prove me wrong. If he can stay healthy, he could still make the team.
David Tyree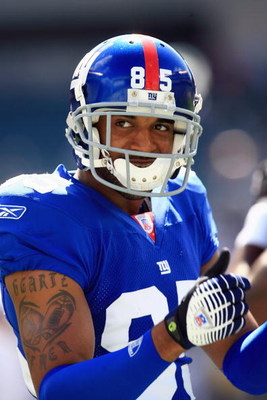 Quite possibly, one of the most likable and beloved Giants on the roster, wide receiver and special teams ace David Tyree looks to do battle in training camp for a roster spot.
It's appropriate that Tyree will have to fight to stay on the team, and something he's unfamiliar with. He has been the epitome of the blue-collar, working class athlete the Giants organization has always been all about.
From going to the Pro Bowl in 2005 for his special teams prowess, to making one of the greatest catches in NFL history in Super Bowl XLII, Tyree has achieved a lot in his six seasons with the Giants.
Despite receiving little playing time in the past at wide receiver, his performance in training camp at the position may determine whether the team keeps him.
Steve Smith, Domenik Hixon, Hakeem Nicks, Ramses Barden and Mario Manningham are locks to make the team. That leaves Sinorice Moss and David Tyree as the only two real contenders to win the final wide receiver spot.
As much as I would love to see Tyree make the team, because he's a classy guy and overcame a rocky past, I cannot say with confidence that I see it happening.
The Giants could potentially place Tyree as a backup linebacker on the roster if there is room, and it will help if the team only carries two quarterbacks like they did last year, but even still, it is going to be tough.
Tyree is also going to be 30 in January and is coming off of a serious, season-ending knee injury he sustained during last year's training camp. The odds are definitely against him.
I wish David the best in training camp, but I have a feeling that "The Catch" he made in the Super Bowl may have been his swan song.
Keep Reading

New York Giants: Like this team?