I will have a side of I can't coach with my Big Mac!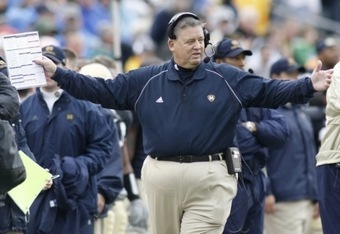 Looking at Charlie Weiss and what he hasn't done lead me to some thinking. The media says wait until his kids are all playing, in two years this youth on his team will be successful. It won't!!!
Such highly recruited and skilled athletes should at least be able to score a touchdown. It is not the youth, it's the coach. You put these kids in other schools and you would see success. His starting offensive lines consist of two juniors, a senior, and two sophomores. A sophomore and junior wide out and senior running back, with a true freshman running the QB spot. Those are his kids and if they are not they have been around long enough to know their responsibilities and how the offense works.
If we look at my obvious comparison because of my familiarity and the fact the two coaches were hired the same year, and were high regarded. Urban Meyer and the Florida gators.
We have even more youth playing. We are having success.
The bottom line is: why is Weiss getting a free pass? His team with his players and high ranked recruiting classes should be every bit as good. It is the coaching and player development that does not work.
Belichick has had many assistants now take other jobs. Some have done well, some just OK.
Weiss clearly ran his system, because nothing has changed in New England since he left. They have yet to beat an elite team. It is time to take away his pardon pass. He is not a good coach.
The gators have true freshman starting and playing in key situations and they have excelled. Why? The coach, motivation, and preparation are why. Switch coaches and I am sure Notre Dame would be doing great and Florida would be left saying oh no another Ron Zook.
It is time to send Weis packing. It is no wonder why his latest transfer threw him under the bus. Brady Quinn and some of Willingham's talented kids helped Charlie scrape by on their talent. I am sick of hearing about them and how Weis is this mastermind—one look at his lack of success and his counter part Urban Meyer's success should tell the story.
This article is
What is the duplicate article?
Why is this article offensive?
Where is this article plagiarized from?
Why is this article poorly edited?

Notre Dame Football: Like this team?