Raiders Nation: Players to Watch at Camp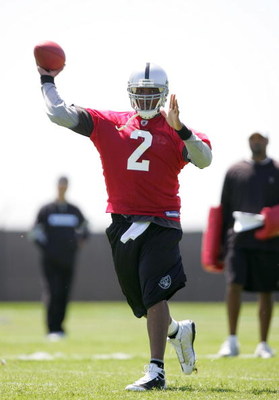 Can you smell the excitement in the air? Can you taste the eagerness? Camp has started, and September 14th is on the Raider Nation's mind. Not only do the Raiders play on Monday night, but they play the Chargers. Their division rival, the defending AFC West Champion, the team that is heavily favored to win the division.
Can the Raiders ask for a more meaningful opening night game?
There are so many things that can go right that night, but so many more things can go wrong. If the Raiders get blown out, everyone will start to panic. Was not starting Garcia a mistake? Is Heyward-Bey the right guy? Why can't we stop the run?
Here we go again.
If the Raiders defend their home-field advantage, and set the tone for a change against the Chargers and win, the Raider Nation will rise loud and proud. Before any of that happens, the players need to make sure they are ready, and the preparation will heavily depend on how the players and coaches handle the first camp in the Tom Cable era. Here are some players that everyone should be watching during camp.
JaMarcus Russell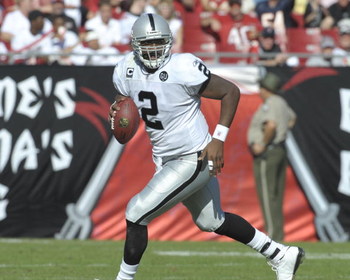 All eyes on JaMarcus Russell, not only does he have a lot of weight on his shoulders this year, but he also has an out spoken 39-year-old veteran QB who knows hard work and dedication, breathing down his back.
Russell needs to show he has improved a lot since last year to silence the critics and his back up QB. What Garcia is doing will either help motivate Russell, or it will split the locker room up. It is important for Russell to show he is the man, or Raider Nation will have a QB controversy that will last all season.
Darrius Heyward-Bey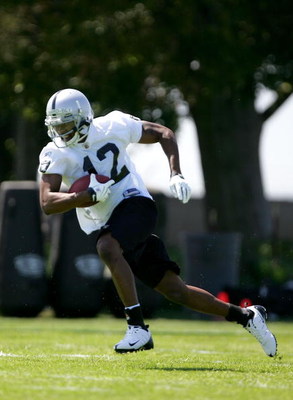 Will Heyward-Bey be healthy? Will he develop and show progress during camp? Heyward-Bey has the right attitude and an even better work ethic. We don't need him to be Randy Moss this year, or even next year, but we need him to make an impact. He needs to have a strong camp and he needs to finish the whole thing. He needs to prove that he is worthy of being the first wide receiver taken.
Trio of Running Backs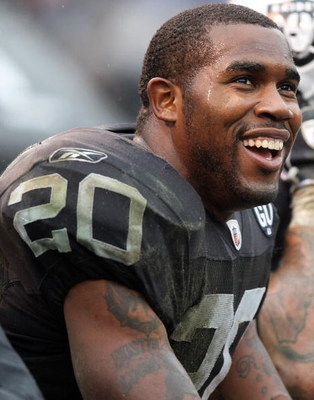 We have three running backs who will be sharing the ball this season and they all bring something different to the table. It will be very interesting to watch how they divide the ball during camp. Look for Michael Bush to get the ball a lot more, of all the running backs I think he is the one who is more built for the ground and pound. Fargas has not finished a full season as a starter or as a back up, look for his role to diminish. McFadden will be playing a little bit of everything, he will most likely get the most touches at the end of the season, but he may not get the most carries. This could be a Charlie Garner/Tyrone Wheatley type of backfield.
Khalif Barnes vs Mario Henderson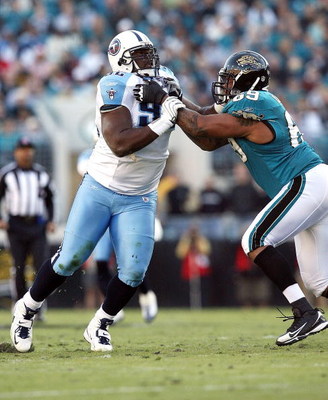 Which one of these players will win the battle for Left Tackle? On ESPN, the depth chart show Barnes as the starter. It's yet to be announced who will start and their progression during camp will be watched by the coaches, this is a position that could make or break what the Raiders are trying to do on offense.
Starting Safety?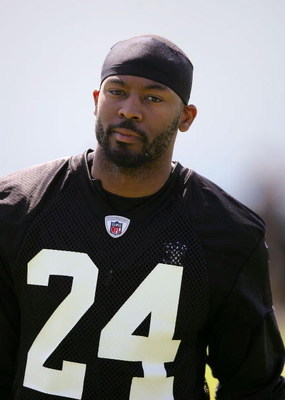 Nnamdi Asomugha said recently that Michael Huff is looking real good this offseason. The Raiders have a hungry rookie that wants to hit people, an undrafted free agent that won the starting role last year at safety, and a former No. 7 pick that does not want to have the bust label next to his name. This will be interesting to watch, I think the competition will be real good for the defense.
Defensive Line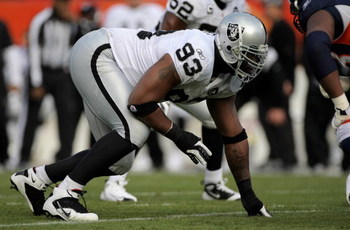 Run stopping and pressure on the QB will be the most important thing for the Raiders to do on defense.
All eyes will be on the defensive line, and especially Tommy Kelly. We can't forget that he signed a HUGE contract, now its time to show the world why he is worth every penny. How will the tackles play this year? Can they get enough push to stop the run? What is going on with the defensive end position? Will Burgess be with the team? Was Trevor Scott a one hit wonder or will he be better than last year? So many questions and players to watch during camp. Enjoy, be ready and start the countdown to September 14th.
Keep Reading

Oakland Raiders: Like this team?