Canton Conundrum: The Best Linebackers Not in the Pro Football Hall of Fame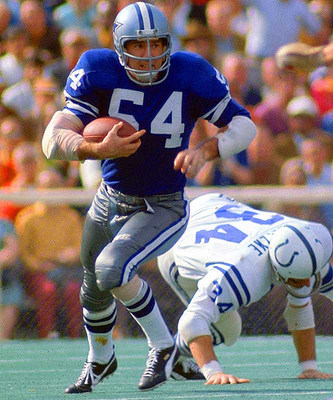 Our position-by-position look at the best eligible players not in the Pro Football Hall of Fame continues with a position that includes both players who served as the quarterback of the defense and others that disrupted offenses with their prowess rushing the passer.
Beginning in the 1950s and 1960s, many top middle linebackers became familiar figures as the defensive quarterback on the field. Players like Ray Nitschke, Dick Butkus, Tommy Nobis, Willie Lanier, Bill Bergey, Lee Roy Jordan, Jack Lambert, Harry Carson, Nick Buoniconti and Mike Singletary were recognized as the defensive leader for their team and every team looked to find their own stuffer in the middle.
Until players like Lawrence Taylor changed the game and made outside linebackers regular pass rushers, the outside backers were generally more involved in pass coverage and stopping the run than in putting constant pressure on the quarterback.
There are 18 modern era linebackers in the Hall of Fame, but when you look at the list of those not in the Hall of Fame, there seems to be an equal number of deserving linebackers still waiting for induction.
Only five linebackers have been inducted into the Hall of Fame in the last decade and 10 have been enshrined since 1989.
Ranking the top 10 linebackers not in the Hall of Fame was a challenge partly because of such a disparity in statistics. Sacks were not kept as an official stat until 1982 and most tackle numbers are unofficial and inconsistent.
For that reason, I weighed heavily such factors as Pro Bowl and All-Pro recognition. I also looked at how defensive units ranked in points and yardage allowed.
So, here is my list of the top 10 eligible linebackers not in the Pro Football Hall of Fame. I look forward to your comments, discussion, and disagreements.
Best of the Rest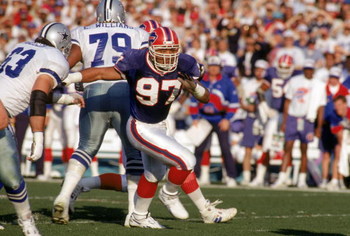 To help frame the conversation and provide an understanding of which linebackers received significant consideration for this list of the top 10 eligible offensive linemen not in the Pro Football Hall of Fame, here are the players who earned spots 11-25 on my list.
With so many Pro Bowl caliber linebackers not in the Hall of fame, there were a number of great players who just missed making the top 25. Among the players who were seriously considered for the top 25, but fell just short, were: Tom Addison, Chuck Drazenovich, Bryan Cox, Tom Jackson, Seth Joyner, Clay Matthews, Shane Conlan, Andy Russell and Brad Van Pelt.
Only players who are currently eligible for the Hall of Fame were considered.
11. Cornelius Bennett
12. Kevin Greene
13. Joe Fortunato
14. Larry Grantham
15. Hardy Nickerson
16. Mike Curtis
17. Tommy Nobis
18. Rickey Jackson
19. Mike Stratton
20. Dave Robinson
21. John Offerdahl
22. Bill Bergey
23. Matt Blair
24. Chris Spielman
25. Bryce Paup
10. Greg Lloyd—Pittsburgh Steelers/Carolina Panthers 1988-1998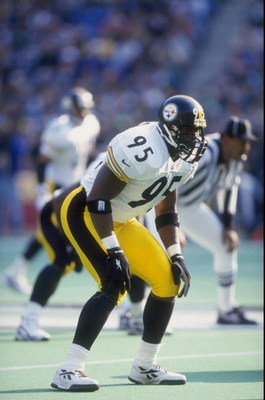 During his peak years, Greg Lloyd was as feared a defender as there was in the NFL. His combination of size (6-2, 230) and speed made him a terror for quarterbacks and running backs alike.
As the leader of the Pittsburgh Steelers, he made five straight Pro Bowls from 1991-1995 and was a first-team All-Pro three times.
Always making something happen, Lloyd registered 54.5 sacks, 11 interceptions and 35 forced fumbles during his 11-year career.
He missed most of the 1996 season with a knee injury and was never the same as he played one additional season for Pittsburgh and then one season for the Carolina Panthers.
9. Lee Roy Jordan—Dallas Cowboys 1963-1976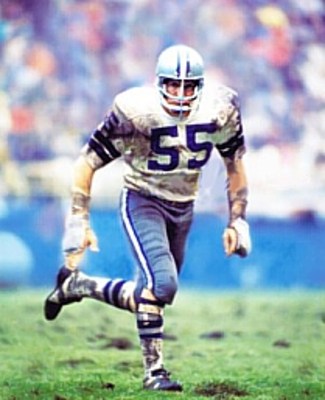 As the middle linebacker on dominant Dallas defensive teams of the 1960s and early 1970s, Jordan helped the Doomsday Defense create havoc.
He was the quarterback of a defensive unit that ranked in the top five in the NFL in yards allowed nine times and points allowed on seven occasions during his career.
Jordan also had a nose for the ball as he recorded 32 interceptions and recovered 18 fumbles in his career.
Despite playing at a time when the NFL had a plethora of all-time great middle linebackers, Jordan was a five-time Pro Bowl selection and earned first-team All-Pro honors in 1969.
He helped Dallas to three Super Bowl appearances, including victory in Super Bowl VI.
Jordan was a finalist for the Hall of Fame in 1988, but has not made it back to that stage of the selection process.
8. Sam Mills—New Orleans Saints/Carolina Panthers 1986-1997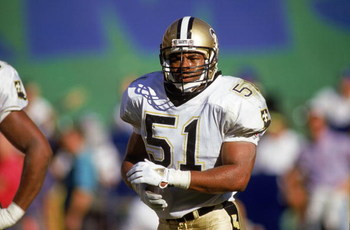 At 5-foot-9 and 230 pounds, there was not a lot of interest when Sam Mills came out of Montclair State. Fortunately for him, the USFL served as a perfect proving ground for the future great.
Showing that heart was just as important as physical size, Mills spent 12 years in the NFL and was a five-time Pro Bowl selection.
From his middle linebacker post, Mills teamed with Rickey Jackson and Pat Swilling (both of whom also made the top 25 list) to form one of the best linebacker corps of all-time. The New Orleans defense allowed the fewest points in the NFL in both 1991 and 1992.
Mills had five seasons with more than 100 tackles, recovered 23 fumbles, forced 22 fumbles, registered 20.5 sacks and intercepted 11 passes in his career.
New Orleans had not made the playoffs in their first 20 years in the league, but they reached the postseason four times during the nine years Mills was with the team.
He joined the expansion Carolina Panthers in 1995 and in their second season helped the Panthers allow the second fewest points in the NFL and reach the NFC Championship Game.
Mills retired following the 1997 season and was a defensive coach for the Panthers until his untimely death following a bought with cancer in 2005.
7. Pat Swilling—New Orleans Saints/Detroit Lions/Oakland Raiders 1986-1998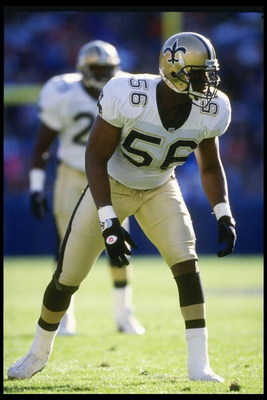 Serving as a perfect compliment to Sam Mills and Rickey Jackson on the New Orleans Saints was pass rusher extraordinaire Pat Swilling.
One of the most feared rushers of his time, Swilling posted double figure sack totals six times, including a league-leading 17 in 1991 when he was named the NFL Defensive Player of the Year.
A five-time Pro Bowl selection, Swilling earned first team All-Pro honors in both 1991 and 1992 as the Saints allowed the fewest points in the NFL.
In addition to 107.5 career sacks, Swilling also forced 36 fumbles and recovered 11.
After seven seasons in New Orleans, he spent two seasons in Detroit and three years in Oakland.
6. Karl Mecklenburg—Denver Broncos 1983-1994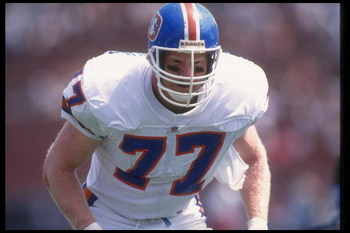 For 12 seasons, Karl Mecklenburg was the heart and soul of the Denver Broncos defense.
A six-time Pro Bowl selection and three-time first team All-Pro, Mecklenburg helped the Broncos earn seven playoff berths and appear in three Super Bowls.
In 1989 the Broncos allowed the fewest points in the NFL.
Mecklenburg registered a career-high of 13 sacks in 1985 and finished his career with 79. He also forced 16 fumbles, recovered 14 and intercepted five passes.
5. Maxie Baughan—Philadelphia Eagles/Los Angeles Rams/Washington Redskins 1960-1970, 1974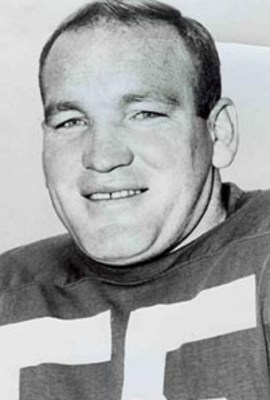 During his 11 years with the Eagles and Rams between 1960 and 1970, Maxie Baughan was a fixture on All-Pro teams and in the Pro Bowl.
He was selected to nine Pro Bowls and was a first or second team All-Pro six times.
After playing his collegiate ball at Georgia Tech, Baughan made an immediate impact for the Philadelphia Eagles as he started all 12 regular season games as the team won the NFL Championship.
He played six years in Philadelphia before joining playing under George Allen with the Rams for five seasons. The Los Angeles defense was annually among the best in the NFL and allowed the fewest points in the NFL in 1967.
Baughan retired following the 1970 season, but came back in 1974 to play two games as a player-coach for Allen and the Washington Redskins.
Considering that he received significantly more all-league recognition than a number of his contemporaries that have earned Hall of Fame induction, it seems puzzling that Baughan never has been selected as a finalist for the Hall of Fame.
4. Robert Brazile—Houston Oilers 1975-1984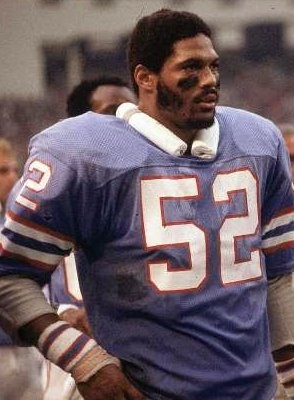 Much like Maxie Baughan in the 1960s, Robert Brazile was a fixture in the Pro Bowl during the 1970s and early 1980s.
Playing in all 147 games of his career after being drafted in the first round of the 1975 draft out of Jackson State, Brazile was annually recognized as one of the best in the game.
He is the only linebacker from the 1970s All-Decade team who is not enshrined in the Hall of Fame. He earned Pro Bowl selection seven times and was a first or second team All-Pro on six occasions.
Brazile and Hall of Fame member Elvin Bethea anchored a defense that helped the Houston Oilers reach the AFC Championship Game twice.
In 1980 the Oilers allowed the second fewest points in the NFL.
Again, it is amazing that Brazile has never been selected as a Hall of Fame finalist.
3. Randy Gradishar—Denver Broncos 1974-1983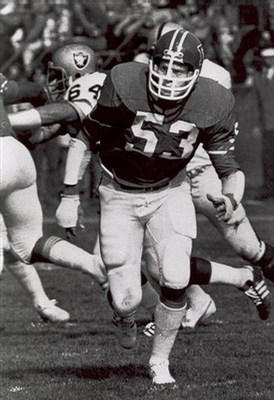 Middle linebacker Randy Gradishar was the leader of the Orange Crush defense that turned the Denver Broncos into contenders in the late 1970s.
The Broncos finished in the top 10 in the NFL in scoring defense six times during his 11 seasons and five times ranked in the top 10 in fewest yards allowed.
Gradishar was selected to seven Pro Bowls and was a first-team All-Pro in 1977 and 1978. He was named the NFL Defensive Player of the Year in 1978.
Fans of the Broncos have long felt that Hall of Fame voters have unfairly forgotten their best players. They could have a case, as John Elway is the only player currently in the HOF after spending most of his career with the Broncos.
Gradishar has been a finalist twice and should soon join Elway as a member of the Hall.
2. Chris Hanburger—Washington Redskins 1965-1978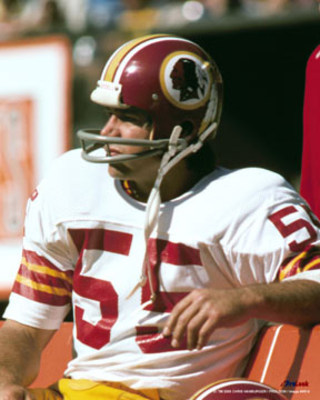 On a Washington Redskins squad that generally relied on older castoffs from other teams, Chris Hanburger was a homegrown superstar. Chosen by the Redskins in the 18th round of the 1965 draft out of the University of North Carolina, Hanburger was a fixture at right linebacker for 14 seasons.
A quiet superstar, Hanburger just always seemed to be in the right place at the right time. He recorded 19 career interceptions and recovered 17 fumbles.
As the defensive signal caller, he helped the Redskins to five playoff appearances and a trip to Super Bowl VII.
Hanburger was selected to nine Pro Bowls and earned first-team All-Pro honors four times.
Like many of the other talented linebackers on this list, Hanburger has somehow flown under the radar of Hall of Fame voters. He has never been a Hall of Fame finalist and while some die-hard Redskin fans have tried to generate support for Hanburger, they have yet to receive little traction.
1. Chuck Howley—Chicago Bears/Dallas Cowboys 1958-1973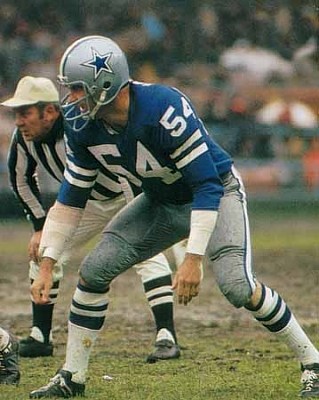 Occasionally overshadowed on the talented Dallas Cowboy defense by other superstars including Bob Lilly, Jethro Pugh, Mel Renfro and Lee Roy Jordan, Chuck Howley picked the grandest stage for his biggest moments.
In Super Bowl V, he became the first defensive player, and the only player ever from a losing team to earn Super Bowl MVP honors after intercepting two passes and recovering a fumble. He followed that up a year later by recovering a fumble and intercepting another pass the following year in Super Bowl VI.
Playing weakside linebacker, Howley combined with Lee Roy Jordan and Dave Edwards to give Dallas one of the best linebacker corps in the league. Dallas finished in the top seven in the NFL in scoring defense and yards allowed in 10 of Howley's 11 seasons with the team.
Displaying a nose for the ball, Howley intercepted 25 passes in his career and twice had more than 100 yards in interception returns for a season. He scored a touchdown on a 97-yard fumble return in 1966 and had 18 fumble recoveries during his career.
He was selected to six Pro Bowls and earned first team All-Pro honors on five occasions.
It makes absolutely no sense with some of the players at other positions that have received consideration or been inducted into the Hall of Fame in recent years that Howley and some of the other linebackers on this list have never even been selected as a finalist.
Keep Reading

Dallas Cowboys: Like this team?